The captive 's Review - RyanReynoldsChallenge (33/49)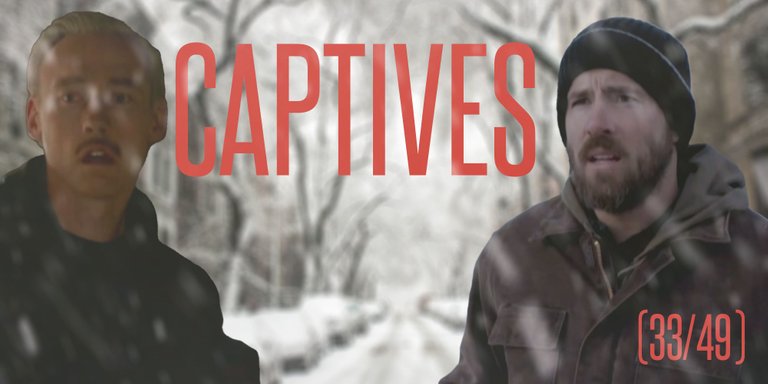 movie screenshots and pixabay picture
To be honest, everything in this movie is on the limit between a great movie and a boring one.
I don't really know if this is supposed to be a movie for theatre and to be totally honest, on the movie I get on my disk, there is even a mark that proves it have been recorded while airing on TV so I think most of his life have been on TV. At least here in France, it doesn't even have French dubbing, which is pretty rare. It only has a Quebequois dubbing.
And that explains some things.
While this is movie with a big American casting in Canada, I don't really know how much it costed to do and when I watch the box office I don't know if it have been reimbursed or not but it looks like the budget is way way lower that usual American movies. That makes me understand a little more why this movie doesn't have personality. It's really average, like a TV movie in fact, no artistic direction and that's making it strange.

Four characters are making this movie as great as it could be.
First of all, Jeffrey played by Scott Speedman


screenshot from the movie
This cop working on the kidnapping section pushing the parents the most as he can to see if they are not the criminals, who could have sell their child or abandoned him. At first you will hate him, I personally never hated a good guy as much as this one. He is so mean with the parents, imagining it in real life would be terrible. Even if this is because he actually cares about the children and when them to be saved, that would probably make anyone watching this movie uncomfortable.
---
Mika, the kidnapper played by Kevin Durand


screenshot from the movie
As always, his character his really creepy. This is the third time we saw him in the Ryan Reynolds filmography and he always has a strange character. I'm happy to see him in a better movie that X-men Origin Wolverine and except this mistake he seems to be a clue that we are watching a good movie because Smokin' Aces was a masterpiece !
He is a pretty frustrating character. We don't really know what are his intentions and why he does all of that. Except he can and it gives him power while his job doesn't satisfy him enough. We also don't really know how implicated he is in all this children selling mafia. Just a guy, the boss ? and that's not something to really focus on because the movie is all about getting back the child that have been kidnapped, not about stopping them.
---
Nicole, a cop played by Rosario Dawson


screenshot from the movie
She is one of the kindest cop ever seen in a movie. Because she in working only with children, especially the ones who have witnessed hard things, she learned to be as nice as possible and help everyone. She says it several times in the movie but doing that put her in hard situations because her work is to spend her time on pedo criminal websites to try to put them in jail but she has to see and do terrible things.
She is so endearing, if all cops in the world were understanding the others like her, believe me that we would have way less crimes !
---
The last but not the least, Matthew the father of the kidnapped girl, played by Ryan Reynolds


screenshot from the movie
When his daughter have been kidnapped he almost stopped his life and dedicated it to finding her to bring her back home.
The more he approaches to her the more we can see if prefer to save her than being with her. He starts to take risks which could kill him to save her.
This is definitely one of the Best Ryan Reynolds' movies and I'm now sure that when he has to play actual roles who are not him this often makes great movies ! Unfortunately they are often pretty small and not a lot of people remember of it. And this will be the case for the two next movies in the list. I'm saving in a folder all the movies I really liked and none of them have this "deadpool dark humor" character. Maybe that's an idea for the future ?

I encourage you to follow me on noise.cash where I make short posts about movies or series I just watched and to share your recommendation in the section about movies and earn some BCH.
The movies section is a little dead so I want you to make it alive with a lot of recommendation !!
My Current CINE Stake :
5619
---
This is the list of the movies I'll review in the challenge :

Join me on Noise.cash and read.cash and earn BCH for your posts and comments. Stake your earnings on Nexo and earn up to 8% APY in dividends.

Join me also on Publish0x
The website that rewards both readers and authors with ETH and ERC-20 tokens

Share your unused bandwidth and get paid for that with Honey gain
---
---