The voices's Review - RyanReynoldsChallenge (31/49)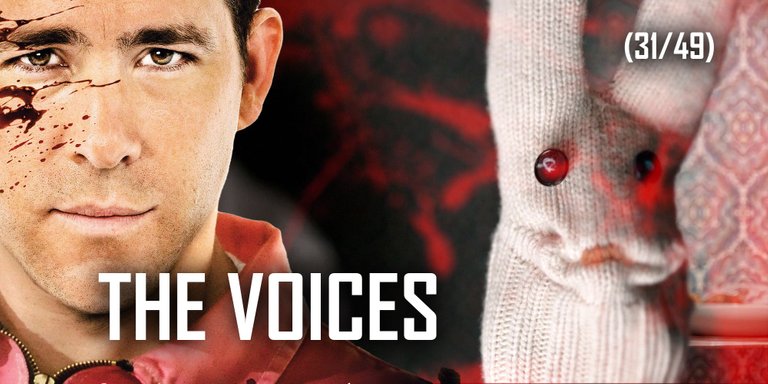 Before today I only saw this movie once, around 7 years ago.
All my memories about that movie were true but I forgot so much things ! First of all it's absolutely interesting to see first the trailer.
Pretty everything you're expecting from this trailer is false. When I watched it I imagined a movie pretty bright seeing a character making bad things but not realizing it because he has some mental illness and to be honest I wasn't a 100% wrong. But the creepy side have been totally erased from this trailer and that's so great !

Marjane Satrapi was totally unknown by me before that and now I know she is a talented director. While having a move where we can see two different perceptions is not something new, this time there is something different.
We usually see the world through Ryan Reynolds' eyes and it not the normal world. Due to his strange mind he sees everything too nice. Listening to a great and enthusiastic music, seeing bright and saturated colors, witnessing some choreographic movements which don't really exist. In his apartment everything is clean, bright, modern and see totally comfortable. I mean it's even cleaner than my friend's minimalist apartment.
Then Ryan has to take his medication and that's becoming something else. His flat is old, crackling, there are animals shits all around, there is mold on the walls, he has Diogenes syndrome, accumulating his empty trash bin and pizza cardboards. This time that's even dirtier than my apartment.
When this happens, he realizes what is the world he lives in and totally hates it. Everything look sadder and grey, no joy, his animals are not talking anymore.

While in the trailer the movie looks almost like a comedy, that's just how it seems like.
During the 15-20 first minutes, the movie absolutely looks like a dramatic comedy but it pretty fast fall into a creepy drama having some bright moments but making you feels bad. While I usually don't care of being disturbed while watching a movie, this time my feelings were so intense and tough that I absolutely didn't want to break that for two reasons.
The movie directing is so strong that I don't want to come back to the movie without the first half that was here to put me in that exact emotional state.
I did not wanted to feel that kind of emotion a second time 😅 1 big time is better
That was really hard because I was just feeling the difficulties of the first character who was just trying his best to stop hurting people and could not. I've probably never or almost never been so emotionally active during a movie. While I use to be pretty passive during watching movies and don't really care about what happens to the character.
Maybe I have a problem because Now I think about it I've care more about character who are not neurotypical 🤔

Yes totally, that's a not Brainer, if you can handle some feelings becoming tougher and tougher during almost a whole hour after 30 minutes candid joy, let's go. And If you don't really know and hate to be lying like a zombie in your couch or bed after watching a really sad movie because you don't know what to do, don't worry you will absolutely not feel that, that's where the directing is absolutely insane to be able to avoid it after that much hard moment !

He's fantastic. If you don't like him because you don't like how he's used to play, don't hesitate there's nothing like usual.
And for sure I'll add this movie to the list of movie where he is actually good. I'm absoluetly sorry because I'm always late with my review these days but I have so much posts I want to add once I finished it. Like a top 5 for the best and worst movies, where he's actually not playing ryan reynolds (not sure if it isn't just the top 5 best movie 😅)

My Current CINE Stake :
5 518
looks like I'm making my pockets getting full of CINE and I hope to have it continuing.
I would also like to do a post at the end of the challenge to see how much it can grow with that kind of content !
---
This is the list of the movies I'll review in the challenge :

Join me on Noise.cash and read.cash and earn BCH for your posts and comments. Stake your earnings on Nexo and earn up to 8% APY in dividends.

Join me also on Publish0x
The website that rewards both readers and authors with ETH and ERC-20 tokens

Share your unused bandwidth and get paid for that with Honey gain
---
---