Newbies Task 4 A look at HIVE Dapps
---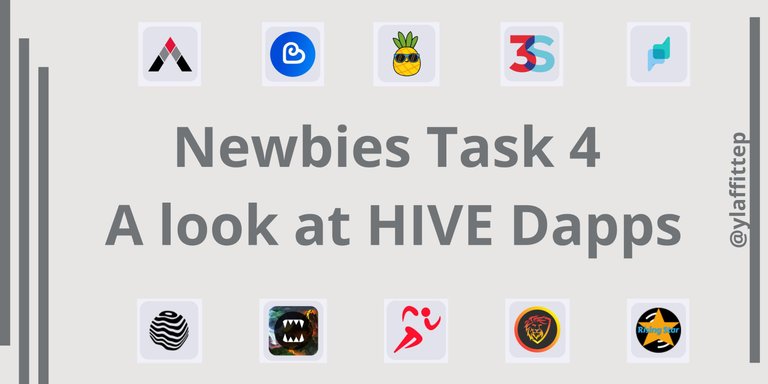 Hello community
Fourth week of study for the newbies in the course and it's time to present assignment number four.
For this one we were asked to answer the following via a video on 3speak:
Which Hive frontend have you found most useful since joining Hive and what do you like most about it?

What features would you like to see added to your favourite DApps?

What other DApps do you know about Hive? Share what you know about them.
When I started at HIVE I had a lot of information to study and content to assimilate. I confess that I got overwhelmed with so much, but what I did have defined was that I wanted to create content.
My first encounter was with PEAKD and ECENCY which are two of the most used fronteds within the "social" classification.
Little by little I was inclined to use PEAKD more because of all the benefits it offers, although I also continue to use ECENCY for some activities.
It also happens that the Internet in Cuba is still very inefficient and many times ECENCY does not load, so PEAKD is a better option. In addition to this, there are certain points that I would like to share, in which I think it is more useful to work from PEAKD:
For some time now, the option to listen to the texts, instead of reading them, has been incorporated. This benefits a lot in terms of visual effort, while allowing us to do other things at the same time as listening.

The interface is very convenient, as it allows us to write a publication from the community we select, which helps us to locate our content from the start without the danger of forgetting to locate it later. Some communities suggest tag options within the niches of interest.

It also features commands that help to format our text quickly, as well as adding GIFs (powered by Tenor) and automatically saving all the changes we make online.

From our account settings we can create templates and this makes it easy to customise our publications. It also allows us to share the posts we are preparing for review with our friends.

The creation of a collection of posts allows us to better organise our blog (by topic).

It even allows us to exchange our drafts between the PC and the phone if we need to work in both places indistinctly. In my case, I only work from my mobile, as my husband and I recently acquired a laptop that we are still preparing to use. We can also schedule the time when we want our publication to be made.
From our blog we have the opportunity to see the pending rewards to be collected and the time in which they will be effective is another attraction, as well as the statistical graphs that show our growth over time. Our account keys are managed from here as well as our recovery account (as we saw in last week's task).

The filtering options to search for content have advanced options that facilitate the search and allow for better matching of our interest.
What I like most about PEAKD is the ability to select and copy all (or most) of the text for translation. This is awkward in some other Dapps that only support sections of text, which is very beneficial in PEAKD that allows us to read or write large texts without interrupting to re-select and translate.
---
HIVE has several DApps that I haven't had much interaction with. Some of them I know from other users' references and others I didn't even know about before doing this task. From time to time it is good to get out of our comfort zone and experience new frontiers in which we can develop ourselves, according to our tastes, skills or needs.
In the HIVE Ecosystem are reflected and qualified the HIVE Dapps, where we can review their description and from there interact in them.
Some of them I have worked with are:
PEAKD (text content and photography)
ECENCY (text content and photography)
3SPEAK (audiovisual content)
PinMaple (text and photo content with geolocation)
LIKETU (photo content)
Other fronteds that I have learned about (but not explored) from my husband or user friends are:
SPLINTERLANDS (a very popular gaming community)
NFTSHOWROOM (a gallery exhibiting and selling NFT artwork creations)
LEOFINANCE (a community dedicated to economic issues)
ACTIFIT (Dapp focused on sport as health)
RISING STAR (A game where you win cards and earn tokens of cryptocurrencies)
There are other Dapps that I hope to get to know during my time at HIVE and interact with them on this journey.
---
I would like the text creation frontends to have an on-site tool that would allow automatic translation from one language to another, either for reading or writing. This would save a lot of time and users would feel more encouraged to consume content and interact in other languages without much trouble. It would also avoid loading our Posts with two languages to help the reader.
I would also like HIVE to have its own editor for photography, music and video (although the LIKETU Dapp has its own editor). This would give us more autonomy and we wouldn't have to depend on other applications OUTSIDE HIVE.
---
Thank you very much for taking the time to read it. I invite you to watch the video if you have not already done so.
---

Hola comunidad
Cuarta semana de estudio para los novatos del curso y es tiempo de presentar la tarea número cuatro.
Para esta ocasión se nos pidió dar respuesta a lo siguiente mediante un video en 3speak:
¿Qué frontend de Hive te ha resultado más útil desde que te uniste a Hive y qué es lo que más te gusta de él?

¿Qué características te gustaría que se añadieran a tus DApps favoritas?

¿Qué otras DApps conoces de Hive? Comparte lo que sepas sobre ellas.
Cuando inicié en HIVE tenía mucha información para estudiar y contenido por asimilar. Confieso que llegué a abrumarme con tanto, pero lo que sí tenía definido es que quería crear contenido.
Mi primer encuentro fue con PEAKD y ECENCY que son dos de los fronteds más usados dentro del y que están dentro de la clasificación de "social".
Poco a poco me fui inclinando a usar más PEAKD por todas las bondades que brinda, aunque también continúo usando ECENCY para algunas actividades.
Sucede que también la Internet en Cuba es muy ineficiente aún y muchas veces ECENCY no carga, por lo que PEAKD es una mejor opción. Agregado a esto, hay ciertos puntos que me gustaría compartir, en los cuales pienso que me es más útil trabajar desde PEAKD:
Desde hace un tiempo para acá se incorporó la opción de escuchar los textos, en lugar de leerlos. Esto beneficia mucho en cuanto al esfuerzo visual, a la vez que permite hacer otras cosas a la vez que escuchamos.

La interfaz que nos ofrece es muy cómoda, pues desde la comunidad que seleccionemos nos permite escribir una publicación y esto ayuda a ubicar nuestro contenido desde el inicio y sin peligro de olvidar ubicarlo luego. Algunas comunidades sugieren opciones de etiquetas dentro de los nichos de su interés.

También presenta comandos que ayudan a dar formato a nuestro texto de manera rápida, además de agregar GIF (powered by Tenor) y salvar o guardar automáticamente todos los cambios que hacemos en línea.

Desde la configuración de nuestra cuenta podemos crear plantillas y esto facilita personalizar nuestras publicaciones. Además permite compartir con nuestros amigos las publicaciones que estemos preparando para su revisión.

La creación de colección de publicaciones permite dar una mejor organización (por temas) a nuestro blog.

Incluso permite intercambiar nuestros borradores entre la PC y el teléfono si nos es necesario trabajar en ambos lugares indistintamente. En mi caso sólo trabajo desde el móvil, pues recientemente es que mi esposo y yo adquirimos una laptop que aún estamos preparando para usarla. También se puede programar el horario en que queremos que se haga nuestra publicación.

Desde nuestro blog tenemos la oportunidad de ver las recompensas pendientes por cobrar y el tiempo en que serán efectivas es otro de los atractivos, así como los gráficos estadísticos que muestran nuestro crecimiento en el tiempo. Las llaves de nuestra cuenta se manejan desde acá y también nuestra cuenta de recuperación (como vimos en la tarea de la semana pasada).

Las opciones de filtro para hacer búsqueda de contenido tienen opciones avanzadas que facilita la búsqueda y permiten mejor el ajuste de nuestro interés.
Lo que más me gusta de PEAKD es la posibilidad de seleccionar y copiar todo el texto (o gran parte de él) para traducir. Esto resulta incómodo en algunas otras Dapps que sólo admite secciones de texto, lo cual es muy beneficioso en PEAKD que nos permite leer o escribir grandes textos sin necesidad de interrumpir para volver a seleccionar y traducir.
---
HIVE cuenta con varias DApps con las que no he tenido mucha interacción. Algunas de ellas las conozco por referencia de otros usuarios y otras ni siquiera sabía de su existencia antes de realizar esta tarea. De vez en vez es bueno salirnos de nuestra zona de confort y experimentar nuevos fronteds en los que podamos desarrollarnos, según nuestros gustos, habilidades o necesidades.
En el Ecosistema HIVE están reflejadas y calificadas las Dapps de HIVE, en donde podemos revisar su descripción y desde allí mismo interactuar en ellas.
Algunas de ellas con las que he trabajado son:
PEAKD (contenido de texto y fotografía)
ECENCY (contenido de texto y fotografía)
3SPEAK (contenido audiovisual)
PINMAPLE (contenido de texto y fotografía con geolocalización)
LIKETU (contenido de fotografía)
Otros fronteds de los que he conocido (pero no he explorado) por mi esposo o por usuarios amigos son:
SPLINTERLANDS (una comunidad de juego muy popular)
NFTSHOWROOM (una galería expositiva y con venta de creaciones de obras NFT)
LEOFINANCE (una comunidad destinada a temas económicos)
ACTIFIT (Dapp enfocada al deporte como salud)
RISING STAR (Un juego donde se gana cartas y hacen ganar tokens de criptomonedas)
Existen otras Dapps que espero ir conociendo en mi paso por HIVE y poder interactuar con ellas en este recorrido.
---
Me gustaría que los frontends de creación de texto tuvieran un herramienta in situ que permitiera hacer automático la traducción de un idioma a otro, ya sea para leer o para escribir. Esto ahorraría mucho tiempo y los usuarios se sentirían más animados a consumir contenidos e interactuar en otros idiomas sin mucho problema. Además evitaría cargar nuestros Posts con dos idiomas para ayudar al lector.
De igual forma me gustaría que HIVE tuviera un editor propio para fotografía, música y video (aunque la Dapp LIKETU tiene su propio editor). Esto nos daría más autonomía y no tendría que depender de otras aplicaciones FUERA de HIVE.
---
Muchas gracias por su tiempo de lectura. Le invito a ver el video si no lo ha hecho.

---
Texto propio, traducido al inglés mediante DeepL.
Imágenes capturas de pantalla, editadas en Canva, video editado en InShot desde mi teléfono HUAWEI P30 LITE.
Own text, translated into English by DeepL.
Screenshot images, edited in Canva, video edited in InShot from my HUAWEI P30 LITE phone.
Twitter: @ylaffittep
Facebook: @ylaffittep
---
▶️ 3Speak
---
---