More than an Olympic jump || Más que un salto olímpico #HPUD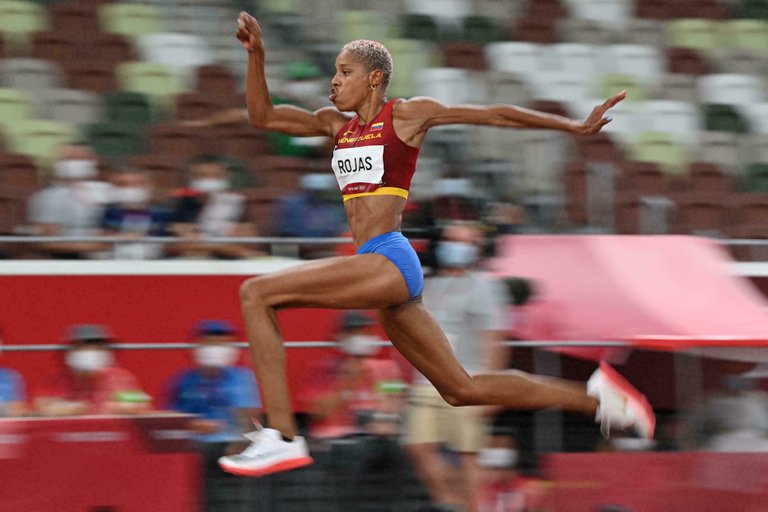 The Venezuelan athlete Yulimar Rojas, has continued breaking records and demonstrating that effort is rewarded. If there is someone who can talk about long jumping, it is her, who has been breaking her own records since the Tokyo Olympic Games.
Today I couldn't stop thinking about her and what a long jump really is, when I saw the price of the Hive, which indicates an increase of at least 60%. Another factor that made me think of this wonderful athlete, is the giant leap my Hive Power took during the month of July, due to a Power Up I did, injecting FIAT money into my account, which you can read about in my post Climbing to Hive's summits and which, added to curation rewards, posting rewards and other smaller Power Ups, have increased my HP by about 8.94%, which for me is an astronomical jump.
I invite you all to strengthen your Hive Power and follow the initiative driven every month by @traciyork, @victoria.bsb, @arcange and @hivebuzz and understand Hive as our best investment for the future.
La atleta venezolana Yulimar Rojas, ha seguido rompiendo récords y demostrando que el esfuerzo se premia. Si hay alguien que puede hablar de saltos largos, es ella, que desde los Juegos Olímpicos de Tokio ha venido superando sus propias marcas.
Hoy no pude dejar de pensar en ella y lo que es realmente un salto largo, al ver el precio del Hive, que indica un incremento de al menos 60%. Otro factor que me hizo pensar en esta maravillosa deportista, es el salto gigantesco que dio mi Hive Power durante el mes de julio, debido a un PowerUp que hice, inyectándole dinero FIAT a mi cuenta, sobre lo cual puedes leer en mi post Subiendo a las cumbres de Hive y que, sumado a las recompensas de curación, de publicación y otros Powerups más pequeños, han aumentado mi HP en cerca de 8.94%, lo cual para mí es un salto astronómico.
Yo los invito a todos a fortalecer su Hive Power y a seguir la iniciativa impulsada cada mes por @traciyork, @victoria.bsb, @arcange y @hivebuzz y entender a Hive como nuestra mejor inversión a futuro.

July's Power Ups || Powerups del mes de julio
| Date/Fecha | Hives |
| --- | --- |
| 2022-07-31 | 5.912 |
| 2022-07-29 | 0.140 |
| 2022-07-29 | 2.451 |
| 2022-07-28 | 0.623 |
| 2022-07-27 | 0.980 |
| 2022-07-27 | 1.785 |
| 2022-07-25 | 0.147 |
| 2022-07-25 | 1.541 |
| 2022-07-25 | 7.557 |
| 2022-07-24 | 0.185 |
| 2022-07-24 | 1.808 |
| 2022-07-23 | 0.158 |
| 2022-07-21 | 0.165 |
| 2022-07-21 | 0.588 |
| 2022-07-20 | 1.041 |
| 2022-07-19 | 900.000 |
| 2022-07-18 | 1.767 |
| 2022-07-18 | 6.214 |
| 2022-07-17 | 1.683 |
| 2022-07-16 | 0.279 |
| 2022-07-16 | 1.874 |
| 2022-07-15 | 0.994 |
| 2022-07-13 | 0.801 |
| 2022-07-13 | 0.417 |
| 2022-07-11 | 6.668 |
| 2022-07-08 | 1.541 |
| 2022-07-07 | 1.452 |
| 2022-07-04 | 1.651 |
| 2022-07-04 | 7.175 |
| 2022-07-04 | 2.472 |
| 2022-07-01 | 10.000 |
| 2022-07-01 | 1.300 |
| Total | 971.369 |

Actual balance

---

If you don't have an account at Hive yet, I invite you to read my post My Hive Testimony || Mi testimonio Hive
Si aún no tienes cuenta en Hive te invito a leer mi publicación My Hive Testimony || Mi testimonio Hive

---
---