CineTV Contest: Father of the Bride II
Feliz sábado, espero se encuentren mi bien, me uno al concurso # 33 de la comunidad CineTv, para compartir con ustedes una de mis películas favoritas que abordan el tema de la paternidad, espero disfruten mi publicación y las razones por la cual no me canso de ver dicha película. Invito a participar a ente concurso a @chacald.dcymt
Happy Saturday, I hope you are well, I join the contest # 33 of the CineTv community, to share with you one of my favorite movies that deal with the subject of fatherhood, I hope you enjoy my publication and the reasons why I do not get tired to see that movie. I invite @chacald.dcymt to participate in this contest
---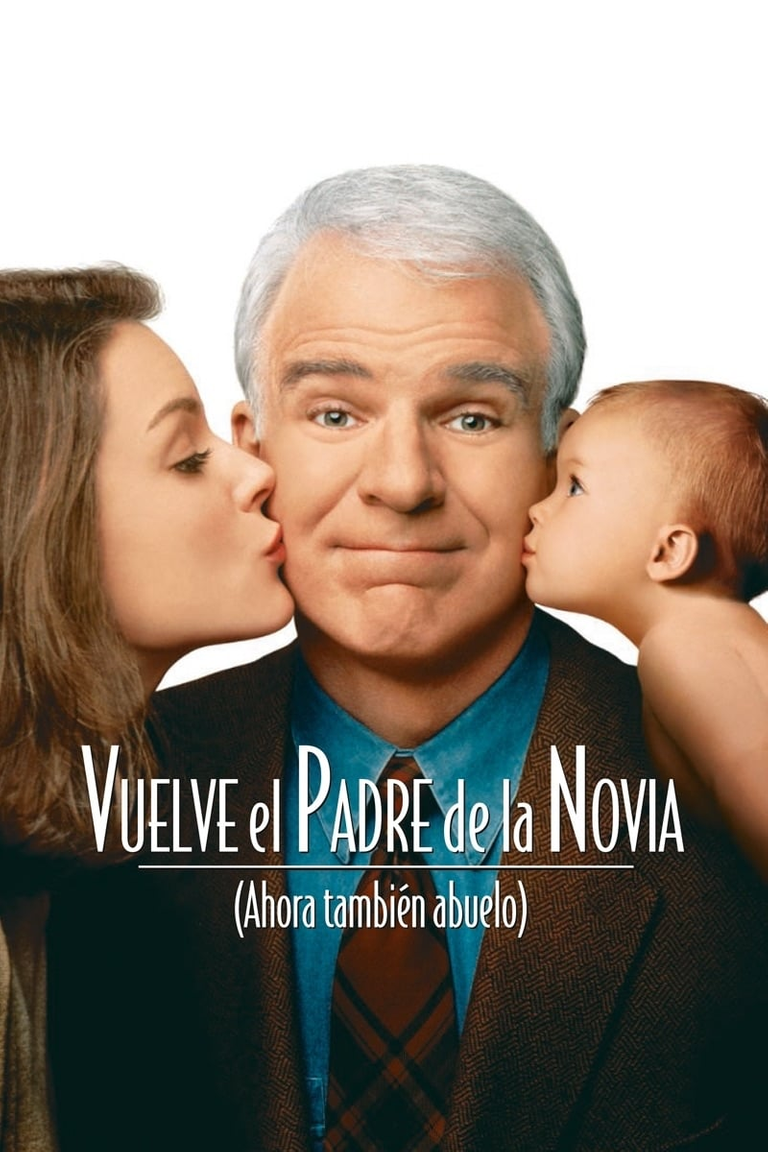 El padre de la novia II // Father of the bride II
---
Esta película estadounidense del año 1995, protagonizada por Steve Martin en su papel de George, es la segunda parte, en la primera trata sobre un padre cuya hija ya es adulta y se va a casar, el es un padre sobreprotector que en un principio no quería aceptar que su hija ya no era una niña pequeña y ya era una mujer independiente que había encontrado un buen hombre, en la segunda película que es mi favorita, su hija se embaraza, entonces la noticia que va a ser abuelo no le cae muy bien porque el no quiere sentirse viejo, comienza a tener actitudes más juveniles y hasta empieza a tratar a su esposa de forma más afectiva, entre esos afectos pasa algo completamente inesperado para el protagonista, pues la esposa queda embarazada, es decir que su hija y su esposa esperan un bebé al mismo tiempo.
This American film of the year 1995, starring Steve Martin in his role as George, is the second part, in the first it is about a father whose daughter is already an adult and is going to get married, he is an overprotective father who at first does not he wanted to accept that his daughter was no longer a little girl and was already an independent woman who had found a good man, in the second movie, which is my favorite, his daughter gets pregnant, so the news that he is going to be a grandfather does not sit well with him well because he does not want to feel old, he begins to have more youthful attitudes and even begins to treat his wife in a more affective way, between those affections something completely unexpected happens for the protagonist, because the wife becomes pregnant, that is to say that his daughter and his wife is expecting a baby at the same time.
---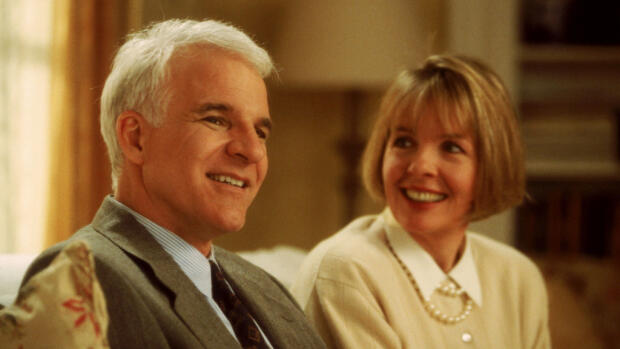 Source


---
Esta es una película de comedia, por lo que su protagonista tiene que pasar muchas situaciones incómodas y graciosas, por un lado su hija y su esposo tienen algunos problemas de índole laboral, por lo que ella se queda un tiempo en la ciudad mientras que el esposo resuelve sus cosas con un empleo que esta en otra ciudad, mientras ambos embarazos avanzan George se ve responsable tanto de su esposa como de su hija, ellas hacen todo juntas, incluso el babyshower y casualmente al momento de dar a luz ambas mujeres lo hacen al mismo tiempo, esto pone al pobre George bajo mucho estrés, pero el logra solucionar todo y atender a las dos mujeres de su familia de manera responsable y amorosa, tiene un nieto y una hija pequeña.
This is a comedy movie, so its protagonist has to go through many awkward and funny situations, on the one hand her daughter and her husband have some work-related problems, so she stays in the city for a while while the husband solves his things with a job that is in another city, while both pregnancies progress George is responsible for both his wife and his daughter, they do everything together, even the baby shower and coincidentally at the time of giving birth both women do it At the same time, this puts poor George under a lot of stress, but he manages to solve everything and take care of the two women in his family in a responsible and loving way, he has a grandson and a little daughter.
---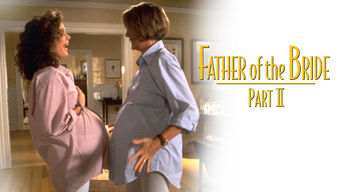 Source


---
Esta película me parece muy graciosa y siempre me hace reír , el actor Steve Martin es de los mejores de la época, su carisma hacia de cada interpretación una experiencia graciosa, pero una de las razones por las que me gusta esta película es que siento que hay una similitud con mi situación familiar, pues aunque mi difunto esposo no se parecía en anda a la personalidad de George tenían en común que ya eran mayores a la hora de tener una hija conmigo, pues yo me casé con un hombre viudo que ya tenía hijos grandes, cuando nació nuestra primera hija mi esposo tenía 57 años, el ya había sido abuelo antes pero casualmente una de sus hijas estaba embarazada al mismo tiempo que yo , es decir que mi hija y su sobrina se llevan solo unos meses de diferencia en edad, además su hija y nieta siempre venían a la casa y por eso era habitual para mi incluso dar pecho a la nieta y mi hijastra diera pecho a mi hija, ellas después de un tiempo se mudaron a otra ciudad.
I find this movie very funny and it always makes me laugh, the actor Steve Martin is one of the best of the time, his charisma made each performance a funny experience, but one of the reasons why I like this movie is that I feel that There is a similarity with my family situation, because although my late husband did not resemble George's personality, they had in common that they were older when it came time to have a daughter with me, since I married a widower who already had big children, when our first daughter was born my husband was 57 years old, he had already been a grandfather before but coincidentally one of his daughters was pregnant at the same time as me, that is to say that my daughter and her niece are only a few months apart in age, also her daughter and granddaughter always came to the house and that is why it was customary for me to even breastfeed my granddaughter and my stepdaughter breastfeed my daughter, after a while they moved to another city.
---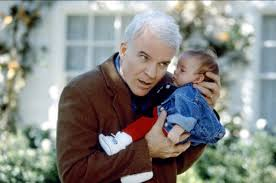 Source


---
Es decir, que mi esposo tuvo que estar pendiente de mi y al mismo tiempo estar allí si su hija y su nieta lo necesitaban, mi esposo que en paz descanse fue un gran hombre, un padre y abuelo responsable, aunque el temía que por su edad no podría estar allí hasta que nuestras dos hijas estuvieran grandes, el vivió con nosotros hasta que ella alcanzaron la adultez, por eso ver la representación de un hombre mayor siendo padre en una película fue muy especial para mí , se que el no pudo disfrutar de sus nietos como yo lo hago en este momento pero se que su espíritu aun esta con la familia.
In other words, my husband had to be aware of me and at the same time be there if his daughter and granddaughter needed him. My husband, may he rest in peace, was a great man, a responsible father and grandfather, although he feared that because of his age could not be there until our two daughters were grown, he lived with us until she reached adulthood, so seeing the representation of an older man being a father in a movie was very special to me, I know he could not enjoy of his grandchildren as I do at this time but I know his spirit is still with the family.
---

¡Muchas gracias por leer! / Thanks so much for reading!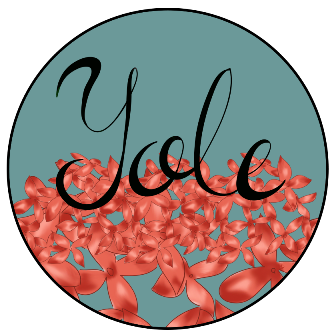 ---
---