Meetup #HivePlay2Earn: Promoting Hive's NFT games - Here's how to experience it! [Eng // Esp]
The weekend was pretty cool, for some time we were preparing things so that everything went perfectly or at least close to it. What is clear is the outstanding activity that took place in the city of Barquisimeto on the occasion of the NFT games that use Hive as their infrastructure and those to come.
So I invite you to review my experience in the #HivePlay2Earn organized by the HiversBQTO team. Let's go there!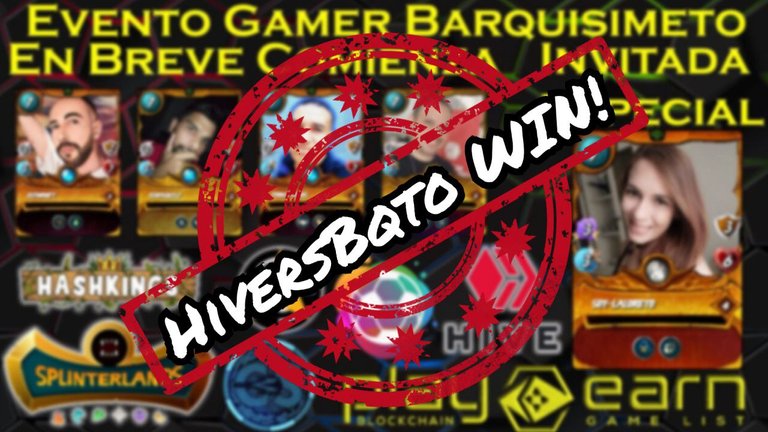 I was the first to arrive and I was greeted by my friend Roberto, co-owner of the place, followed by Gabo and my friend Kelly. The day was looking good, I felt quite comfortable enjoying good coffee before the long awaited meeting. Really getting to this place created by the friends of @anticafepastisse is wonderful, you feel an atmosphere full of positive vibes, the attention, the camaraderie that you feel when you are there is indescribable.
It is there where Hive materializes, because you meet the people with whom you interact every day, those who are related to your tastes and enthusiasm related to everything that refers to the Crypto world. An important fact is that the coffee shop was built with digital resources, cryptocurrencies.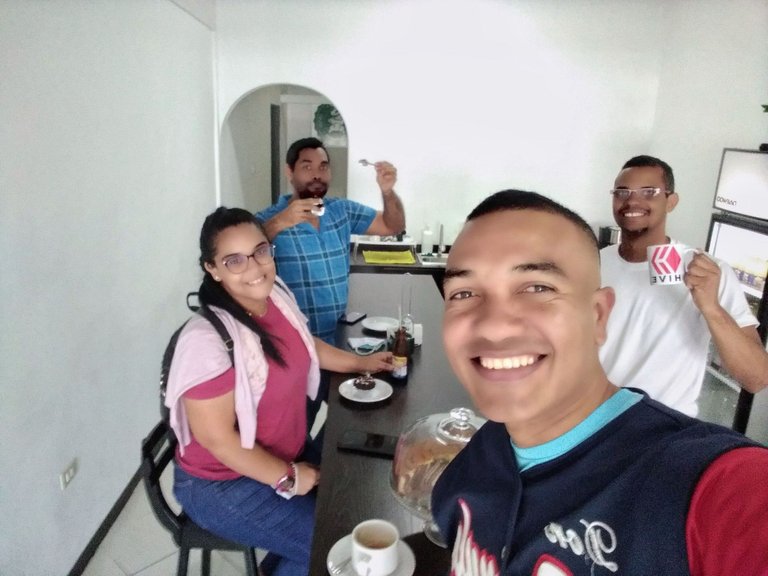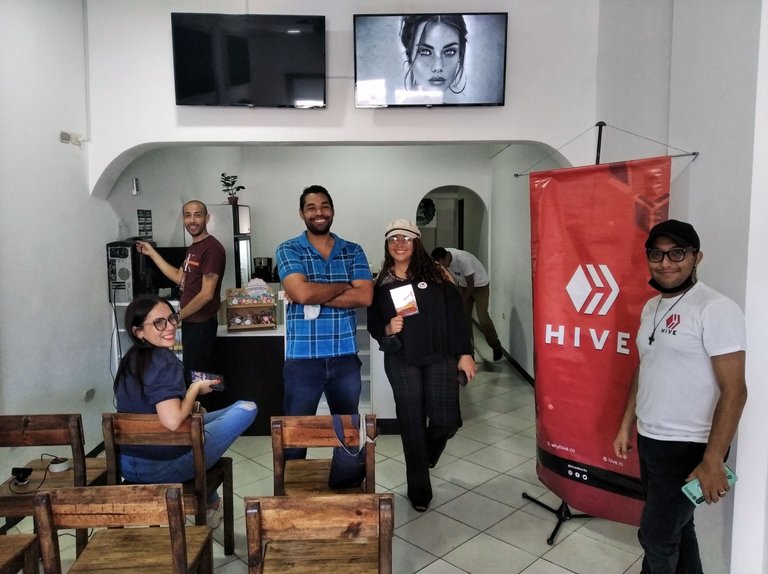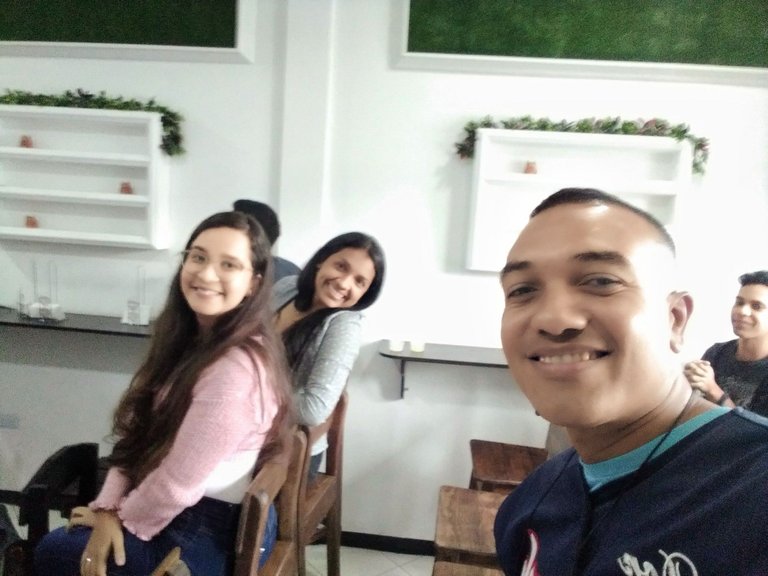 The start was in charge of the friend @eliudgnzlz who set out to talk about everything that refers to the basic definition of NFT (non fungible token) and the basics of this new technology. While we were all attentive to his explanation, I was part of the speakers but that does not mean that there are not things to learn or keep polishing to improve. So I set myself up as just another one in the audience.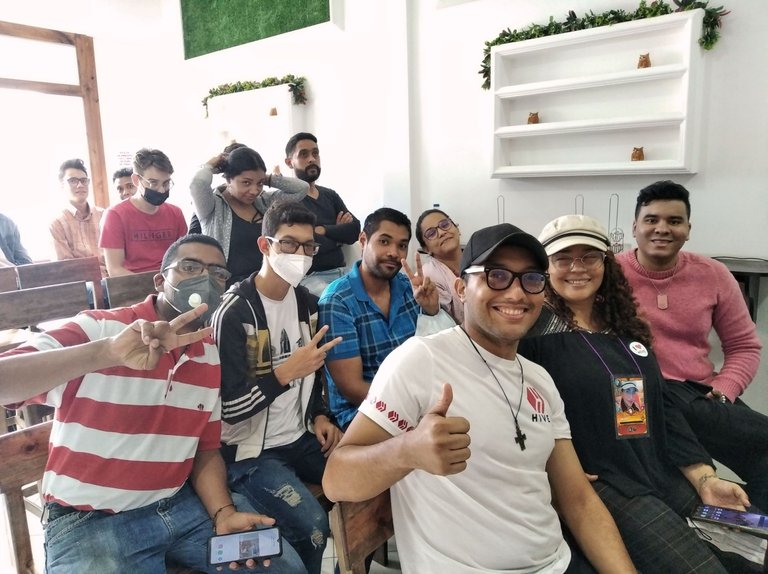 From then on, each of the games that accompanied us on this "Gaming" adventure began to parade.
Dcity, Cryptobrewmaster and Rising star was in charge of our colleague @joheredia21 who made a pleasant exposition focusing on the simplest details of the games, their gameplay, the time spent, the different ways to farm tokens and much more. For these games we had the sponsorship of @ecoinstant (Dcity), @gr33nmaster (Rising Star) excellent friends that we found within the ecosystem.
Our special guest @soy-laloreto gave us an account of her experience in NFT games inside and outside Hive, with special emphasis on Rising Star and Splinterlands. With her great smile she showed us the ups and downs that can occur in this type of activities where investment is involved. Definitely a girl to admire for her courage, tenacity, and responsibility to attend to a myriad of activities that frame her life, best of all is that she is always willing to support and give good advice for us to do things right.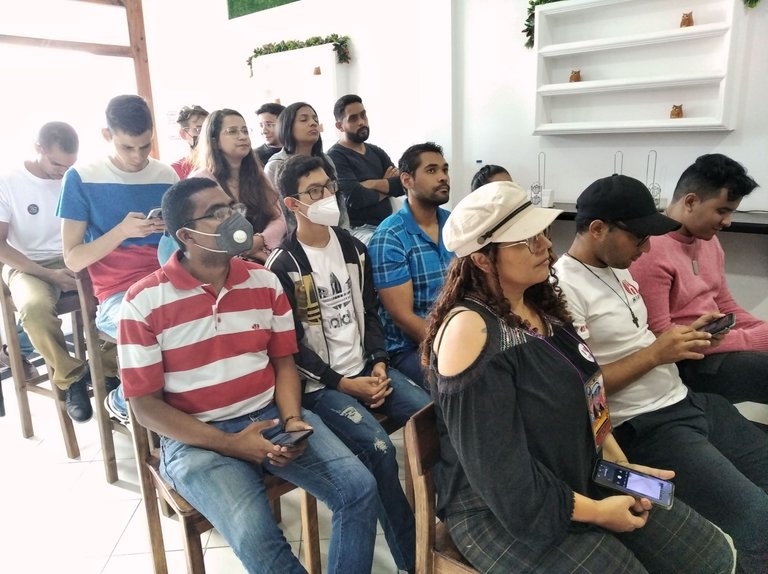 It was my turn to talk about a game that perhaps few know about but that is a real passion for those who follow it, in this case Rabona Soccer Manager, a manager of the beautiful game where you are destined to build your soccer empire. In this game you become the general manager of a soccer club and you must be aware of all the responsibility that this entails, improve your stadium, improve the entire sports complex, offices, hire players, define game lineups, train your team, the sale of souvenirs, the legal part, the growth of the fans and much more, all this under the NFT technology. It sounds complicated, but in reality the time investment is not much.
I also talked about Crypto-Shots (@cryptoshots.nft), the first first person shooter developed on the Wax chain and Hive, it's a multi-chain game that started on Wax but for some time now its developer @marcocasario and his team have been working on the 100% adaptation for Hive (By the way August 21 is its official launch), for our event we distributed as gifts 3 NFT on the Wax chain and 1 NFT on Hive.
You are all invited to take a look at it!
---
Then we started the main course of the NFTs games in Hive, our flagship game Splinterlands, my participation was focused on the experience of the beginnings of the game, its cards, the first rewards and then open the way to @elfino28 who talked about Haskings, an interesting game that focuses on gardening medicinal plants and also has its earned space within the ecosystem. After this @elfino28 was in charge of delving into everything that refers to the collectible card game Splinterlands, as we all know he devotes almost all his interaction to the NFT games of the blockchain.
He talked about the economy, the new updates, ways of combat, and rewards. For the closing we invited those following the live stream and those present to challenge our moderator for a Live battle, several were performed obtaining an almost perfect score.
---
The only thing left to do was to share the refreshments in charge of Splinterlands through its ambassador @steamdan and the friends of @foxlatam (Shapeshift) through its ambassador Rafael who generously served as sponsors of the activity. Then chatting, taking lots of pictures, smiling and sharing with everyone present.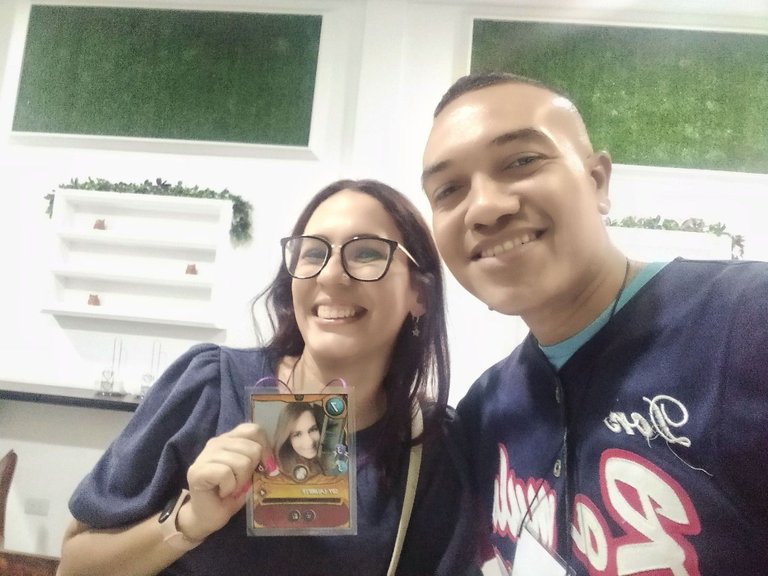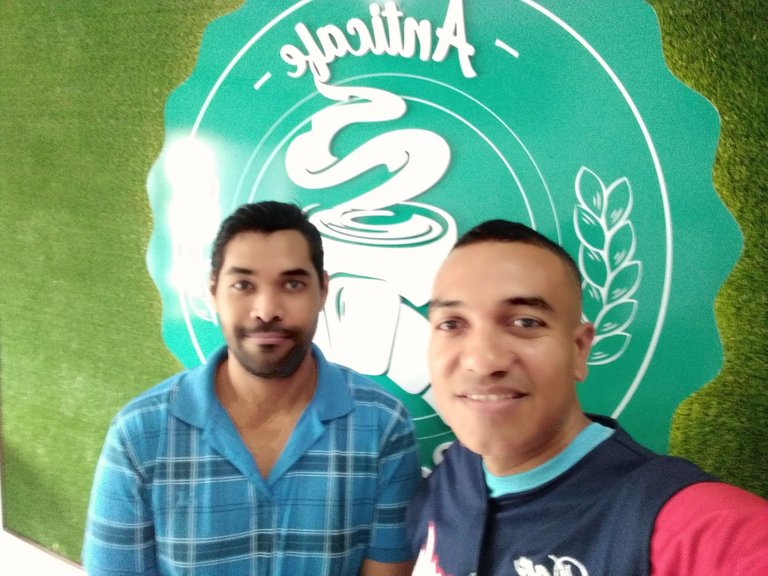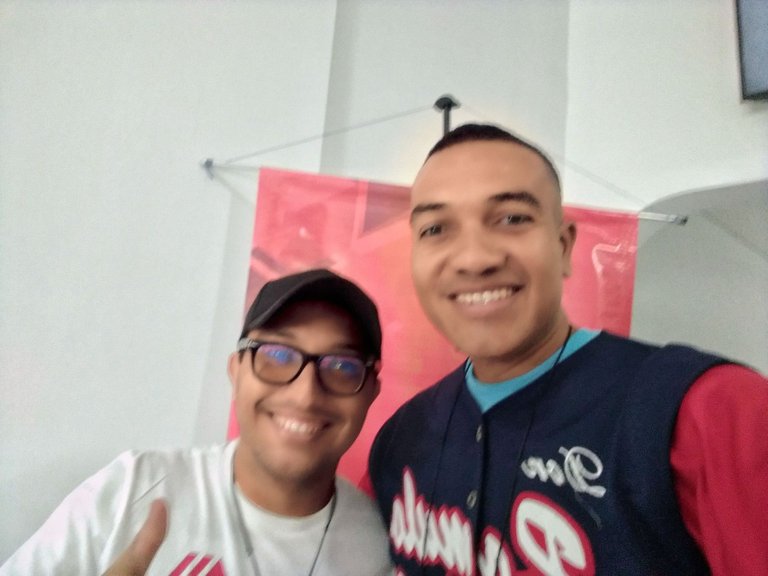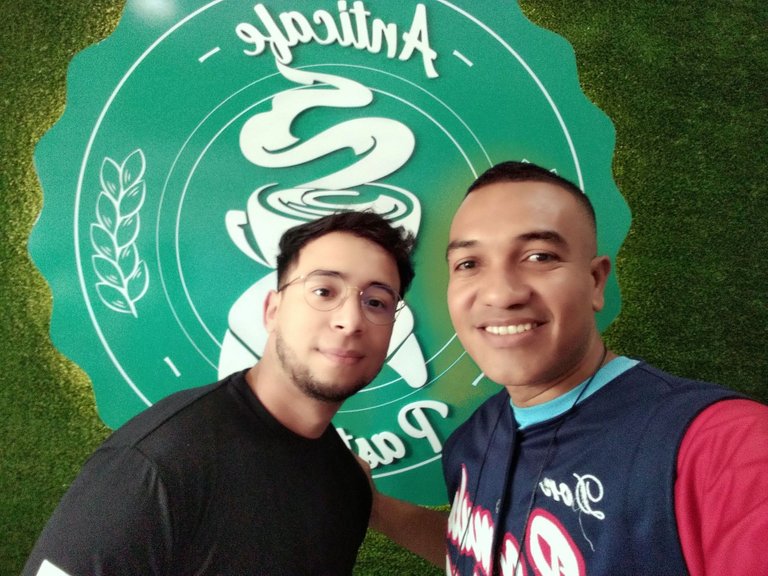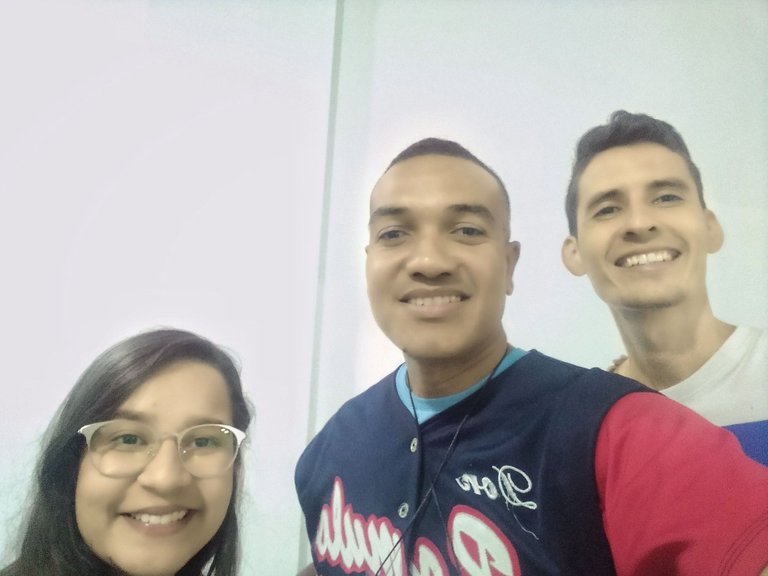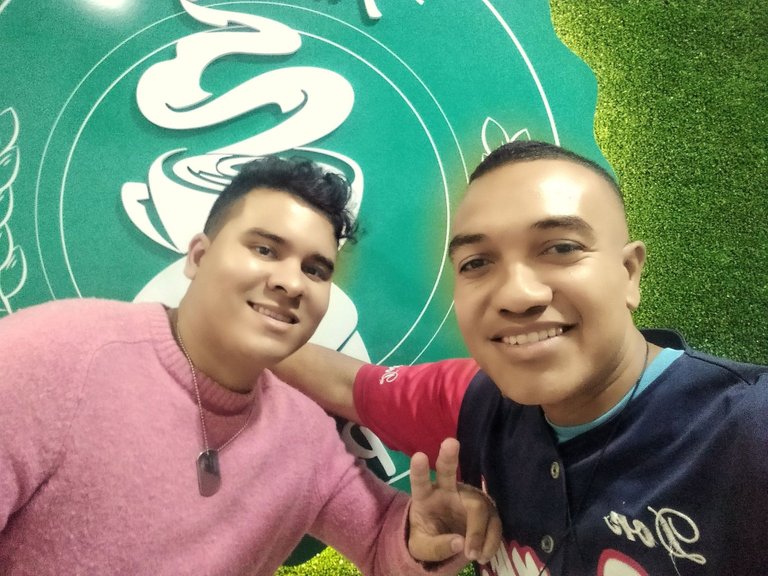 ---
A very special photo of a special group that has made possible this meeting of Hivers to promote the benefits that our Blockchain offers us in just one edge, the NFT games. The list of people to thank is immense, all the attendees, those who followed every tweet, those who watched the live broadcast, thanks to all, especially @foxlatam, @gr33nm4ster, @cryptoshots.nft, @ecoinstant, @mundovirtual, @hashkings ,@venapboyz, @steamdan and everyone for supporting the event. thank you!
With this the @HiversBQTO family says goodbye, we will connect with you all soon!
---
End!
---
---
Español
---
---
El fin de semana fue bastante genial, desde hace algún tiempo estábamos preparando las cosas para que todo saliera a la perfección o por lo menos cerca de esta. Lo que si esta claro es lo sobresaliente de la actividad que se desarrollo en la ciudad de Barquisimeto con motivo de los juegos NFT que usan a Hive como su infraestructura y los que están por venir.
Así que los invito a revisar mi experiencia en el #HivePlay2Earn organizado por el equipo de HiversBQTO. Vamos allá!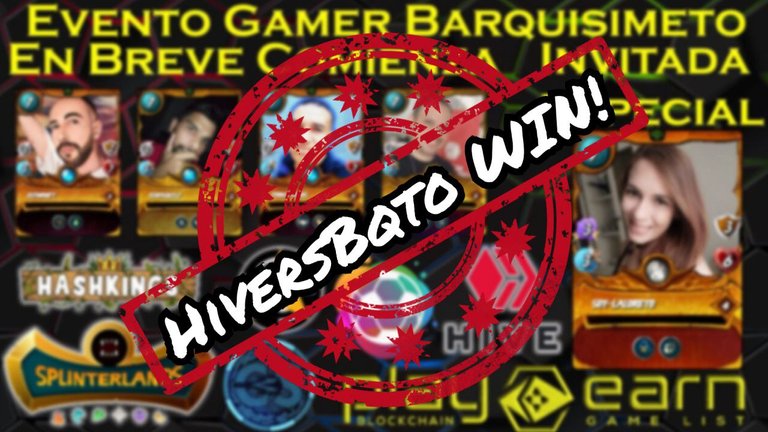 Les comento que fui el primero en llegar y me recibió el amigo Roberto co-propietario del local y luego llegaron Gabo y la amiguita Kelly. El día pintaba para muchas cosas buenas, me sentía bastante cómodo disfrutando de buen café antes del tan ansiado encuentro. Realmente llegar a ese sitio creado por los amigos del @anticafepastisse es maravilloso, se siente un ambiente cargado de vibra positiva, la atención, la camaradería que se siente al estar allí es indescriptible.
Es allí donde Hive se materializa, pues te encuentras con las personas con las que interactúas todos los días, esas que son afines a tus gustos y al entusiasmo relacionado a todo lo que refiere el mundo Crypto. Un dato importante es que la cafetería fue construido con recursos digitales, criptomonedas.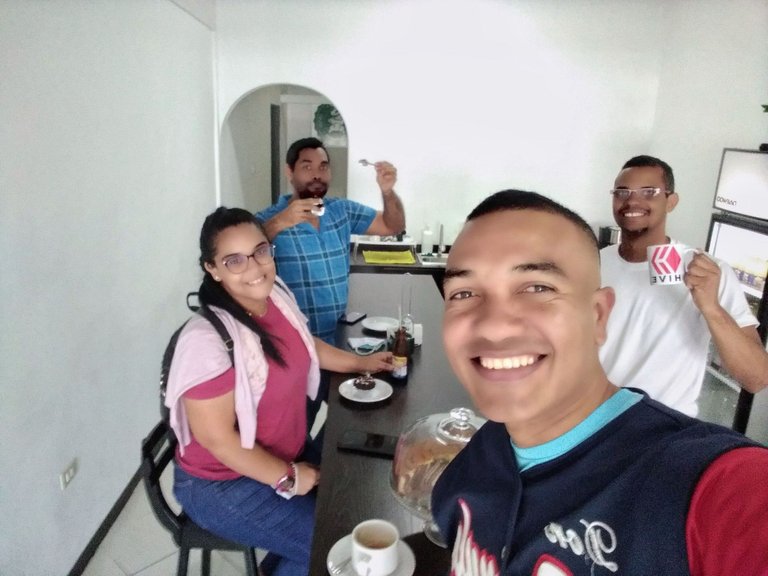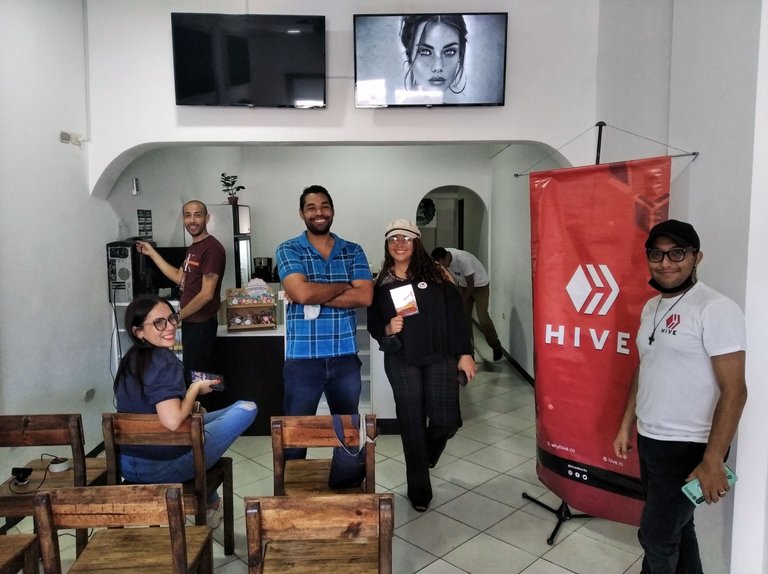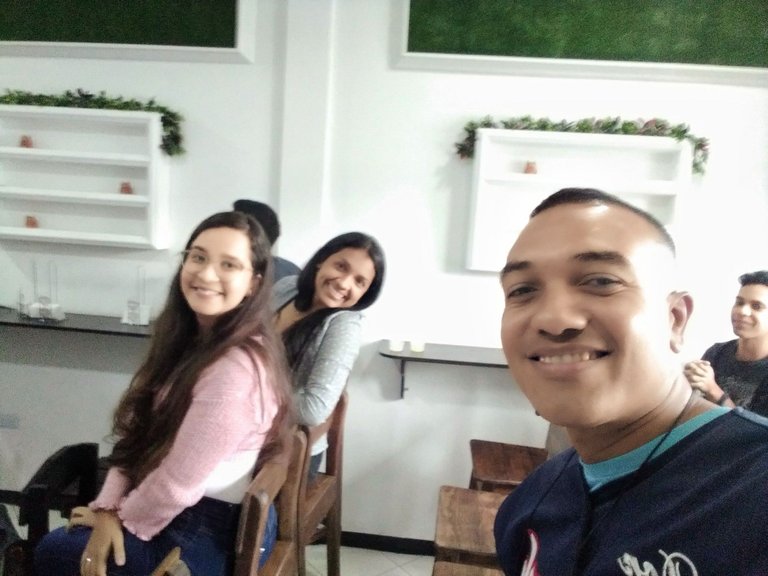 El comienzo estaba a cargo del amigo @eliudgnzlz que se dispuso hablar de todo lo que refiere a la definición básica de NFT (Token no fungible) y los fundamentos de esta nueva tecnología. Mientras todos estábamos atentos a su explicación, yo era parte de los ponentes pero eso no significa que no haya cosas que aprender o seguir puliendo para mejorar. Así que me dispuse como otro mas de la audiencia.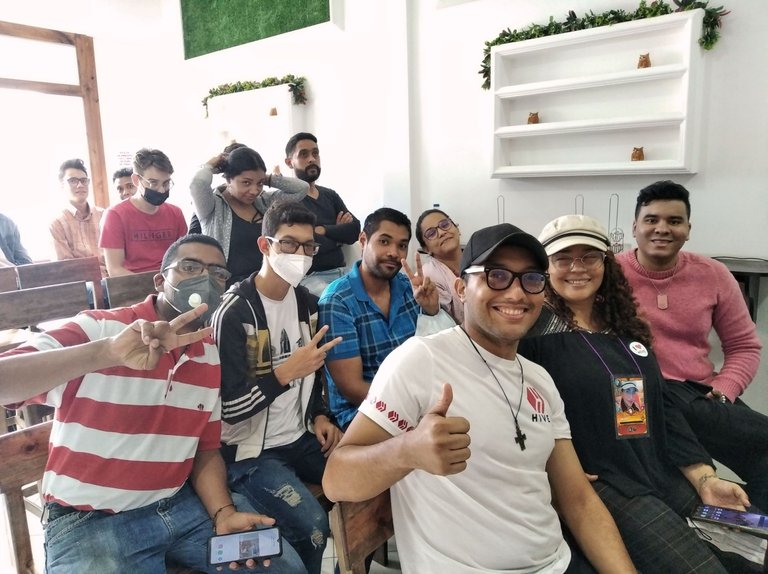 A partir de entonces comenzaron a desfilar cada uno de los juegos que nos acompañaron en esta aventura "Gaming".
Dcity, Cryptobrewmaster y Rising star estuvo a cargo del compañero @joheredia21 que realizó un exposición amena enfocándose en los detalles mas simpes de los juegos, su jugabilidad, el tiempo dedicado, las diferentes formas de farmear los tokens y mucho mas. Para estos juegos contamos con el patrocinio de @ecoinstant (Dcity), @gr33nmaster (Rising Star) excelentes amigos de que encontramos dentro del ecosistema.
Nuestra invitada especial @soy-laloreto nos hizo un recuento de su experiencia en los juegos NFT dentro y fuera de Hive, hizo énfasis especialmente en Rising Star y Splinterlands. Con su genial sonrisa nos mostró los altibajos que pueden ocurrir en este tipo de actividades donde se involucra la inversión. Definitivamente una chica digna de admirar por su valentía, tenacidad, y responsabilidad para atender un sinfín de actividades que enmarcan su vida, lo mejor de todo es que siempre esta dispuesta a apoyar y dar un buen consejo para que hagamos las cosas bien.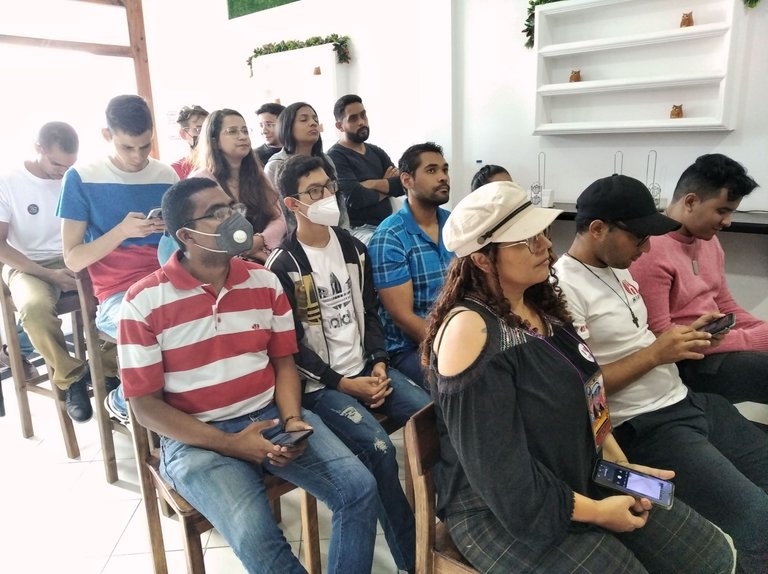 Llegaba mi turno para hablar sobre un juego que tal vez pocos conocen pero que es una verdadera pasión para el que lo sigue, en este caso Rabona Soccer Manager, un gestor del deporte rey en donde estas destinado a construir tu imperio fútbol. En esta te conviertes en el director general de un club de futbol y debes estar atento a toda la responsabilidad que esto conlleva, mejorar tu estadio, mejorar todo el complejo deportivo, oficinas, contratar jugadores, definir alineaciones del juego, entrenar a tu equipo, la venta de suvenires, la parte legal, el crecimiento de los fans y mucho mas, todo esto bajo la tecnología NFT. Parece complicado, pero en realidad la inversión de tiempo no es mucha.
También hablé sobre Crypto-Shots (@cryptoshots.nft), el primer shotter en primera persona desarrollado en la cadena de Wax y en Hive, es un juego multicadena que comenzó en Wax pero desde hace algún tiempo su desarrollador @marcocasario y su equipo han estado trabajando en la adecuación al 100% para Hive (Por cierto el 21 de agosto es su lanzamiento oficial), para nuestro evento distribuimos como regalos 3 NFT en la cadena Wax y 1 NFT en Hive.
¡Están todos invitados a echarle un vistazo!
---
Luego dimos inicio al plato fuerte de los juegos NFTs en Hive, nuestro juego insignia Splinterlands mi participación se centro en la experiencia de los inicios del juego, sus cartas, las primeras recompensas para luego abrirle paso al pana @elfino28 que nos hablo de Haskings interesante juego que se enfoca en la jardinería de plantas medicinales y que también tiene su espacio ganado dentro del ecosistema. Luego de esto @elfino28 se encargo de profundizar en todo lo que refiere al juego de cartas coleccionables Splinterlands, como todos sabemos el dedica casi toda su interacción los juegos NFT del blockchain.
Nos hablo de la economía, las nuevas actualizaciones, formas de combate, y recompensas. Para el cierre invitamos a los que seguían la transmisión en vivo y a los presentes retar a nuestro moderador para una batalla en Vivo, se realizaron varias obteniendo una casi perfecta puntuación.
---
Solo quedaba el compartir del refrigerio a cargo de Splinterlands por medio de su embajador @steamdan y los amigos de @foxlatam (Shapeshift) a traves de su embajador Rafael que generosamente sirvieron de sponsors de la actividad. Luego conversar, tomar muchas fotos, sonreír y compartir con todos los presentes.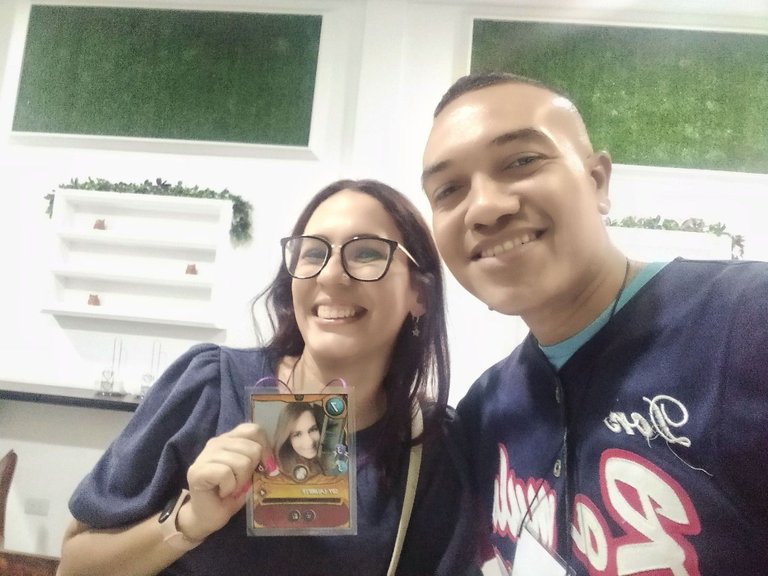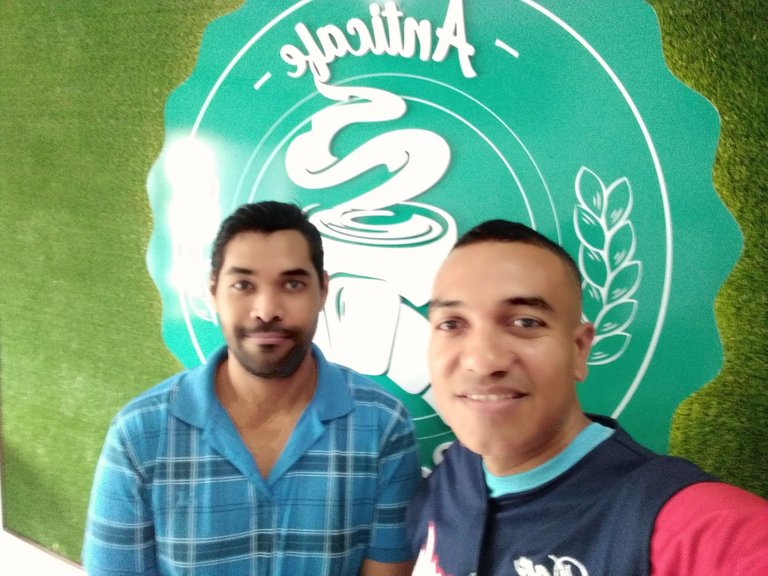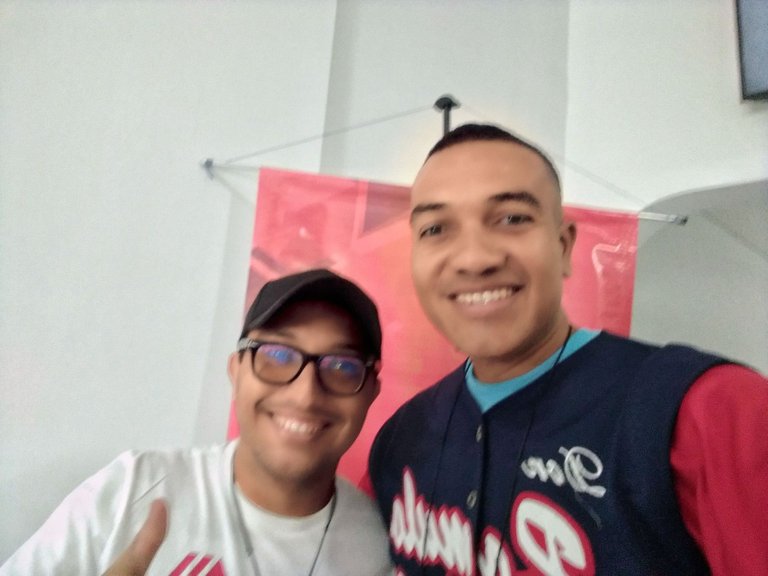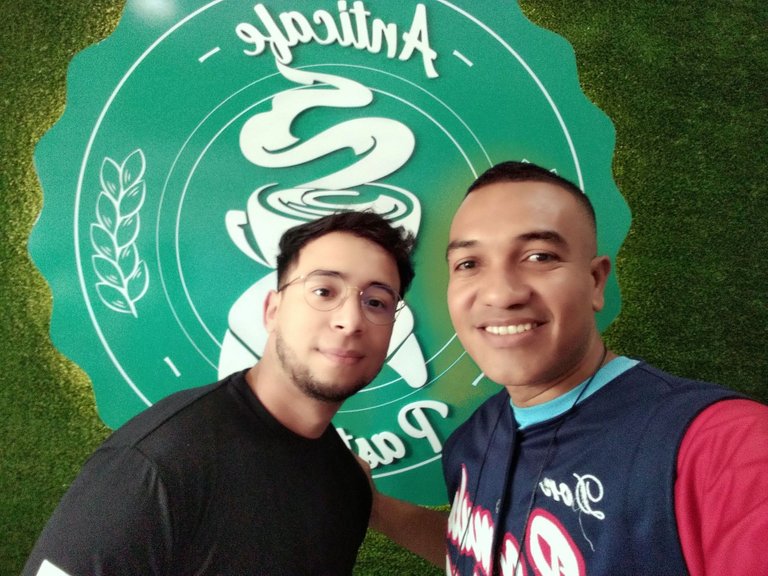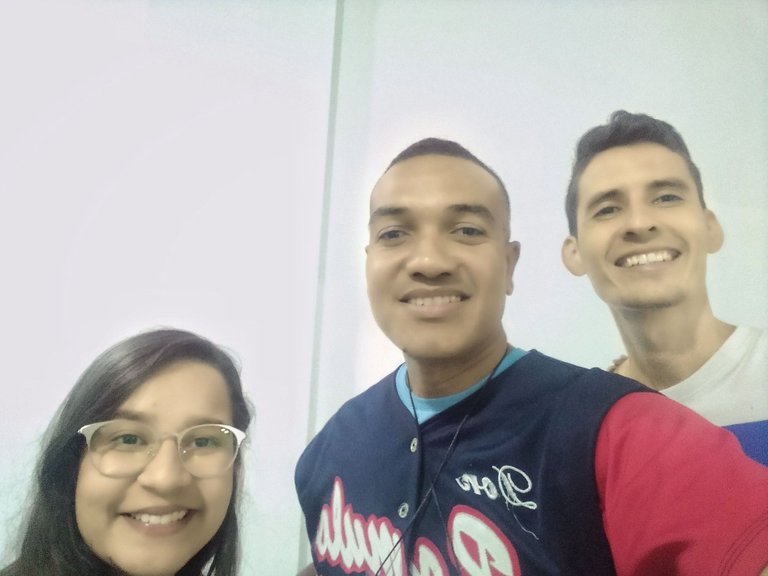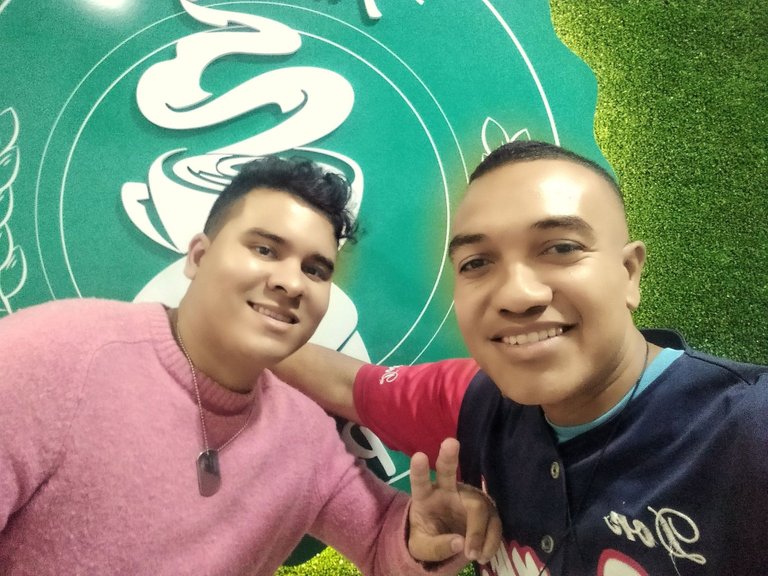 Una foto muy especial de un grupo especial que ha echo posible este encuentro de Hivers para promocionar las bondades que nos ofrece nuestro Blockchain en apenas una arista, los juegos NFT. La lista de personas a las cuales agradecer es inmensa, los asistentes todos, los que acompañaron cada tweet, los que vieron la transmisión en vivo, gracias a todos, en especial @foxlatam, @gr33nm4ster, @cryptoshots.nft, @ecoinstant, @mundovirtual, @hashkings ,@venapboyz, @steamdan y todos por haber apoyado el evento. ¡Gracias!
---
¡Con esto se despide la familia de @HiversBQTO, conectaremos pronto con todos ustedes!
---
¡Fin!
---
---

Original Creation by: @yonnathang
Pictures taken and edited from a smartphone. 13 MP camera (f/2.2, PDAF).



---
---