CCC's Street Art Contest #135 - Struggle and Resistance / Lucha y Resistencia
English
Struggle and Resistance
February 27, 1989 is a sad date for the city of Caracas, since that day the whole country would witness one of the most painful episodes of our modern history, days before that Monday the newly elected president Carlos Andres Perez would apply a series of economic adjustments guided by the International Monetary Fund, These were taken by the most vulnerable sectors of the population as a measure totally contrary to the interests of the majority, which generated in the city of Guarenas and later in the capital a wave of strong protests, road blockades and looting of establishments, mainly those selling food, footwear and clothing in general.
Español
Lucha y Resistencia
El 27 de febrero del año 1989 es una fecha triste para la ciudad de Caracas, ya que ese día el país entero presenciaría uno de los episodios más doloroso de nuestra historia moderna, días previos a ese lunes el recién electo presidente Carlos Andrés Pérez aplicaría una serie de ajustes económicos guiados por el Fondo Monetario Internacional, los cuales fueron tomados por los sectores más vulnerables de la población como una medida totalmente contraria a los intereses de la mayoría, lo cual genero en la ciudad de Guarenas y posteriormente en la capital una ola de fuertes protestas, trancas de vías y saqueos a establecimientos, principalmente aquellos que vendían de alimentos, de calzados y de ropa en general.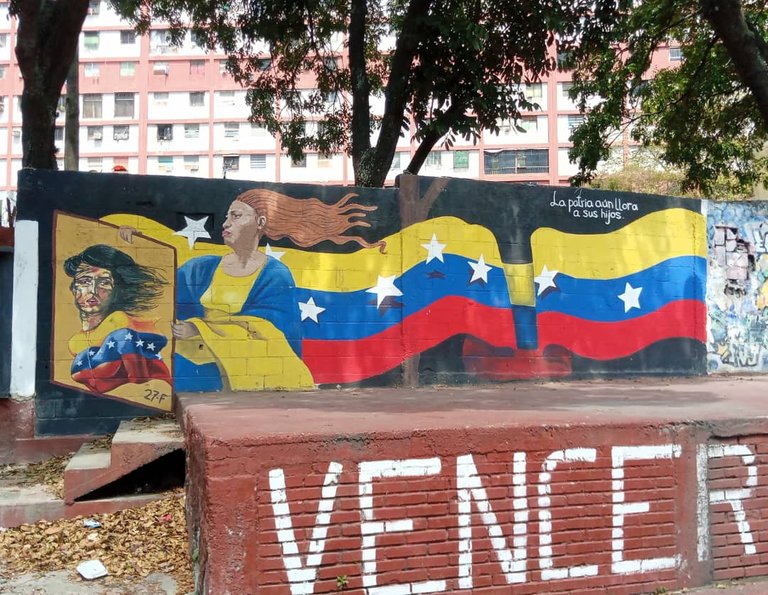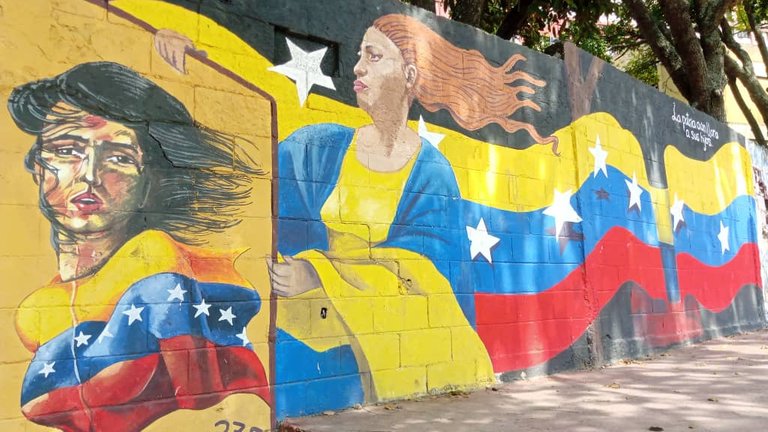 That wave of protests was uncontrollable and the government ordered the army to take to the streets, with the mission of restoring order by any means necessary. This resulted in an unofficial death toll of more than 3,000 people and as many disappeared, thus, in the collective memory, those events were marked forever as an example of what should not be done. This is how in this corner of the 23 de Enero Parish, just behind Block 3 of Monte Piedad is this mural created by an unknown artist, which shows us a dark-haired woman, dressed with the national flag in front of a black background, carrying in her hands a portrait of another lady, also dressed with the national tricolor, but this one with her face beaten and with blood marks, which in my opinion symbolizes the courage, resistance and the spirit of struggle of the tireless Venezuelan people.
Aquella ola de protestas fue incontrolable y el gobierno ordeno la salida del ejercito a las calles, con la misión de restaurar el orden como fuera, esto dio como resultado una cantidad extraoficial de más de 3.000 muertos y otros tantos desaparecidos es así como en la memoria colectiva esos hechos quedaron marcados para siempre como un ejemplo de lo que no se debe hacer. Es así como en este rincón de la Parroquia 23 de Enero, justo detrás del Bloque 3 de monte Piedad se encuentra este mural creado por un artista desconocido, el cual nos muestra a una mujer morena, vestida con la bandera nacional delante de un fondo negro, cargando en sus manos un retrato de otra dama, también vestida con el tricolor patrio, pero esta con su rostro golpeado y con marcas de sangre, lo cual a mi parecer simboliza el valor, la resistencia y el espíritu de luchas del incasable pueblo venezolano.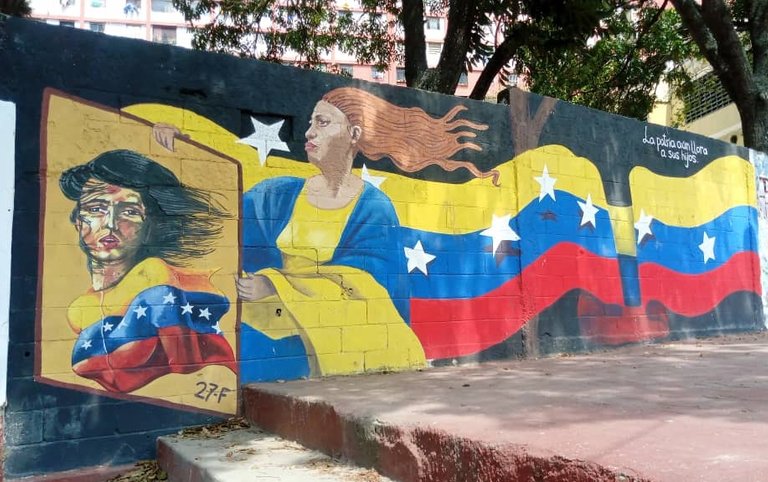 ---
---