Hermosos zarcillos pintados con acuarela / Beautiful earrings painted with watercolor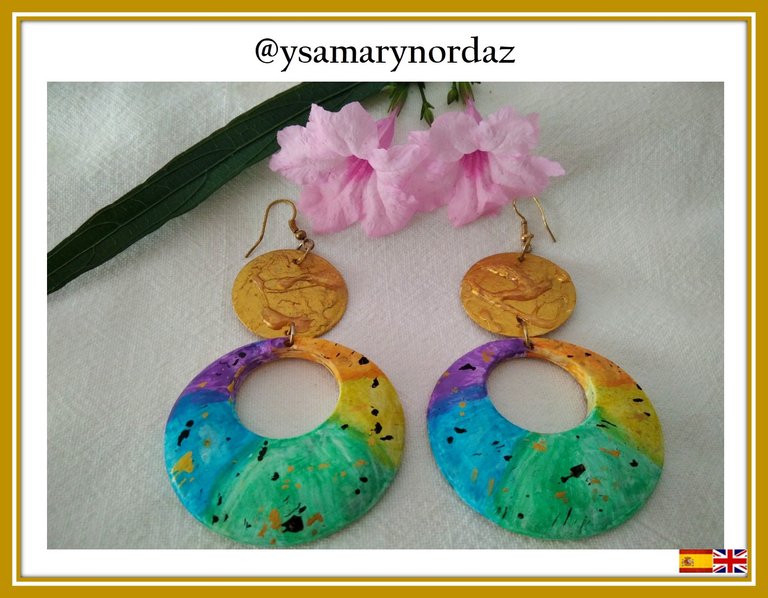 Hola amigos de esta gran comunidad de #jewelry. El día de hoy quiero compartir con ustedes un paso a paso muy creativo: Zarcillos pintados con acuarela. La acuarela es una técnica muy utilizada, la misma se aplica en un fondo blanco y utiliza colores que se disuelven al agua. Esta hermosa técnica es ideal para desarrollar la creatividad, así como también relajarse, no necesitas ser un pintor profesional solo combinando bien los colores puedes crear una pieza original y hermosa. Para la propuesta que hoy les presentaré estaré poniendo en práctica, además, el reciclaje ya que las piezas que escogí para pintar son zarcillos que han estado guardados por largo tiempo y, es hora de darle una segunda vida. Por tal motivo, te invito a renovar los zarcillos que ya no usas utilizando el siguiente paso a paso, espero te guste. ¡Vamos a comenzar!
Hello friends of this great community of #jewelry. Today I want to share with you a very creative step by step: Earrings painted with watercolor. Watercolor is a widely used technique, it is applied on a white background and uses colors that dissolve in water. This beautiful technique is ideal for developing creativity, as well as relaxing, you don't need to be a professional painter, just by combining the colors well you can create an original and beautiful piece. For the proposal that I will present to you today, I will also be putting recycling into practice since the pieces that I chose to paint are earrings that have been stored for a long time and it is time to give them a second life. For this reason, I invite you to renew the earrings that you no longer use in the following step by step, I hope you like it. Let's get started!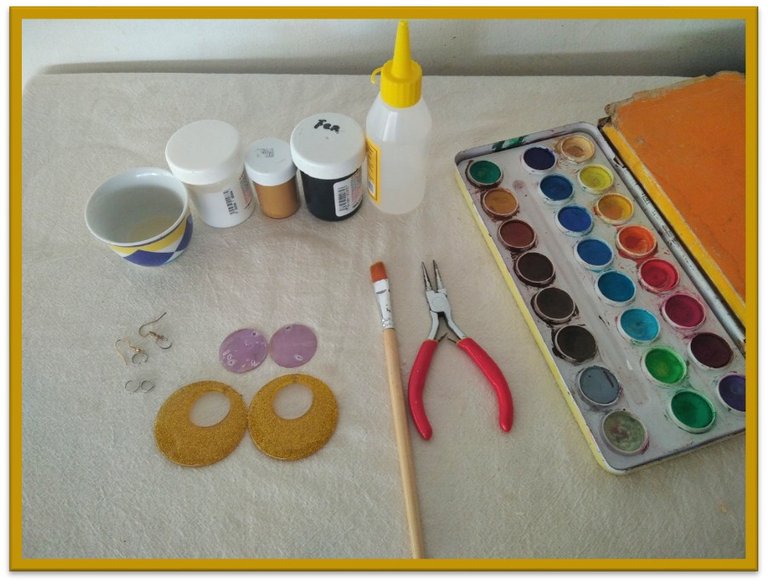 Materiales:
•Acuarelas
•Pincel
•Barniz
•Pinturas colores: blanco, negro y dorado
•4 aros dorados
•2 ganchos de zarcillos
•Pega silicon
•Pinza
•2 base redondas con doble unión
•1 par de zarcillos
Materials:
•Watercolors
•Brush
•Varnish
•Paint colors: white, black and gold
•4 jump rings
•2 earring hooks
•Glue silicone
•Pincer
•2 round bases with double union
•1 pair of earrings
Paso 1
Pinta todas las piezas de color blanco por ambos lados y deja secar.
Step 1
Paint all the pieces white on both sides and let dry.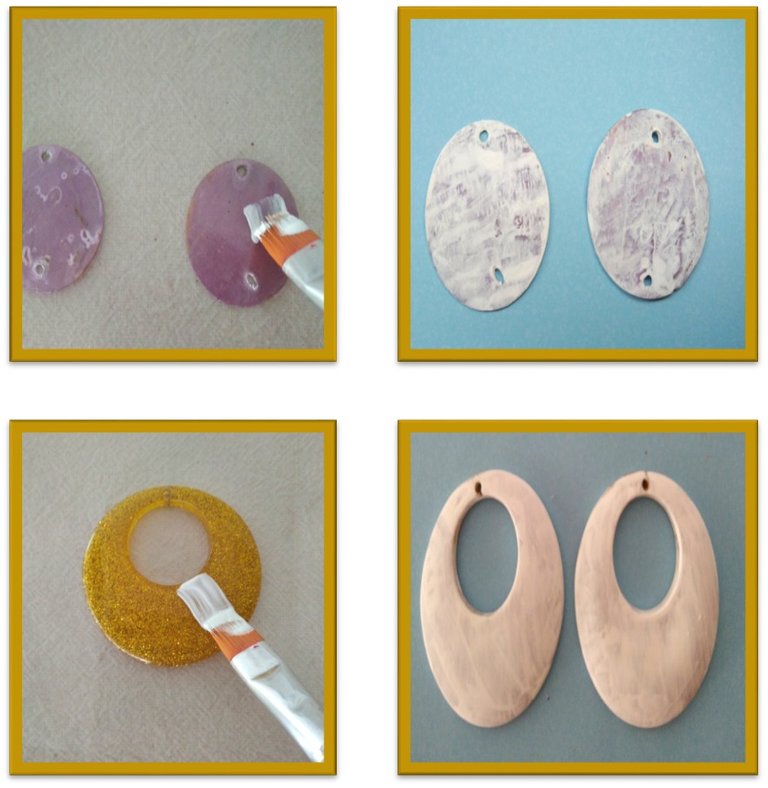 Paso 2
Aplica sobre las bases redondas la pintura de color dorado. Una vez seca la misma, haz pequeñas líneas entrelazadas con la pega de silicon y deja secar bien, realizando este procedimiento la misma tendrá un efecto de relieve.
Step 2
Apply the gold paint to the round bases. Once it is dry, make small intertwined lines with the silicone paste and let it dry well, doing this procedure will have a relief effect.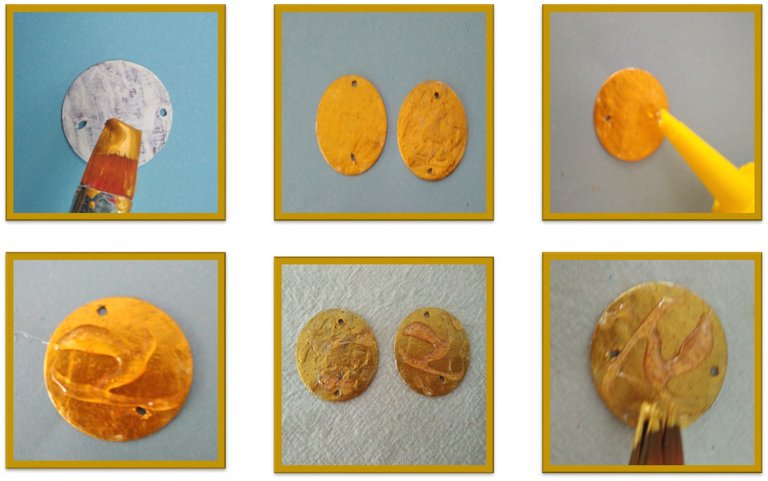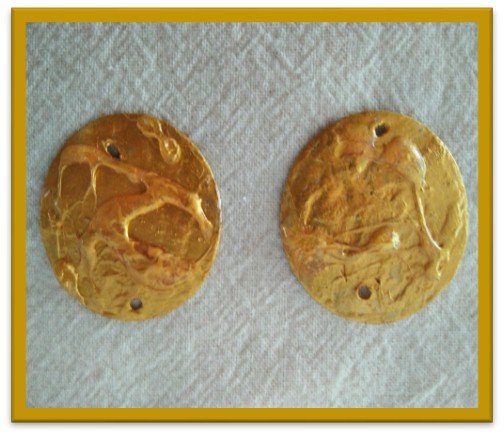 Paso 3
Para empezar a pintar los zarcillos primero humedece el pincel en agua, procura no mojarlo demasiado. Luego cárgalo de los colores como se indica en la imagen, yo he optado por los colores morado, azul, verde, amarillo y naranja.
Step 3
To start painting the earrings, first moisten the brush in water, try not to wet it too much. Then load it with the colors as indicated in the image, I have chosen the colors purple, blue, green, yellow and orange.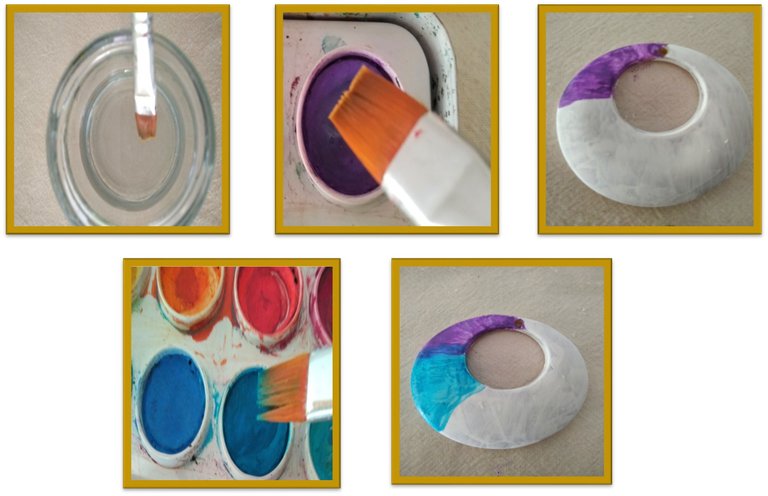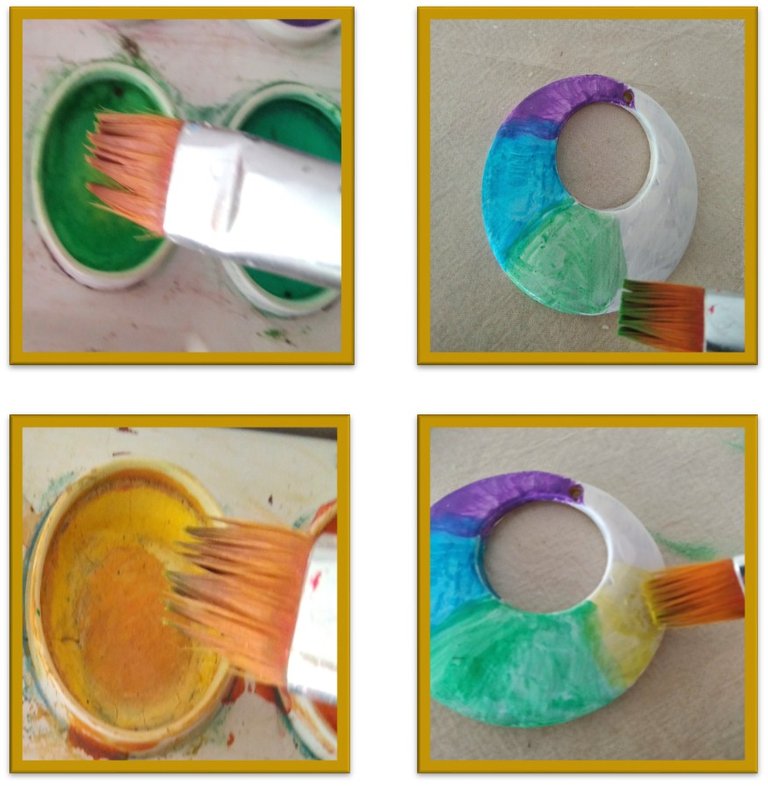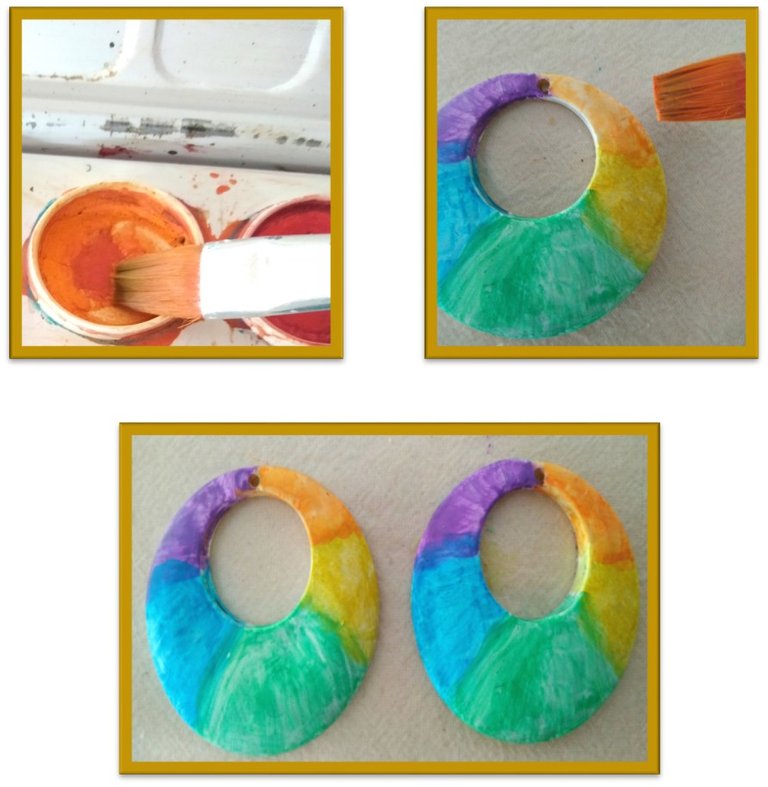 Paso 4
Una vez seca la acuarela, toma el pincel y cárgalo solo un poco de la pintura de color negro. Luego, salpica sobre la pintura de acuarela. Realiza este mismo procedimiento con la pintura dorada. Este efecto del salpicado hará que resalten más los otros colores.
Step 4
Once the watercolor is dry, take the brush and load it with just a little bit of the black paint. Then, splash over the watercolor paint. Do this same procedure with the gold paint. This splatter effect will make the other colors stand out more.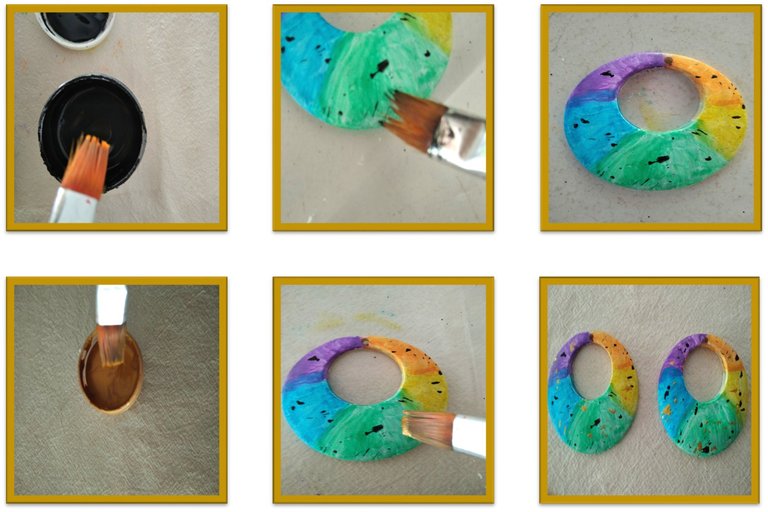 Paso 5
Aplica la pintura de color dorado en la parte posterior del zarcillo. Una vez seca las piezas por completo, aplica un poco de barniz para proteger la pintura.
Step 5
Apply the gold-colored paint to the back of the earring. Once the pieces are completely dry, apply a little varnish to protect the paint.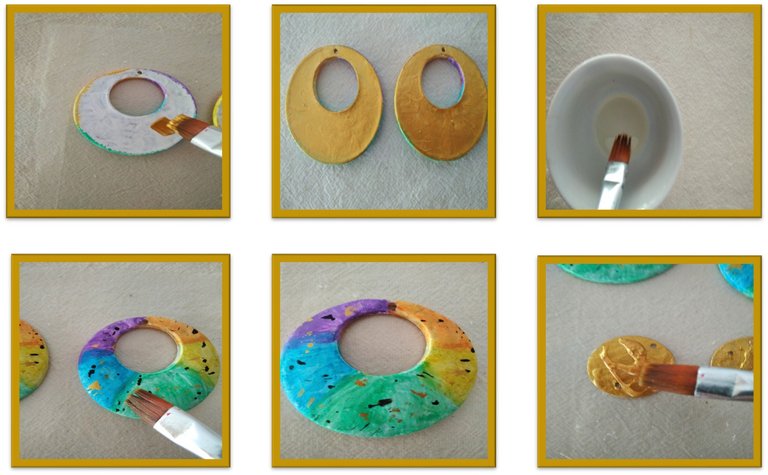 Paso 6
Para unir las dos piezas, con ayuda de la pinza, introduce el aro dorado a las dos bases de zarcillo como se indica en la imagen y luego, ciérralo. Seguidamente, coloca en la parte superior el gancho de zarcillo y ciérralo con la pinza.
Step 6
To join the two pieces, with the help of the pincer, insert the jump ring into the two earring bases as indicated in the image and then close it. Next, place the earring hook on top and close it with the pincer.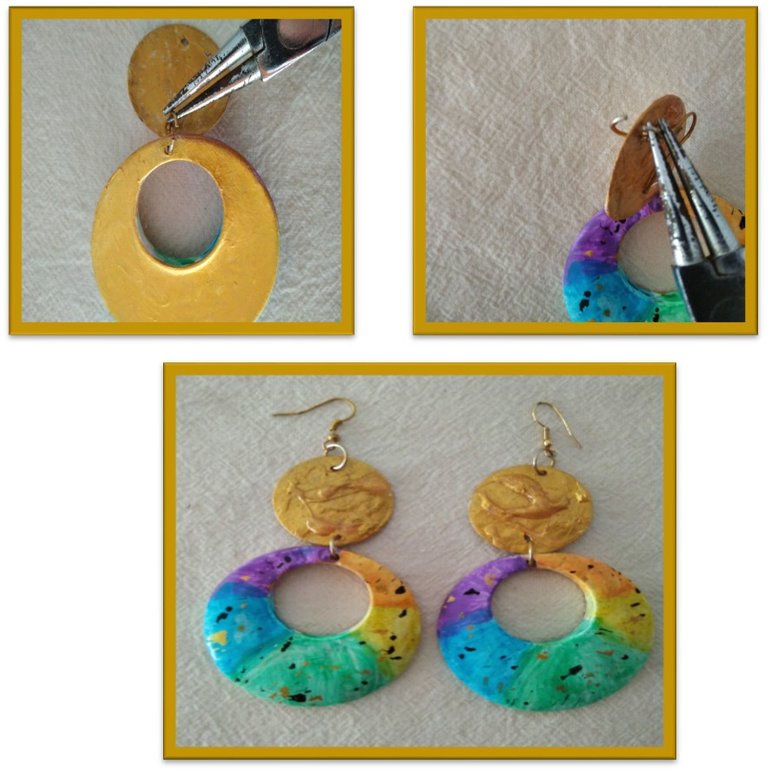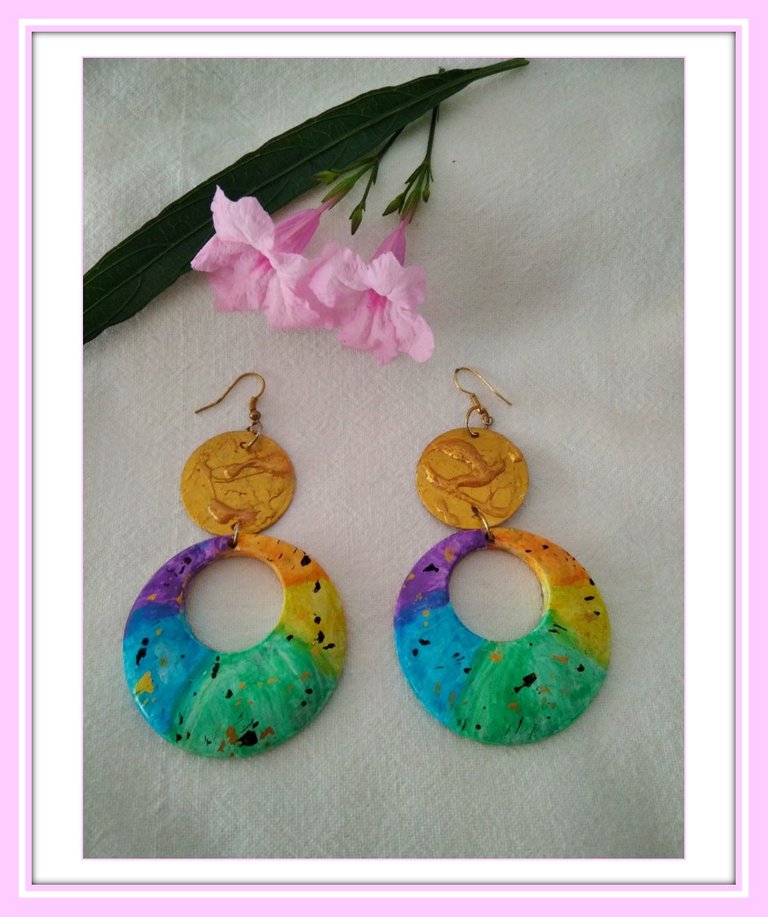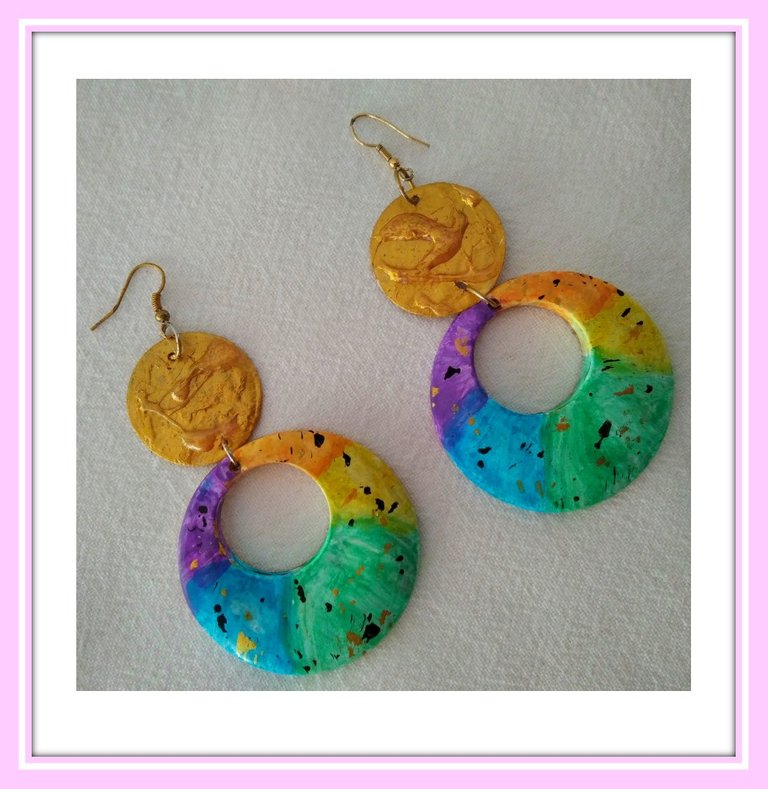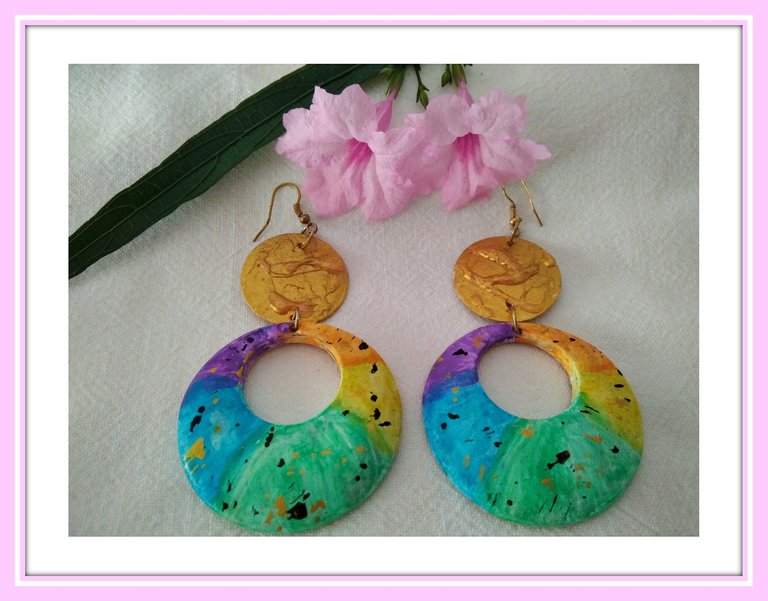 Los zarcillos están terminados y el resultado final han sido unos zarcillos modernos y originales. Las bases doradas con las líneas entrelazadas, realizadas con la pega de silicon, han quedado hermosas y elegantes; esta es una técnica genial para simular relieve. Igualmente, la combinación de los colores de la acuarela se ve genial. Como has podido observar ha sido un paso a paso sencillo de realizar, lo mejor de todo es que no utilizaras muchos materiales y puedes pintar a tu gusto realizando el diseño de tu preferencia. Espero te animes a crear y a poner en práctica el reciclaje siguiendo este paso a paso. ¡Hasta una próxima oportunidad!
The earrings are finished and the final result has been modern and original earrings. The golden bases with the intertwined lines, made with silicone glue, have been beautiful and elegant; this is a great technique to simulate relief. Also, the combination of watercolor colors looks great. As you have been able to observe, it has been a simple step by step to carry out, the best of all is that you will not use many materials and you can paint to your liking, making the design of your choice. I hope you will be encouraged to create and put recycling into practice by following this step by step. See you soon!
Las fotografías fueron tomadas por mí con mi teléfono celular Redmi Note 8.
Utilicé el programa Microsoft Power point
Traducción: Google Translation
The images were taken by myself with my Redmi Note 8 cell phone.
Translation: Google Translation
I used the program Microsoft Power point

---
---