Zallin News - 04 - Conqueror Jacek, New Game P2E and Best battles!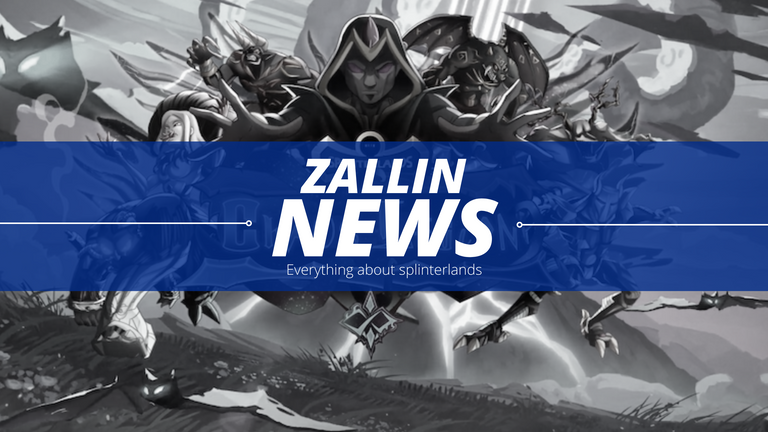 Let's go for another Zallin News, this time we have the reveal of the new card Conqueror Jacek, New game, Rift Watchers, SPS, Best battles, amazing posts, tips and an excellent tool website😄.

📰 Official News 📰
This time there was not so much news about the game but we have interesting things to analyze.
---
Town Hall
We had some interesting information about the new game in partnership with MLSPA and splinterlands developers, some news about the upcoming Rift Watcher expansion and a Preview of the Non-Card Market was released, I'll just leave here the points that I thought were most important, but I recommend reading the posts below to get a better understanding.
Genesis League Soccer - Splinterlands & MLSPA Partnership.
New play to earn game in partnership with MLSPA.
Will run on the HIVE blockchain.
There will be an airdrop for all SPS stakers.
Pack sale will begin in October.
Whitepaper should be released in the next month.
There are THREE separate giveaways going on (link in town hall post).
Rift Watchers:
New skills
Team is hoping that the pre-sale for Rift Watchers will be end of August
You cannot use SPS in stacke to buy the packs.
You will need a voucher to buy at pre-sale.
Non-Card Market Preview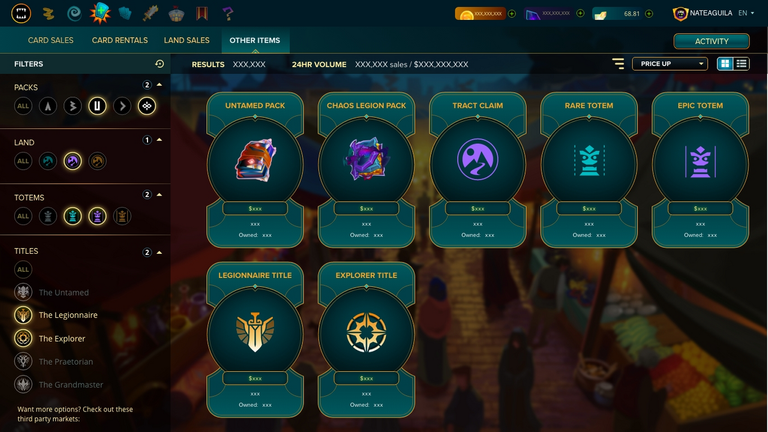 ---
New Chaos Legion Legendary Summoner Airdrop Revealed!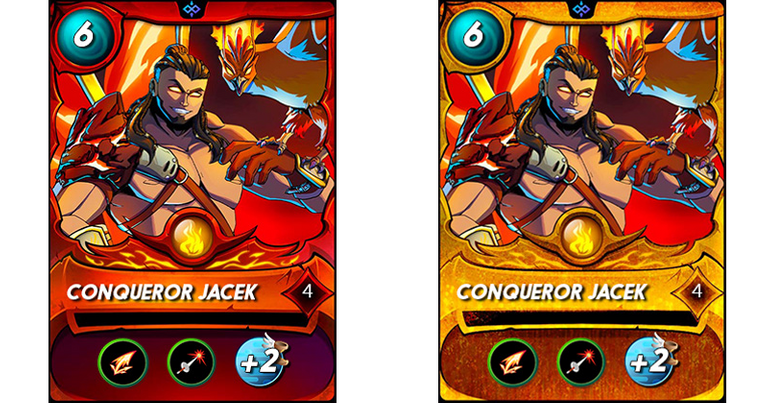 Conqueror Jacek will bring chaos to the game😅, as his cards will receive the abilities Scattershot and Piercing, it will be interesting to see how it will work in the meta, I really liked the artwork this fexix is really cool.

---
Tome of Chaos Story
Two more chapters were released from this story since my last post, Ambush and Enduring, these stories are getting better and better, I will leave the link with the official post with all the chapters released until today.



---

💵 Market 💵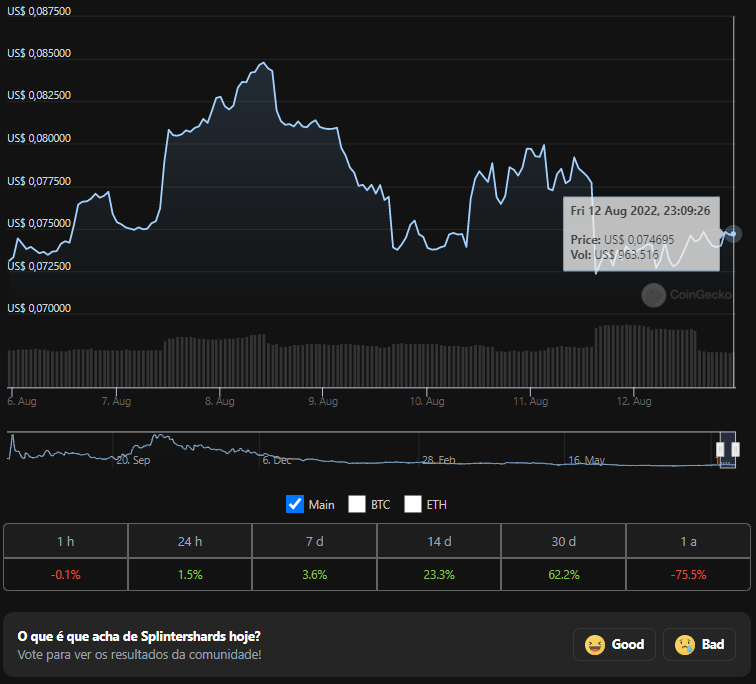 SPS keeps going up, today it's costing 0.074$ with an increase of 62% in the last 30 days 😍, next big change will be in the announcement of the new collection of cards that should soon appear here.
For those who still don't know, the new Pools with SPS are already valid, a tab within the game itself shows everything you need to know about them.

⚔️ Top Battles ⚔️
Another week of incredible battles, I always look for battles between the top 25 in each of the leagues, for this week the format remains the wild.
---
BRONZE LEAGUE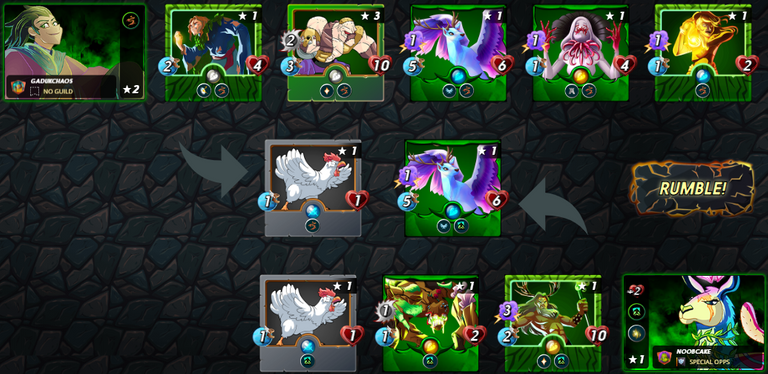 A match between @NOOBCAKE and @GADUKCHAOS, how hard is to face this combo of Llhama Mage with Kron, quiet victory of NOOBCAKE and his famous combo 😄.
---
SILVER LEAGUE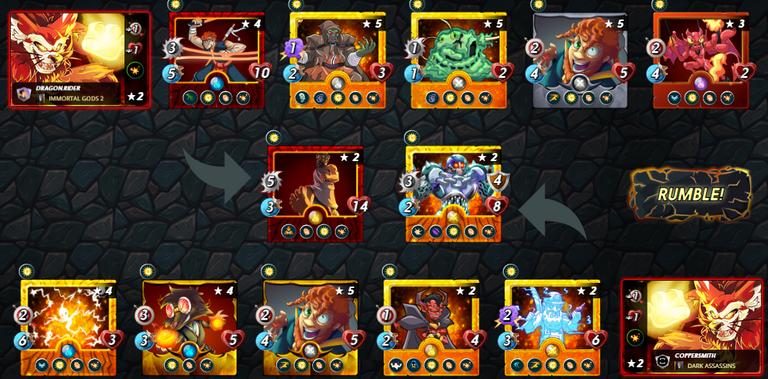 @DRAGON.RIDER Vs. @COPPERSMITH, a game with heavy damage, explosions to all sides and 2 incredible tanks, the victory went to DRAGON.RIDER and its legendary giant.
---
GOLD LEAGUE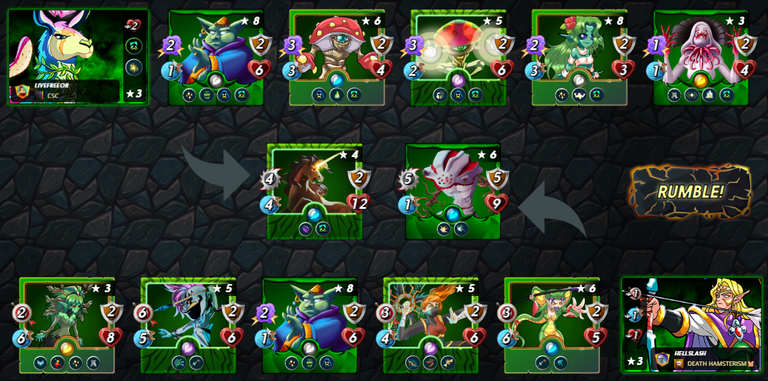 Match between @HELLSLASH and @LIVEFREEOR or we can say match between Ranged Attacks Vs. Magic Attacks, better for HELLSLASH and his archers 😁.
---
DIAMOND LEAGUE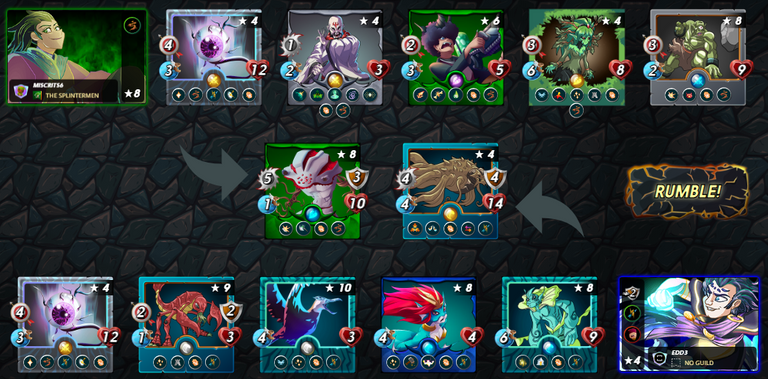 One of the longest matches I have ever seen, it took 24 rounds to reach the end of this confrontation between @MISCRITS6 and @EDD3, I stayed until the end to see who would win, victory for MISCRITS6 😄.
---
CHAMPION LEAGUE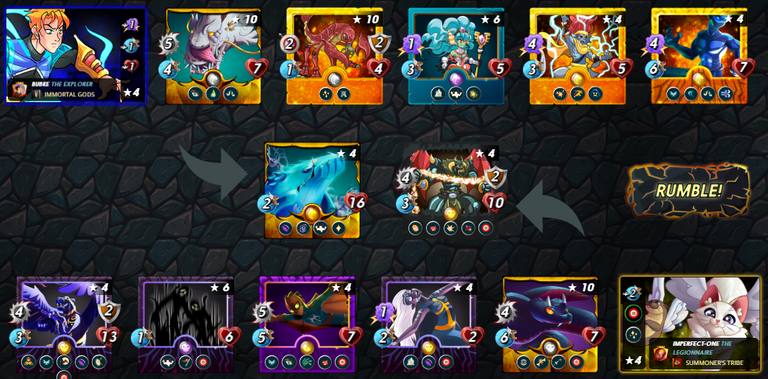 @IMPERFECT-ONE Vs. @BUBKE an incredible combat of cards in their maximum lvls, it takes a long time before the fight starts because there are many buffs being applied 😃, the victory goes to IMPERFECT-ONE and his powerful stuns 😁.
---

💻 Website 💻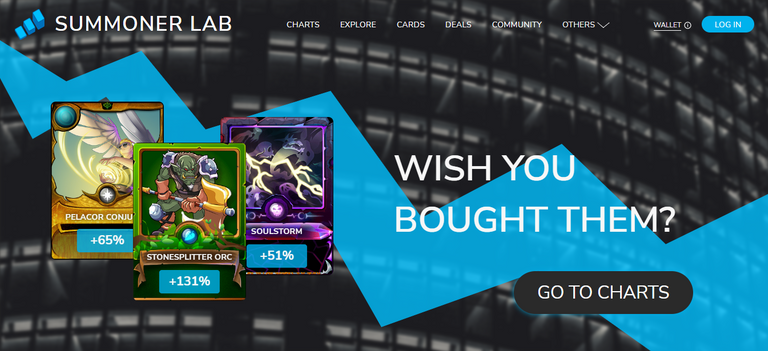 The site chosen for this week was summonerlab this amazing site can show a lot of information about the cards such as prices, win rates, against whom it is strong or weak, best rules and even charts with all the ups and downs of the market.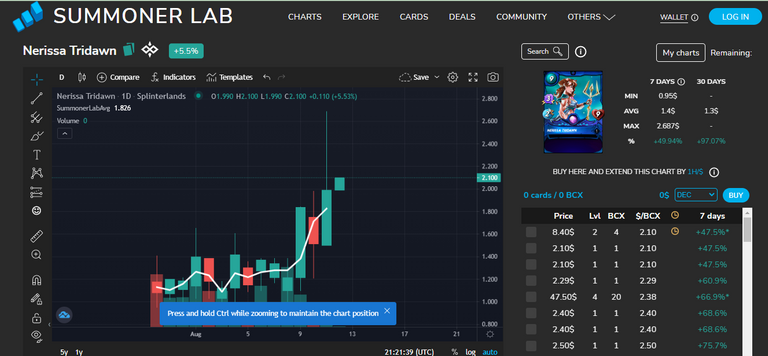 In this part, we can see the chart of the selected cards and all their market movement.
---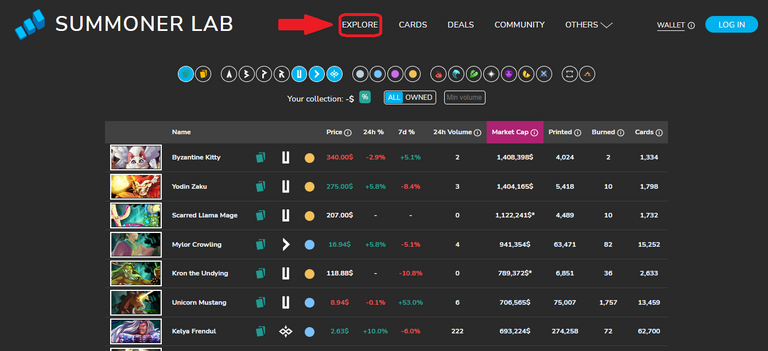 In the Explore page you can see the price change of the cards more easily, this tab also has a multitude of filters to make your search even better.
---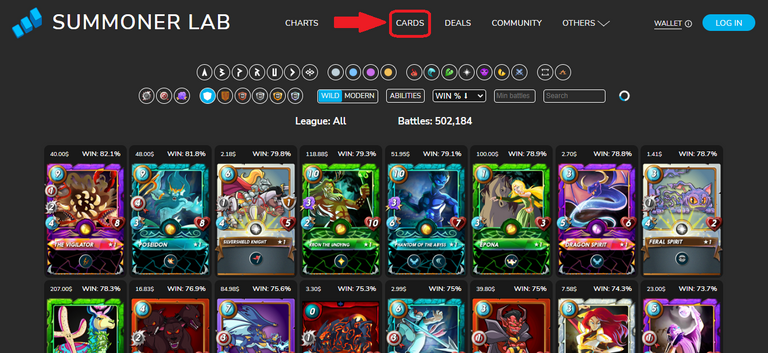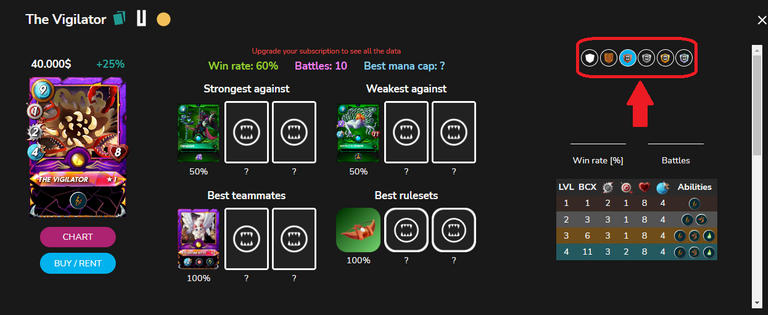 And in the Cards tab, we can see the win rate of each card, and when you click on one of them, a new screen opens with more information such as who it is strong against, the best teammate and many others, remember that you can change the league of the card as highlighted in the image above😍.
---
A very good tool, there are many other things on this site that I did not list, I only showed the free part of the site, the paid plan has much more information about the cards.
---

💡 Tips 💡
There is an option on the peakmonster website that you can mark your favorite cards for rent, you can, for example, mark all the green cards that you usually rent, so in addition to saving your time you avoid forgetting something important for your team.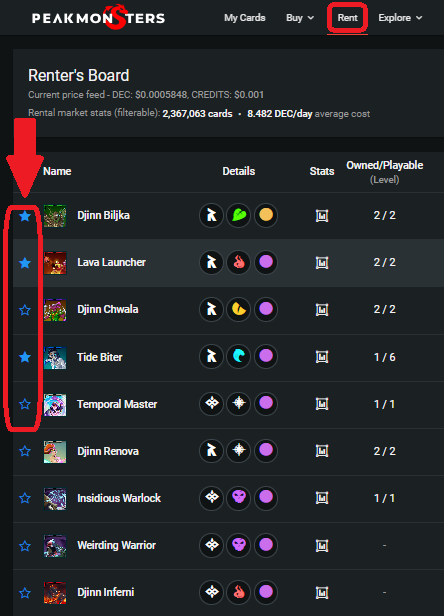 Just go to the rent part of the site peakmonsters and in the left corner there will be some stars, just click on them to add in your favorites list.

Now just click on only favorites and all your marked cards will appear, then apply the filters you want such as level, element, rarity and many others.

📝Best Posts📝
---

Amazing post by user @michupa, explaining about the various abilities that weaken your opponent, it's worth checking out this debuff list 😄.
---

What a cute mini Sea Genie, the whole process of creation is perfectly explained in the post, even the time spent😍. Congratulations @chopiliart, your art was very cool.
---
A very complete guide to the Soul Strangler card made by the user @jerson1231, without a doubt one of the best Share Your Battle I've seen.
---


That's it for today, I'm looking forward to news about this new game. 😂

Game Link: Splinterlands
Image sources:
https://splinterlands.com/
https://peakmonsters.com/dashboard https://www.coingecko.com/pt/moedas/splinterlands
https://summonerlab.com/


---
---