ZALLIN - ROAD TO CHAMPIONS LEAGUE - 04 - FIRST PROFIT IN TOURNAMENTS!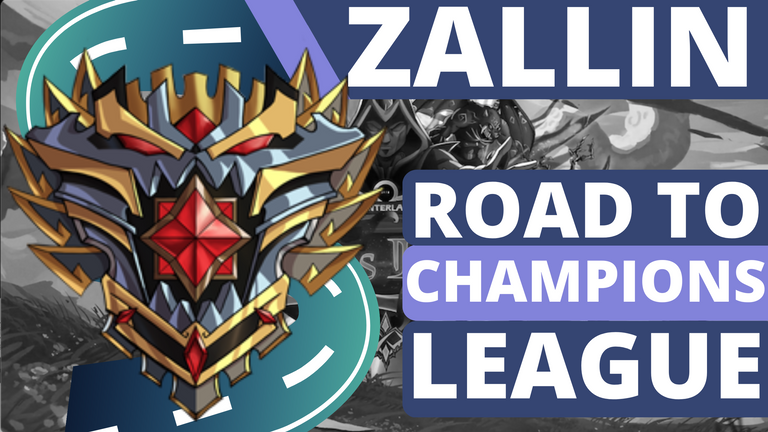 ---
Another step of my long journey, between victories and defeats I keep improving myself in the game, I'm recording all the paths and investments I'm making in this wonderful game, so let's go to the chapter 😄.

🚙 MY ROAD 🚙
Season 94
I could not play every day and several times the ECR reached the limit, even so, this season was one of the best so far in terms of reward, my total winnings was 10.10$. I improved my position compared to my last season and I was in rank 204, I kept playing with the colors White, Blue, and Black, I am losing about 15% of the matches when none of these colors come to play, another detail is that the summoner Grandmaster Rathe can not be played in certain matches which sometimes bothered me a lot, but I think this is worth the cost and benefit, my average rent was around 450DEC/DAY.
Season 95
I intend to continue with the 3 colors scheme besides renting the General Slon or another white summoner for low mana cost battles of the life element, I will also leave some bids on some untamed cards, some I find very cheap to league gold and are powerful and funny (I am loving playing with the frog with poison in the second position 😍), I intend to get even higher in the rank and try to spend this ECR 😄.
🤜 Best Matches 🤛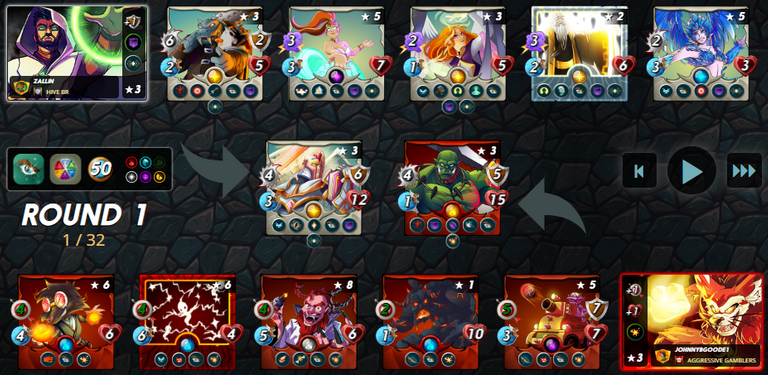 In a gold league match, I faced a Yodin and managed to win without losing any cards, of course, my Harpy died 2x but was revived by the two clerics, highlight for the hippopotamus this guy is incredible in matches with Equal Opportunity.
---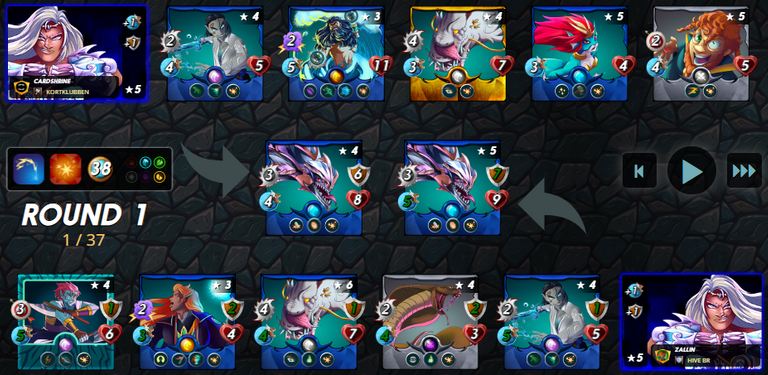 More and more enjoying the versatility of the blue element, in this game, I had a lot of damage with Ax master, resurrection, two poison cards, and one to neutralize the damage of the Explosive Weaponry rule.
---
🏆 Tournaments 🏆
I participated in 2 tournaments and for the first time I made a profit!!!! It was a very cool experience that I will certainly continue.
---
Darastrix Modern Bronze Beginner Training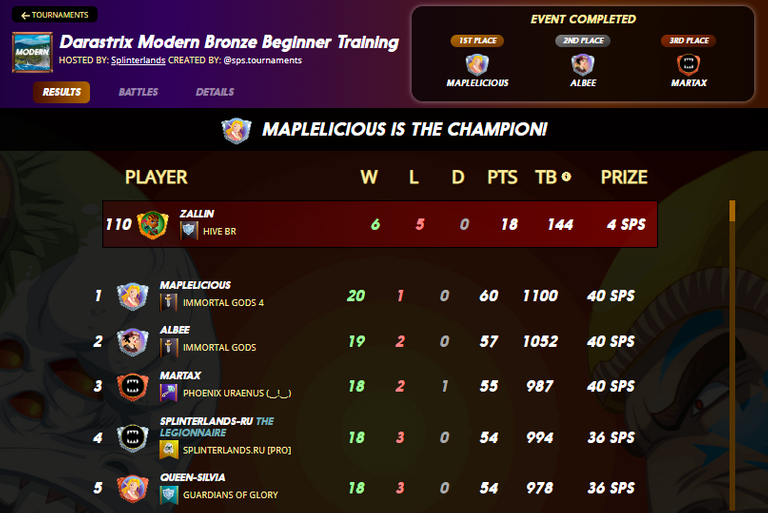 This was the first tournament where I made a profit, I paid 2 SPS to participate and I won 4, I lost 2 games for foolishness if I had won they would be in the second phase of this tournament.
---
Silvershield Academy Beginner Training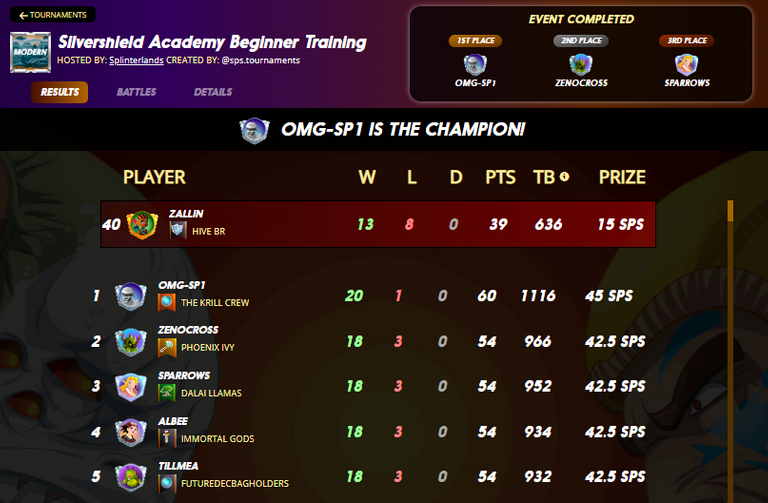 Here was my best result so far, I reached the second stage of the tournament and I barely finished among the first, a game I really couldn't win because it came only red to play and had almost nothing of this element😭, but I paid 2 SPS to participate and gained 15 SPS at the end.

💎 REWARDS 💎
Season 94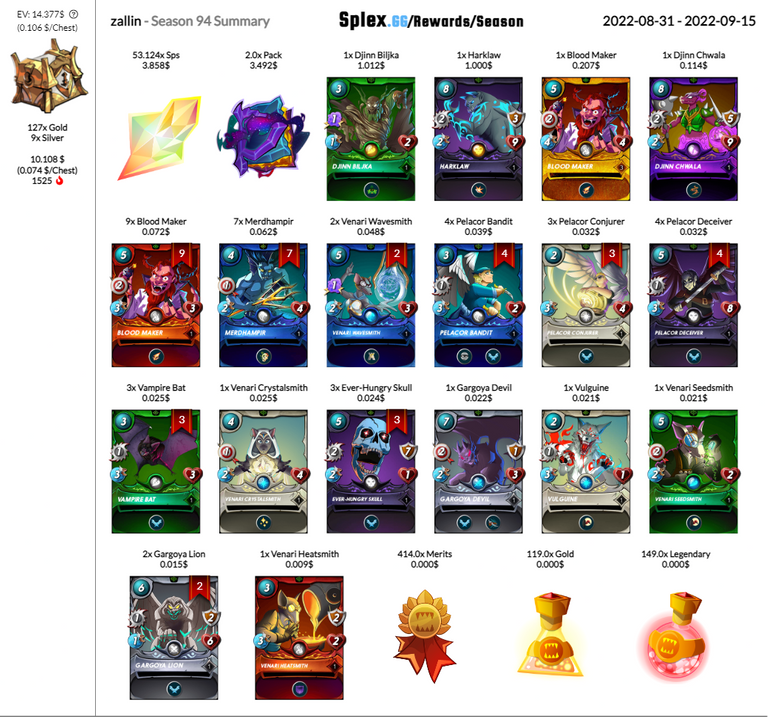 This was one of my best seasons, and I couldn't even play as much as I wanted, even so, I reached 10.10$, highlighting 2 packs, two legendaries, and a common Foil.
---
Current Season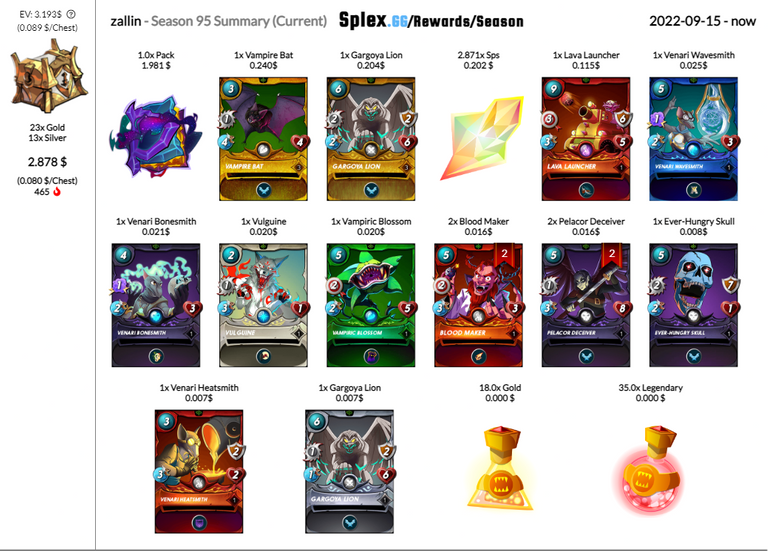 I think I started well this new season, with a pack and two common foils, there are still 10 days left + the end season chests, this has everything to be one of my best because I got to the G1 league very fast.
🎰 PACKS 🎰
---
Chaos Legends


Opening packs is a very big lottery, and whenever I think it's better to sell them before opening, there comes a valuable card inside one of them, since my last post 3 packs have been dropped, Highlight for Grandmaster Rathe.
---
BRAWL


Until today I could not get any legendary in these packs, my opponents are increasingly dangerous in these battles and a legendary from this collection would certainly make a difference. The highlight for Gorth.

💸 SHOPPING 💸
Following my buying list, for this week I bought 7 more Disintegrator, I am using this card a lot, it goes well in several rules, and being gold will give me a nice bonus at the end of the game, this was the most expensive card I bought in this series, I had to add about 4$ more than expected, making me question if I continue with the idea of 10$ per post.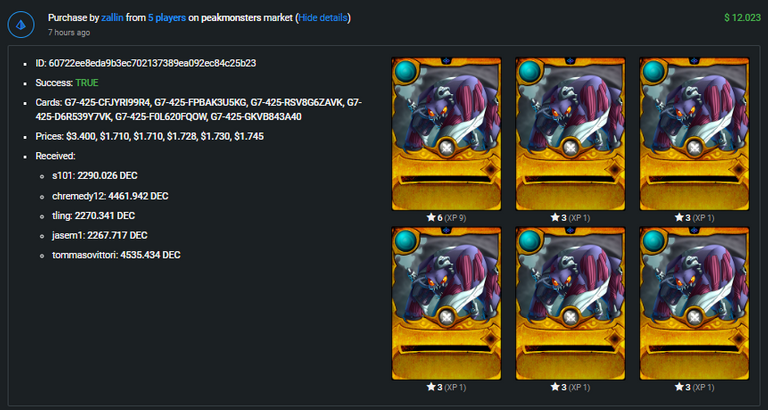 Extra Pack

My extra pack can't miss 😅, I made a loss buying this pack and probably won't use any of these cards, so it's all going to rent 😅, the total value of this pack was 0.65$.
SHOPPING LIST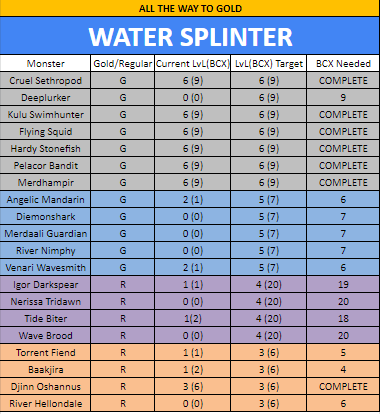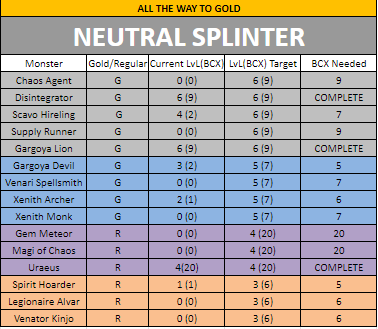 In my last post, I talked about creating an organized list where I could track all my acquisitions more cleanly. Still, I remembered that my friend @legalizabrazil had created a nice list with all the cards from Chaos Legion and made it available in one of his posts, I will leave the link to this post below.
Now I can see how much I've progressed with the elements water and neutral is very nice to see that "COMPLETE" on some cards, I took the time while I was filling out the list to decide which cards I buy in its gold foil version, by my calculations all common and rare cards are worth buying in its gold foil version because the price difference is very small in the end, but the epic and legendary cards the difference is absurd so these cards I will buy in its regular foil version.
My next target will be Supply Runner or Chaos Agent, both I'm using a lot in my games, and until then I decide 😂.


🎊 NEXT STEPS 🎊
I will launch 3 new goals for this series that should start in the next post.
10kSPS in stake - besides the net gain they provide I will be able to enter better tournaments.

Improve my earnings by renting - I still have a lot of cards sitting around, mainly from elements I'm not playing, so I want to depend less and less on SPS to keep me in the gold league.

Buy cards using Bids - I think this is the best way to get cheap cards.
---

This is the current value of my collection and how much I earn by renting cards.
---

I'll be back next week😁.


---
Image sources:
https://splinterlands.com/
https://splex.gg/tools/rewards/season/
https://peakmonsters.com/
---
---