Zallin - SHARE YOUR BATTLE - HILL GIANT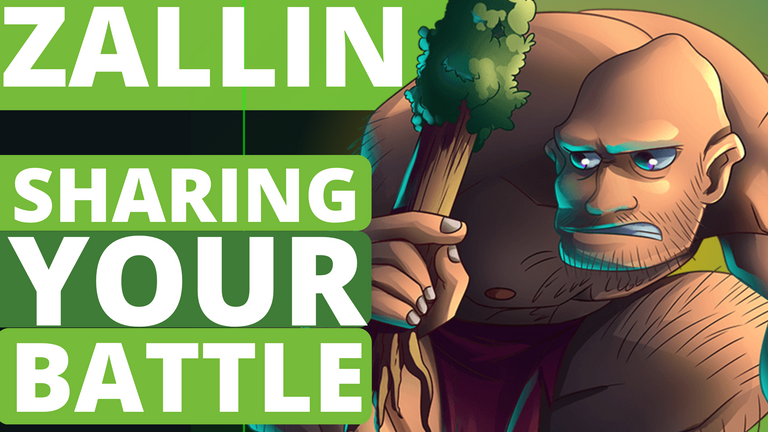 Another Share Your Battle, this time the card chosen was the Hill Giant, his art is curious, he doesn't seem to be someone big, but he is holding a "Tree" in his hand so he must be a giant😁, in the game this guy is very resistant, it was hard to choose a nice match to post here, I won many with him but none in which he participated efficiently, I chose the best of these to post here.

🌟 HILL GIANT 🌟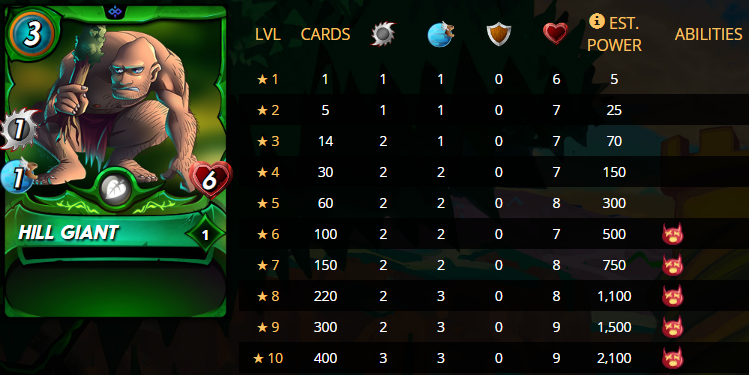 Hill Giant is a common card of the green element, released in the set Chaos Legion, uses melee attacks, has a relatively low mana cost and lots of HP, he does not start with any ability but from lvl 6 gains ability stun. For having a considerable HP he usually occupies the position of tank in games with little mana, he can hold a lot in this position because the green element has the best supports in the game.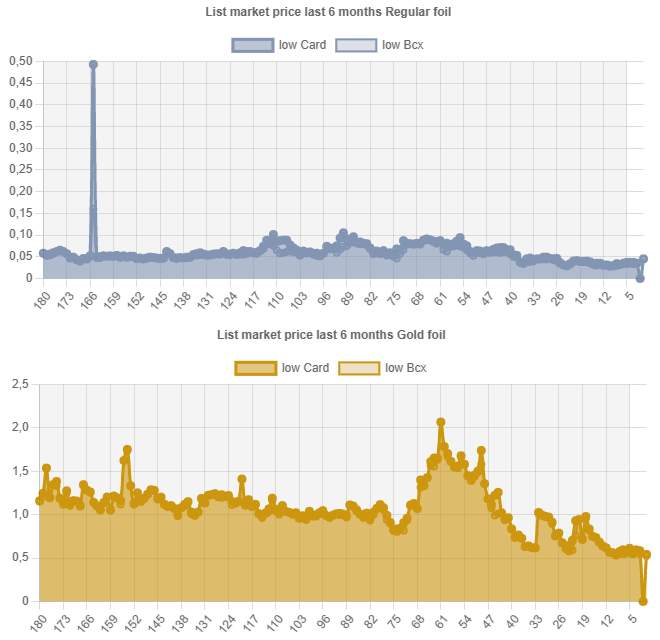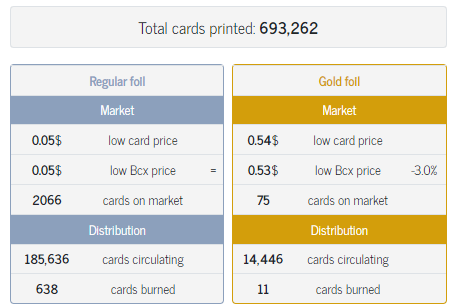 Our incredible giant is costing $0.05 in its Regular Foil version and $0.54 in its Gold Foil version, its price does not leave it among the cheapest common of this collection, is very recommendable to have one of this guy especially if you play with the green element.
The price of both versions remain stable even after the series of updates we had in the game, the next change that can move a little in the market should happen in two days with the end of airdrop.

⚔️ My Team ⚔️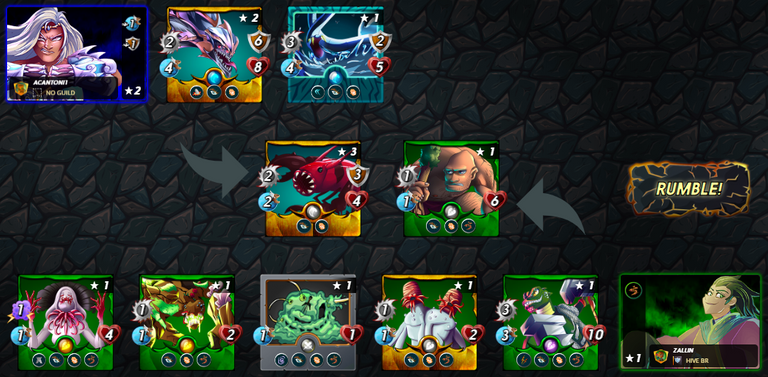 | Rule | Effect |
| --- | --- |
| | Equal Opportunity - All Monsters have the Opportunity ability. |
| | Spreading Fury - All Monsters have the Enrage ability. |
A match with 22 mana and the rules Equal Opportunity and Spreading Fury, usually when these rules appear the opponent comes with some melee cards, thinking about it I risked playing the summoner Mylor, then our star the Hill Giant to hold the front line, I put the DPS Grund that will hit in any position thanks to the rules, I could have put him in the first position to let him on the Spreading Fury effect but I wanted our star in this position to shine more😂, followed with the incredible support Mycelia and complete the team with what is left of mana, if my opponent comes only with physical damage he will have big problems against this line-up
| Card | LineUP |
| --- | --- |
| | Summoner : I love this summoner, I bought one of his when I first started playing and then got another in a PACK, he is extremely effective against physical attacks. |
| | Tank : Our star of the match, has good HP, and will receive an extra armor from Queen Mycelia that will make him a little more resistant. |
| | Off-Tank: This one hits hard and twice, he could be in the first position to receive some hits and activate the rule of fury, but I chose to leave him here hitting well protected, he will hold the line in case our star is knocked out. |
| | DPS: Minimal mana cost and will still apply some hits. |
| | Suport : I really like the slow effect of this card, it should be the first one to drop in this match because it has only 1 HP. |
| | DPS: A free card that will attack from any position is perfect for this type of match. |
| | Suport: Incredible support, grants armor to all my cards and has a small magic damage, almost always present in my matches of this element. |

🤜The Battle 🤛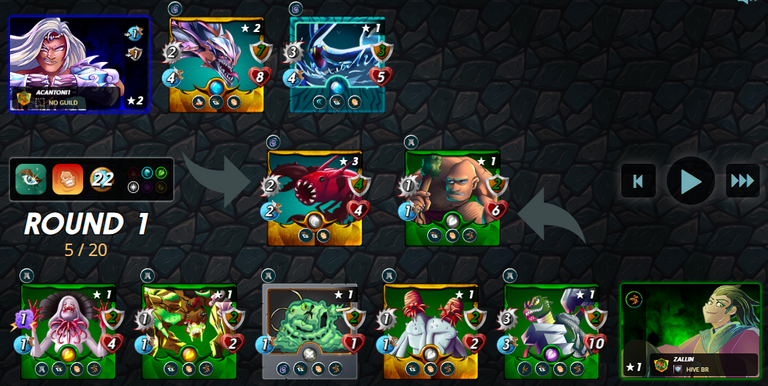 Analyzing the match: All the opponent's cards are melee, Mycelia and Mylor's ability will be extremely effective here, however that DiemonShark will hit hard if it activates the Fury rule effect.
Round 1 - The match starts with both sides attacking the backlines, the first to fall was my ooze but it lasted two hits because of Mycelia's bonus, and almost at the end I managed to defeat the lobster with a beautiful hit from my demon.
---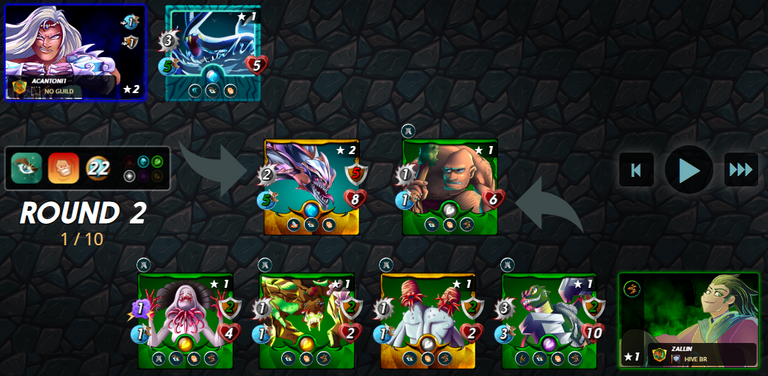 Round 2 - No one fell this round, the Serpent of Eld dodged almost every attack but ended up with 1 HP, my star is also damaged I don't think it can last another round.
---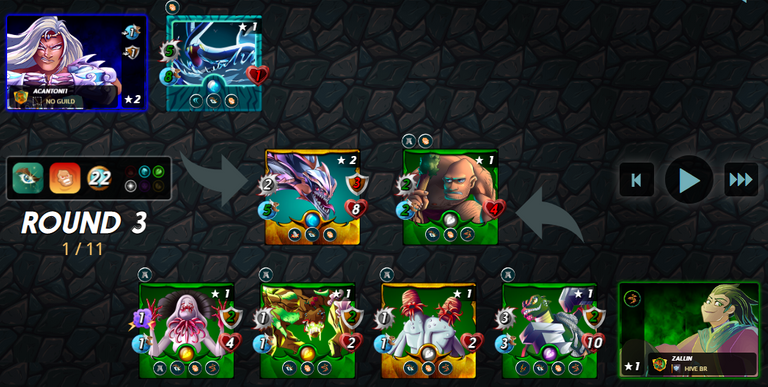 Round 3 - At the very beginning of the round the Serpent Of Eld knocks out the Morphoid but dies soon after thanks to the thorn effect, the round continues with no more casualties but the diemonshark is already almost dead, victory is very close.
---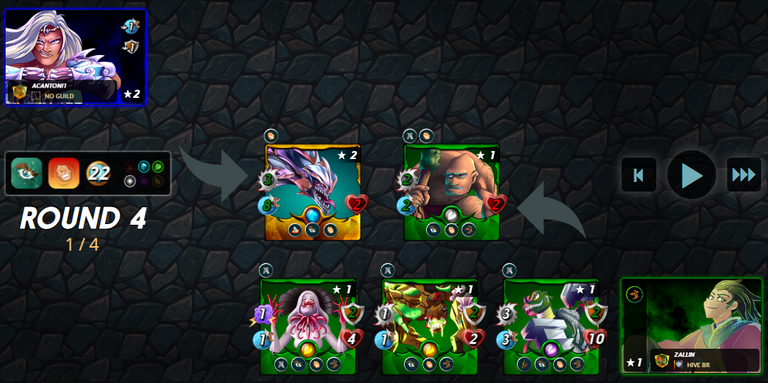 Round 4 - And victory has finally arrived. Diemonshark defeats our star but dies soon after because of the thorn.

🎊 Conclusion 🎊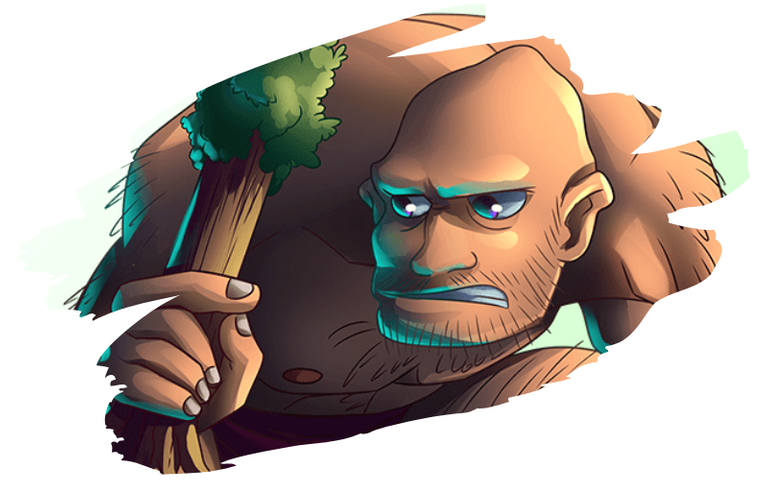 It was a quiet match, I succeeded in preparing myself against melee damage, Mylor did almost all the work, our star was very good and resisted until the last round and still closed the game with a glorious death 😅, Grund missed some hits, my other DPS were ok, Mycelia and her bonus helped and all my cards resisted for at least two hits thanks to this bonus.
Hill Giant is a good card that I use a lot, costing only 3 mana it is easy to fit in some line-up, it is very resistant 😄, I want to test it at lvl 6 to see the stun ability, it must be much more effective with it.

Game Link: Splinterlands
Battle Link: ZALLIN Vs. ACANTONI1

---
Image sources: https://splinterlands.com/ and https://www.splintercards.com/chaos-hill-giant
---
---