Time to buy $LEO coin for seventh Leo Power Up day
Hello lovely people of leofinance and Hive community. Hopefully you will be enjoying your life with good health and spirit. Friends, Leofinance celebrates Leo Power Up day on every 15th of the month. So, far 6 Leo Power Up day has been occurred. Almost 10 days left in seventh Leo Power Up day.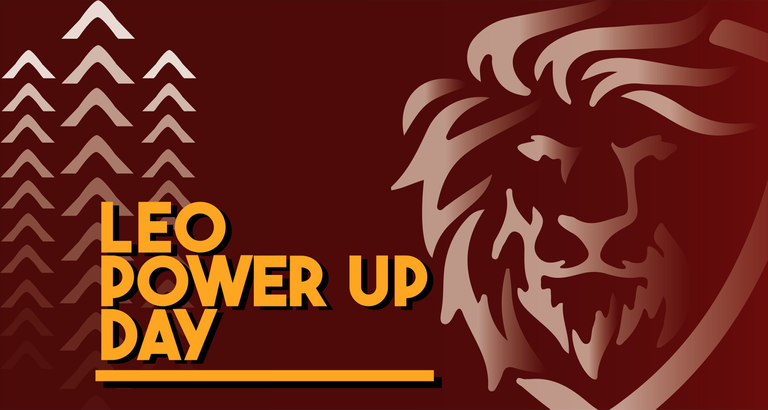 Time to buy Leo coins to become the part of the seventh Leo Power Up day. I am glad to be a part of all six Leo Power Up day. Mostly, I earned minimum staking of 150 $LEO from content creation but from the past two months, I unable to collect these coin. Earning mainly depends upon user vote. There is no need to panic as you can still be a part of Leo Power Up day by purchasing Leo coins for Power Up day. 10 days still left in Leo Power Up day. I have almost 61 $LEO coins in my wallet. I'll need almost 90 $LEO coins to achieve a minimum number of $150 Leo. Better to complete your minimum requirement before the end date. Price of $LEO may rise at the start of the event.
I powered up every month because, I believe in this platform. Powering Up is important for the growth of any community. Leo has a great community. Let's build the community and help to strengthen Leo.
Leo Power up day comes with attractive prizes. Beside 3 prizes of 20,000 $LEO power delegation of 3 weeks. Other attractive prizes include in last Power Up day was
5k from @edicted
5k from @leomarkettalk & @taskmaster4450
5k from @anomadsoul
5k from @bitcoinflood
3k from @lbi-token
2k from @steemstreems
2k from @whatsup & @scaredycatguide (1k each)
2k from @mcoinz79
2k from @alexvan
X from @forexbrokr (amount pending)
Thanks to all the sponsors. Hopefully, we have better prize available for the Leo Power Up day. Rules for the seventh Leo Power up day is still awaited. I would recommend all my followers to follow @leogrowth post in order to take part in seventh Leo Power Up day.
The beauty of Leo Power Up day competition is that it provides equal opportunity to all the contenders. Either you power up 150 $LEO power or10,000 $LEO power. You have equal chances of winning. It is good way of motivating small user to be a part of Leo Power up day. Our combined effort will help to strengthen this community. Time to make ourself ready for the seventh Leo Power Up Day. What is your opinion my friends?
This is it for my today post. Wish you all a very happy, healthy and prosperous life ahead. Have a nice time.
---
---