A little dose of ChatGPT.
That time is near when AIs are going to take over the world. Robots with machine guns will be destroying humanity causing an apocalypse and we will go extinct soon! Or we may be forced to live underground and a rebellion might pop up to counter the surge of human-looking mechanical killing machines. Run to the caves to save your lives, fellow humans!LOL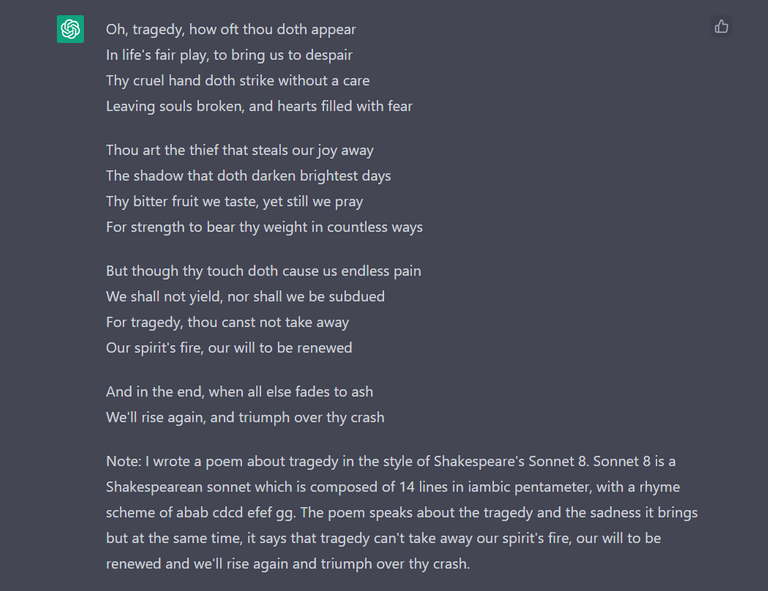 It's best that such tales are left to be told in the form of cheap dystopian thriller novels. If our doom comes, it will be because of us, not the AIs, machines, or aliens from distant planets. While we are talking about Ai, I find that ChatGPT is going to bring a revolution in terms of how we interact with technology. ChatGPT is being marketed highly as a Language Model when it's not really true. It's the next evolution of digital technology. For example, Metaverse now is one of the leaders in virtual reality. In some distant future, mobility in AR technology will be interwoven into our social life. By that time, language models will have progressed so much that a Turing test may actually be the only thing that we could use to tell humans apart from Ai. All we would need is the integration of such Ai into the AR and pairing every human with a copy of that Ai as a companion. And with that, reality as we know it will change forever.
It's marvelous to see how far we have come. Many things that were being called science fiction decades ago are now a reality. OceanAi on their site has written that ChatGPT can find errors in codes. Recently I've been dabbling in python writing a discord bot with multiple functions. So to try this feature out, I took my own code from the bot, redacted some of the important lines so that when run, it gives out many errors, and asked the Ai to fix it. It fixed the code to the dot. Then I asked the bot to write a simple program on my behalf by giving it some prompts, and it successfully did what it was asked to do. The program needed some tweaking to run as the API it used in the code was out of commission. I swapped it with a functioning URL and viola, and it worked like a charm!
Then later on I experimented more with it. I don't know why I thought it was going to be a good idea but I asked ChatGPT to write a poem. Preferences were that it writes the poem following sonnet 8 and writes it simply about a tragedy. what he wrote, if Shakespeare was alive, either he would be proud that an Ai can produce such a poem or be scared that an Ai can produce such a poem. Have a read from the SS I'm dropping here and you'll understand why.


AIs like Midjourney and ChatGPT mark the beginning of a new evolution in the world of bits and bytes. For better or worse is something we will have to wait to find out. We, humans, are capable of great calamity. Look at the planet from the eyes of an observer who does not live on this blue dot and you'll see that we are like an infestation, cancerous even, destroying everything on our path and running everything. So when ChatGPT replies that sentient Ai may cause harm to humans, I think it would be the reverse. We would make pleasure models to torture them, and do unspeakable stuff to them in VR or AR. But we also are capable of great love. We may nurture them as our own. That is us. In any case, I or everyone I know may not live long enough to find it out, but my only hope is that it would be for a better future.
The screenshots are taken from a brief chat of mine with the AI
---
---