How it is to ride a bike in the traffic capital of the world..
Riding a motorbike on Bangladeshi roads is nothing short of a tedious job. When the tires start rubbing against the asphalt, you'll see how everything and everyone is working against you and one small mistake later, you'll either find yourself in a hospital or heaven. As my first post on the wheels community, I would like to talk about the issues me and my fellow riders have to work through every single day. And believe me when I say this, some of the times it feels like being on the front lines of war. At Least for us who ride for passion rather than commuting. I would like to list some of the problems here so that anyone reading this understands why me saying riding in this country feels like war at times is not over dramatic or an exaggeration.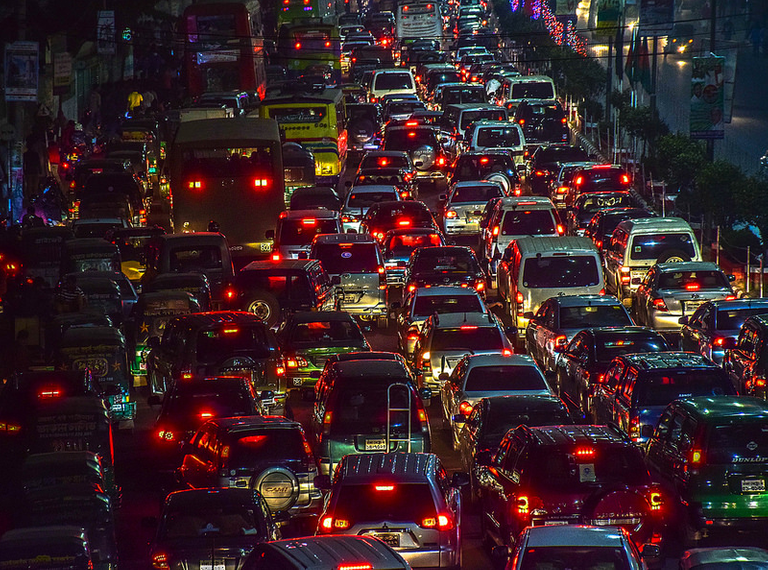 Red Ligh Utopia. By Mashrik Faiyaz via Flickr (CC BY-ND 2.0)
Chaos at Crossroads.
Whether you are riding in the city or on the highways, the primary issue a rider faces is people here don't abide by traffic rules at all. In our minds, the white and yellow lines painted on the asphalt do not mean anything at all. The traffic lights posted on roads don't mean shit. They are there just for gimmicks.
In City Streets.
The flow of traffic in major cities, for example, in Dhaka, is actually controlled by traffic sergeants and low-ranking police officers. They do the job of traffic lights on almost every street in the major cities. There is an understandable reason though. About 21.1 million people are cramped up in an area of roughly 2100 square kilos. that puts roughly 1 million people per 100 sqkm. These unfathomable numbers now have destroyed the metropolitan road systems almost completely. Dhaka was never like this a few decades back. But after the population boom of recent years, not planning the street has started to exact a heavy cost.
At times, the flow of traffic becomes so one-sided, or so clogged up from all sides, without manual supervision, vehicles would move mere meters in a matter of hours. That's why every single piece of traffic lights in this country is nothing but a StreetSide decoration.
Just yesterday, it took me 45 mins to cross only 4 kilos of distance. It's not fun maneuvering such traffic on a motorbike. Especially on my bike as it's an Adventure-Tourer segment motorbike. Doesn't do well in traffic.
On The Highways.
The ultimate nuisance on the highways is Inter-city Long route buses. Any Bangladeshi adult you know, ask them how these drivers hit the asphalt, and all of them will have some experience to share. And I can promise it's going to be a close-call type story. When sitting in the driver's seat, most of them take it as a simulator-type video game. No care for anyone at all. Not the other vehicles on the road, and no care for the safety of the passengers they are carrying. See an empty street, floor the pedal is their motto I suppose. And heck if they abided by any traffic rules. Solid yellow lines mean no overtaking. For many bus drivers, Yellow as a color I think does not exist.
For us bike riders they offer the most chaos to be really honest. You'll be cruising doing 70-80, based on the speed limit. Outta nowhere you'll see these buses appear behind you, honking madly, blinking, and causing all sorts of chaos. You'd think to let them pass. And as you do, the wind blast will cause your bike to jerk. My bike weighs roughly 158 Kg on the dry, and with all fluids filled to the brim, saddles on the back, and my own hefty 100 Kg weight, it is 300 kg of wet weight on two tires. Yet when these buses cross me doing 120, 40 well over the speed limit, I feel like an insect in a tornado.
So it's anyone's guess what a rider with a bike that weighs significantly lower might have to go through.
Public Transportation.
In city streets, smaller intra-city public buses are a menace. The transportation industry in this country saw a boom in the last few decades. A significant percentage of the population has come out of poverty and established themselves as middle class. They reached the state of financial solvency to the extent where they can now comfortably buy basic commodities, and live in urban areas, but not to the point where they can buy a personal vehicle for commuting. In came the rise of public buses to fulfill their needs. And with that came an influx of drivers who aren't well educated and have even less idea about public safety.
These bus drivers are THE nemesis of a bike rider. Sudden braking, lane changing like they occupy the space of a car even after being a 6-wheeled vehicle, and racing with other buses to get to passengers before them are nominally a few of the issues.
Most of these buses don't have road fitness. When shifting gears, they scream like a crow that is about to die. Yet they are sharing the road with us because of how corrupt our transport administration is. As these drivers are not street educated and don't have any formal knowledge about road safety, they shouldn't pass the exam to get a license right? Wrong! Only 10k BDT roughly is enough to bribe the authorities and get a license. Same shit for the fitness papers.
There has been plenty of media coverage and plenty of columns written so that something changes. But nothing happens in the end. As a rider, you'll be taking all safety precautions and following all the rules, yet always be at risk of getting crushed by one of these buses. And even when you die, you'll just be the title of a column on the 7th page of a newspaper. Forever being forgotten.
Ride-sharing Services.
Uber became a dominant mode of transportation in the last four years. Along with cars, they offer bike rides. Mimicking this, other apps also popped up, namely 'Pathao', which solely focuses on motorbike ride sharing. Like a cab service for bikes. It is a blessing for a metropolitan like Dhaka. Except, to some extent, a lot of Pathao riders share similar traits as those bus drivers I mentioned above. Always looking for the next ride, always trying to be ahead of the traffic, and while they do that, they forgo safety concerns.
In heavy traffic, they would come and collide with you and then leave without even an apology. This is not the case with every single ride-sharing rider, but for some, it's a universally true statement.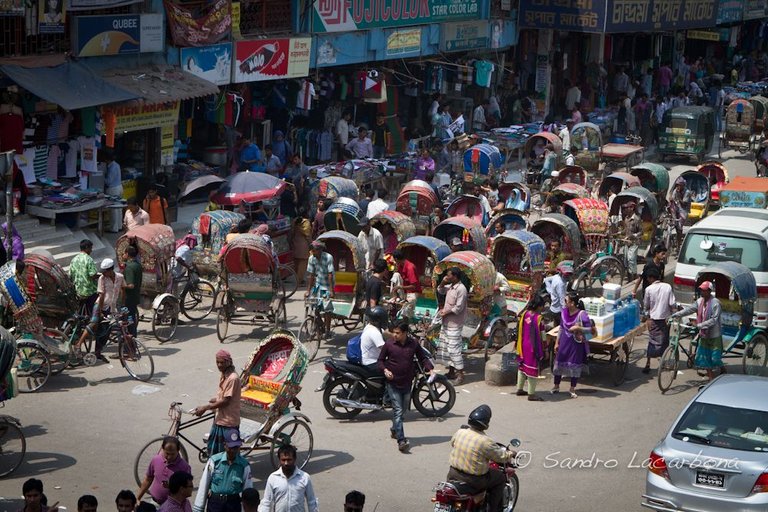 Chaos street. by Sandro Locarbona CC BY-NC-ND 2.0
Actual Street Conditions.
My bike is designed for most road conditions. It even does some offroading to an extent. But even then, I find it very difficult to ride at times as the streets of BD are full of patches, uneven asphalt, scattered with loose sand and stones, and finally, potholes found at places where they shouldn't be. Lethal situations all around as crashing in a pothole will hospitalize you, to say the least.
Also, on most roads, multiple kinds of vehicles chase through lights. We have two-wheelers such as bikes and motorbikes, three-wheelers such as CNG-powered 250 cc tuk-tuks and Rickshaw that are human hauled, and cars, and buses sharing the same road space. No fixed lanes for any one of these vehicles put almost everyone at constant risk of clashing with a vehicle that is either slow or faster than you. And that's why the speed limit doesn't work here. As I personally wouldn't want to do 15 on a 40 be stuck behind a rickshaw or be under 40 while the bus chasing me is doing 70 and risk getting mauled.
A lot of my acquaintances have died from bike crashes. Even then, we ride. It might make me or us seem like fools seeing as how we are attached to two-wheelers. But it offers a freedom that nothing else does. And in the end, You Only Live Once
---
---