Fulfilling the promise to our son: A playtime.

Hello mommies and daddies of hive.
Today was a fun day for me and my little family. We went out to the city to stroll our little one. Have you tried promising your child? I know, you did. But I want to know if you do your promise and fulfill it.
My husband promised our son that he will bring him to the city to have playtime in one of the department store located at the next town. It's been awhile that we stroll him around the city as we just always stays at home. We learned that there's a playground for kids and toddles in that department store when my husband's cousin told us. And since that day, my husband told me that he'll bring us there when he have extra money for strolling. And today was that day.
I also have reasons why we went out today as I need to buy birthday set decorations for the upcoming birthday of our son that's why we decided it to happen today. And this morning, around 10:30am, we traveled to the next town which was about 35 minutes of driving.
We then arrived there at 11:00am, we didn't ate our lunch there also as we ate pur lunch before we left the house.
When we arrived in the department store, we headed to the third floor as the playground was located there. When we arrived in the third floor, our son run towards the electric toy cars as he was so excited. I told my husband to follow him as I need to go to the operator and buy token. But the assistant told us that they're out of tokens that's why they just gave us allocated time limit for every play and I payed for it from my husband's wallet of course, hahaha. After paying and stamping the time in, we decided to head to the closed playground but the assistant told us to wear socks. Sad coz we're not wearing socks as we are wearings sandals and slippers. So, I went to the second floor and nought three pairs of socks but I didn't see any toddlers socks that's why my son was wearing big socks. But that doesn't matter, as long as he was enjoying his playtime, we're good.
So, here's the photo of his playtime.
They ride in this moving around one, I just don't know what it calls though. My husband told me he felt dizzy as this move around, haha but our son seems didn't bother at all.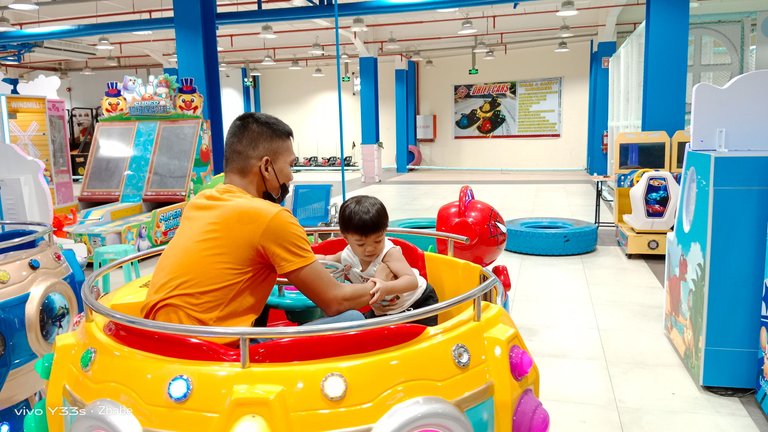 He then went to this one. Though I didn't pay for it but he likes to hold the stirring wheel while singing "the wheel on the bus" haha.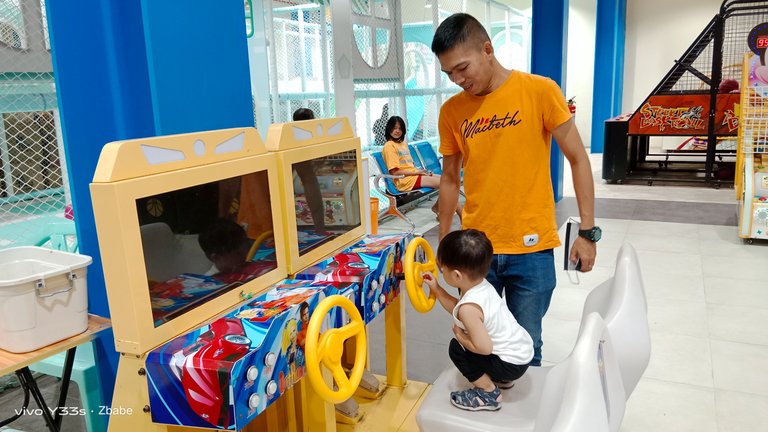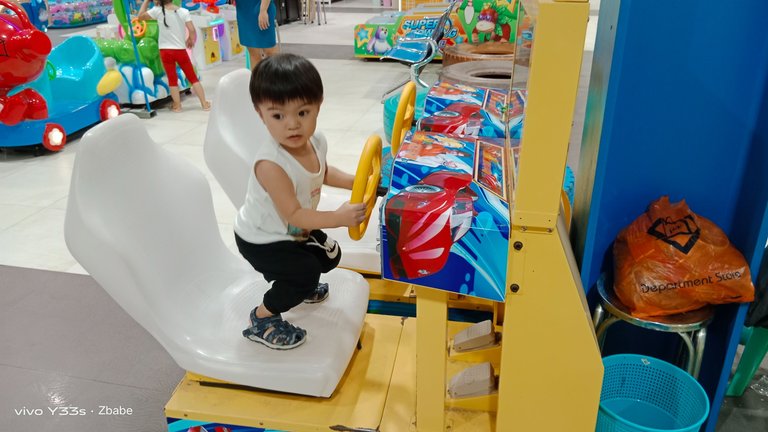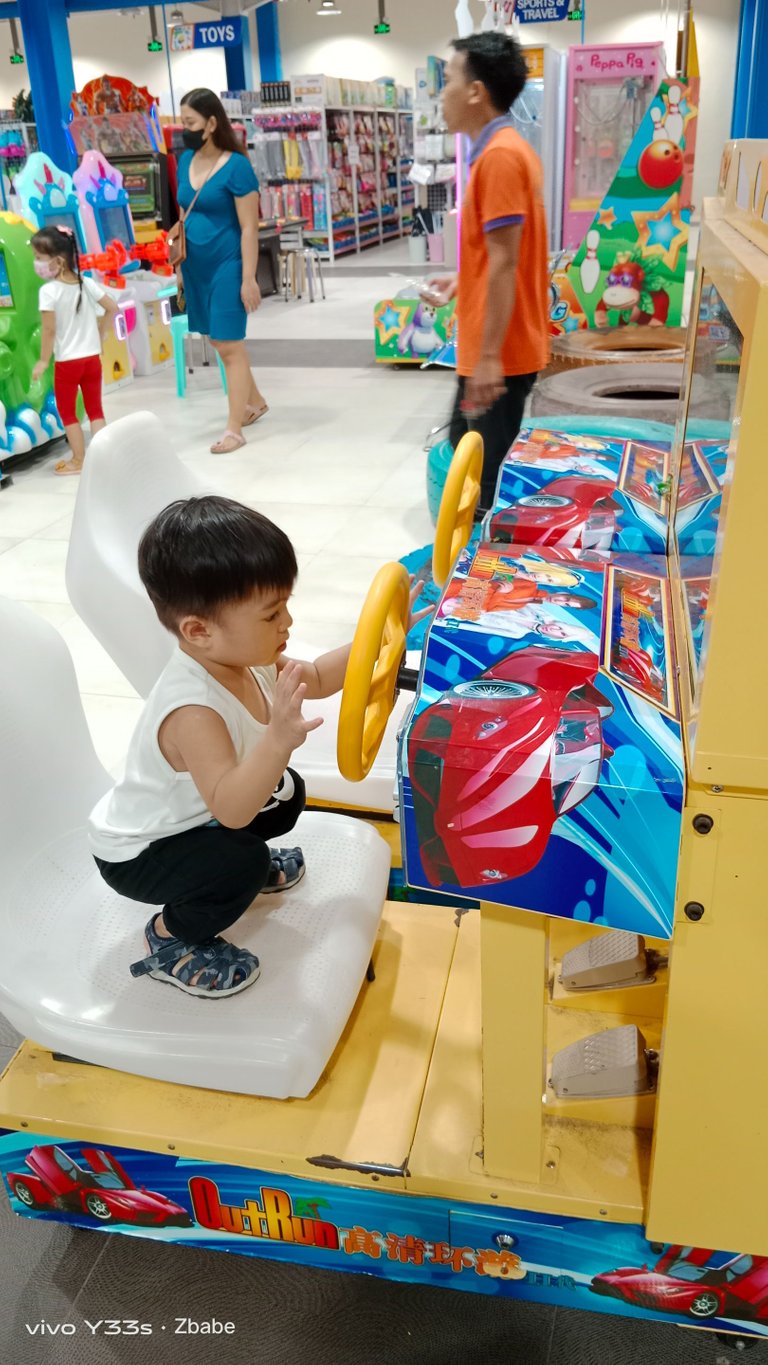 We then decided to enter the place where the slides and jumping was located. There are children there who are running around the corners and some are doing slides. I am just glad that it's not crowded in there.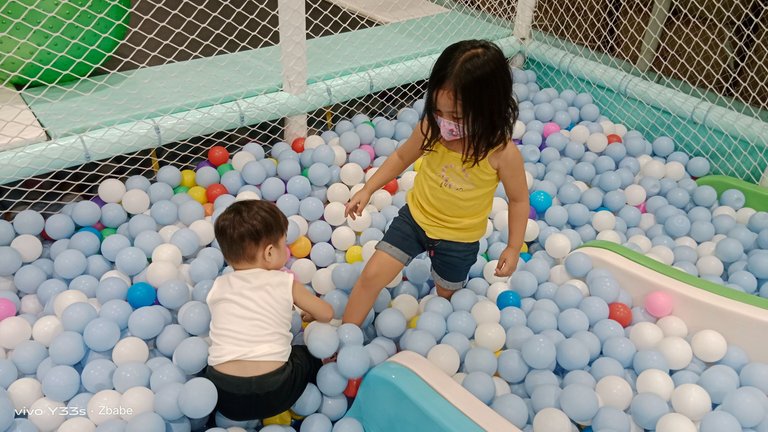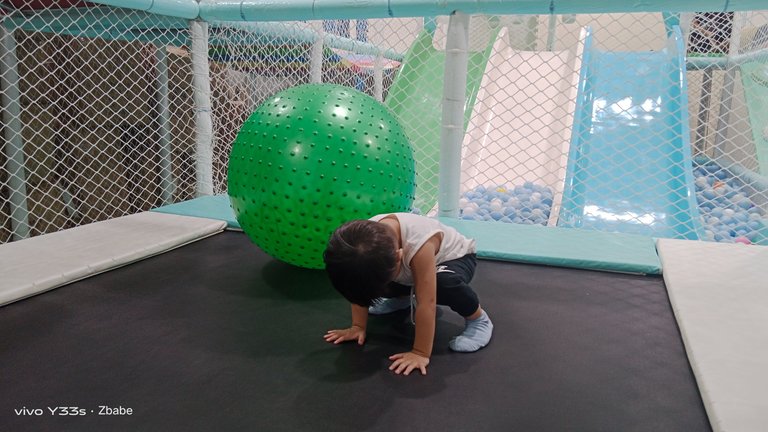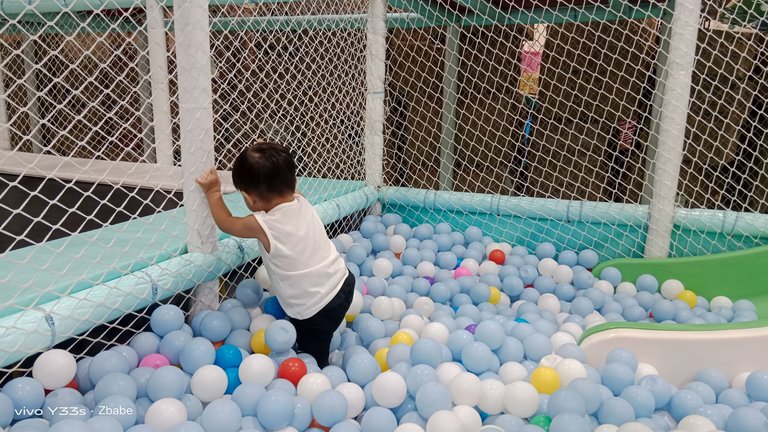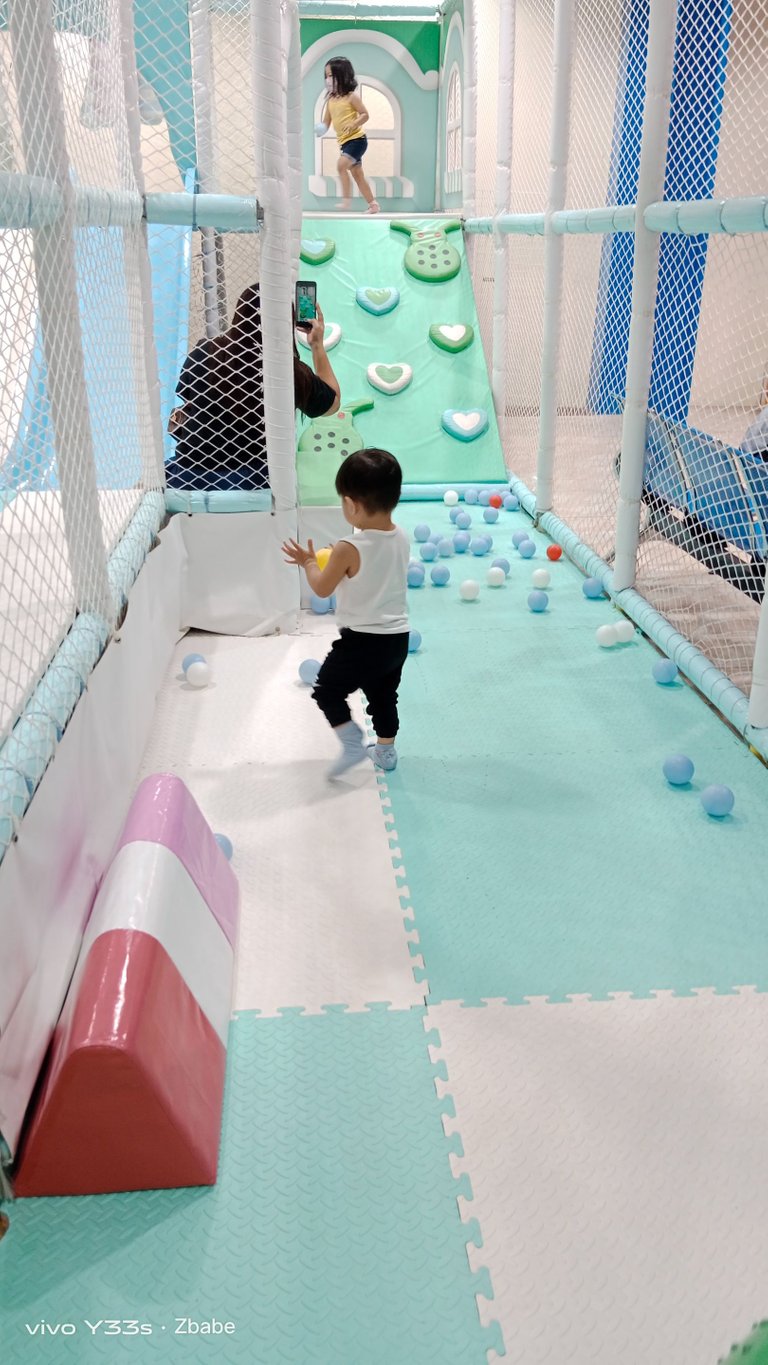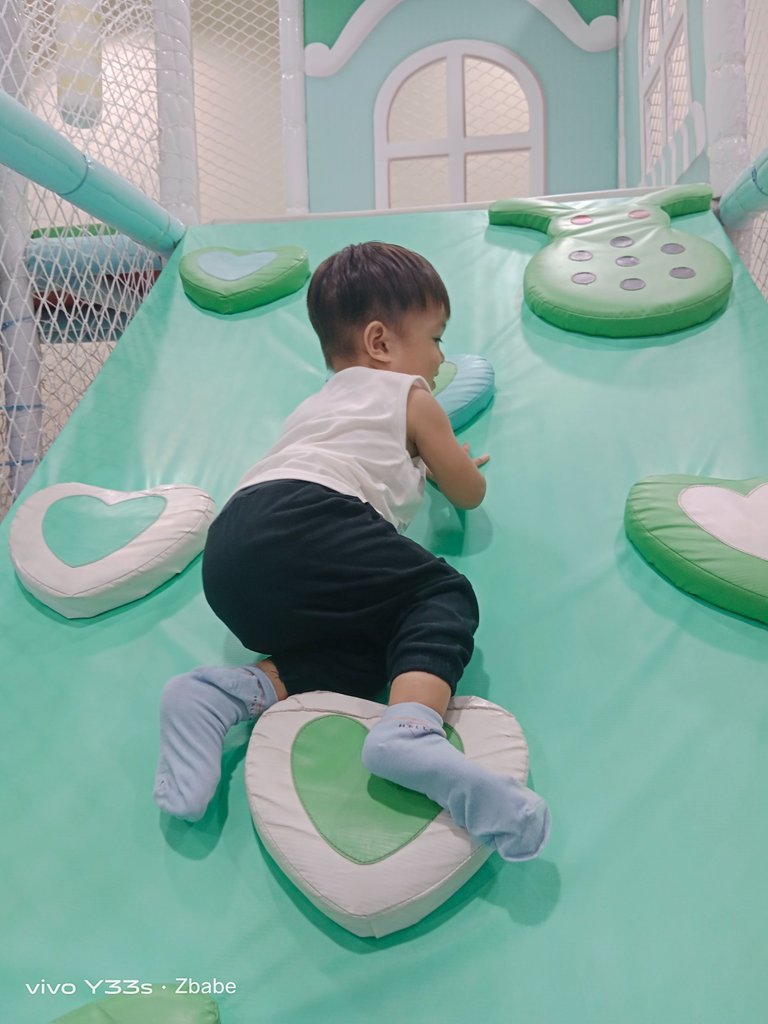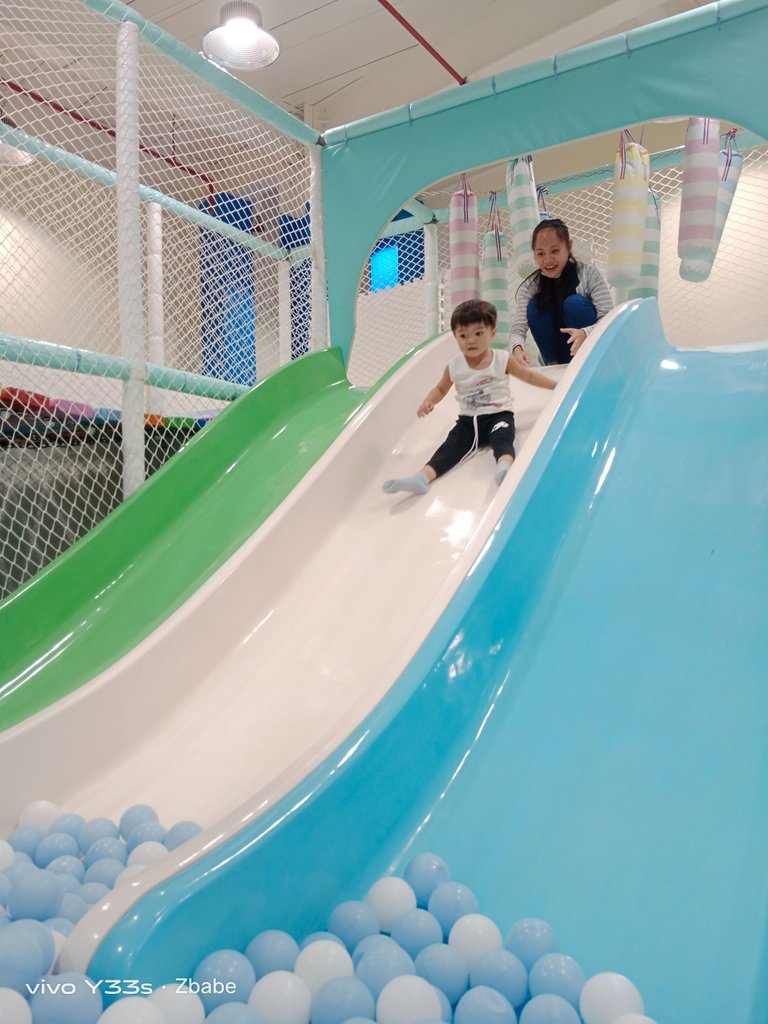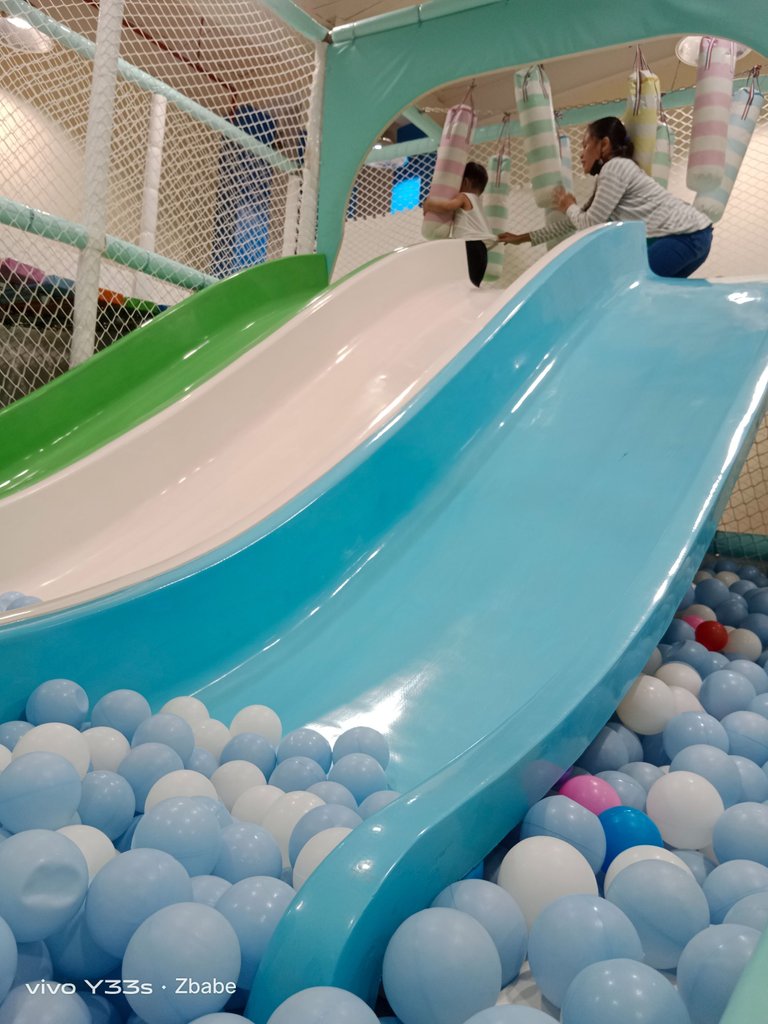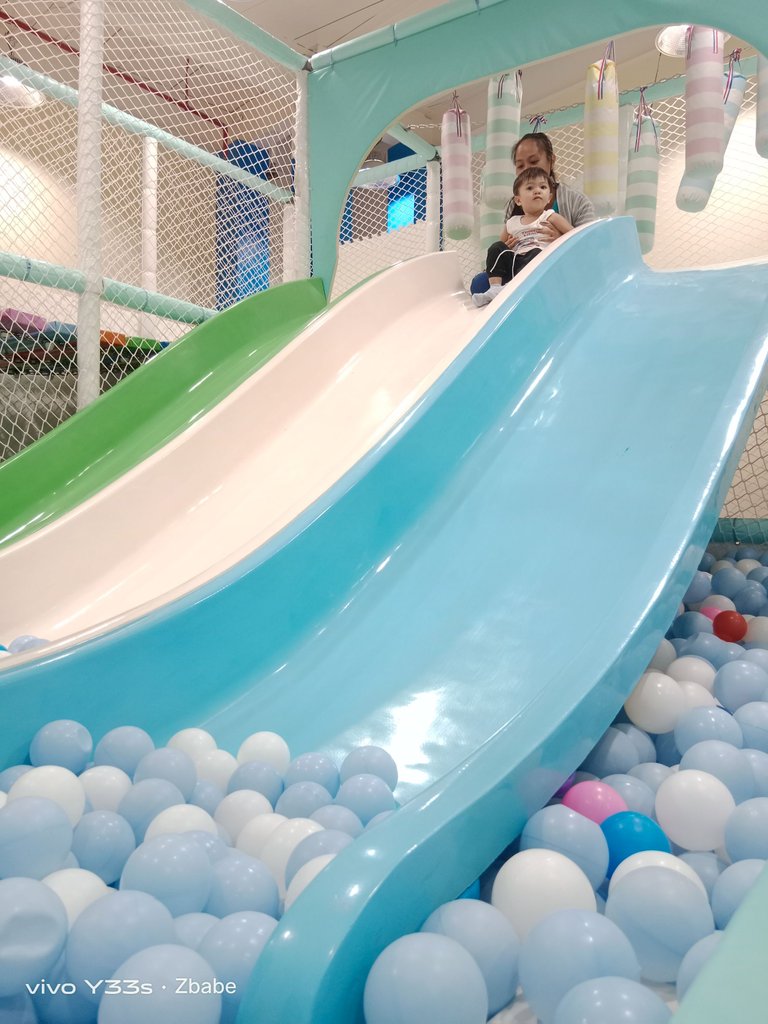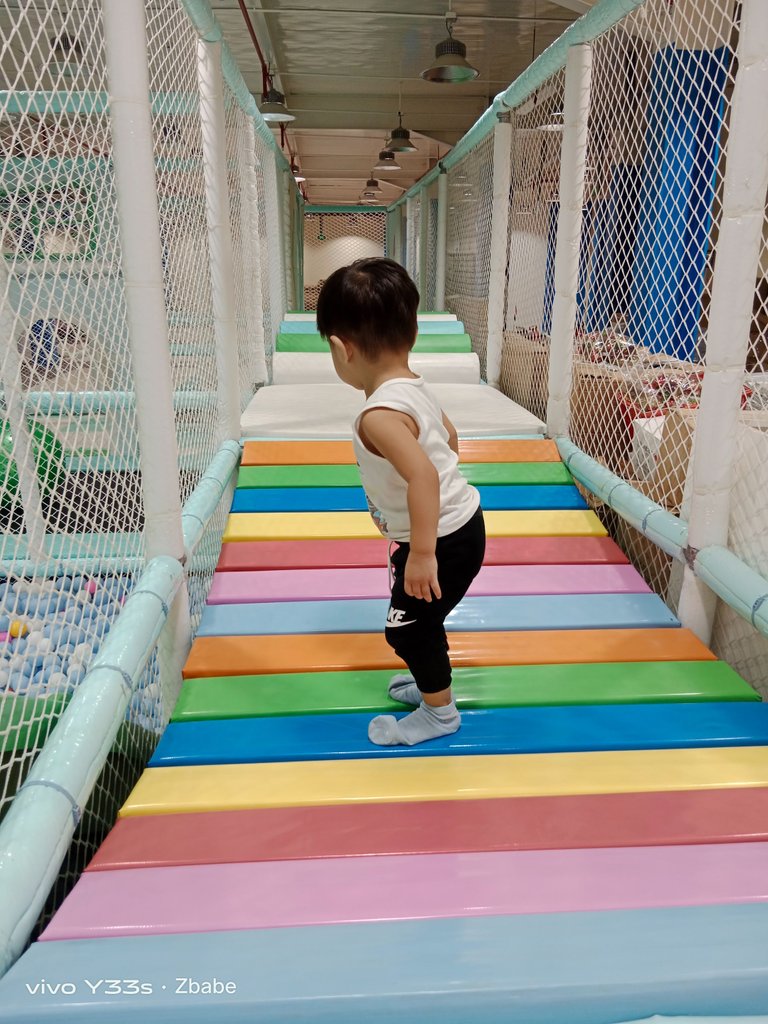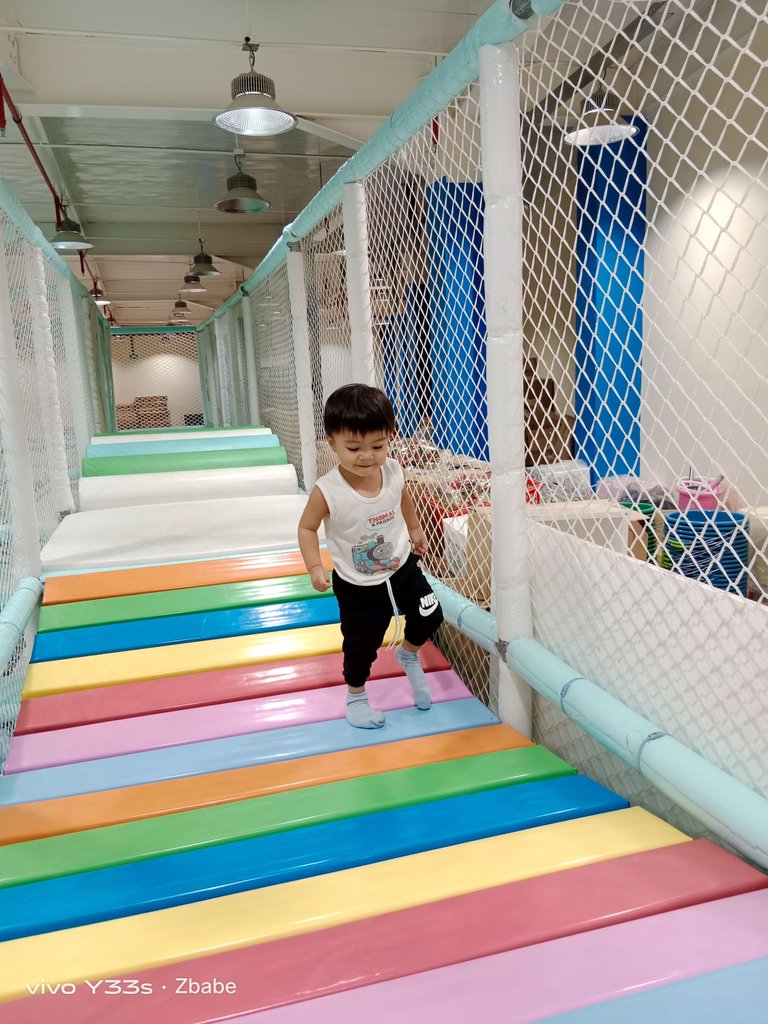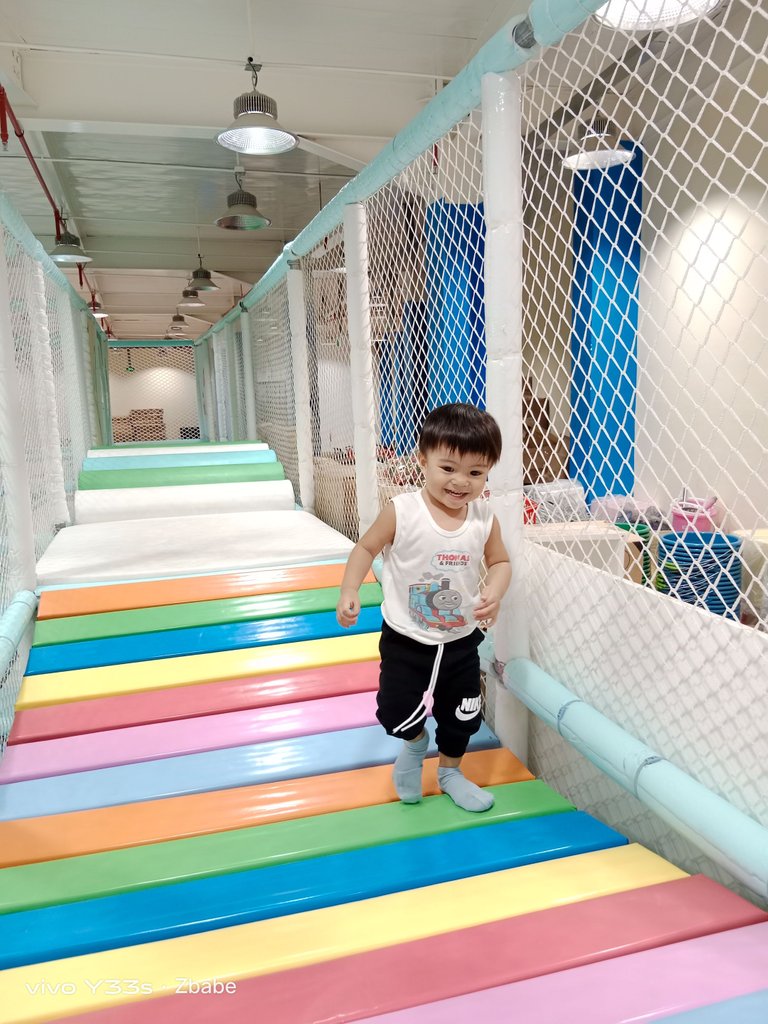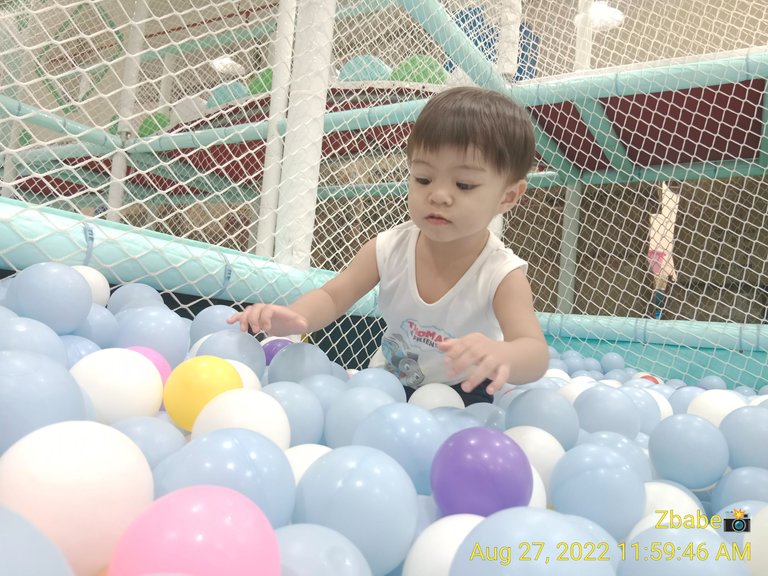 When it our time was consumed, we get out of there but our son run towards the electric toy vehicles again. I am just glad that the assistant was not that strict and just let our son ride it even if it's not moving.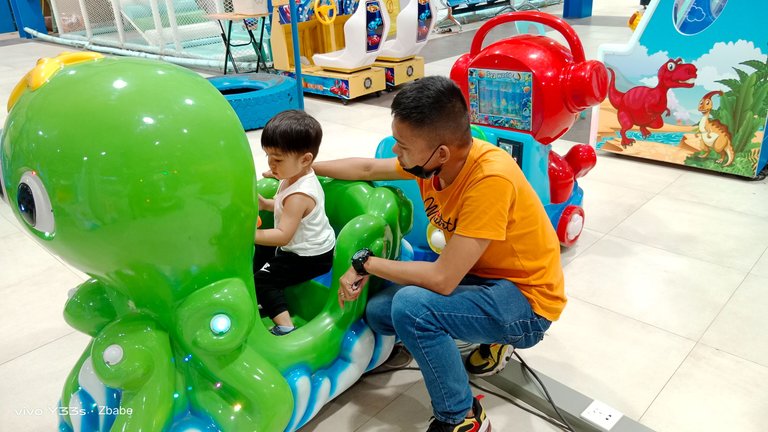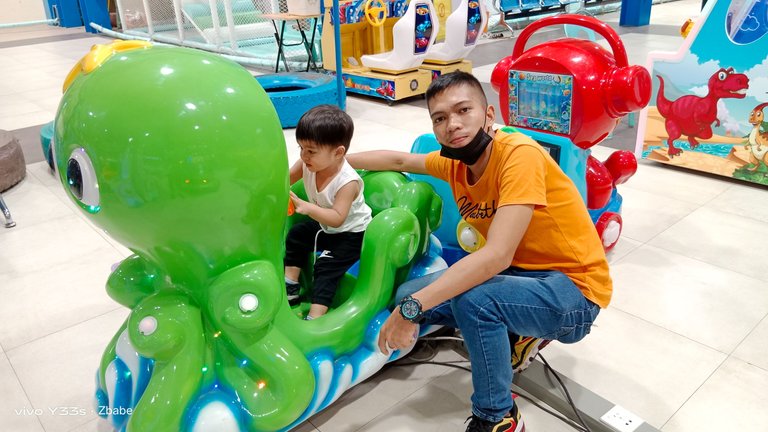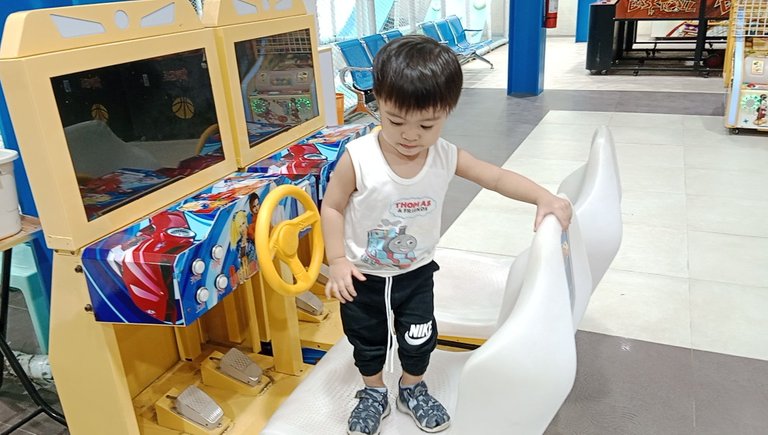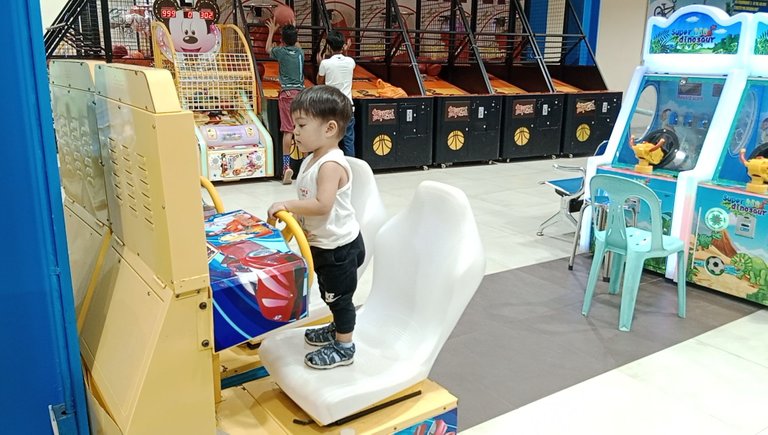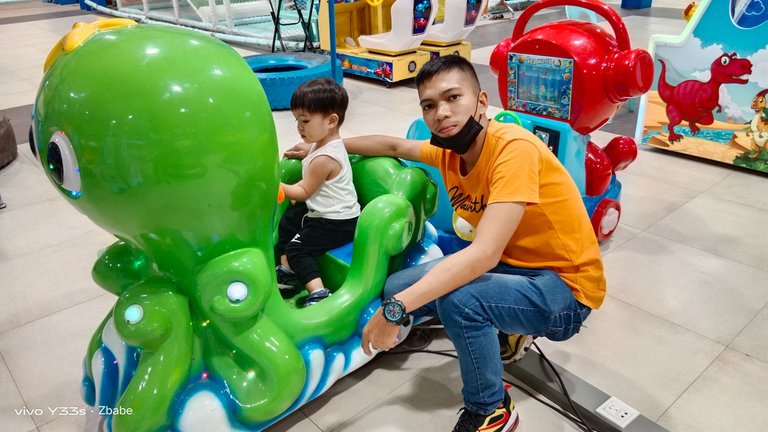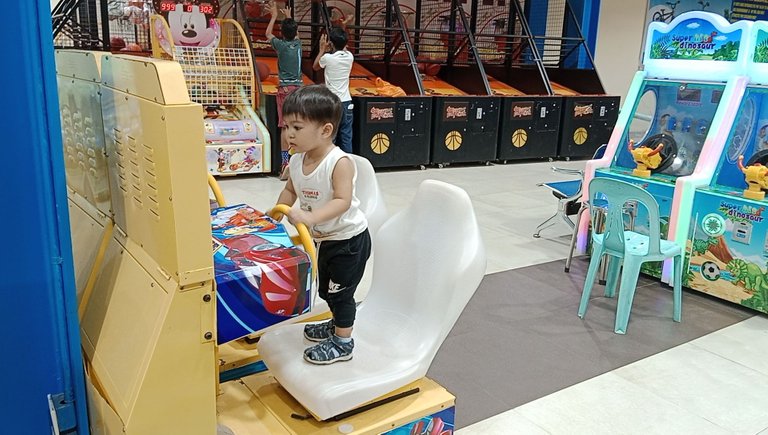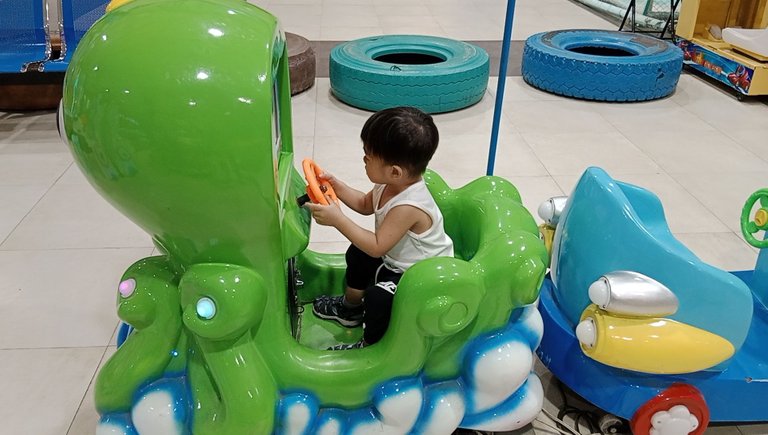 We decided to head home around 1:30pm because my husband's cousin will visit us at our house. We had a hard time going out as our son don't like to stop playing, haha. That's why we told him that we will come back in there soon. Glad that he stopped crying when I gave him cookies.
And while on travel, he fell asleep, maybe because he was tired from playing for almost 1 hour and a half.
I am just glad that we able to fulfill our promise to our son again. And I hope that we can fulfill everything or our responsibilities for him as he grow.
---
That's all for today parents of hive. Thank you for reading my blog and have a nice day.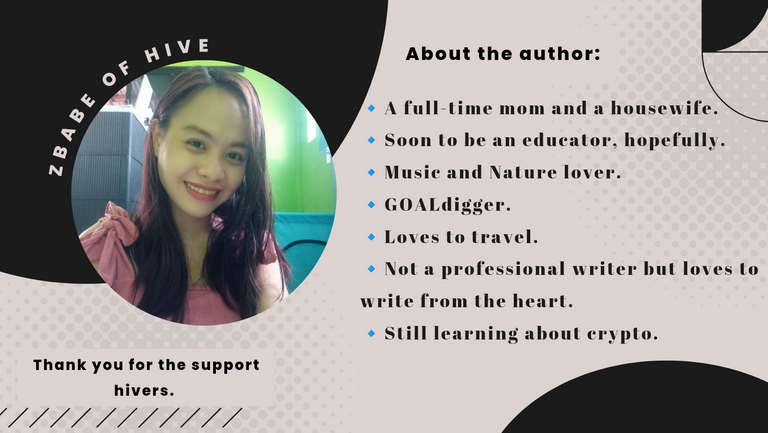 ---
---