Campus Walk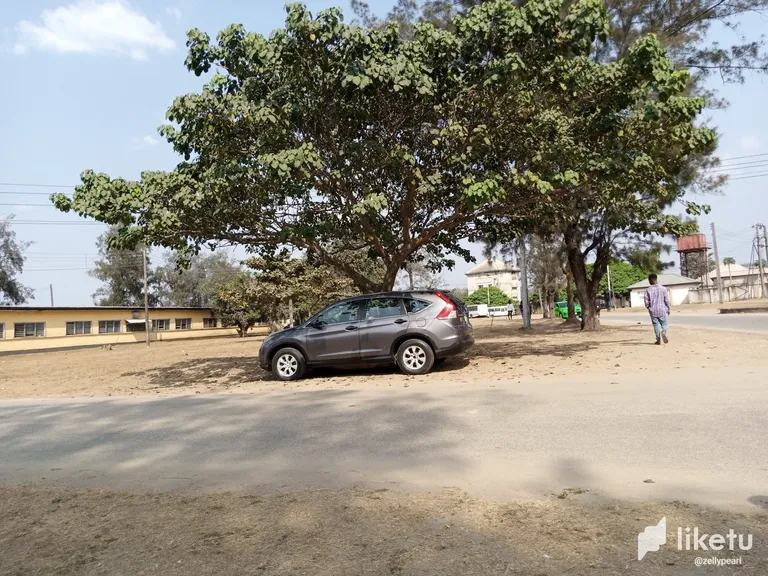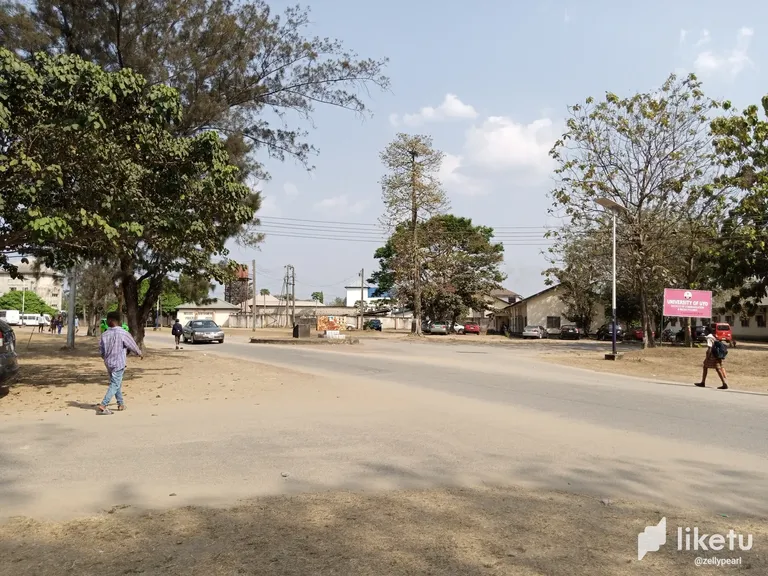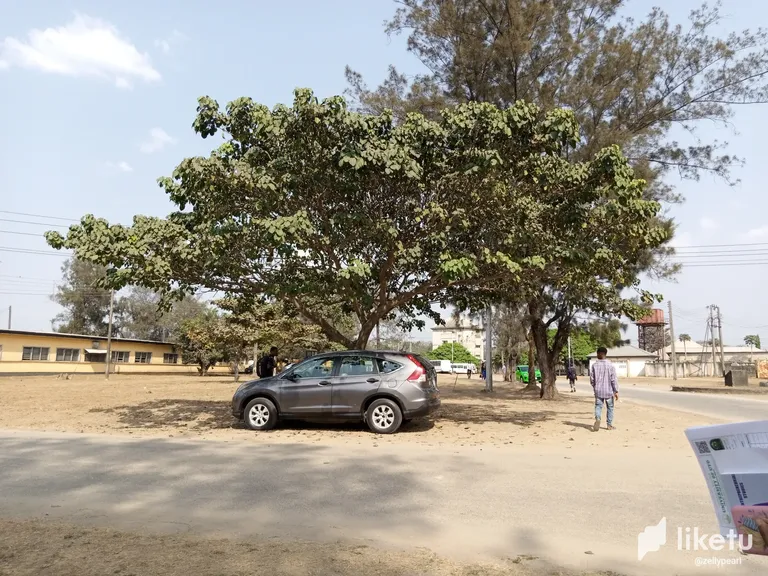 Today's Wednesday walk took place on campus, it's been a while since I went to this campus, the last time was last year when I went to sort out things and also make payment. A few weeks is enough to miss this place, the beautiful view, the bustling environment, and all.
I just happen to finish lectures earlier today so I decided to drop by this campus and do one or two things, one of which was to get my passport reprinted.
Having sat for a while for my passport, I was disappointed when the person in charge couldn't find the old snap to reprint.
So I was asked to come back with a copy of the old one or better still take a new shot.
According to the school management and other senior colleagues, we were made to understand the fact that the university demands or advice every student to stick to one particular photograph until their final year in school. So I wanted to abide by this rule and finish my education using the same passport so I usually go back to make a reprinted copy of the old passport I took when I started school.
Since we couldn't find the old passport on his computer and I didn't have an old photo either, we resorted to snapping a new one with the same attire, cause luckily for me, I am with almost the same hairdo so it wouldn't be so obvious if I use the same dress code or attire I used in the first one.
And with this plan, I was asked to come back whenever I was ready and free.
So on my way back, I decided to take a few snapshots of this beautiful environment which I missed for a while. It wasn't such a long walk, I already had enough of the long walk on my campus, and I couldn't do more on other people's campus, so I just took a few shots and then returned home
Today wasn't so choked up and I had a few lectures to attend. Now I can rest and await what tomorrow will bring. I will enjoy the little few hour's breaks for I have long days ahead, I smell it lol.
A lovely Wednesday to you all...!
PS: Photos are mine except stated otherwise

---
---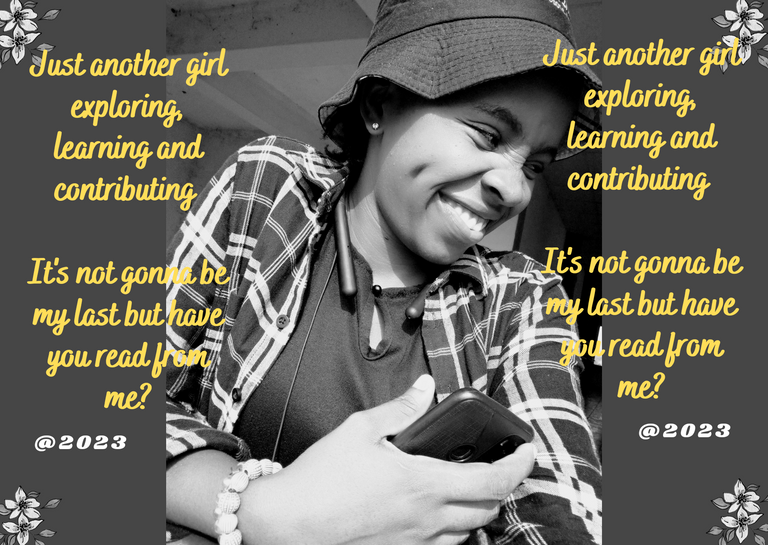 ---
---
𝐀𝐮𝐭𝐡𝐨𝐫
~ 𝐈 𝐚𝐦 𝐖𝐚𝐤𝐲! 𝐀 𝐦𝐮𝐥𝐭𝐢-𝐭𝐚𝐥𝐞𝐧𝐭𝐞𝐝 𝐚𝐧𝐝 𝐨𝐩𝐭𝐢𝐦𝐢𝐬𝐭𝐢𝐜 𝐲𝐨𝐮𝐧𝐠 𝐠𝐢𝐫𝐥 𝐰𝐡𝐨 𝐢𝐬 𝐳𝐞𝐚𝐥𝐨𝐮𝐬 𝐚𝐛𝐨𝐮𝐭 𝐥𝐢𝐟𝐞 𝐚𝐧𝐝 𝐞𝐯𝐞𝐫𝐲𝐭𝐡𝐢𝐧𝐠 𝐢𝐭 𝐡𝐚𝐬 𝐭𝐨 𝐞𝐢𝐭𝐡𝐞𝐫 𝐨𝐟𝐟𝐞𝐫 𝐡𝐞𝐫 𝐨𝐫 𝐭𝐡𝐫𝐨𝐰 𝐚𝐭 𝐡𝐞𝐫. 𝐀 𝐠𝐢𝐫𝐥 𝐰𝐡𝐨 𝐢𝐬 𝐢𝐧𝐭𝐞𝐧𝐭𝐢𝐨𝐧𝐚𝐥 𝐚𝐛𝐨𝐮𝐭 𝐬𝐞𝐥𝐟-𝐠𝐫𝐨𝐰𝐭𝐡 𝐮𝐧𝐝𝐞𝐫 𝐚𝐥𝐥 𝐨𝐝𝐝𝐬.
𝐈 𝐛𝐞𝐥𝐢𝐞𝐯𝐞 𝐦𝐲 𝐞𝐱𝐢𝐬𝐭𝐞𝐧𝐜𝐞 𝐢𝐬 𝐬𝐨𝐥𝐞𝐥𝐲 𝐛𝐲 𝐠𝐫𝐚𝐜𝐞 𝐚𝐧𝐝 𝐬𝐨 𝐈 𝐚𝐦 𝐚 𝐩𝐫𝐨𝐝𝐮𝐜𝐭 𝐨𝐟 𝐠𝐫𝐚𝐜𝐞, 𝐩𝐞𝐫𝐟𝐞𝐜𝐭𝐥𝐲 𝐩𝐨𝐫𝐭𝐫𝐚𝐲𝐢𝐧𝐠 𝐦𝐲 𝐛𝐢𝐫𝐭𝐡 𝐧𝐚𝐦𝐞 "𝐀𝐛𝐮𝐧𝐝𝐚𝐧𝐭 𝐆𝐫𝐚𝐜𝐞".
𝐈 𝐚𝐦 𝐭𝐡𝐞 𝐥𝐚𝐬𝐭 𝐨𝐟 𝐦𝐲 𝐤𝐢𝐧𝐝 𝐛𝐞𝐜𝐚𝐮𝐬𝐞 𝐈 𝐚𝐦 𝐮𝐧𝐢𝐪𝐮𝐞 𝐚𝐧𝐝 𝐬𝐩𝐞𝐜𝐢𝐚𝐥 𝐢𝐧 𝐚 𝐝𝐲𝐧𝐚𝐦𝐢𝐜 𝐰𝐚𝐲
𝐇𝐈𝐕𝐄 𝐡𝐚𝐬 𝐛𝐞𝐜𝐨𝐦𝐞 𝐦𝐲 𝐬𝐨𝐜𝐢𝐚𝐥 𝐇𝐎𝐌𝐄 𝐚𝐧𝐝 𝐒𝐏𝐀𝐂𝐄 ~
              25 January 2023
                   @
                Wednesday

---
For the best experience view this post on Liketu
---
---