EN-TR Hazelnut Lahmacun recipe for the evening---Akşama fındık lahmacunu tarifi
EN
Happy evenings💞 ! Hello everyone, I've come with a recipe that you will love 😄 It is so practical and delicious that no one should stay...
I can't go without saying that I don't want to serve lahmacun from yufka and if it's Sunday, and my husband is at home, there must be something like this on the menu. . .
I've already looked at the kitchen because the man is well done, I love to produce the kitchen, cook, of course, I love to eat, 😅 of course, I love to eat, I'm a very fit person so no one can think of a fat person 😝 well let's come. I don't know if you've met such an easy-to-make flavor in lahmacun, but it wouldn't be a lie if I say it's perfect....
I would definitely recommend you to do it, moreover, it's a very simple recipe that anyone can easily make. Let's see the recipe.
Materials ;
2 dough sheets
oil water mix
For the fee;
250 g ground beef
1 pepper
1 tomato
1 onion
3-4 sprigs of parsley
salt, pepper
1 tea glass of water
1 teaspoon pepper paste
Cool 1 phyllo on the counter, add a mixture of liquid oil and water. Spread the other phyllo on it.
Cut circles with the lid of the teapot.. Chop the tomatoes, peppers, onions and parsley finely.. Add to the ground meat.. Add salt, pepper and water and mix.. Put a dessert spoon on each of the pastries and spread them evenly.. Bake in the oven at 200 degrees for 25 minutes.. Bon appetit to those who made it..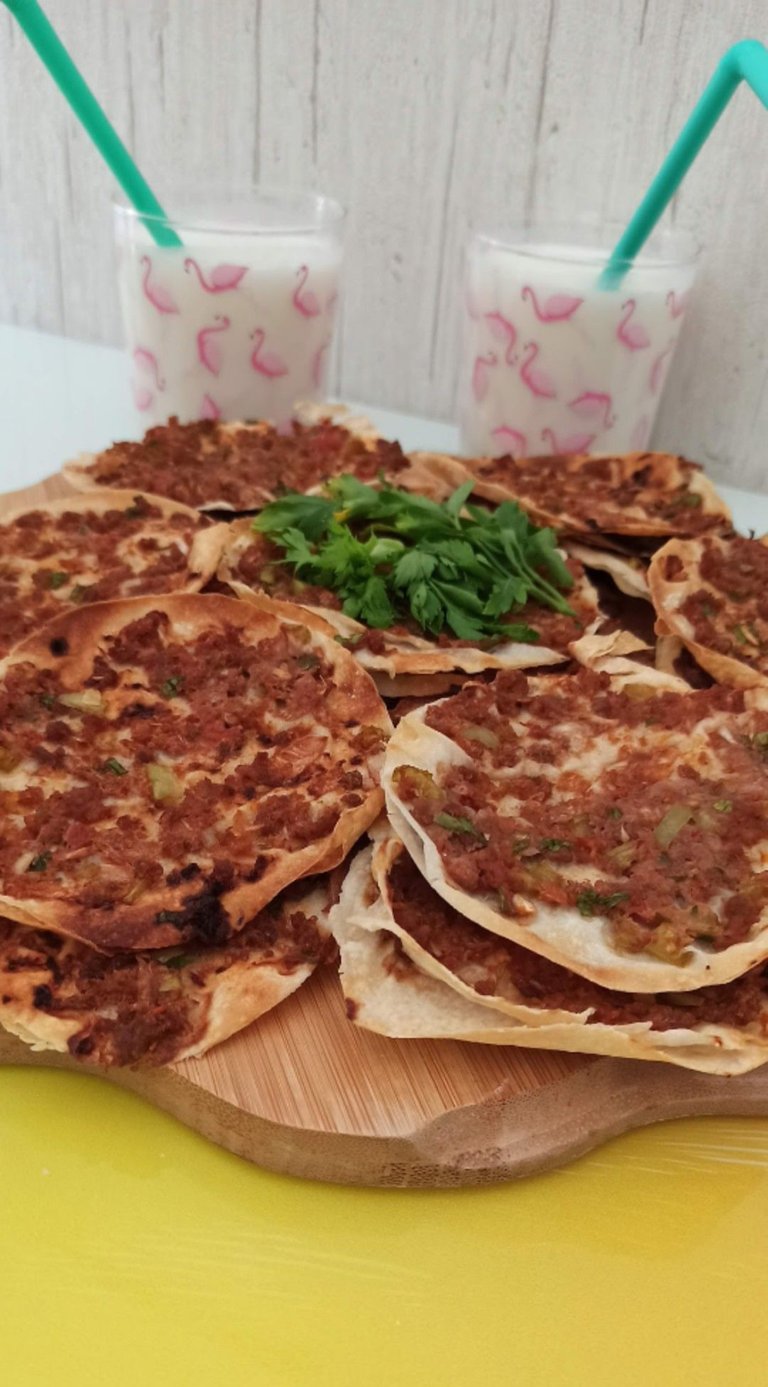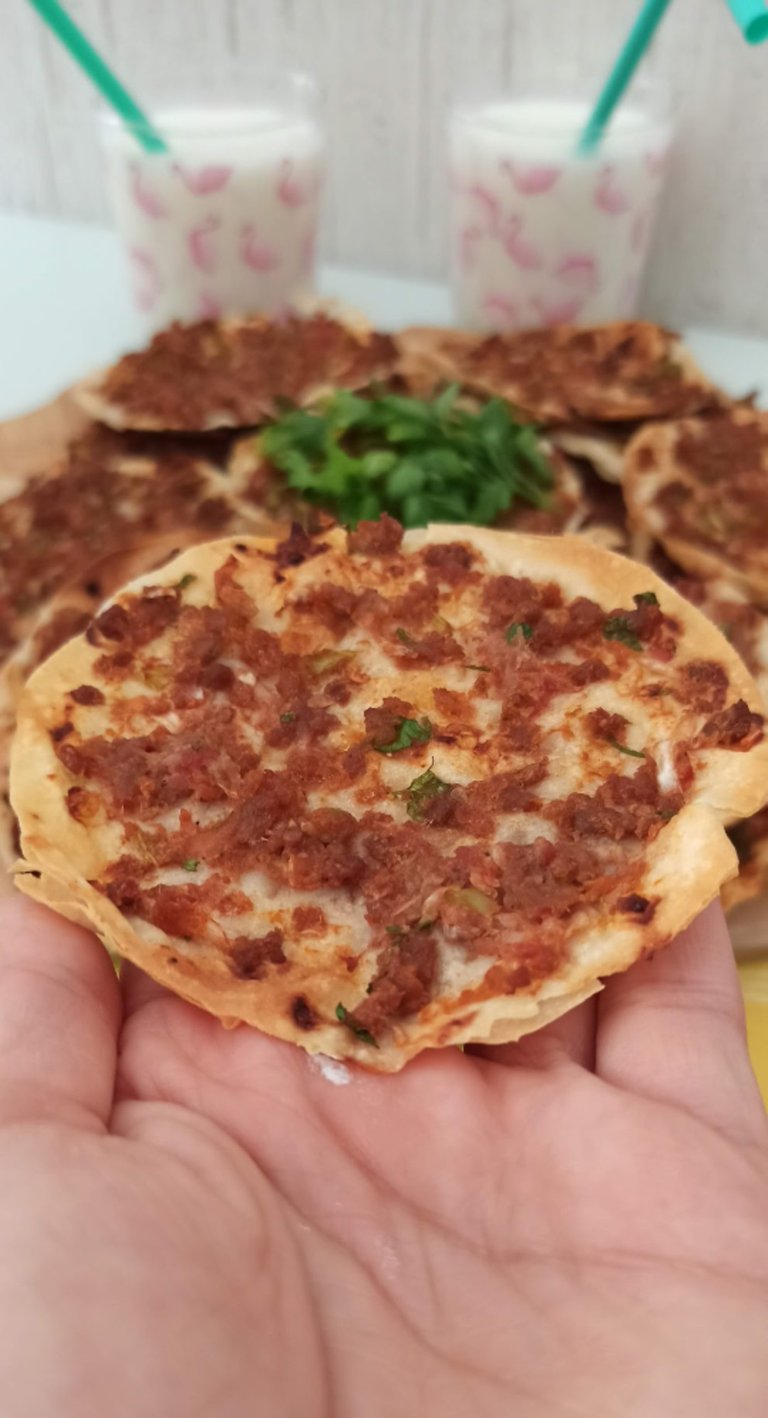 TR
Mutlu aksamlar💞 ! Herkese merhabalar Bayilacaginiz bir tarifle geldim 😄 O kadar pratik ve lezzetli ki yapmayan kalmasinn ... Baştan uyarayim yerken hizinizi alamayip arka arkaya yiyip bir anda hepsini bitirebilirsinizz 🙊🙈😄
Yufkadan findik lahmacun sunuda demeden gecemiyirum pazar gunuysebenim kocada evdeyse 🤭mutlaka böyle şeyler olmalı menüde et ve içinde et olan herşeyi bayılarak yer eee banada kolları sivayarak.mutfaga girmek dusuyo tabi. . .
Mutfakla adamın iyinoldugundan zaten baksetmistim seviyorum mutfağı üretmeyi yapmayı pişirmeyi veeee tabiki yemeyi ,😅yemeyi seviyorum.derken heee kimsenin aklına şişko biri gelemesin çok fit biriyim😝neyse gelelim.lahmacuna bunkadar kolay yapılan bir lezzetle tanıştınız mı bilmiyorum amaaa mükemmel desem yalan olmaz....
Kesinlikle yapmanızı tavsiye ederim üstelik çok kolay basit herkesin kolaylıkla yapabilecegi bir tarif hadi bakalım.tarif gelsin.
Malzemeler ;
2 yufka
Yag su karisimi
Harci icin;
250 gr kiyma
1 biber
1 domates
1 sogan
3-4 dal maydonoz
Tuz,karabiber
1 cay bardagi su
1 tatli kasigi biber salcasi
1 yufkayi tezgaga serin arasina siviyag su karisimini surun diger yufkayi uzerine serin ..
Caydanlik kapagi ile yuvarlaklar kesin .. Domates,biber,sogan ve maydonozu incecik kiyin .. kiymaya ilave edin .. tuz karabiber ve suyu ekleyip karistirin .. yufkalarin uzerine birer tatli kasigi koyup duzgunce yayin .. 200 dereceli firinda 25 dk kadar pisirin .. Yapanlara afiyet olsun .. Sevgiler
🤗💐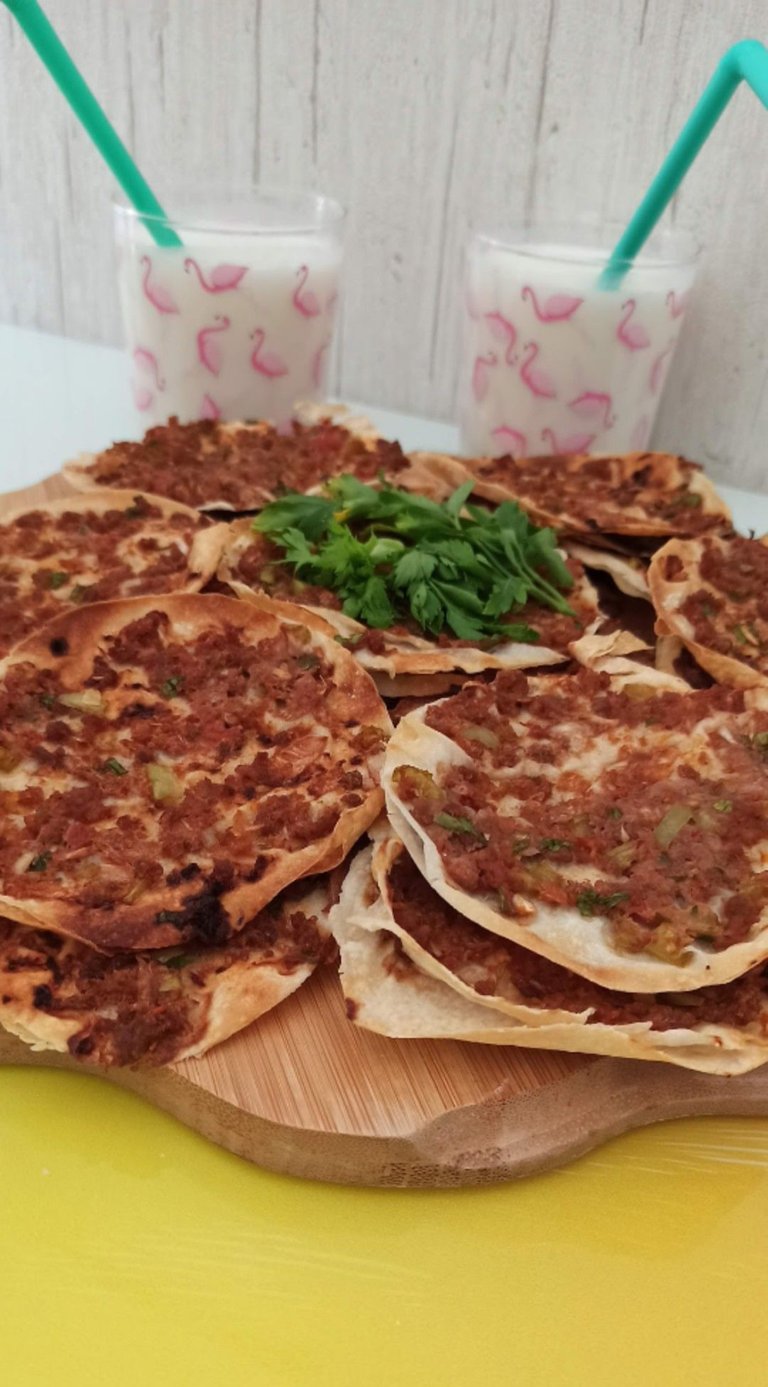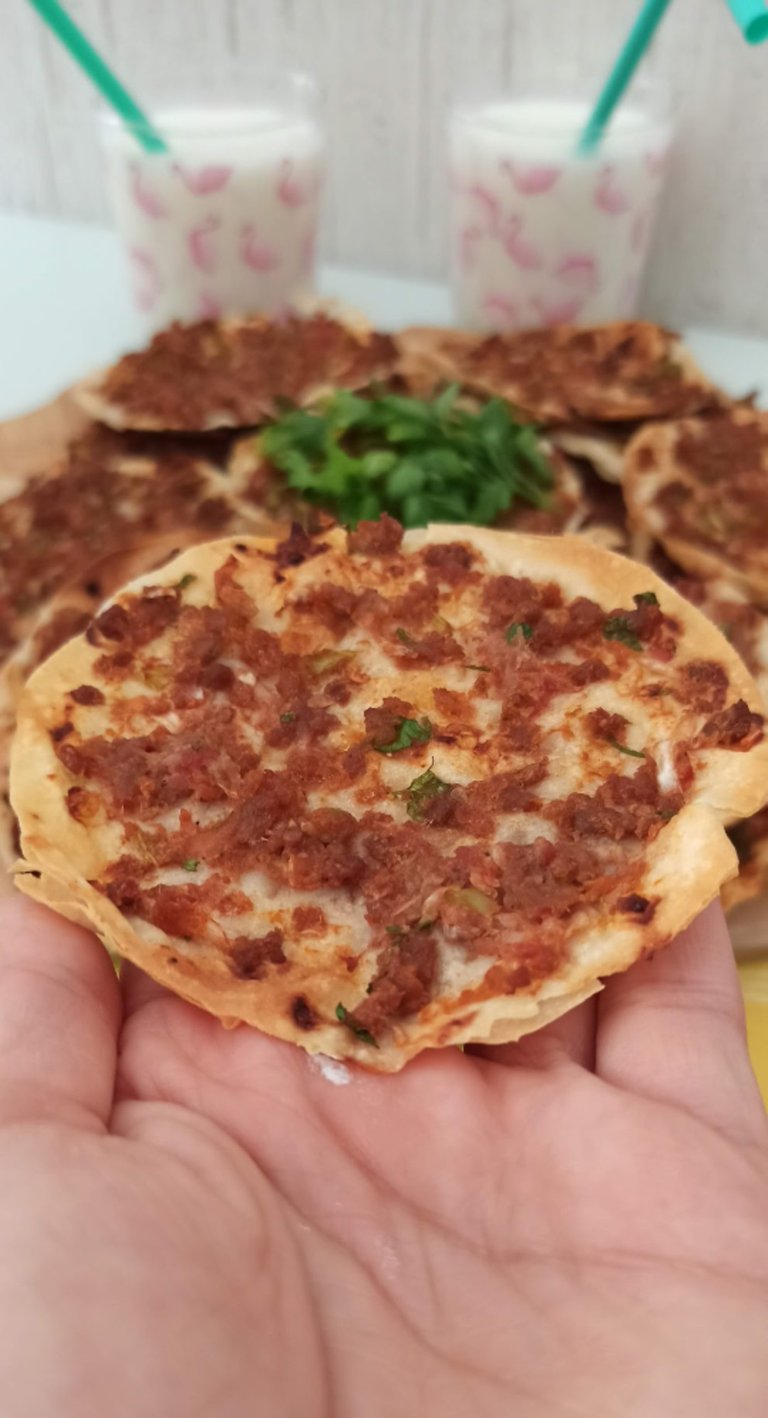 ---
---