Educación desde casa, ha sido de siempre.// Education from home has always been. Esp- Eng
Saludos amigos de esta comunidad, la educación en casa es algo que es de siempre, ya que la primera formación educativa empieza en el hogar, en casa debemos reforzar lo que los hijos ven en sus escuelas o liceos, ahora con los avances tecnológicos de la Internet es una ventaja muy grande, a diferencia de antes que nos apoyábamos con textos.
Luego se crearon las escuelitas de tareas dirigidas, donde los alumnos con apoyo de otra persona que en muchos casos no son maestras tituladas pero tenían esa vocación.
Yo soy Docente, Maestra, ya jubilada pero sigo siéndolo de mis hijos que ahora con la pandemia, muchos padres nos tenemos que apoyar el estudio en casa de los hijos, pero no solo con la pandemia, siempre he apoyado a mis hijos en sus clases, porque tengo, dispongo del tiempo.
Tengo dos hijos la mayor en la universidad es otro nivel, pero cuando esta muy cargada de estudios le apoyo en ayudarla en buscar la información, para que ella luego analice, estudie y haga sus trabajos, porque como que veo mas difícil el estudio on line que presencial. Porque en las materias practicas necesitan una orientación, explicación y ahi es verdad que no la puedo ayudar y no porque no quiera sino que no puedo, en materias teóricas si, pero en practicas como: estadística, matemáticas imposible.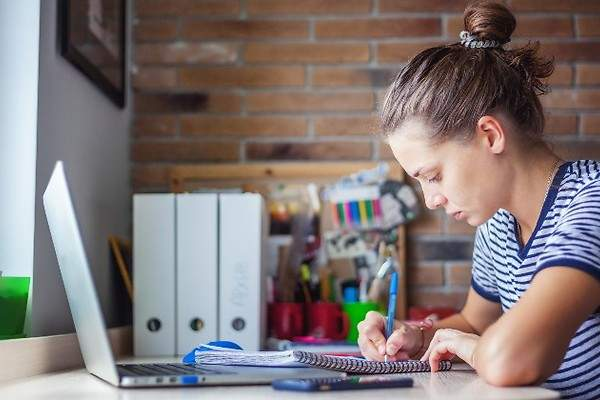 Y con mi hijo si el apoyo es mas dedicado, por su condición, así hayan empezado las clases,como faltaba poco para finalizar este año escolar, los profesores me sugirieron que lo culminara a distancia. Porque saben que soy una representante responsable que lo apoyo y debo llevo los trabajos luego al liceo.
En casa nos organizamos en las mañanas dedicamos unas horas y en las tardes otras, luego le explico sobre que trata la clase que esta copiando. Dentro de sus limitaciones esta que la lectura se le hace difícil pero transcribe muy bien, como hay dos computadoras en casa, en una yo le copio la clase, resumo y se la paso con pendrive para la otra computadora donde el copia el trabajo, según le indique.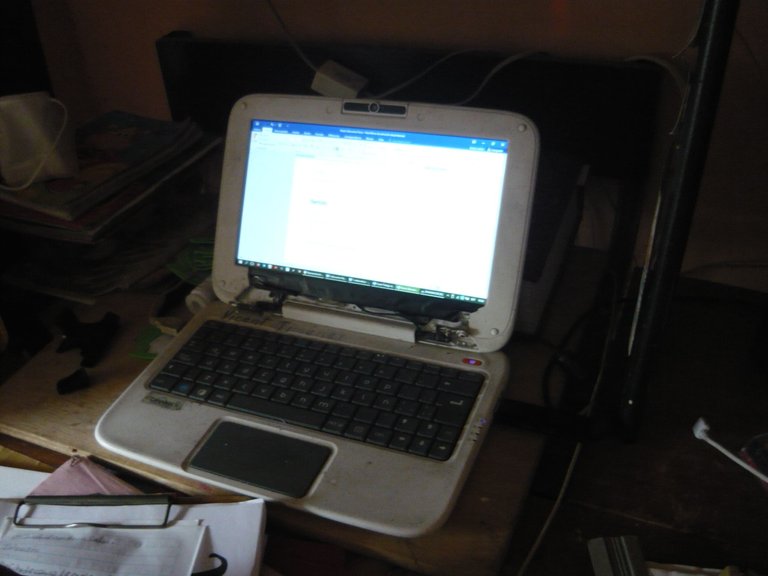 La pc donde ayudo a mi hijo para sus clases. (Foto propia)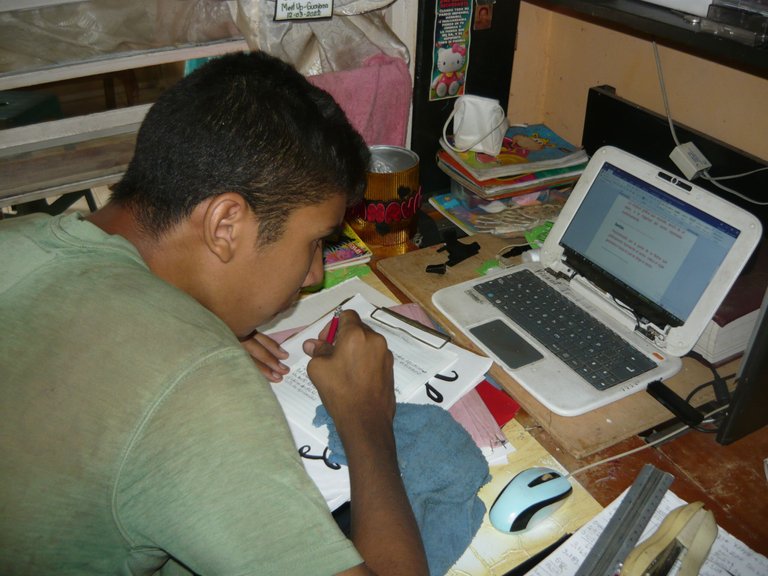 Mi hijo ya copiando su trabajo, todos deben ser hechos a mano. (Foto propia)
Vicent mi hijo ya el próximo año saldrá de bachiller, no creo que llegue a la universidad, pero el quiere ser mecánico, así que pronto me verán estudiando mecánica y reparando carros con el ja ja ja.
Así que cuando mis hijos estudian yo cambien lo hago, solo debo adaptarme a los cambios ya que son muy diferentes a los que cuando yo estudiaba y cuando yo daba clases.
Pero lo hago con el mas grande amor, porque sino apoyo a mis hijos quien mas lo va hacer, no va venir el vecino hacerlo, ademas ellos son mi responsabilidad.
Cuando yo trabaja como maestra yo les decía a los padres que si los hijos estudian los padres también.
Gracias por su atención durante mi publicación.

Greetings friends of this community, education at home is something that has always been, since the first educational formation begins at home, at home we must reinforce what the children see in their schools or high schools, now with the technological advances of the Internet is a great advantage, unlike before that we were supported with texts.
Then the little schools of directed homework were created, where students with the support of another person who in many cases are not qualified teachers but had that vocation.
I am a teacher, a retired teacher, but I am still a teacher of my children that now with the pandemic, many parents have to support the home study of their children, but not only with the pandemic, I have always supported my children in their classes, because I have, I have the time.
I have two children, the oldest in college is another level, but when she is very loaded with studies I support her in helping her to find information, so that she can then analyze, study and do her work, because I find it more difficult to study online than in person. Because in the practical subjects they need guidance, explanation and there it is true that I can not help her and not because I do not want to but I can not, in theoretical subjects yes, but in practices such as: statistics, mathematics impossible.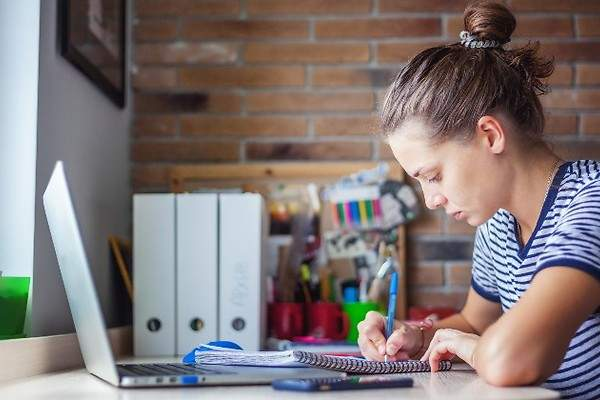 And with my son if the support is more dedicated, because of his condition, even though the classes have started, as there was little time left to finish this school year, the teachers suggested me to finish it at a distance. Because they know that I am a responsible representative who supports him and I have to take the work to school.
At home we organize ourselves in the mornings we dedicate some hours and in the afternoons others, then I explain to him what the class he is copying is about. Among his limitations is that reading is difficult for him but he transcribes very well, as there are two computers at home, in one I copy the class, summarize it and pass it to him with a pendrive for the other computer where he copies the work, as I indicate.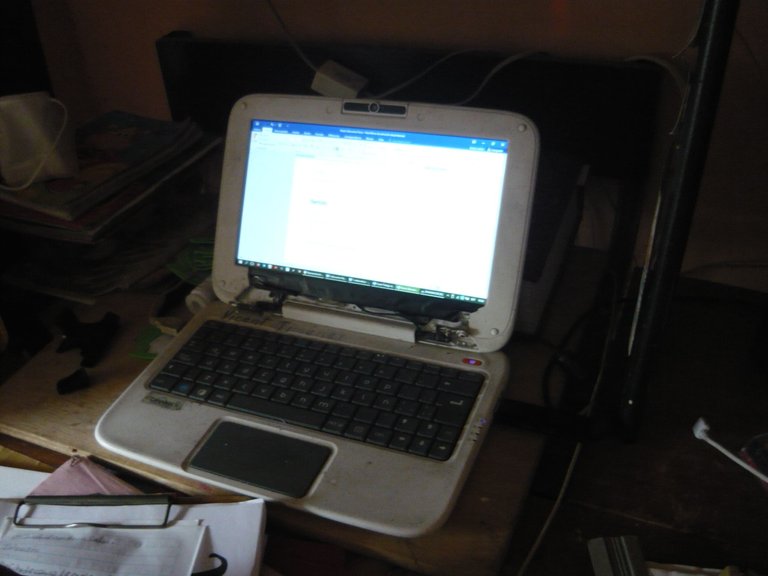 The computer where I help my son for his classes (own photo)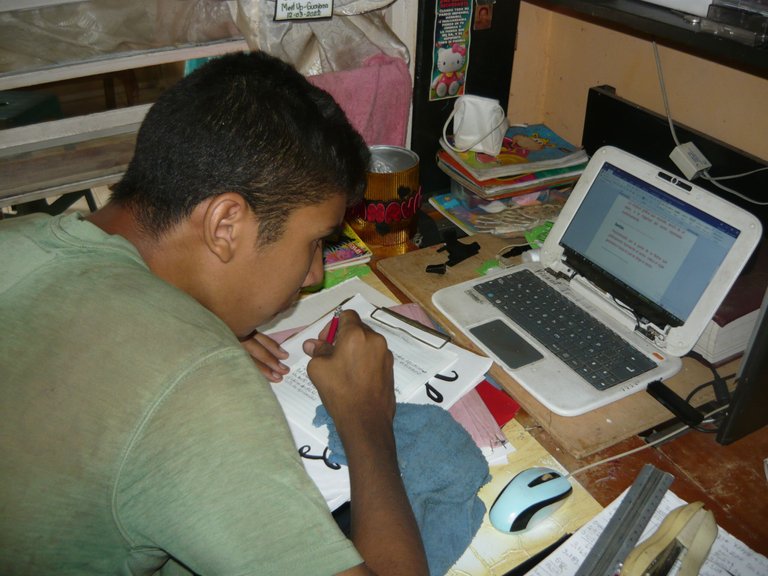 My son already copying his work, all of them must be done by hand. (Own photo)
Vicent my son will be out of high school next year, I don't think he will go to college, but he wants to be a mechanic, so soon you will see me studying mechanics and repairing cars with him ha ha ha.
So when my children study I change, I just have to adapt to the changes because they are very different from when I was studying and when I was teaching.
But I do it with the greatest love, because if I don't support my children who else is going to do it, the neighbor is not going to come and do it, besides they are my responsibility.
When I worked as a teacher I used to tell parents that if their children study, so do their parents.
Thank you for your attention during my publication.

---
---