Primer día del ultimo año.// First day of senior year
Hola mis mamis y papis de esta colmena, de esta familia, donde los principales protagonistas y razones de que estemos aquí son nuestros hijos, tengan la edad que tenga, nunca dejaremos de verlos como nuestros pequeños.
Desde el lunes 03 de octubre en Venezuela se dio el inicio formal a clases en todos los niveles y modalidades, desde preescolar hasta los liceos, los padres sentimos las mismas emociones y expectativas de nuestros hijos en cada inicio de un nuevo año escolar ¿o no?, yo si, mas que este el ultimo año escolar de mi hijo @vicent21, que con su condicion de autismo, hemos superado barreras, obstáculos, pandemia y ya estamos en la recta final. Que luego no se sabe que pasara.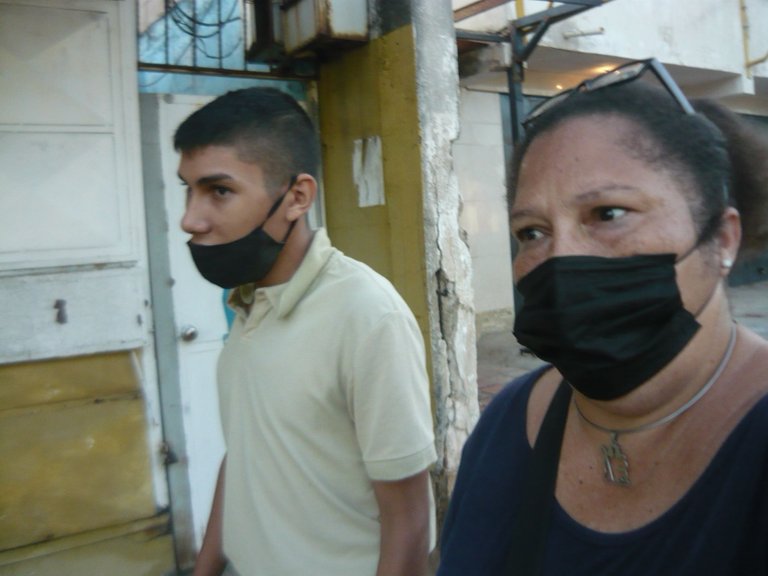 Camino al liceo.
Desde que mis hijos están en mi vida, mi vida es de ellos, en preescolar, primaria siempre los lleve en su primer día de clases, para ellos es muy importante nuestra presencia, saber que estamos ahi, para apoyarlos, como también los llevaba y buscaba a diario, en el liceo ya solo los llevaba hasta la parada.
Luego vino el cambio de liceo, a uno mas cercano a casa, que también lo llevo y lo voy a buscar tengo el tiempo y me gusta hacerlo.Desde dias antes ya nos estábamos preparando, para el regreso a clases, el con su uniforme, yo para agarrar la rutina de nuevo de despertar temprano en las mañanas para preparar el desayuno, para luego llevarlo, regresar a casa, para luego volver por el.
En el liceo donde estudia hubo muchos cambios de personal, que luego me pregunto sobre eso, desde que llego socializo con sus compañeros que han sido los mimos desde segundo año, el cálido saludo de los profesores con el, conmigo también.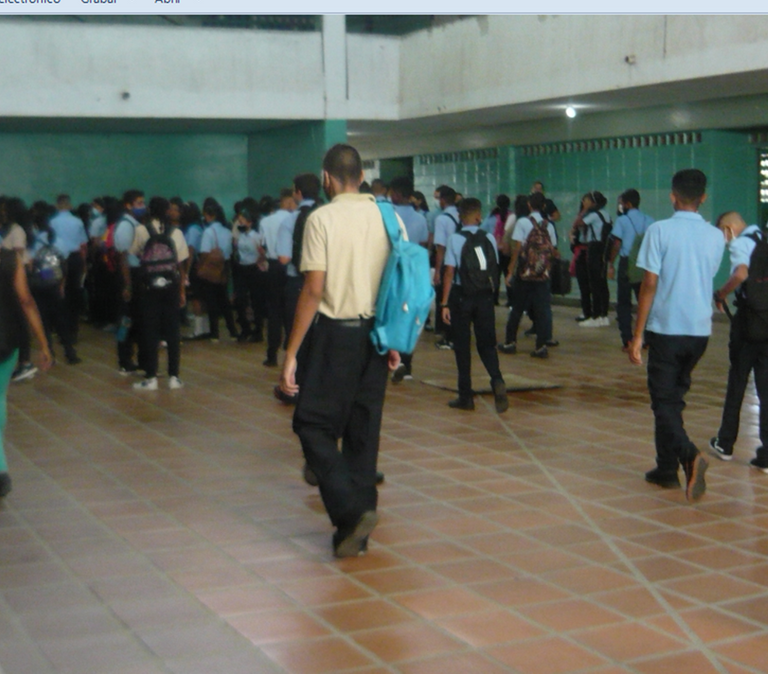 Ya en el liceo a la formación ese de bolso azul es mi hijo azul, je je
Una la madre nunca deja de estar pendiente de sus hijos, mas cuando uno de ellos tienen alguna condición o discapacidad, pero me sorprendió un avance ya tan rápido de mi hijo en el primer día de clases, que en lo que lo fui a buscar estaba en la cola para entrar al comedor, lo espere, en años anteriores, nos veníamos de inmediato, esta vez no, se quedo un rato mas, con sus compañeros, no le dije nada, solo lo espere, hasta que si me dijo para venirnos, es un avance y que es aceptado en su grupo de compañeros, pero eso no quiere decir que yo baje la guardia, siempre estaré atenta.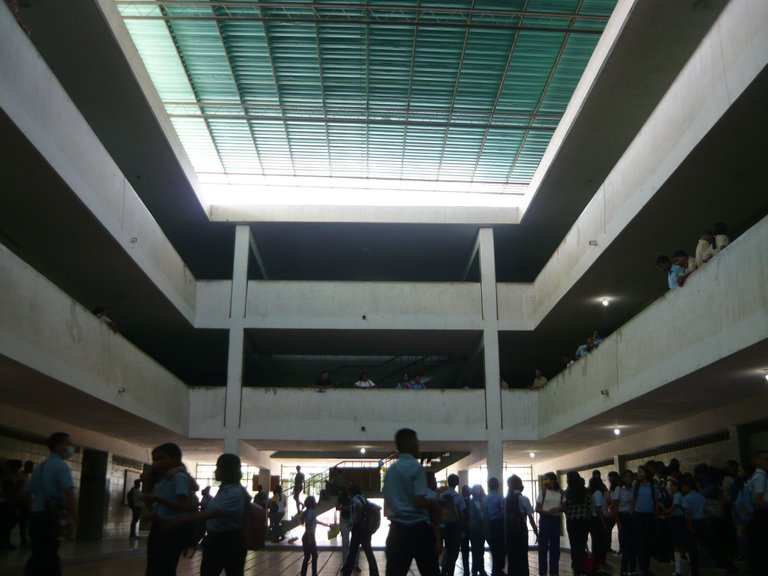 Así es el liceo, aquí estudie yo, la diferencia es que antes no estaba techado.
Y si como es el ultimo año, huele a graduación y ahí es donde apoyare a la institución, ya me veo siendo parte del comité je je, ya mas a menudo compartiré sobre el desempeño escolar de mi hijo, porque el no estudia solo, yo también estudio, es el deber ser de los padres, orientar, estar al tanto de las tareas escolares, asistir al liceo a preguntar sobre sus avances no dejar todo para ultimo momento, cuando quizás ya no de tiempo de que el alumno pueda aprobar.
Las fotos son de mi uso personal, tomadas con mi cámara Panasonic.

Hello my moms and dads of this hive, of this family, where the main protagonists and reasons for us to be here are our children, no matter how old they are, we will never stop seeing them as our little ones.
Since Monday October 3rd in Venezuela we formally started classes at all levels and modalities, from preschool to high school, parents feel the same emotions and expectations of our children at the beginning of each new school year, don't we? I do, but this is the last school year of my son @vicent21, who with his autism condition, we have overcome barriers, obstacles, pandemic and we are already in the final stretch. Then we don't know what will happen.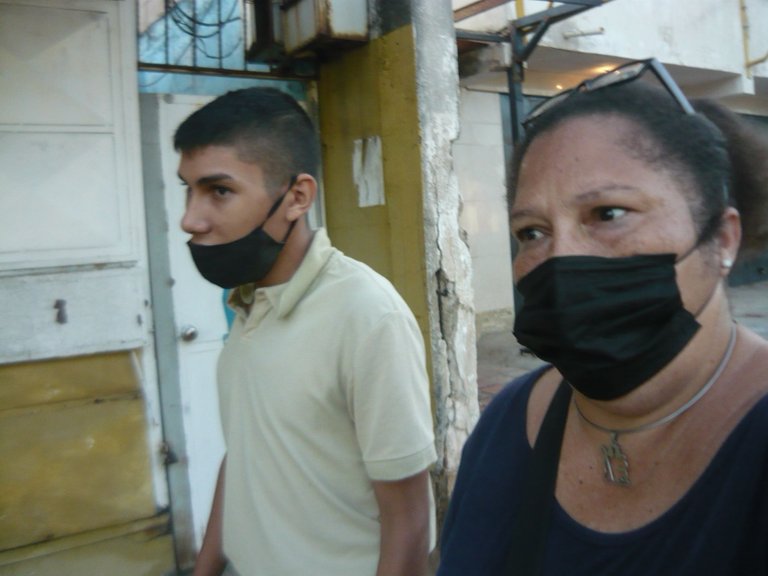 On my way to high school.
Since my children are in my life, my life is theirs, in preschool, elementary school I always took them on their first day of school, for them it is very important our presence, to know that we are there to support them, as I also took them and looked for them daily, in high school I only took them to the bus stop.
Then came the change of school, to one closer to home, and I also took him and went to pick him up, I have the time and I like to do it, and days before we were already preparing for the return to school, he with his uniform, me to get back into the routine of waking up early in the morning to prepare breakfast, and then take him, return home, and then come back for him.
In the high school where he studies there were many changes of personnel, that later he asked me about it, since he arrives he socializes with his classmates who have been the cuddles since second year, the warm greeting of the teachers with him, with me too.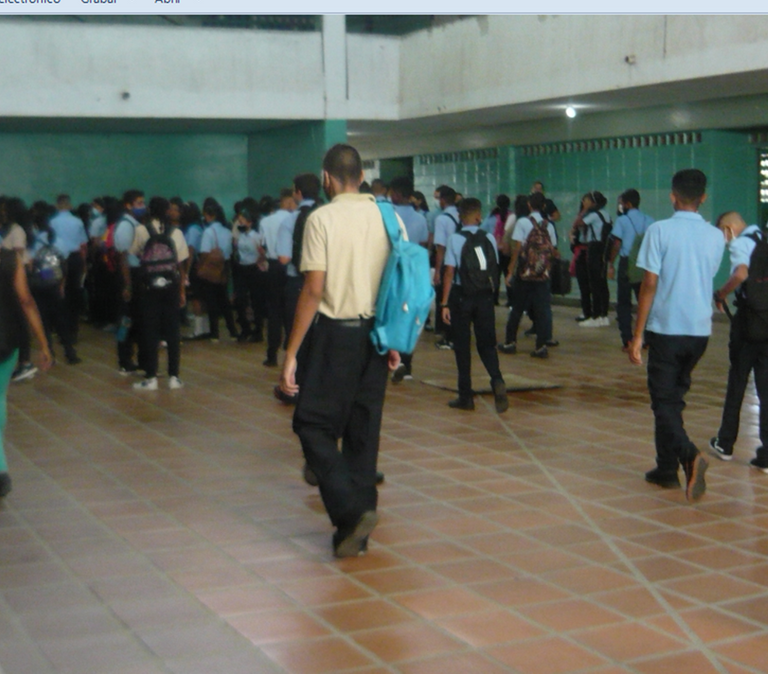 Already in high school, that one with the blue bag is my blue son, he is my blue son, he is my blue son, he is my blue son, he is my blue son, he is my blue son.
A mother never stops taking care of her children, even more so when one of them has some condition or disability, but I was surprised by the rapid progress of my son on the first day of school, when I went to pick him up he was in line to enter the dining room, I waited for him, In previous years, we came immediately, but not this time, he stayed a little longer with his classmates, I didn't say anything, I just waited for him, until he told me to come, it is an advance and that he is accepted in his group of classmates, but that doesn't mean that I let my guard down, I will always be attentive.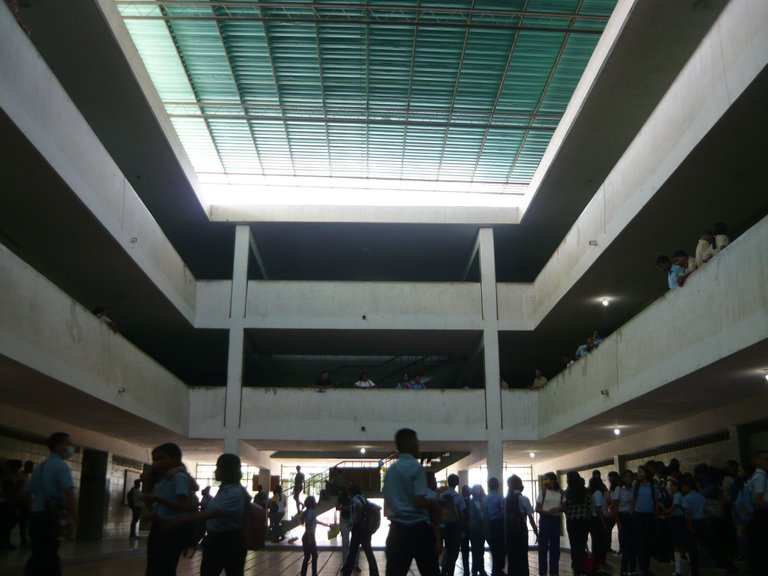 This is the high school, I studied here, the difference is that before it was not roofed.
And if as it is the last year, it smells like graduation and that is where I will support the institution, I see myself being part of the committee heh heh, and more often I will share about the school performance of my son, because he does not study alone, I also study, it is the duty of parents, to guide, be aware of homework, go to school to ask about their progress not leave everything to the last minute, when perhaps no longer time for the student to pass.
The photos are for my personal use, taken with my Panasonic camera.
---
---