JOJO'S BIZARRE ADVENTURE (1998) | Retro Review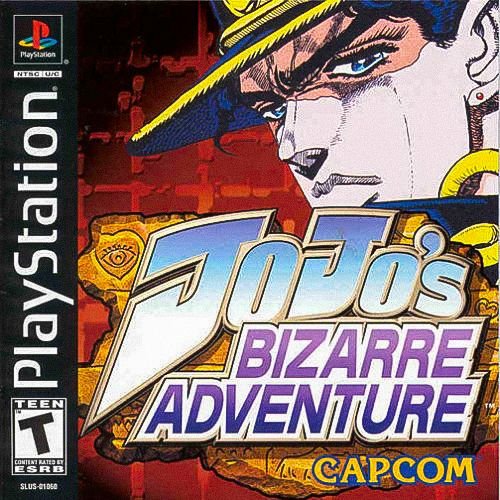 Fantastic fights, very well made character design and a proper "Bizarre" story are the keys to make this one of the best fighting games ever, unfortunately it was forgotten by many and ignored by others. JoJo's Bizarre Adventure was based on the manga of the same name, it follows the story of Jotaro Kujo who goes in search of his family's enemy the vampire Dio Brando from whom they could get the cure to save Jotaro's mother. The title was developed and distributed by Capcom, originally released in December 1998 for arcade machines and later for the PlayStation One and Dreamcast. It is a 2D fighting game not very different from many other titles developed by the company, but one of the most important aspects is the stands, a guardian spirits that will fight by your side if you wish, giving you a varied list of moves.
Peleas fantásticas, diseño de personajes muy bien hechos y una historia propiamente dicha "Bizarra" son las claves para hacer de un juego de peleas de los mejores que ha habido, lastimosamente fue olvidado por muchos e ignorados por otros. JoJo's Bizarre Adventure fue basado del manga del mismo nombre, sigue la historia de Jotaro Kujo quien va en busca del enemigo de su familia el vampiro Dio Brando de quien podrían obtener la cura para salvar a la madre de Jotaro. El titulo fue desarrollado y distribuido por Capcom, originalmente lanzado en diciembre de 1998 para las maquinas de arcade y posteriormente para la PlayStation One y Dreamcast. Es un juego de luchas 2D no muy diferentes de muchos otros títulos desarrollados por la compañía, pero uno de los aspectos más importantes es los stands, unos espíritus guardines que lucharan a tu lado si así lo deseas, otorgando así una variada lista de movimientos.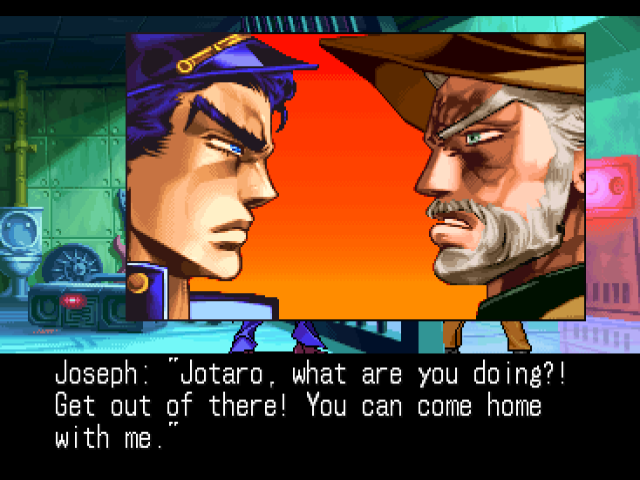 The story begins in part 3 of the manga (Stardust Crusaders), a 17-year-old boy named Jotaro Kujo who was recently imprisoned by turning himself in after an "evil spirit" that possessed him reflexively beat up some kids who were bothering him. His mother, Halley Joestar, locates his father, Joseph Joestar, whom she asks to come to Japan to help her grandson with his new change of attitude and get him out of the trouble he got into. Joseph arrives at Jotaro's cell to explain to him that this "evil spirit" is nothing more than an entity they call Stand that is at the service of its bearer. Joseph brings with him a companion, Mohammad Avdol, who, on Joseph's orders, must fight Jotaro and help him to free his Stand. Jotaro almost knocks Avdol unconscious, who realizes that Jotaro's Stand could be much stronger than his and many others. After leaving the prison Joseph tells Jotaro the origin of this new power.
La historia comienza en la parte 3 del manga (Stardust Crusaders), un joven de 17 años llamado Jotaro Kujo quien recientemente estaba en prisión al entregarse por voluntad propia después de que un "espíritu maligno" que lo poseía golpeara por reflejo a unos chicos que lo molestaban. Su madre, Halley Joestar, localiza a su padre, Joseph Joestar, a quien le pide que venga a Japón para que ayude a su nieto con su nuevo cambio de actitud y lo saque de los problemas en los que se metió. Joseph llega a la celda de Jotaro para explicarle que este "espíritu maligno" no es más que un ente al que llaman Stand que está al servicio de su portador. Joseph trajo consigo a un acompañante, Mohammad Avdol, quien por ordenes de Joseph deberá luchar contra Jotaro y así ayudarlo a liberar su Stand. Jotaro por poco no deja inconsciente a Avdol quien se percata que el stand Jotaro podría ser muchísimo más fuerte que el de él y que el de muchos otros. Después de salir de la prisión Joseph le cuenta a Jotaro el origen de este nuevo poder.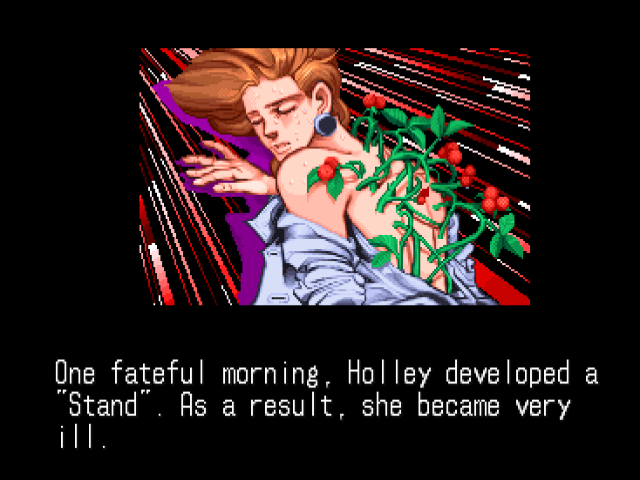 Dio Brando, a vampire who is a sworn enemy of the Joestar family and possessor of the deceased Jonathan Joestar's body, awoke from his tomb in the deepest ocean after 100 years and awoke with his Stand, and somehow by possessing Jonathan's body, Dio activated the latent Stands of all the descendants of the Joestar family. Shortly after, Jotaro receives the painful news that his mother fell ill because of his Stand, since her body is not strong enough to resist such power. As Dio was the only one responsible for the Stand's awakening in his family, Jotaro and his family decided to go in search of Dio to destroy him and save his mother, who only had 50 days left to live.
Dio Brando, un vampiro quien es enemigo jurado de la familia Joestar y poseedor del cuerpo difunto Jonathan Joestar, despertó de su tumba en lo más profundo del océano después 100 años y despertó consigo su Stand, así mismo de alguna manera al poseer el cuerpo de Jonathan, Dio activó los Stands latentes de todos los descendientes de la familia Joestar. Poco tiempo Jotaro recibe la penosa noticia de que su madre cayó enferma por culpa de su Stand, ya que el cuerpo de ella no posee la suficiente fuerza para poder resistir tal poder. Al ser Dio el único responsable de que los stands en su familia despertaran, Jotaro y sus allegados decidieron ir en busca de Dio para destruirlo y así salvar a su madre ala cual solo le quedaban 50 días de vida.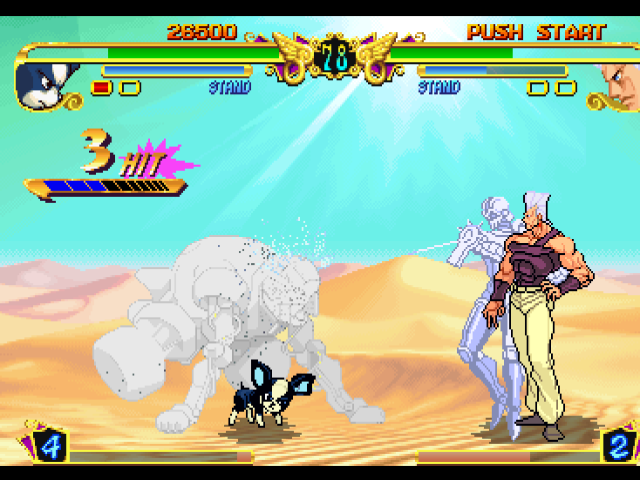 The moment of truth begins, the gameplay is the jewel of this review. The first thing to note is that the game throws you overboard with no lifeguards, no tutorials or guides, old school. The attack controls consist of 4 buttons, a soft hit, medium hit and hard hit, the last one is to activate the Stand, which enables a wide range of moves and tactics against your enemy, not to mention the great special attacks that each character's stand has. Not far from other classics of the genre, you have different types of jumps, as well as jumps with punches, you can block attacks, you can quickly go to the position of your enemy by pressing the pad twice in his direction. We will have 16 selectable characters, all with different skills, styles, special attacks and obviously, stands. Something absolutely great is when two opponents collide their attacks of equal strength, this invokes a special mode where the one who presses the attack button more times wins. As in other Capcom fighting games it is not to be expected that this title is quite fast paced, we will have to be attentive to every attack of the enemy and respond accordingly.
La hora de la verdad comienza, la jugabilidad es la joya de esta reseña. Lo primero a tomar en cuenta es que el juego te lanza de una por la borda sin salvavidas, sin tutoriales ni guías, a la vieja escuela. Los controles de ataque constan de 4 botones, un golpe suave, golpe medio y golpe fuerte, el ultimo es para activar el Stand, lo cual habilita una gran gamma de movimientos y tácticas para contra tu enemigo, eso sin contar los grandes ataques especiales que cada stand de cada personaje posee. No se alejan muchos de otros clásicos del género, tienes diferentes tipos de saltos, así como saltos con golpes, puedes bloquear los ataques, puedes ir rápidamente a la posición de tu enemigo presionando dos veces el pad en su dirección. Contaremos con 16 personajes elegibles, todos con distintas habilidades, estilos, ataques especiales y obvio, stands. Algo absolutamente genial es cuando dos oponentes chocan sus ataques de igual fuerza, esto invoca un modo especial donde ganara el que presione el botón de ataque más veces. Como en otros juegos de pelea de Capcom no es de esperarse que este titulo sea de un ritmo bastante rápido, tendremos que estar atento a cada ataque del enemigo y responder en consecuencia.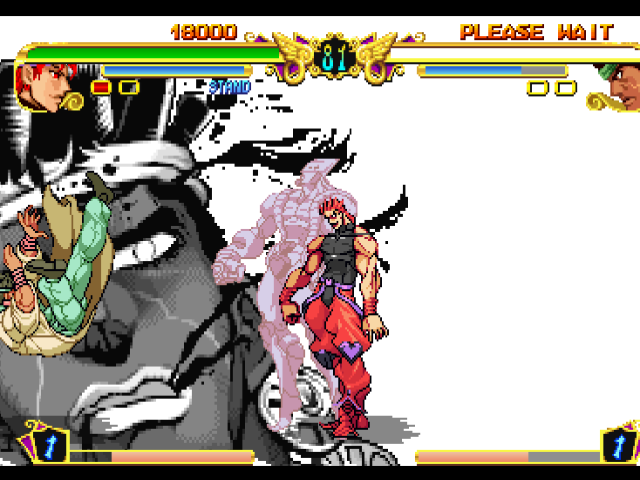 A unique combination of the best 90's fashion and western culture. Thanks to its colorful scenery and characters the title has aged absolutely well, coming to be compared to some exponents of the genre today. If you are a fan of anime or manga you will surely enjoy the incredible designs of the characters, as well as their poses, the backgrounds, some of the designs are very funny and you will probably get attached to some of the characters, you will surely want to cosplay after playing it for a few hours. The soundtrack isn't anything flashy if you're used to typical fighting games, maybe because it was originally released for arcade machines, but the sound quality is poor but not atrocious, you won't fix all your attention to it and you won't even feel compenetrated with the game, but it does excite you right at the beginning of a fight.
Una combinación única de la mejor moda de los 90 y la cultura occidental. Gracias a sus coloridos escenarios y personajes el título a envejecido absolutamente bien, llegando a compararse a algunos exponentes del genero hoy en día. Si eres seguidor del anime o el manga seguramente disfrutaras de los diseños increíbles de los personajes, así como sus poses, los fondos, algunos de los diseños son muy graciosos y probablemente te encariñes con algunos de los personajes, seguramente querrás hacer un cosplay luego de jugarlo unas horas. La banda sonora no es nada llamativa si estas acostumbrado a los típicos juegos de peleas, quizás porque fue lanzado originalmente para las maquinas de arcade, pero la calidad del sonido es pobre pero no por eso es atroz, no fijaras toda tu atención a ella ni mucho menos te sentirás compenetrado con el juego, pero cumple con emocionarte justo al comienzo de una pelea.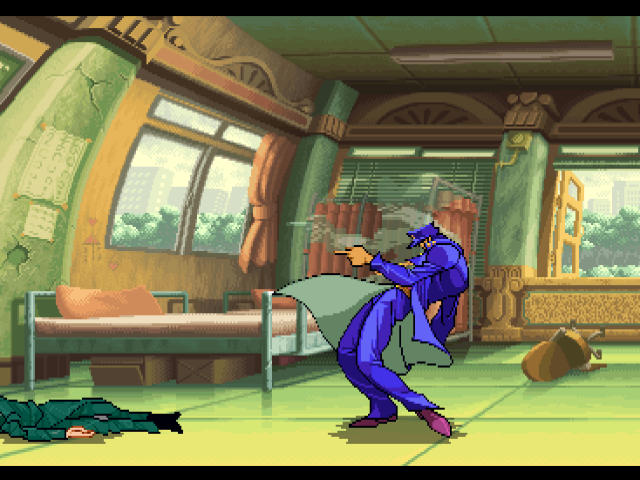 It's been 23 years since its release and we can't complain about its age, it has aged very well despite some somewhat obsolete aspects such as a few features of the mechanics and the soundtrack typical of arcade games. JoJo's Bizarre Adventure I would recommend it to anyone who wants a glimpse into the past in the skin of one of their favorite anime/manga characters, I'm sure the story mode will fascinate you. If PSOne graphics aren't your thing then you can try the HD version that was released in 2012 for Xbox 360 and PS3.
Han pasado 23 años desde su lanzamiento y no podemos quejarnos de su edad, ha envejecido muy bien a pesar de algunos aspectos algo obsoletos como unas pocas características de las mecánicas y la banda sonora típica de los juegos arcade. JoJo's Bizarre Adventure se lo recomendaría a cualquiera que quiera darle un vistazo al pasado en la piel de uno de sus personajes de anime/manga favorito, seguro el modo historia le fascinara. Si los gráficos de PSOne no son lo tuyo pues puedes probar la versión HD que fue lanzada en 2012 para Xbox 360 y PS3.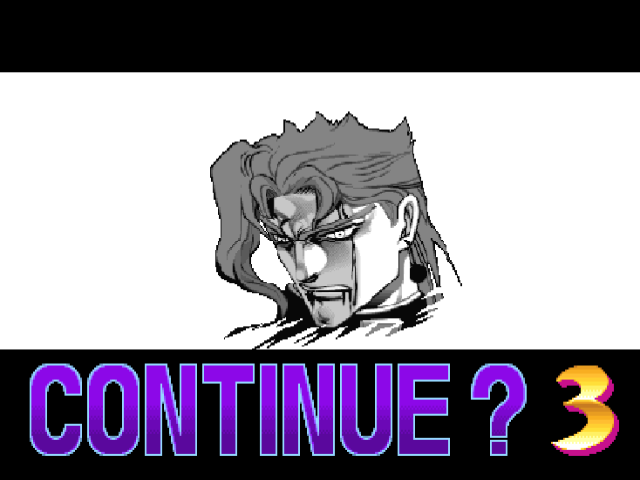 That's all for now, we'll see you in another post.
Follow me for more content like this
---
---
Sources:
All images shown here (except the thumbnail) are screenshots made by @zhoten from a PlayStation One Emulator
---
---