Here is it - My First Hive Fest 😉

I am probably the last person who has not yet posted about the impressions of the HiveFest-2022. It's not right, because unlike those who get an annual visit (and an award!), I have nothing to compare this experience to, moreover, I have never attended conferences abroad, only in Ukraine. So for me, everything was the best!🔥😉
So I'm home. The first air raid since I returned just started, like a reminder to finish what you're going to do. I took a plane to Warsaw, then a long wait, sitting on a metal seat in a cold train station. Departure at 23:15. 17 hours in a full bus next to people with cold symptoms. Do you think I had a chance not to get sick? Probably no. Today I can't speak at all, but still can type. 😄
🤗 I didn't know how everything would turn out. But from the first minutes, all these people, who had never seen me before, greeted me so heartily that I did not feel awkward.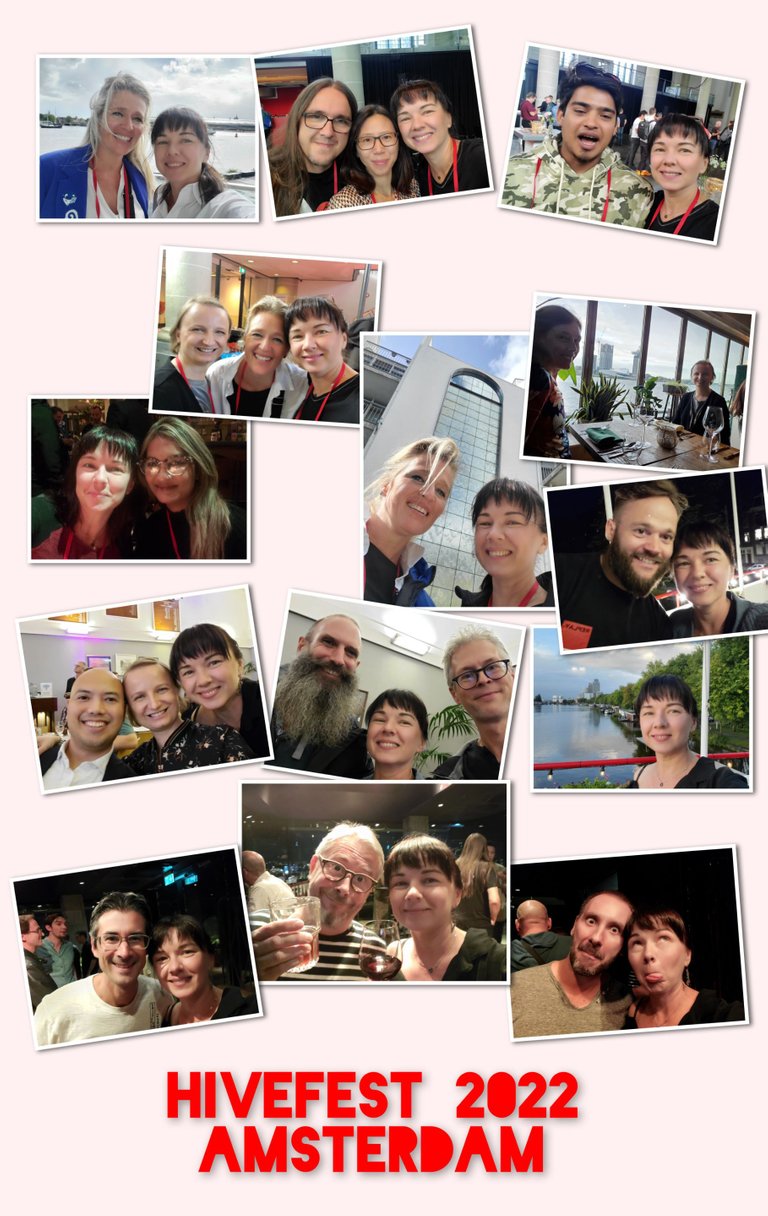 🏢 I really like my stay in the Volkshotel. They provided me a quiet room as I asked 💜 It was small and quite expensive (who am I kidding, very expensive for a Ukrainian), but the mattress, pillows, and blanket were just divine. I wish I could have more sleep 😁 oh and speak Dutch so I could read the newspapers pasted on the wall while having a shower.
👭 It was so cool to feel like a guest and part of the family at the same time. Being able to relax (as much as possible in my case) and not worry about anything, and knowing that someone has taken care of everything. You know how it is when you like almost everything, but there is always something that you are disappointed with. And I don't know if it's because of the long period of covid restrictions, or because of the war, or maybe it's just a true impression, albeit a subjective one. I enjoyed absolutely everything. I highly appreciate the incredible efforts of @roelandp and all you guys who volunteered!
👁‍🗨The venue for the first day of the conference was very cool - Eye Filmmuseum, you know it already. I can imagine how much it cost. The first day of the conference in the cinema hall was very cozy and comfortable. And also because of the cute pajamas of that guy with the headset on the stage. I liked the idea of chairs, I wanted to see such cinemas in Ukraine.
🍔 On the first day, I was very worried (you noticed it) and did not immediately see that they serve food. The food was very tasty, the drinks varied and the staff was very nice. They even watched my presentation and supported me! Ah, just unbelievable.
🚤 Then there was a boat trip along the canals. And snacks again. Our captain tried to tell us at least a little bit about the landmarks we were passing by, but it was difficult because everyone was very excited to meet after a 2-year break.
🏅 After the walk, there was a game of Pétanque. And again drinks and snacks. Everyone got a medal before we started playing so that newbies like me wouldn't feel like losers. We still lost, although Brigitte did everything possible to win. After the game, Bridge and I went tried to get lost, and I enjoyed the rainy evening and the walk.
The guys developed the HiveFest app, so even I didn't have a chance to get lost (unless I got under the wheels of a bicycle). But when I've read "Zuiderkerkhof"-Square (It means Southern Church Cemetary) it alarmed me a bit.
🕍 We spent Day 2 in the church, no kidding, we even stood up and bowed our heads in prayer. The atmosphere (and air temperature) was different there, but I still had that feeling of family. Especially since one of the participants brought the recipe of his national dish cold beetroot soup, and we tasted it! I really liked it. Especially since a similar dish is our national treasure (Borsch), it is also made from beets, but the ingredients are slightly different and it is served hot.
🎲🍻👭 Saturday night! If I am not mistaken, guys had a choice between beer and poker (or they could mix), but I went for dinner with my new friends whom I was so happy to meet in person finally - @delishtreats @livinguktaiwan and @sjarvie5 . When we went there, we expected it will be maybe two hours, but the time flew by imperceptibly, and we spent 4 awesome hours there talking and solving riddles. The husband of @delishtreats is a real charmer.🦄 He came for us by car and took each of us to the hotel. My cigarettes fell out of my pocket and stayed in the car, and now I have an official reason to visit Switzerland.
☂️ Sunday, the last day. I had a few proposals but no plans. In the morning, I enjoyed a soft and warm bed and watched the rain. And then I went for a walk without a specific goal or route. I decided to try to look like a local and not use an umbrella. Well, the result was expected, I was soaked to the bone, but I felt more alive than in the morning.
🍹 Closing dinner. A smile appears on my face as I write this. It was very warm, touching and a little sad. Because all the time someone came up to give a goodbye hug. I haven't been around so many good people in ages, and haven't talked so much in ages. It all started at KARZV De Hoop, a club for sailors on the river Amstel. Then we moved to the 7th floor of Volkshotel, then... some of us tried to continue somewhere else but it's Sunday evening, bars close early. We have an expression in Ukraine for this "activity" - Driving a goat.🐮😆 Oh, it was fun.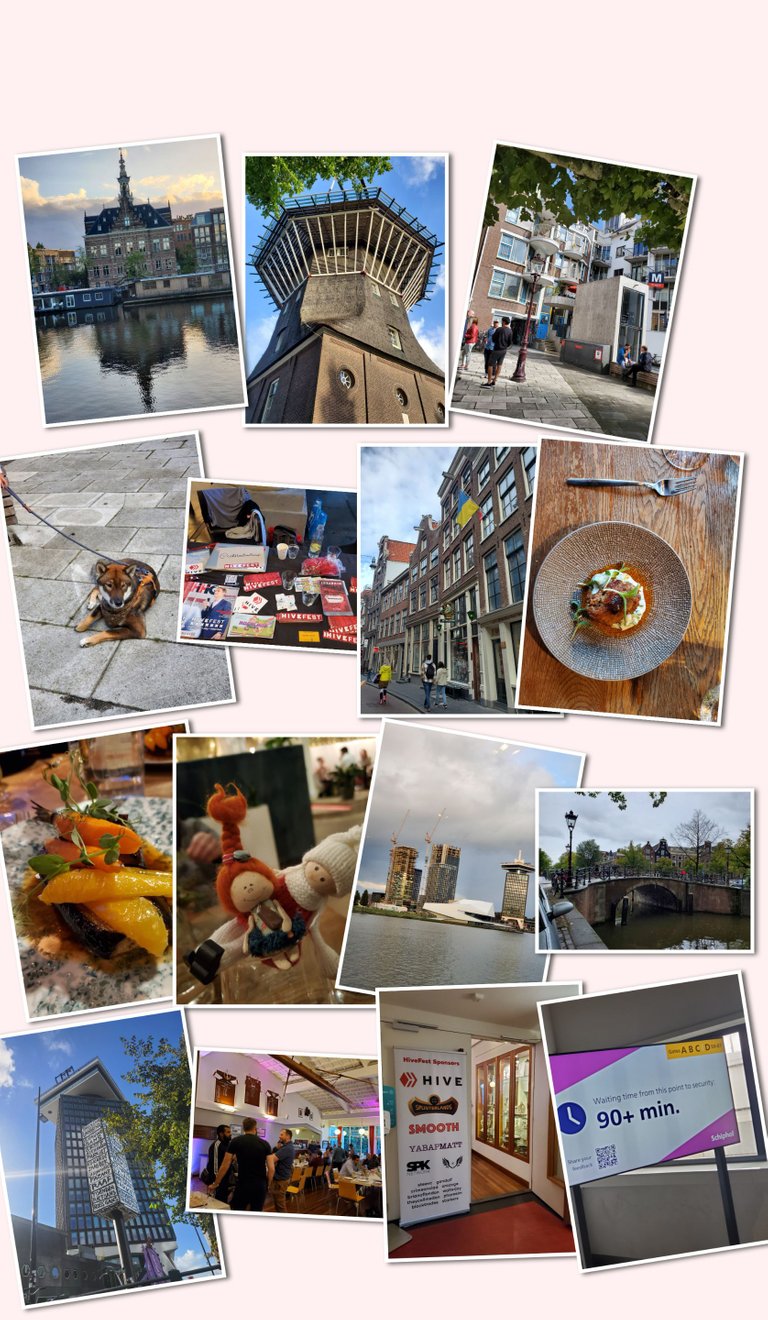 I do not tag many of you on purpose. I can imagine how many mentions you have and how many comments are waiting for a reply so I'll let you find my post when you have time. I just say thank you for your smiles, hugs, for the sparkle and care in your eyes, for the powerful wave of positivity, for the little gifts.
I wish I could be more attentive to details, have more time to talk to people whom I so wanted to see in person and to get to know those with whom I had not communicated before. Had to take more selfies maybe. I wish I wasn't so sleepy and tired and that my English would be good enough to understand everything that was happening around me.😜 But it was an unforgettable, incredible experience, definitely worth all my efforts.
But perhaps the most important thing is that I have a real sense of belonging and a wish to do something for the community too. Let's see how it will go.
Sorry if I missed something but I have to finish as the sounds of a drill and a hammer from the apartment next door became so loud that I could not hear my thoughts.
Thanks again and see you around!
---
---