My biggest challenge

Sometimes, without a particular reason, when this infernal curve of mental state drops too low, when I am caught up in thoughts, everything around loses its sense. Everything that used to bring pleasure, interest, motivation, and delight, or even anger. In days like this my biggest challenge is to make myself wish at least something.
Of course, I remember all the tips and recipes. Cream cake, or a small talk, or a silly movie, or a walk. Sometimes it may take hours to get out of bed, put on some cloth and go out. Like it was 2 days ago. This is always a small win, even if I went to buy some food, but returned with empty bag because everything looks ... tasteless and senseless. Even so, a short walk makes a little difference.
Once, it used to be one of my favorites - WednesdayWalk challenge hosted by @tattoodjay. I really loved walking, searching for new places, discovering new corners in familiar yards.
It's been a while. This is my first walk since my life totally changed, and I have to thank my husband for it, because when we are together, the world around me becomes colored and alive again.
Nothing special, no destinations, just wandering around the city and watching the changes, or things that even time and war are powerless to change.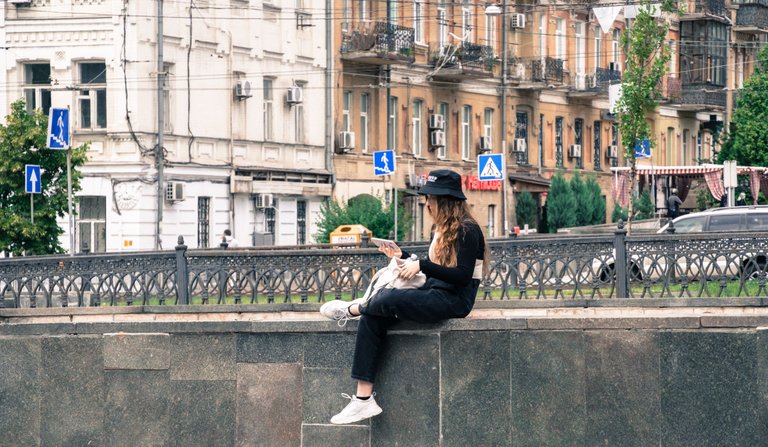 This was our secret passage that only very locals were awared.. Nick's office was in the courtyard.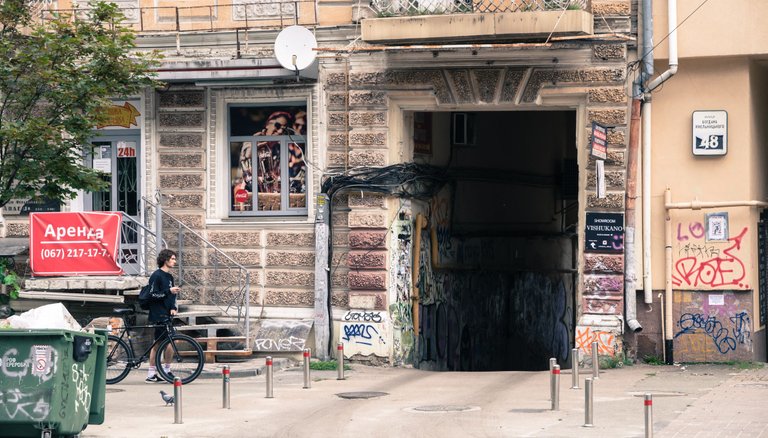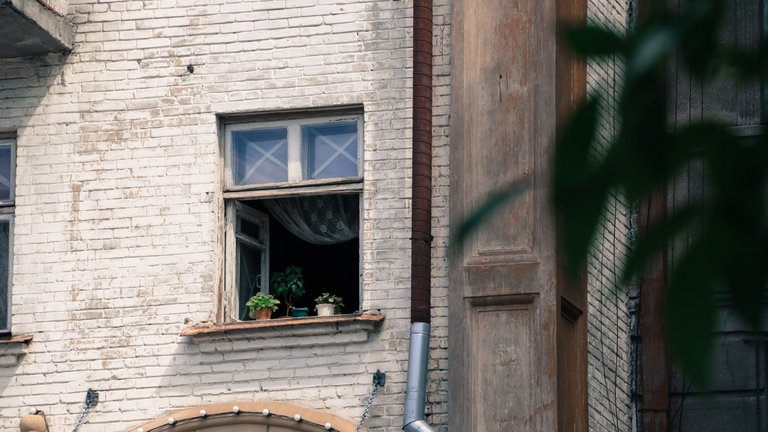 This Piano is a street art object installed here many years ago. It took me ages to come here with camera and capture it. Obviously, I should have come here earlier.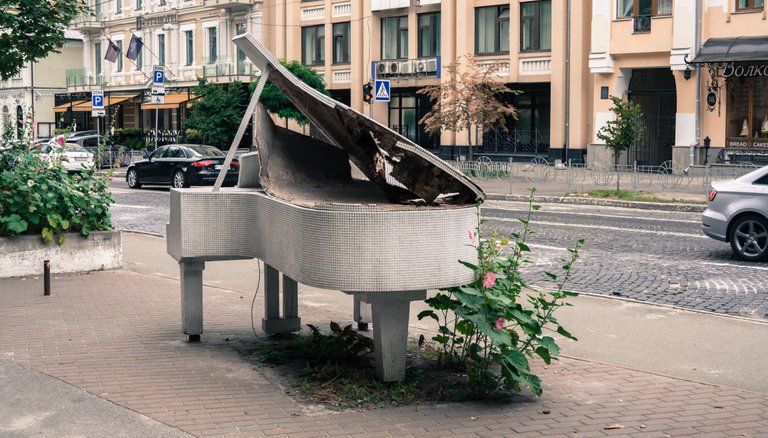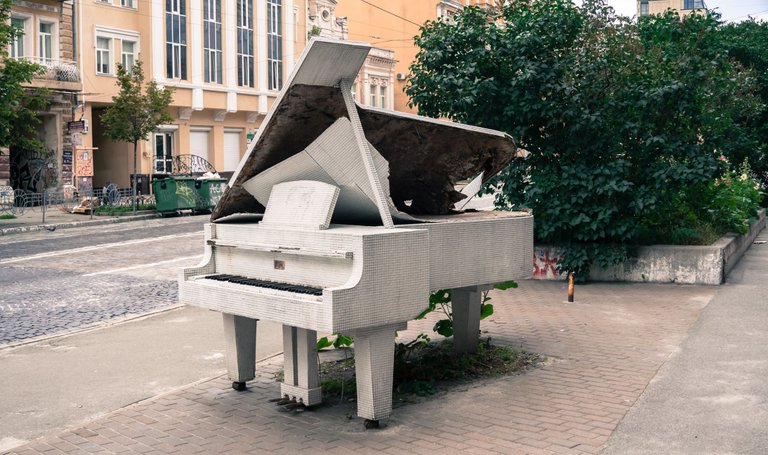 ---
City Bicycle track. As if often happens, a scandal has been associated with it, they wanted to close it, but in the end the public of the city won. Bicycle track continues to work. How good to see that life goes on.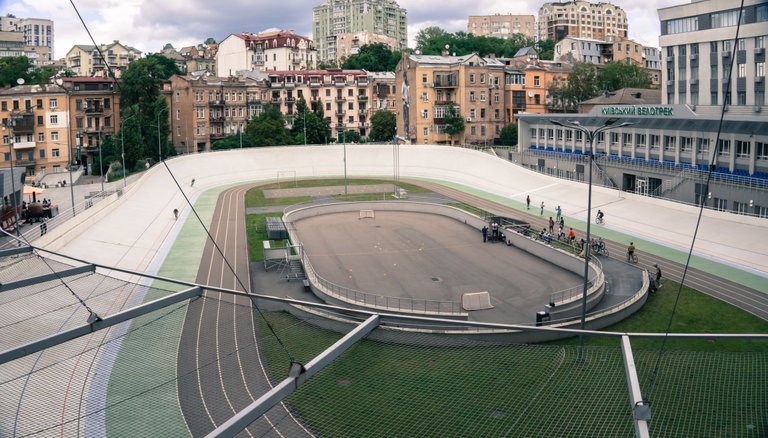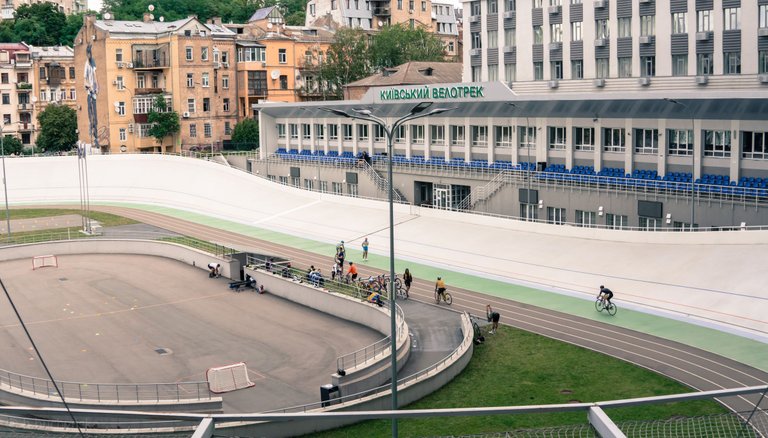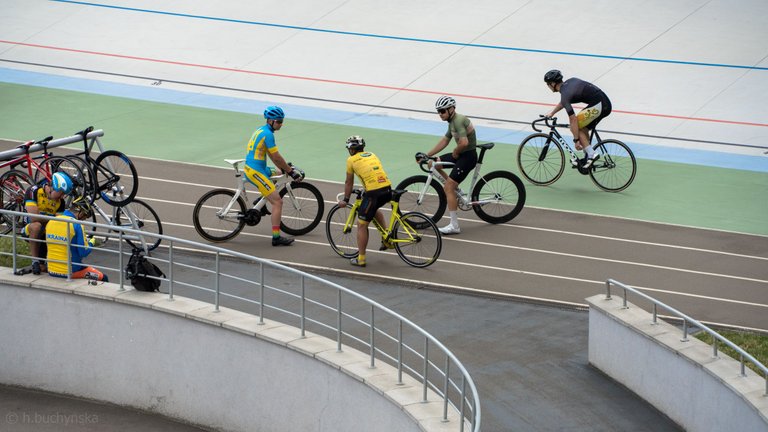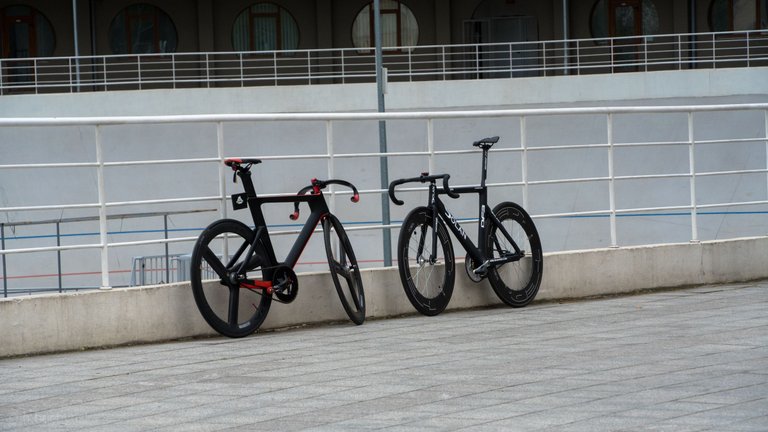 ---
This place changes its face (and tenant or owner) pretty often. Now, it's "Lila Cake".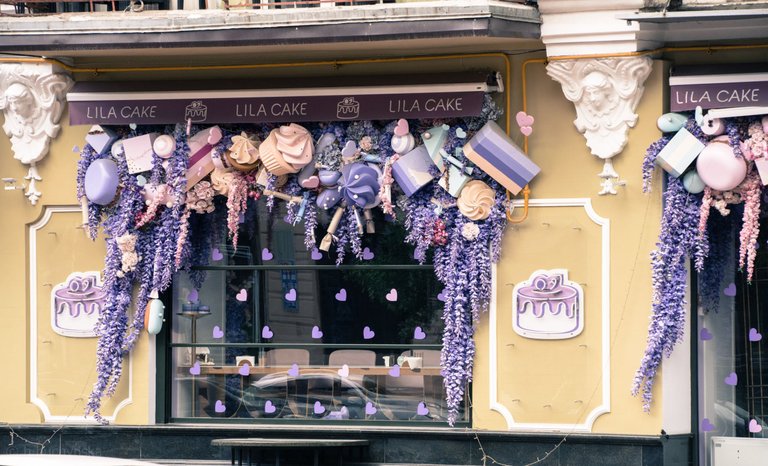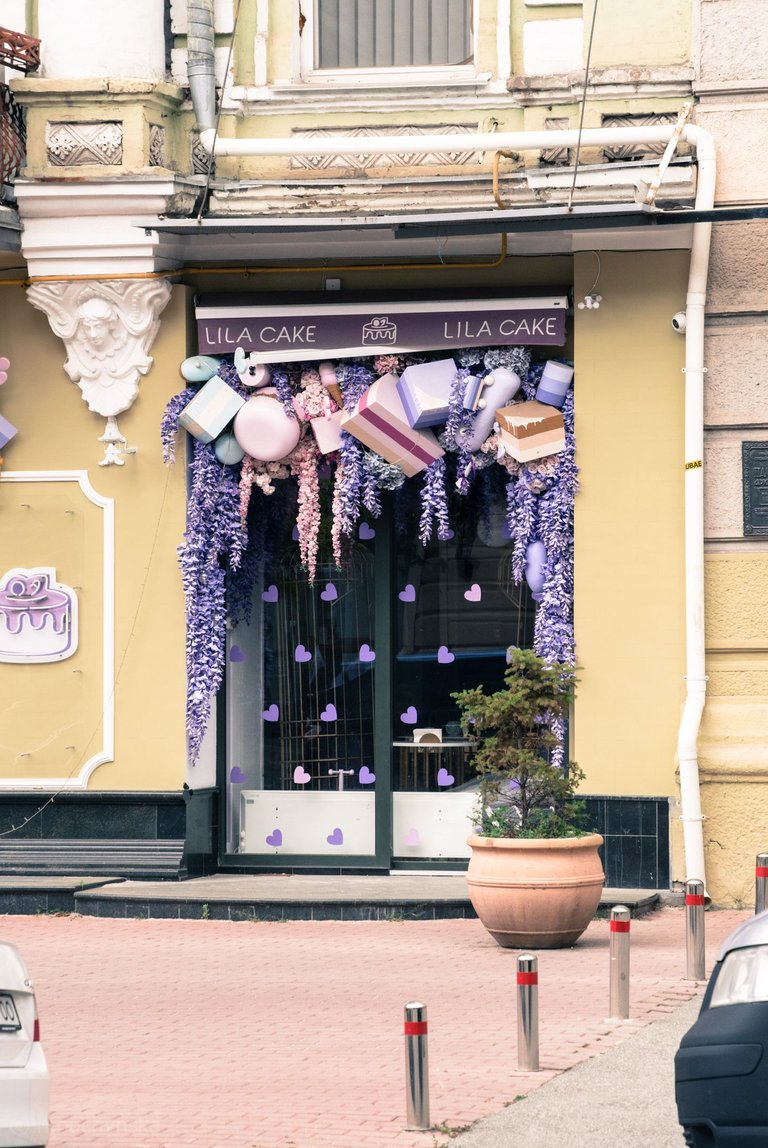 Advertising of a cheese shop. A very good one, they have a lot of made in Ukraine.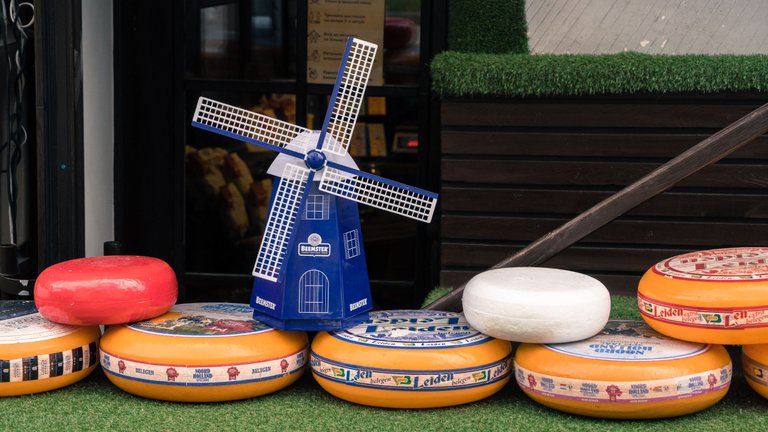 The winged monster on the roof of the National Opera House. Looks like it might rain. Pfff, rain is the least of the problems.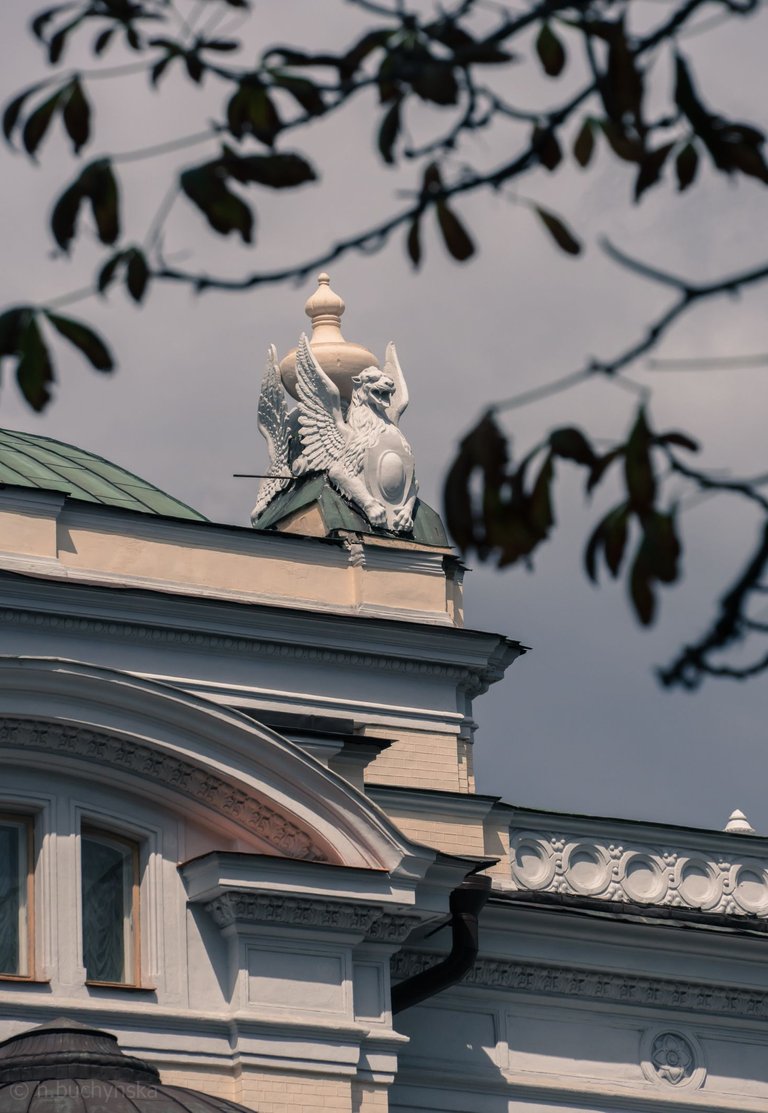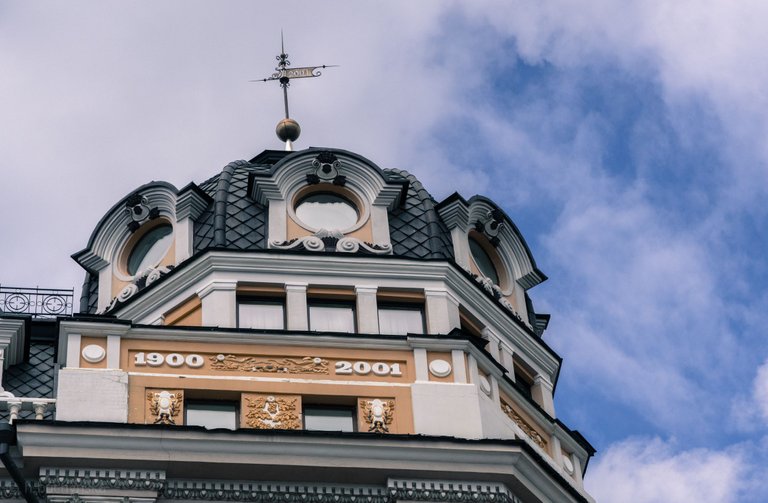 A "pointer" or advertising of a military shop. Military and military-like stuff became extremely popular. Nick used to like them too, all this special green color, and camouflage. But he's not a big fan of them anymore.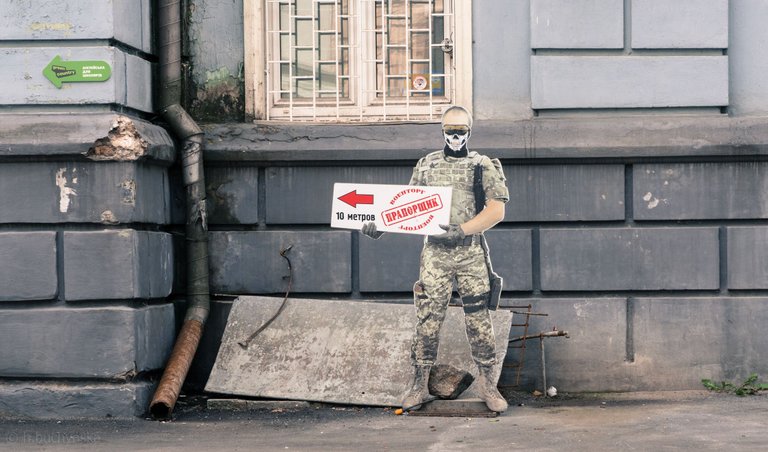 You can pretend the life is back to previous, back to normal. But there's always a reminder that it's not.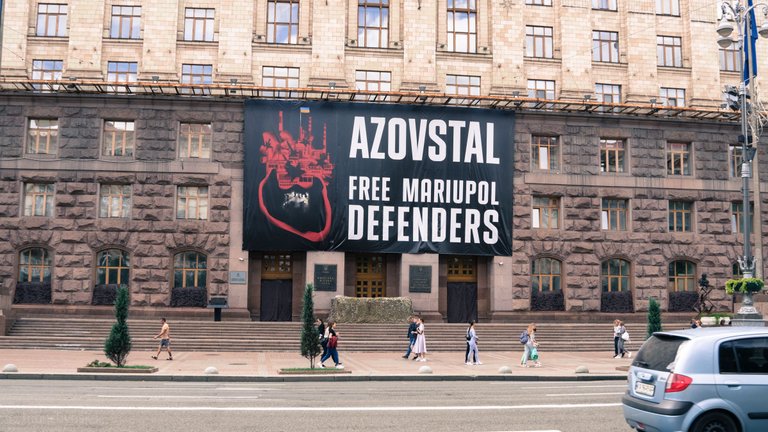 This round stand is covered with Operetta Theater posters. I wonder if they are old or new?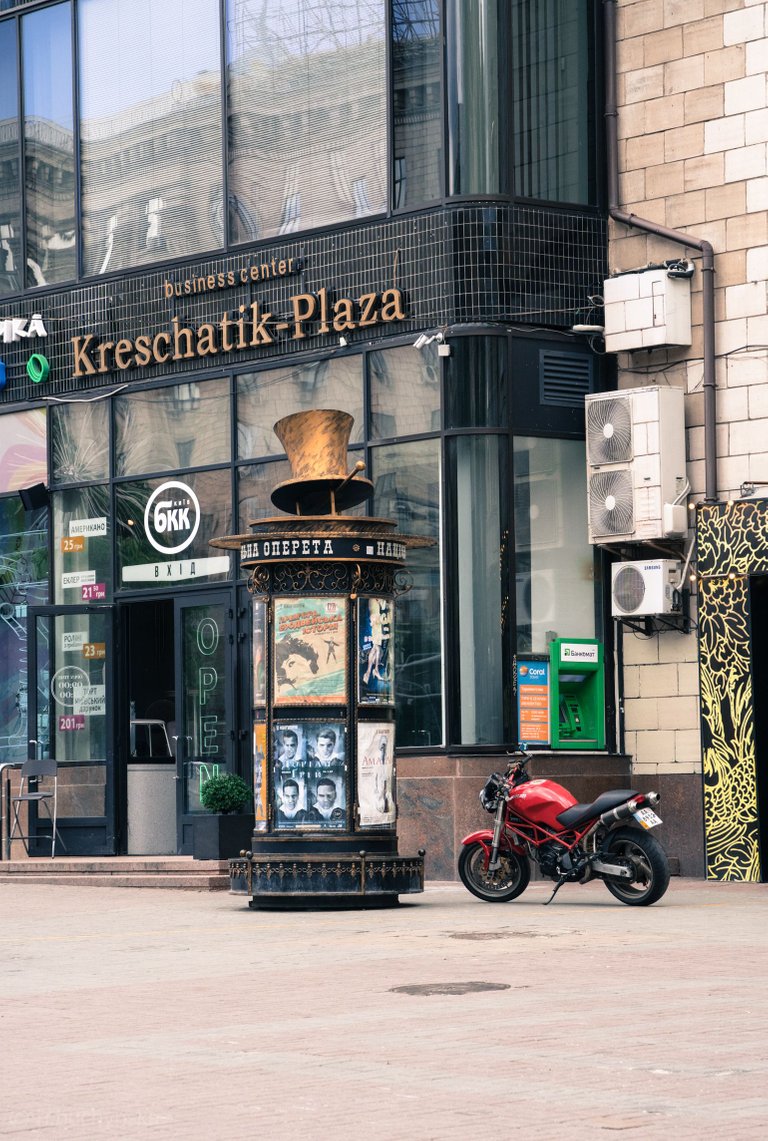 ---
Kyiv Passage. The street has many small outdoor cafés and shopping stores on the buildings' first floors and residential apartments on the upper floors.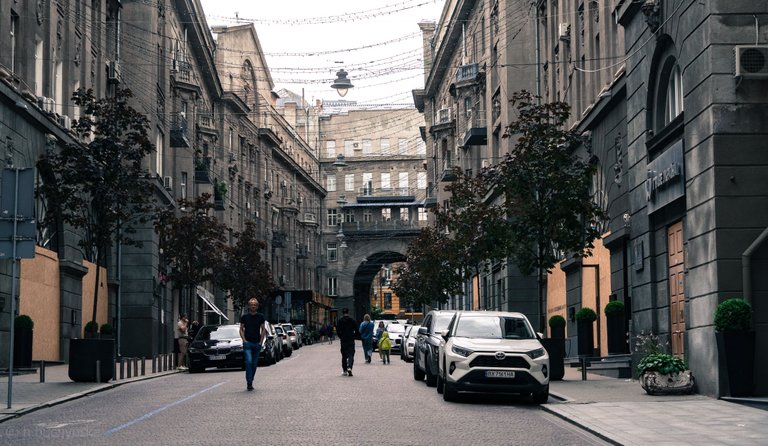 The windows of premium brands' boutiques are covered with plywood shields, not because they were damaged by an explosion, but to protect against a possible explosion.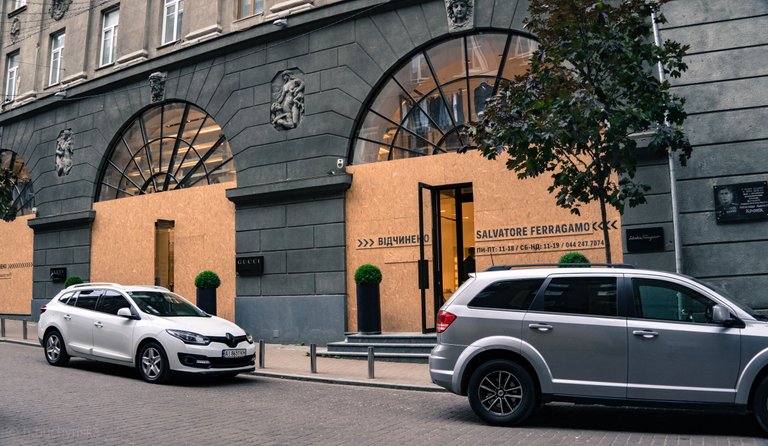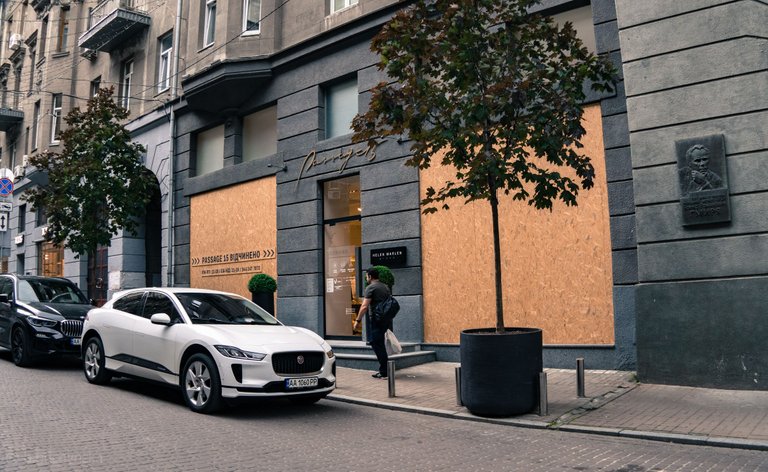 A street monument to famous architect W.Horodecki. He is best known for his contributions in the urban development of Kyiv.
And here it rained heavily. I didn't have an umbrella, so Nick and I hid under the arch. Luckily, I had a big pack of marshmallows.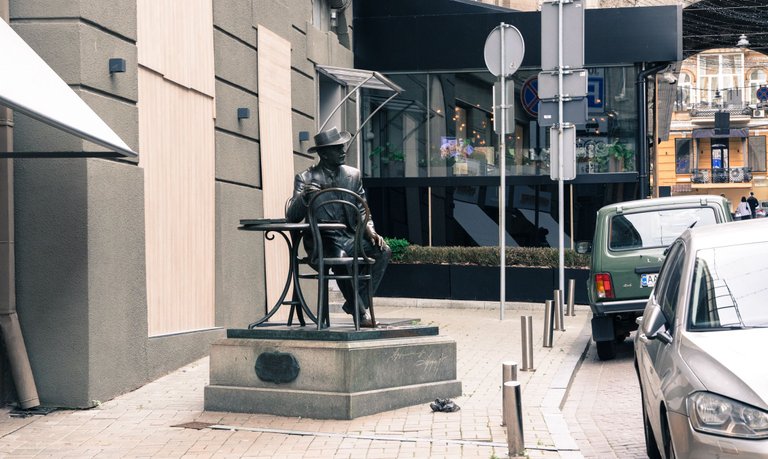 ---
Khreshchatyk street. I come here quite often, but this time I noticed something I hadn't seen before. A whole meadow of small blue and yellow flags. They are installed in honor of the soldiers who died defending their country from the Russians. Many flags are dedicated to foreigners. I often thing about foreigner people who had everything - homes, families, peaceful living without any danger, but they came to Ukraine to fight against injustice and evil. They are incredible. They were...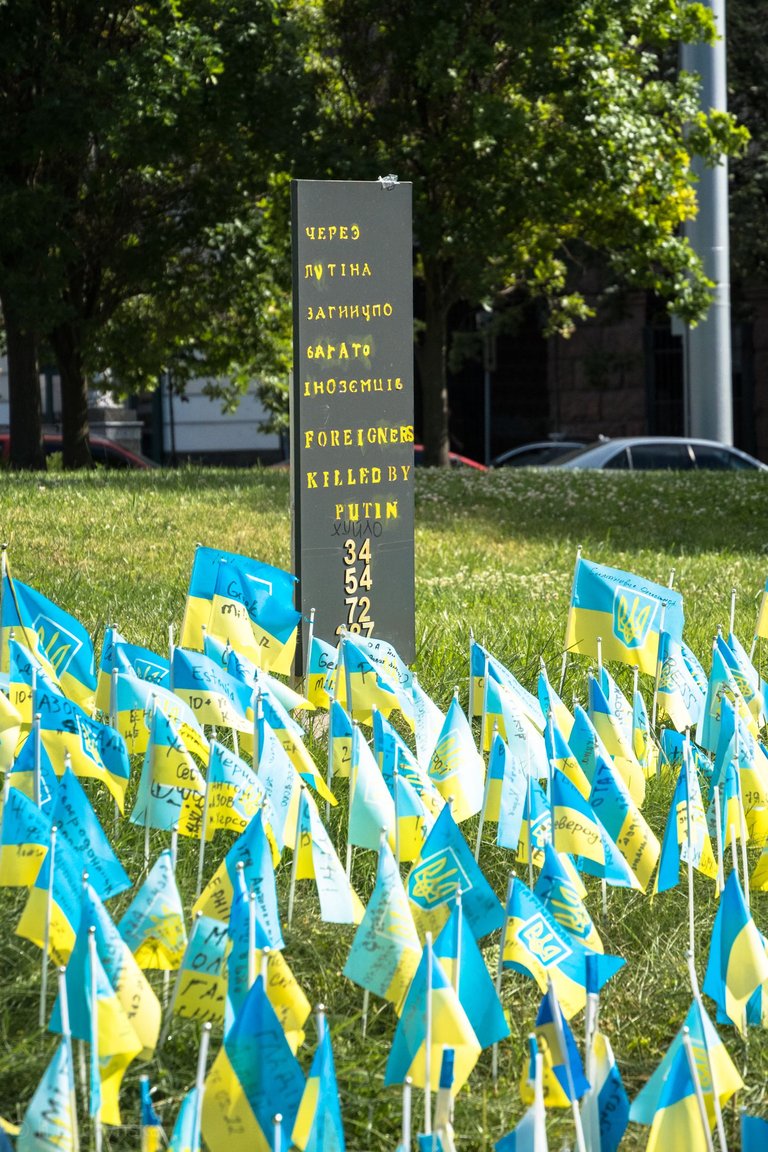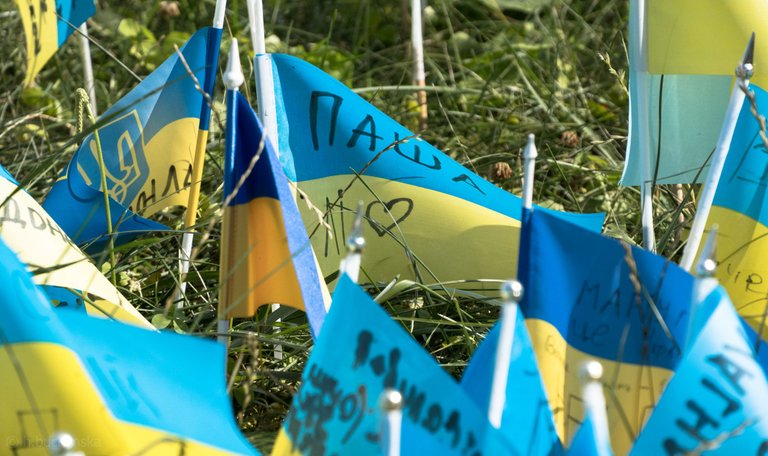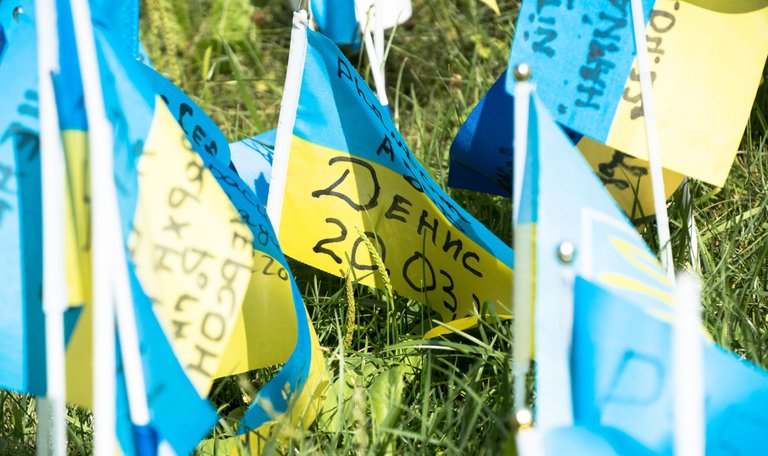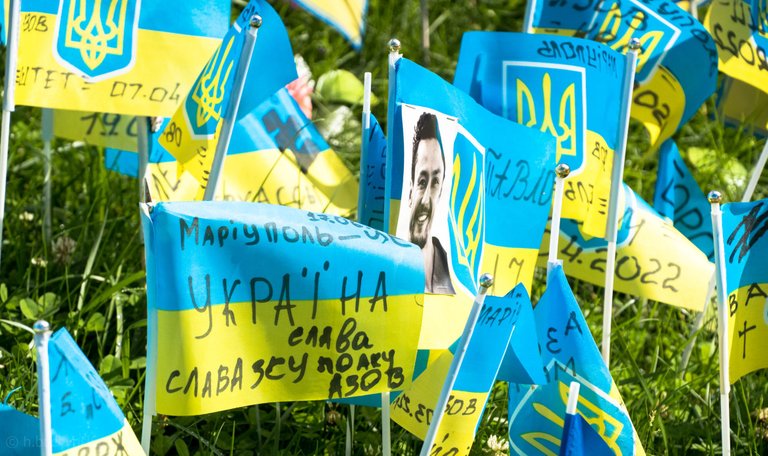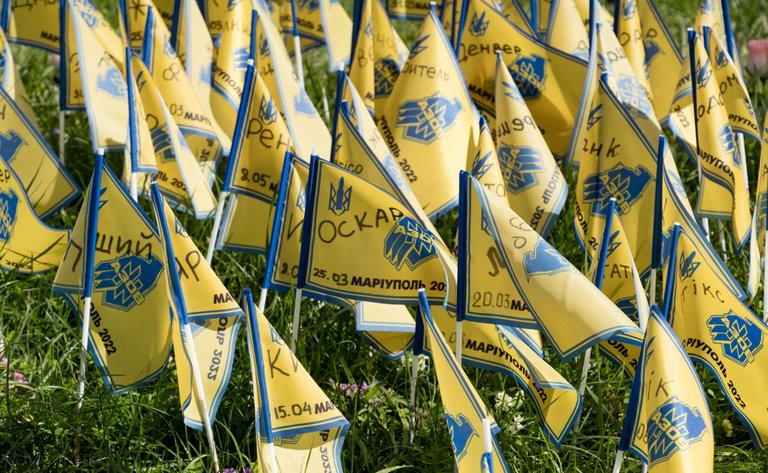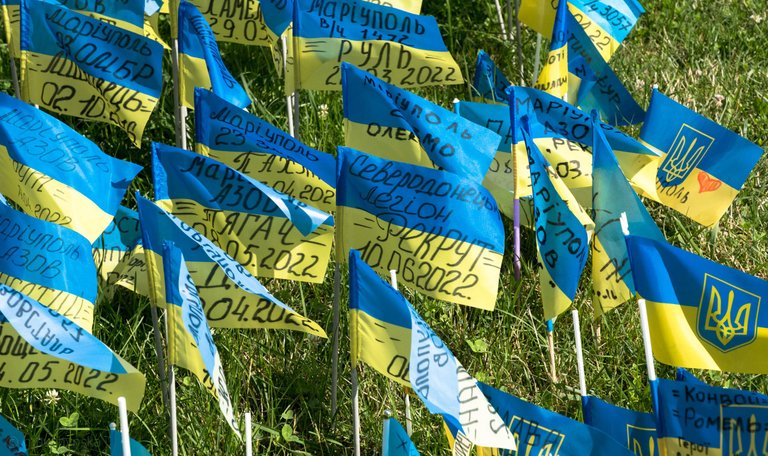 Seems this is all, folks. Sorry if I upset you a little. Someday my life will be composed mostly of pleasant moments and good news. We are bringing this time closer every day. Thanks to everyone who helps. 💜
Yours,
@zirochka

---
---