"The embrace of serenity"

Hello, folks.
Another week has passed. I missed you. 😊
The wheel of my life starts turning a little faster. The days when I feel extremely depressed have become fewer, and slowly I begin to enjoy my work and walks again. Although there are still emotional swings, and this is normal under the circumstances.

Every time I sit down to write a post, I feel like I can't find my place here. There are moments when I want to write a thematic post in one or another community, one of those I used to like. But this moment cannot be grasped, it's like a ray of light. When I open my laptop, I have the same thought buzzing around my head - "Is it important? This is not what's really important."

Lucky day?
If you read my Reports on usage funds collected by out Hivers for civilian victims of the war in Ukraine, you might remember the volunteer Oksana. She lives in Zaporizhzhia, staying there all this time. I've never met her in person but I feel like she's my family now. Considering that all my best friends are abroad...
Anyway, Oksana is a person with a big heart. Her heart is always open and ready to help absolutely everyone. She did a tremendous job for Ukrainians in the occupied territories. And before the war, she took care of homeless animals and baked cakes and pastries in their own bakery.
We are in touch with her but not every day. Usually, we talk once a week or two. Or when our cities are shelled. When I received many voice messages from her at once, I realized that something was wrong. You know what? Russian rocket hit the house next to her place in Zaporizhzhia.😱 Can you imagine that? Even I, I cannot imagine her feelings and fear. She recorded messages sitting on the floor in a bathroom with their dog and 2 cats, although bathroom is not safe but it's still the safest place in her flat.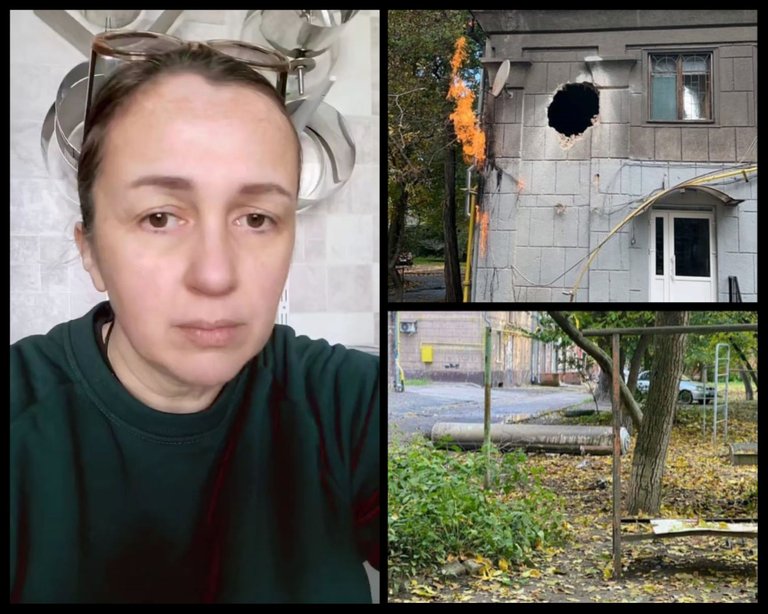 So. This is how it looks out of her window. They were very lucky that the rocket did not explode. It punched a large hole in the wall of a neighboring house and damaged a gas pipe. The flame in the photo is burning gas. And in the third photo, the rocket is lying on the asphalt, as it was retrieved by the rescuers. I think this day is her second birthday.

The audio album "Ukrainian Songs Of Love And Hate" was presented for the first time as part of the Great Britain/Ukraine Season of Culture at Cheltenham Festivals during Ukraine Day.
A little math
I have a mathematical education. After Oksana's news, in order to distract myself and relieve stress, I tried to remember the theory of probability. According to the definition, a random event is an event that may or may not occur if certain conditions are met. Let this event be "a Russian rocket hit my house". If we take the simplest formula, then the probability is equal to the number of rockets fired in the city, divided by the number of houses in the city. I take the most straightforward formula because Russian rockets are shot to hit anything, especially those C-300s that were designed to hit planes in the air.
So, as soon as Kyiv is a large city, the possibility is not big. Well, let's see.

Holidays and travels
Today I received an email from our HR with the Holiday Calendar. Ah! Another reminder about peaceful life :) Usually, I looked forward to the list of PTOs for the next year to plan my vacation and holiday trips. Before COVID I used to spend them all (or almost) on traveling! Golden times...
Now Ukrainians travel on volunteering business or to move to safer cities. It reminds me 2014 when Russia first annexed Ukrainian territories. Times were turbulent. Due to the devaluation of the hryvnia and uncertainty, I traveled abroad less often. But she started to be more interested in sights here in Ukraine. It was exciting and fun. Now the radius of my discoveries has decreased even more, approximately to the size of Kyiv. LOL.
But it's just the matter of your imagination and fantasy.
Something is happening in Kyiv all the time. Recently, on the Aviation Day of Ukraine, August 27, 2022, a new mural "Ghost of Kyiv" appeared.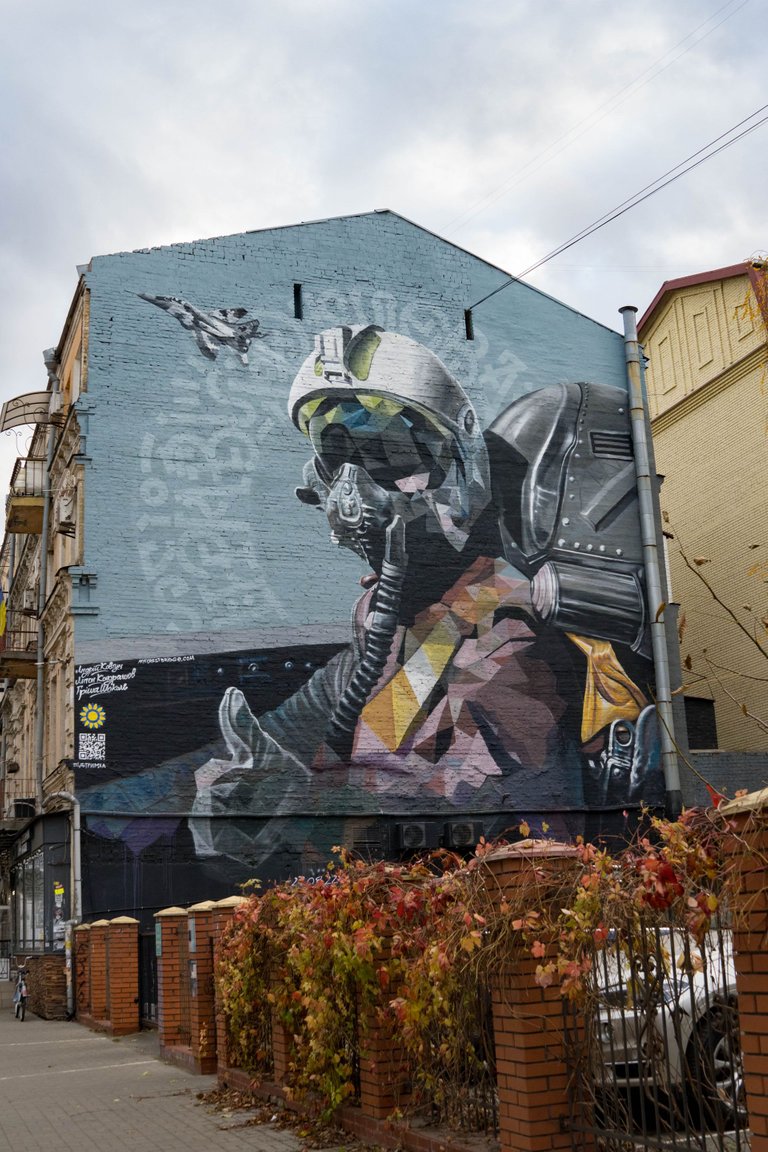 The authors of the work are Ukrainian artists. As for me, it looks gorgeous. 😍
Starting from February 24, 2022, information about the ace pilot, who in the first hours of the war single-handedly won a large number of air battles in the defense of Kyiv, began to spread actively in social networks, for which he received the nickname "Ghost of Kyiv". Over the course of several months, the number of enemy aircraft destroyed by him grew.
During all this time, an incredible number of theories about the identity of the pilot were put forward. Back on February 25, the fifth president of Ukraine, Petro Poroshenko, published a photo with a pilot in the cockpit of a MiG-29 (it is she who is reproduced on the mural), which is the "Ghost of Kyiv", but it turned out to be a photo from 2019.
Soon all rumors were dispelled by the military command, announcing that the "Ghost of Kyiv" is not a single person, but that it is a collective image of the pilots of the 40th tactical aviation brigade, which heroically defended Kyiv.
According to the artist, pilots of the 40th brigade were present at the unveiling of the mural, in particular, the pilot from the above-mentioned photo.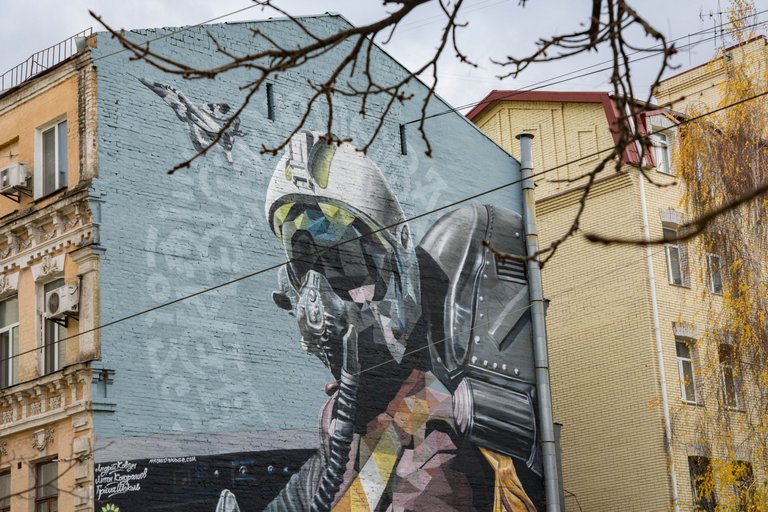 On other sunny day, I came across another piece of street art that was created in 2016 but I didn't have a chance to see it.
The embrace of serenity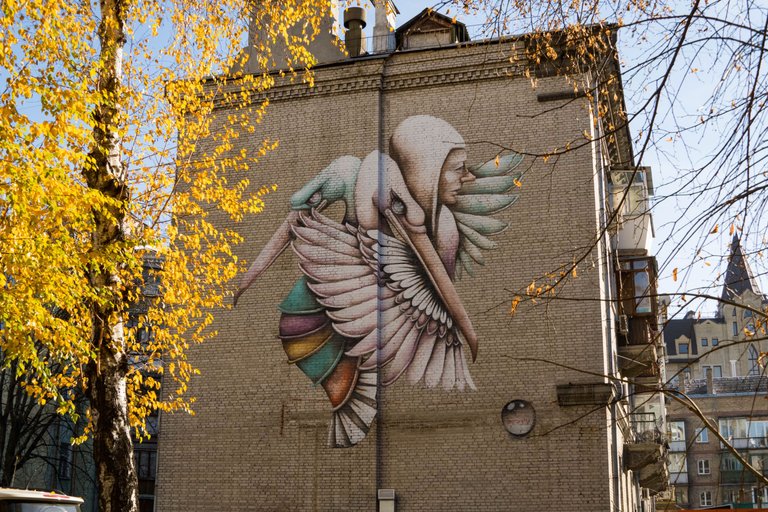 It was created as part of the Art United Us art project. The author of the work is Ana Marietta, an artist from Puerto Rico.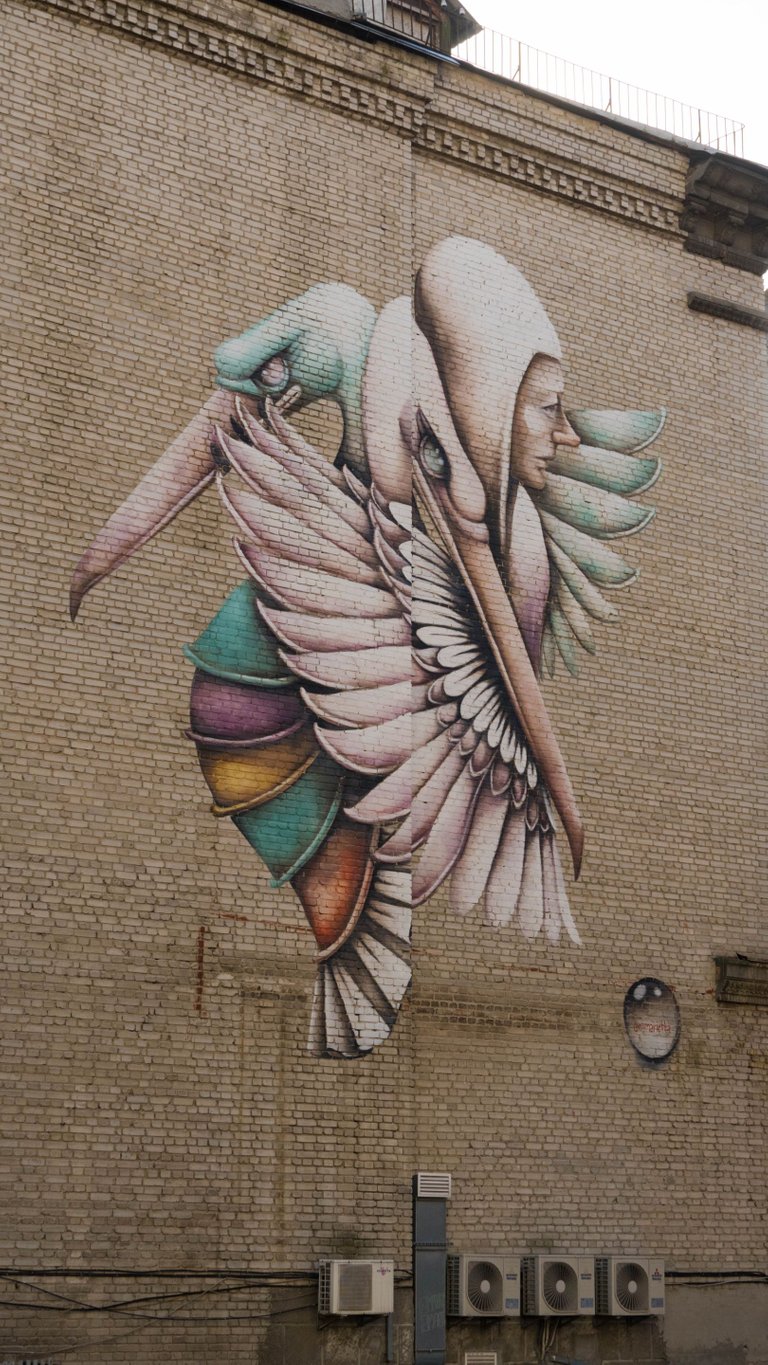 "Walking through the streets of Kyiv, I had the opportunity to observe beauty in many aspects. Architecture, beautiful people, their kindness... I wanted to bypass the language barrier and connect with people, bring them something that can brighten their days, send them a message of solidarity, love". (Ana Marietta).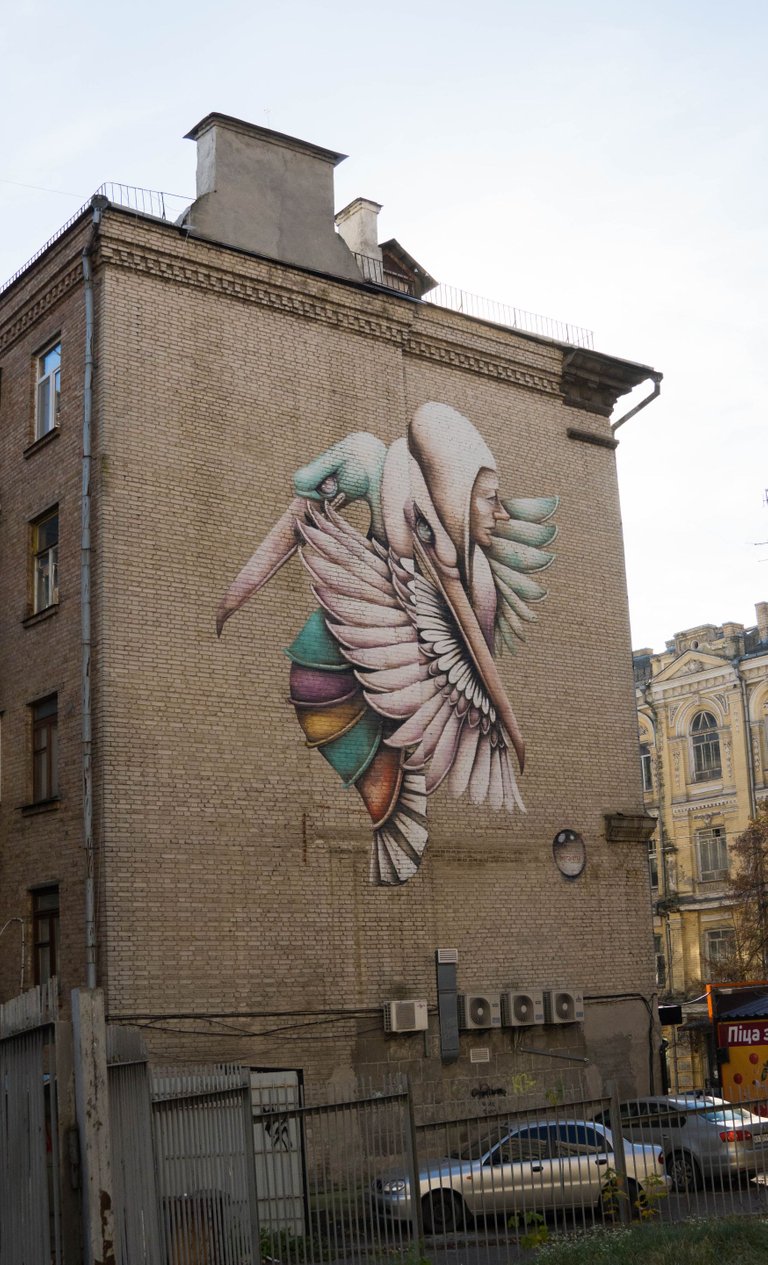 Some news
Not much, actually. My second set of stamps arrived 2 days ago. I don't collect all of them, just those I really like (maybe not the stamp itself but the event to which it is dedicated).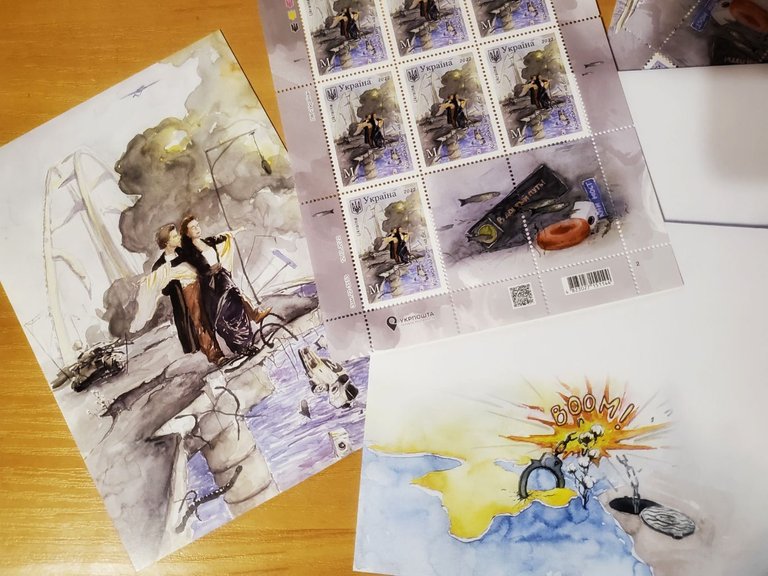 ---
My daughter Nat wants a true wedding in a church, and a wedding party, with music, dancing, celebrations under an arch and other traditional things. I have lagged far behind modern trends. For now, the only thing I can do to help, being in another city, is to find possible locations on the Internet where this could take place. I wish I could do more for my sweetheart.
---
Nick is in limbo.😕
On the one hand, he is currently undergoing treatment for his back. Despite the wonderful gel that @livinguktaiwan sent me back in the spring, his problem cannot be solved at home.
On the other hand... What do you know about slow processes? Forget about it. Despite the war, sometimes things in AF happen very, very slowly. So slowly that I can't believe it. And it can't be helped.
Until then, my home looks like a temporary shelter. But I don't grumble. Maybe a little.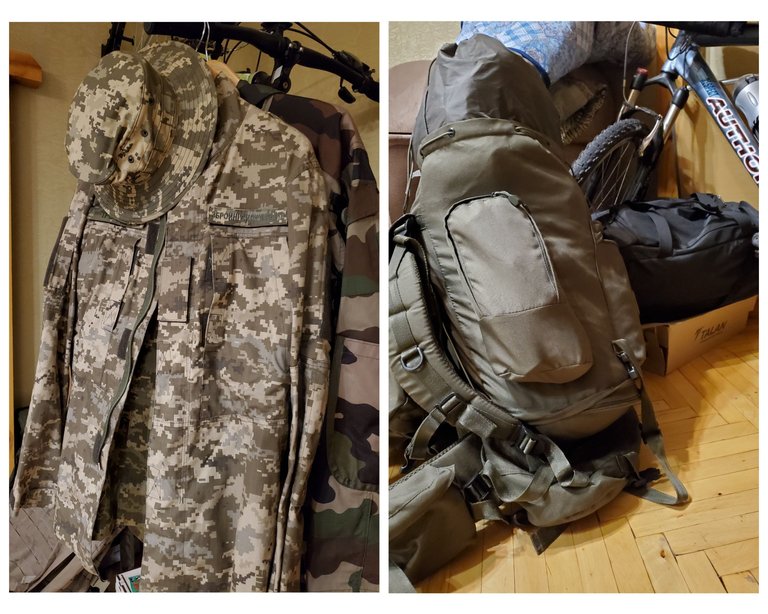 ---
And intriguing news from Kherson. They looks good but I am very careful. I don't believe Russians. I am most happy that Kherson already has Ukrainian TV.
---

And today is Poland's Independence Day. I sincerely congratulate our Polish friends! 💖
Things I have learned
I learned to take care of myself, allow myself more, protect my personal boundaries.
I learned how to donate even if I'm short in money.
I learned to hate, forgive and believe in people. Do not expect thanks and do not judge.
I gave up the extra things in life - shopping, habits, people.
I learned to appreciate water and electricity.
Learned to live without plans and manage in uncertain conditions.
Learned that business is not always about making money, you can also earn human trust, which will be converted into profit later.
I am constantly learning to manage my emotions and fear. And I finally understood that ... no place like home.

Big hug!
---
---