The longest separation ended! I'm coming over 💙

It has been 6 months since I last see Nataly and my mom - the longest and the loneliest being apart ever. But today it's over. 🥰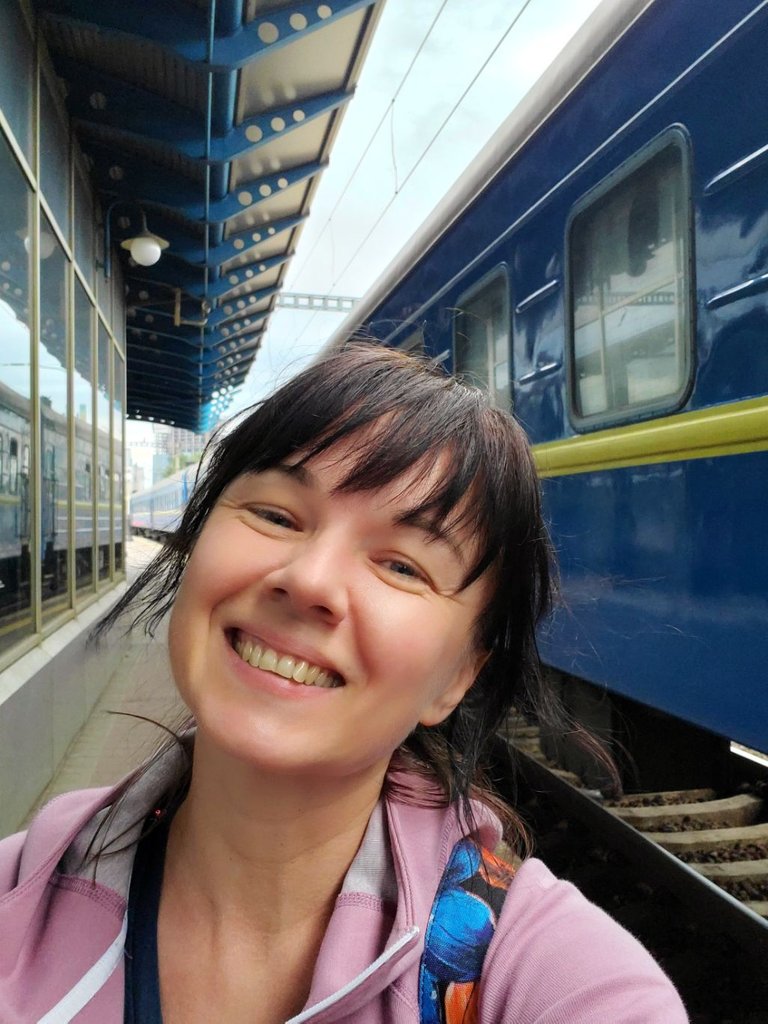 I got over my depression and uncertainty and got train tickets. I will come for three days, alone, without Nick, but I really need it.
I'll tell you how things are. Train tickets go on sale 2 weeks in advance. To catch an inexpensive ticket, you need to do it quickly. I bought return train ticket for 832 uah (~25 usd), while most tickets cost 1500. It's a night train with the trip duration 11 hrs and a half. Not too bad.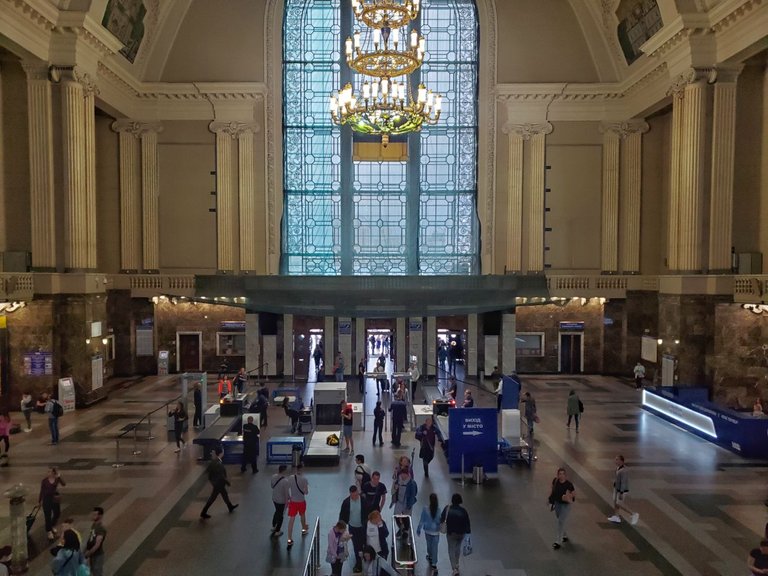 Our railways started a security check like it is in airports. So passengers are recommended to arrive 40 mins earlier than usual. I had 2 heavy bags and a backpack so Nick came to help me with baggage. He was nervous about the trip, so we arrived more than an hour before 😆☺
Previously, trains had one specific point A and point B. Now the train is flexible. My route started from Kryvyi Rih, then Kyiv, then some cars go to Przemyśl (Poland), and the rest have a final station in the Carpathians.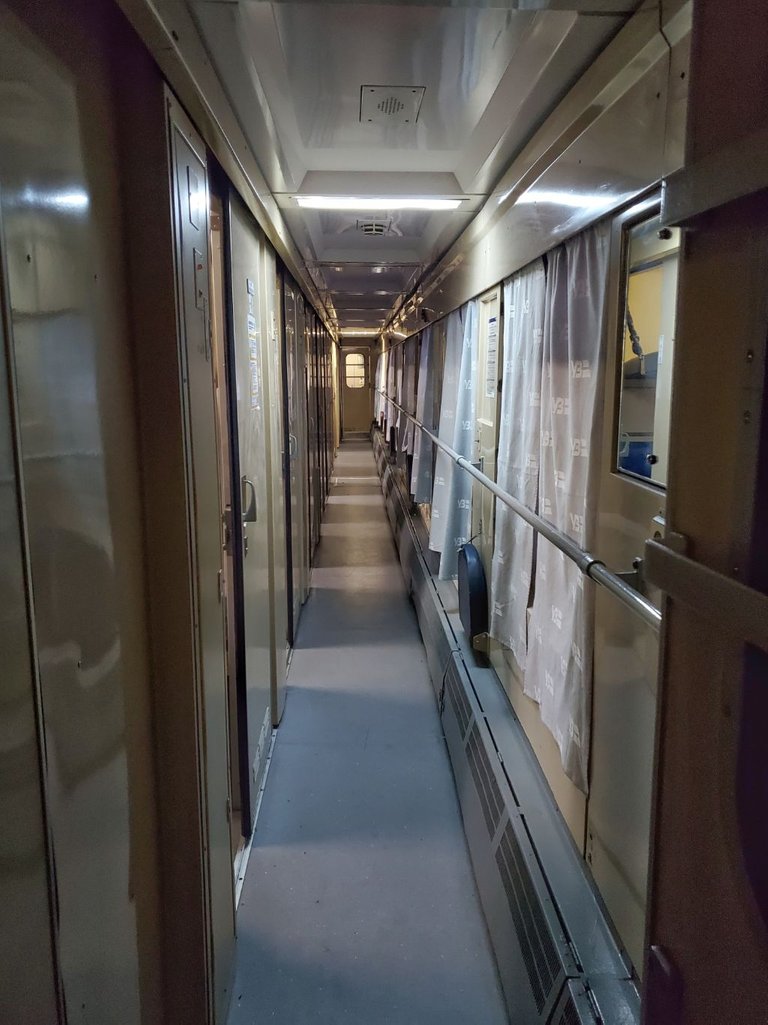 My seat was is in the car of "headquarters for public order" or simply staff car. Nick assumed it is the most quiet car. 🙂
This is what a compartment car looks like. In one compartment there're 4 berths. Among the unusual - all windows without exception are taped from inside, so that glass shards cannot hurt passangers. And the sound of air raid alarm was also unusual. It started just before the train left. Maybe this is why Nick slept very badly because he was worried about me.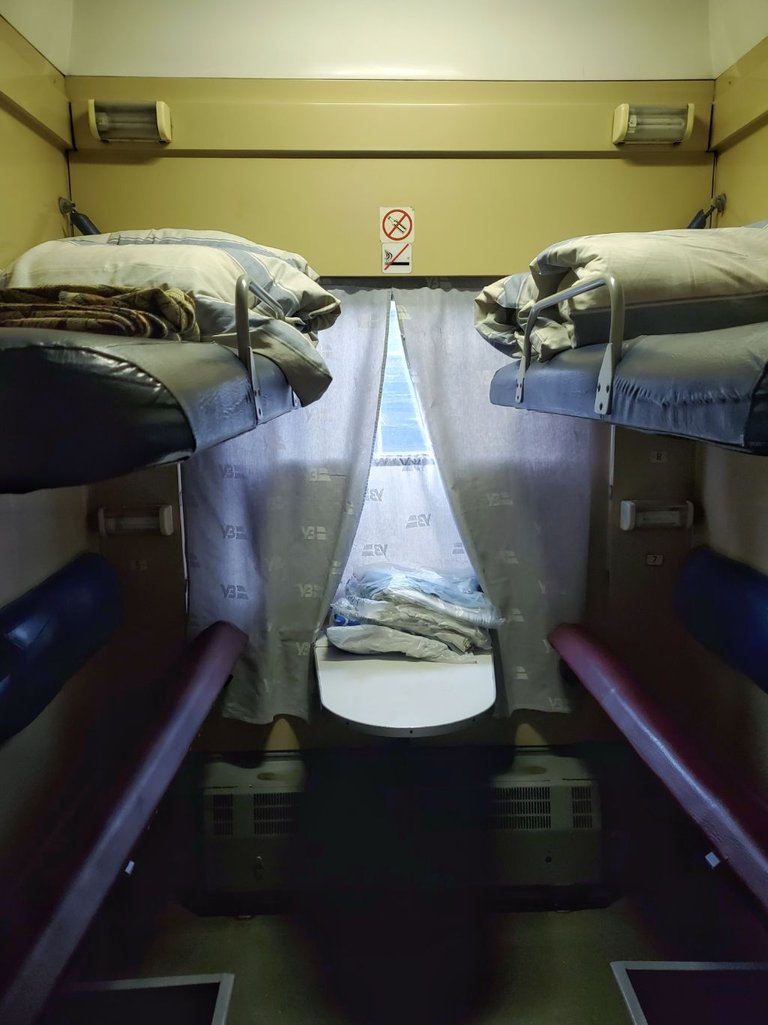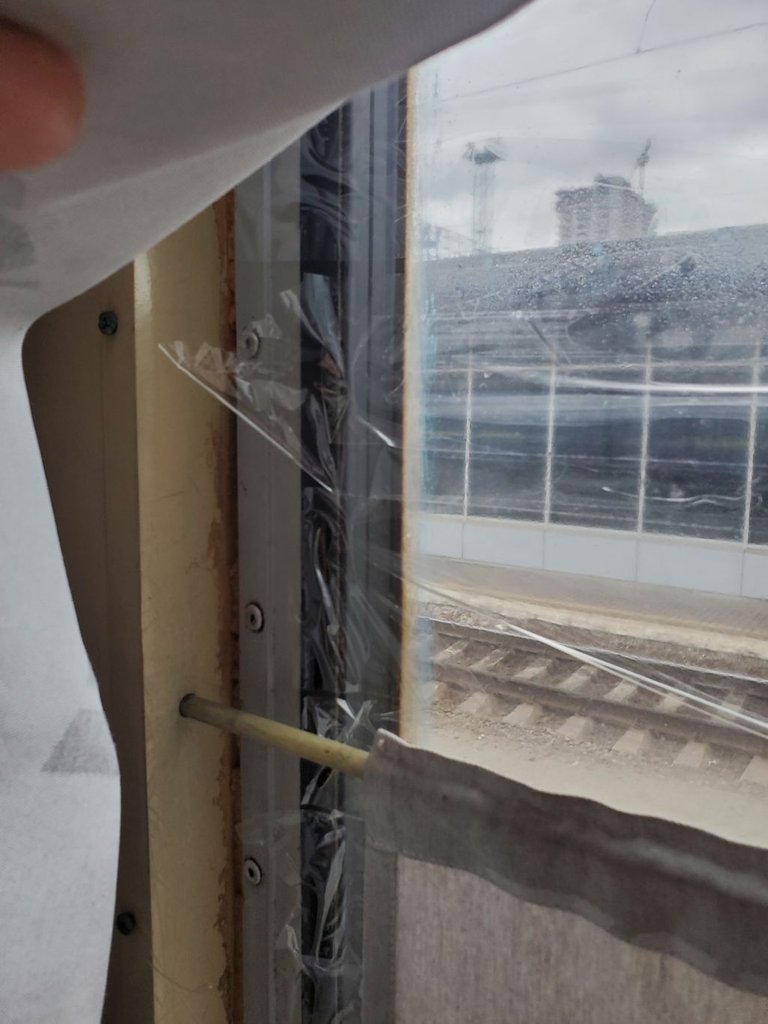 As for me, in recent years I have hardly slept on the train, that's why I travel by car. But this time we have a gas shortage and a curfew, and I didn't want to stress myself out with yet another uncertainty.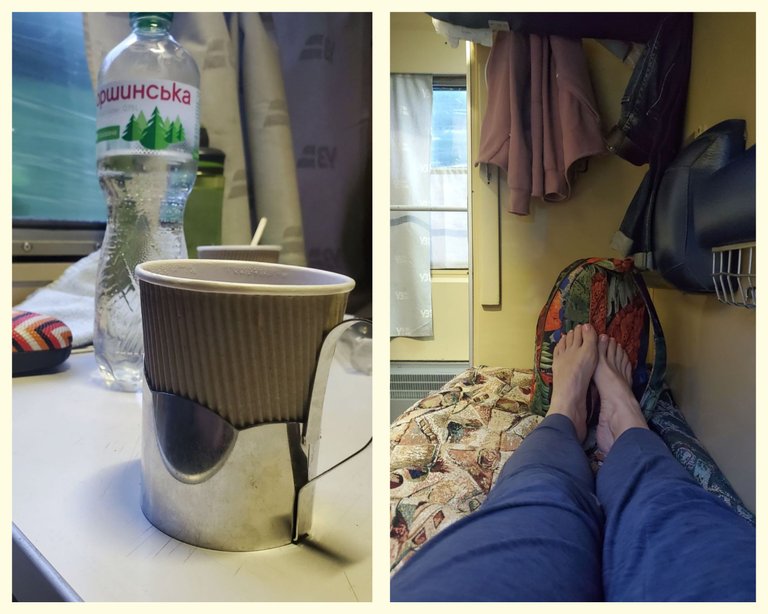 A cup of tea before going to sleep, served with cup holders traditional for Ukrainian Rails. 😄 Do you have something like that in your country? They replaced glasses (of glass) with disposable glasses.
Speaking about other countries, I never slept in night train abroad, but they aren't so terribly noisy, I'm almost certain. Usually, it's not too annoying because I used to it, but not this time. Crash sounds made me think about the horror that were feeling those people at night who rode these trains from east to west, running away from the explosions.😱 It was a moment this night, when I heard a whistling sound and then like an explosion or a roar. But the train continued to move, and I thought that either it seemed to me, or they didn't hit us...
The morning was fresh and nice. Despite of expectations that train will arrive with delay, which is quite common now, we arrived in time! I took a taxi, it was very cheap. 20 minutes later I hugged mom and Nat 🥰🤗🧡 I didn't take pictures coz they looked ... well.. sleepy 👻 My poor mom looks so small and skinny, she has lost 18 kg during her surgeries and such...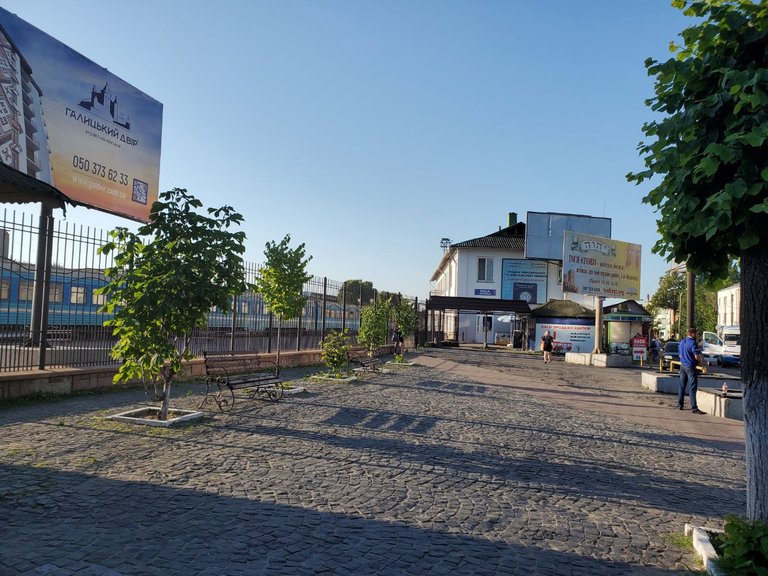 Okay. Nat is a person who always take pictures 😄
My healthy breakfast that someone else has prepared for me. 🥑🍅🥖🧀🍮😋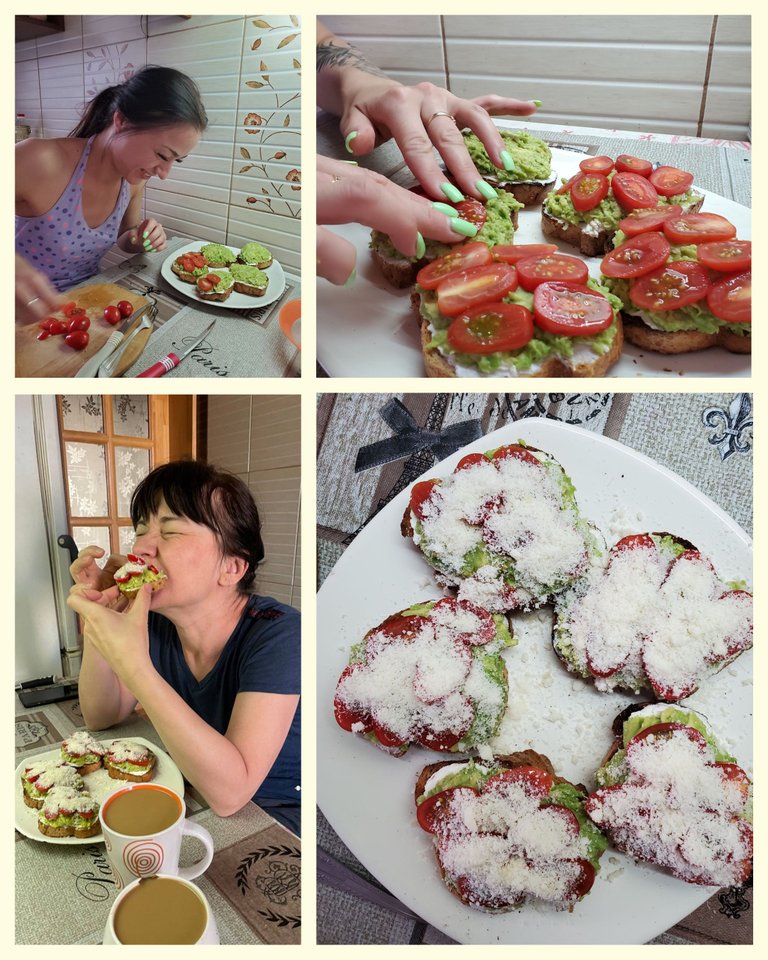 Nat share pictures with me in her stories, and immediately started to pass greetings for me from her friends and acquaitances, it makes me feel like a superstar with bunch of fans whome I have no idea about 😁
P. S. If you knew how I was expected! Nat cleaned the house, she even cleaned an oven for our cooking master class. Her boyfriend vacuumed kitchen and the room! My mom bought wild strawberries, ahh, it's so expensive! And it's all so touching and sweet! ❤

All right. My girls went to work, and I have a long day on my own. I shouldn't spend it indoors, agree? I gonna visit a hairdresser, walk around, maybe take a few shots on my camera (see if I can) and in the evening I'll meet with my other family and return home before the curfew.
Have a wonderful weekend with your loved once!


See you!
---
---