COOK SPAGHETTI WITH ME IN MY DORM

Spaghetti is another staple in every Nigerian home. It is an excellent dish because it's simple to prepare and doesn't require a lot of ingredients. It is unique in that it is a very volatile dish. It can be made in a variety of ways. It is an easy dish that encourages you to play around with different ingredients.
I distinctly remember making spaghetti for the first time; I was 17 at the time. I left it for too long on the stove. It ended up soggy and burnt with little to no seasoning. Yeah dinner that day was not fun at all. Subsequently though, with the help of my mum's guidance, coupled with instructional YouTube videos and constant practice over the years, I improved. And I'm proud to be able to cook up a decent meal of spaghetti.
If you have come across my work here on hive, it should come as no surprise to learn that I am a student in the university. I am here, dear reader, to present to you my recipe of what I like to call "Student Spaghetti". I call it that because with my limited resources as a student, I had to improvise in some areas. You will notice it as we go.
The recipe features a lot of accessible, everyday ingredients and I tried to make it healthy by adding some fresh products. I hope you find this recipe intriguing. I also hope you try it one day.
---
INGREDIENTS
Spaghetti
Tomato paste (in place of fresh tomatoes)
Vegetable oil
Onions
Red pepper
Carrots
Green bell pepper
Green beans
Salt
Seasoning cubes
Curry powder seasoning
Powdered pepper
PROCEDURES
First things first, you prep your ingredients.
Clean your vegetables by either washing and/or scraping.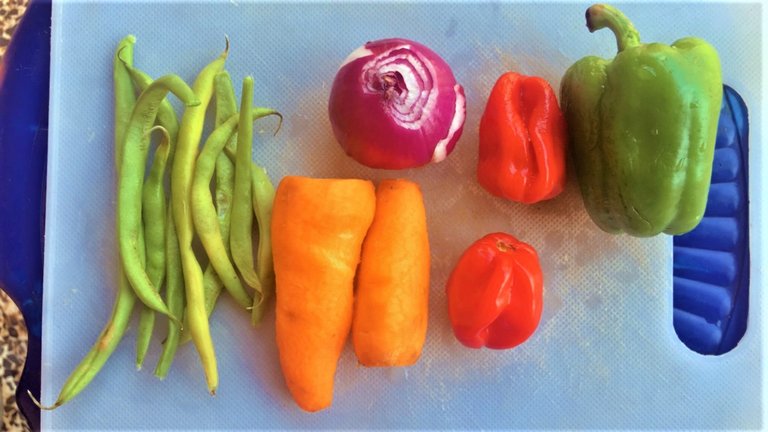 ---
Cut and slice them into your preferred shape.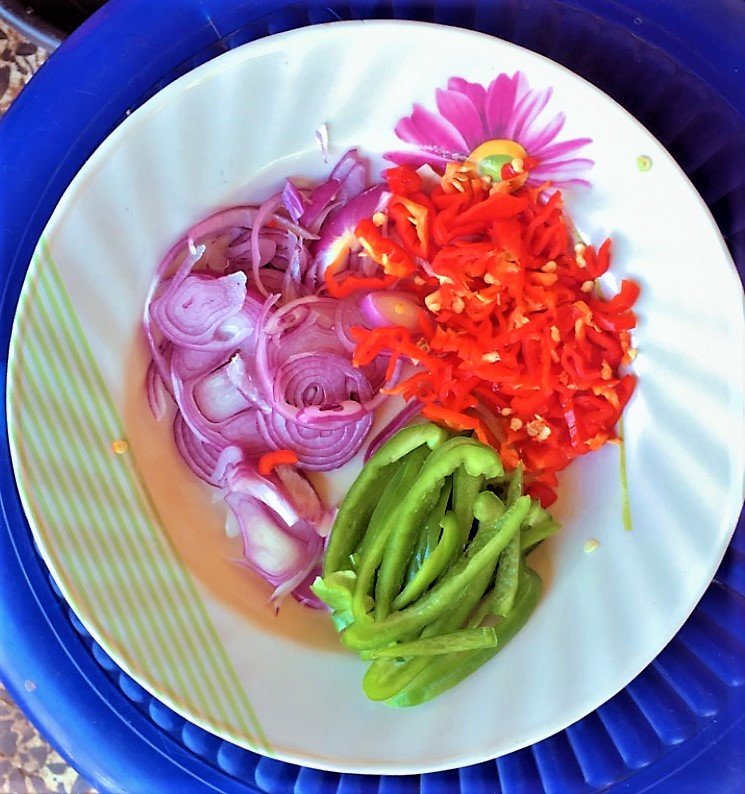 )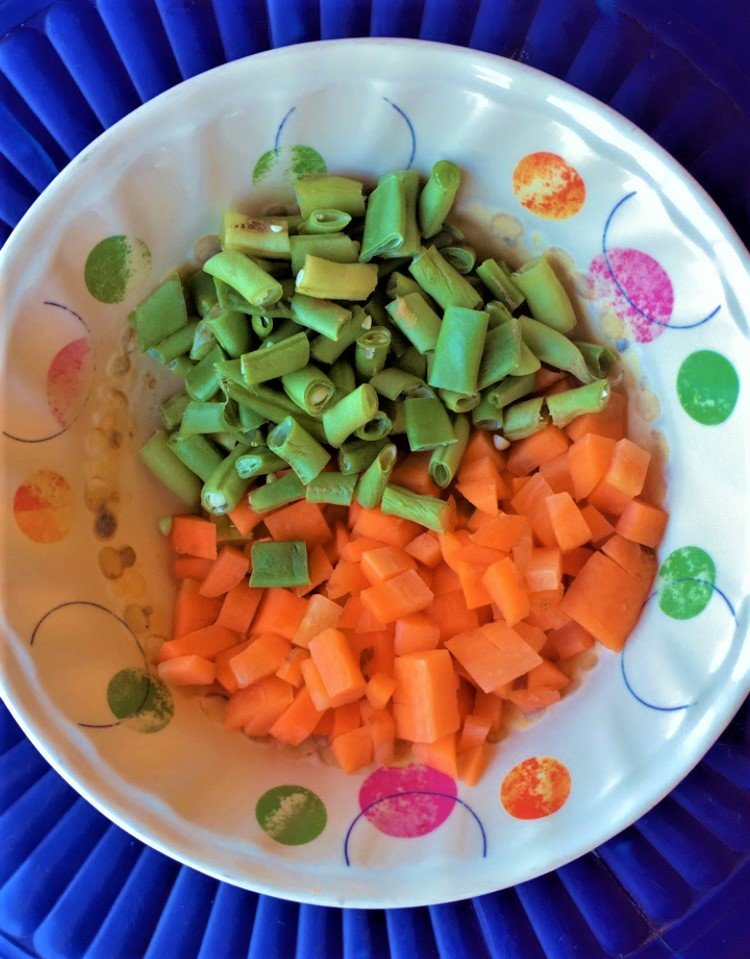 )
---
After this, you place your pasta into your cooking pot and fill with water till it covers the pasta. Then proceed to boil till it bubbles. When it starts to bubble, give it 3 minutes then take it down from the stove and sieve it. Rinse it out with some water. Toss the pasta water out.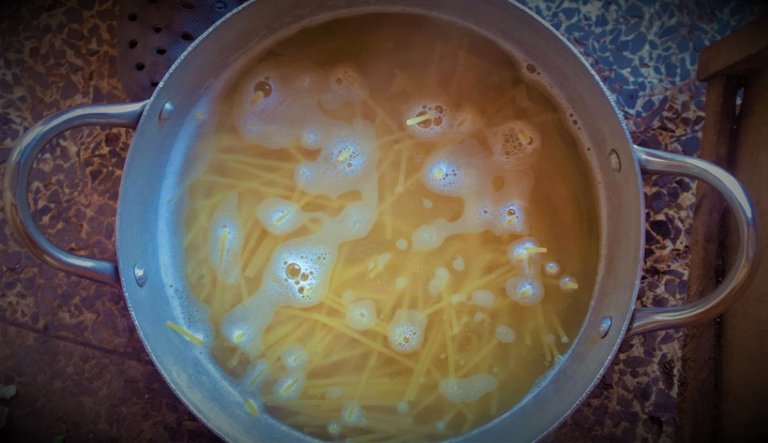 ---
When this is done, you pour a little bit of oil in your fresh pot and place part of your onions and peppers. Fry it for 3 minutes.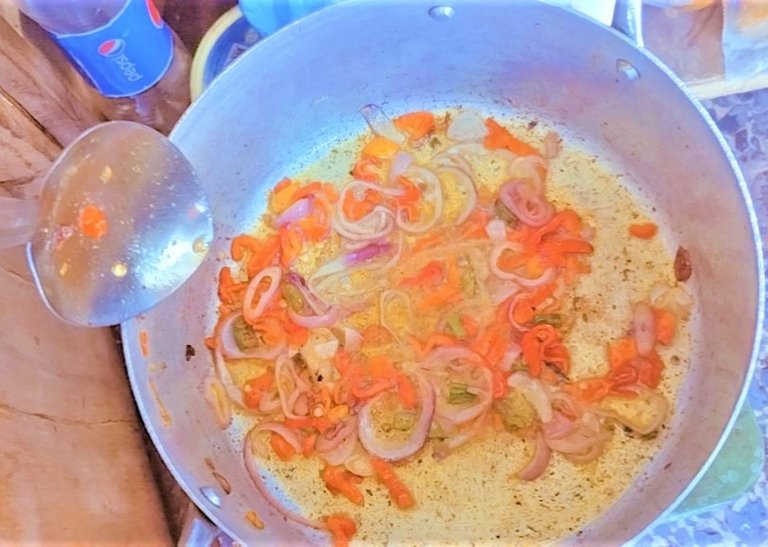 ---
Add the carrots and green beans, put a pinch of salt and stir for 3 minutes.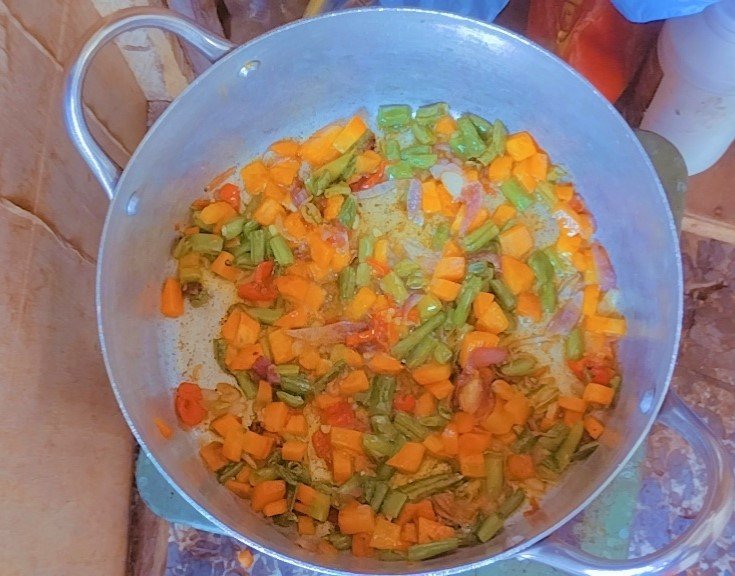 ---
Add your green pepper, stir for a minute.
---
Then transfer your combination on a dish and save it.
---
Add a touch extra oil to the saucepan, place your diced onions and red pepper into the oil and stir for 1 minute.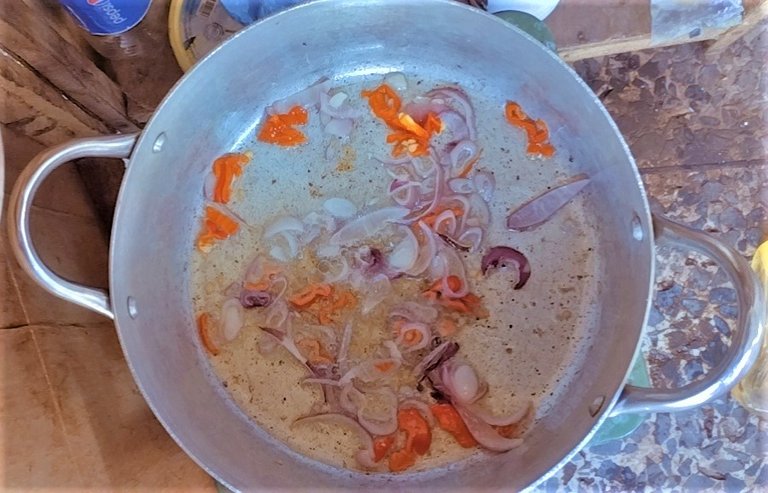 ---
Add your tomato paste and stir for 3 minutes.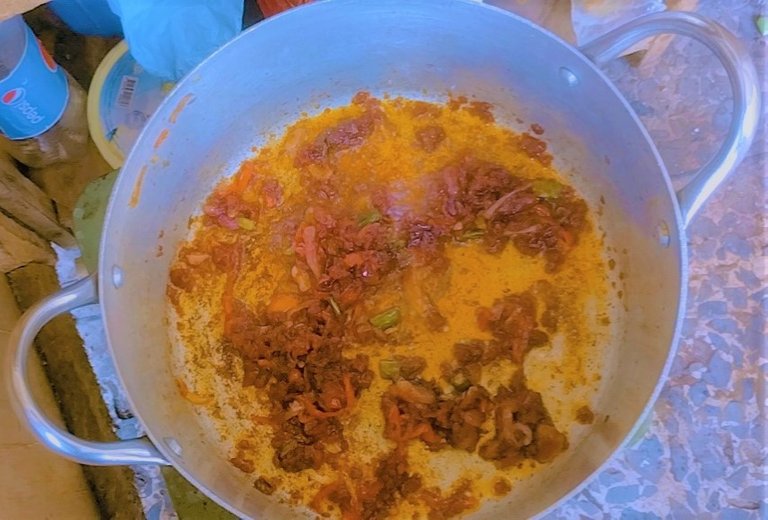 ---
If it starts to burn, add a quarter cup of water.
---
Sprinkle in your spices; two seasoning cubes, 1/2 teaspoon each of salt, pepper, and curry powder, then stir and leave to simmer for a minute. Add half a cup of water.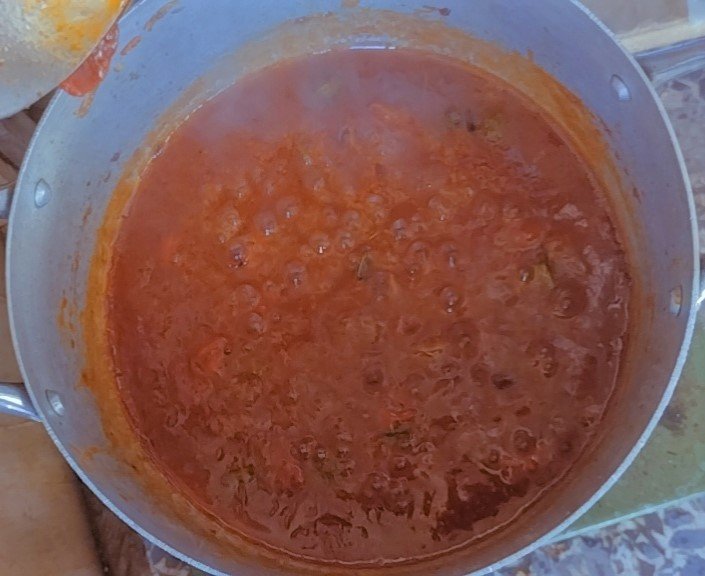 ---
Then add your parboiled pasta, stir a little bit, reduce the heat and leave to cook until it has a firm but not mushy texture that is suitable for eating. At least 5 minutes.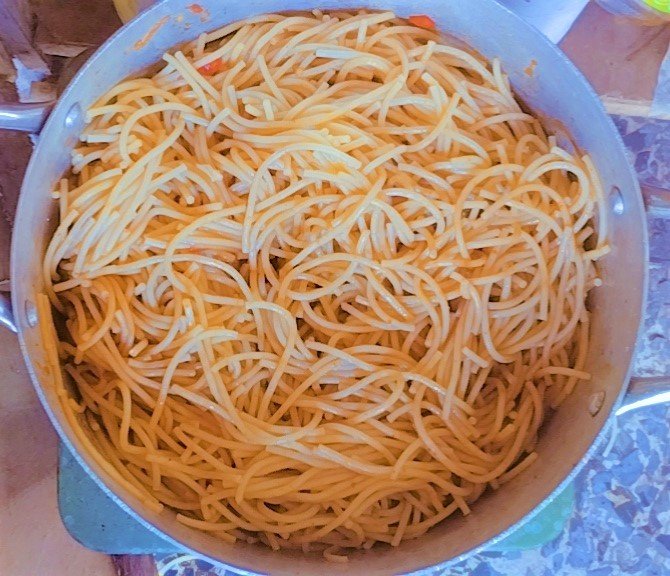 ---
Then add your sautéed vegetables and stir thoroughly.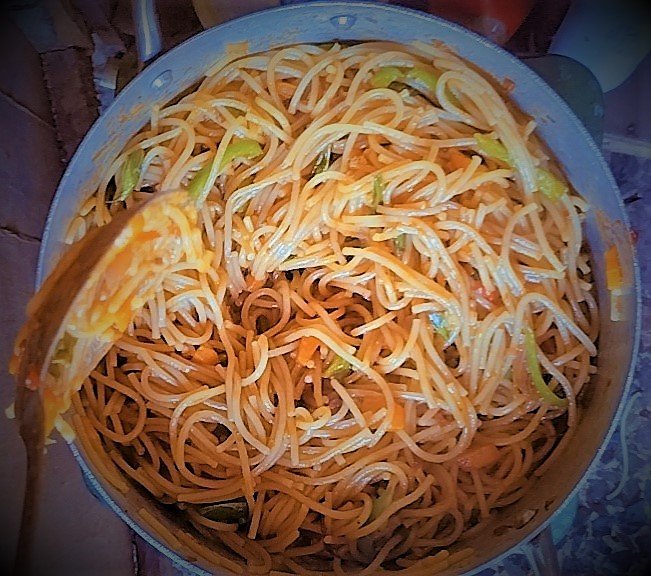 )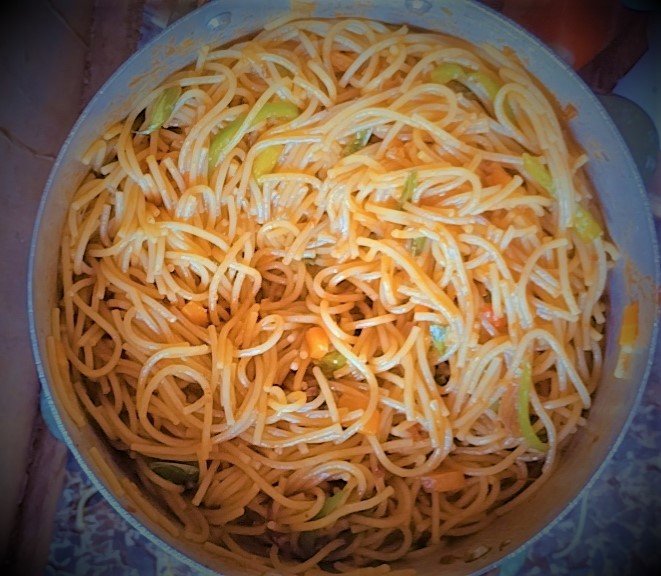 )
---
Voila! You have yourself a delicious pot of spaghetti.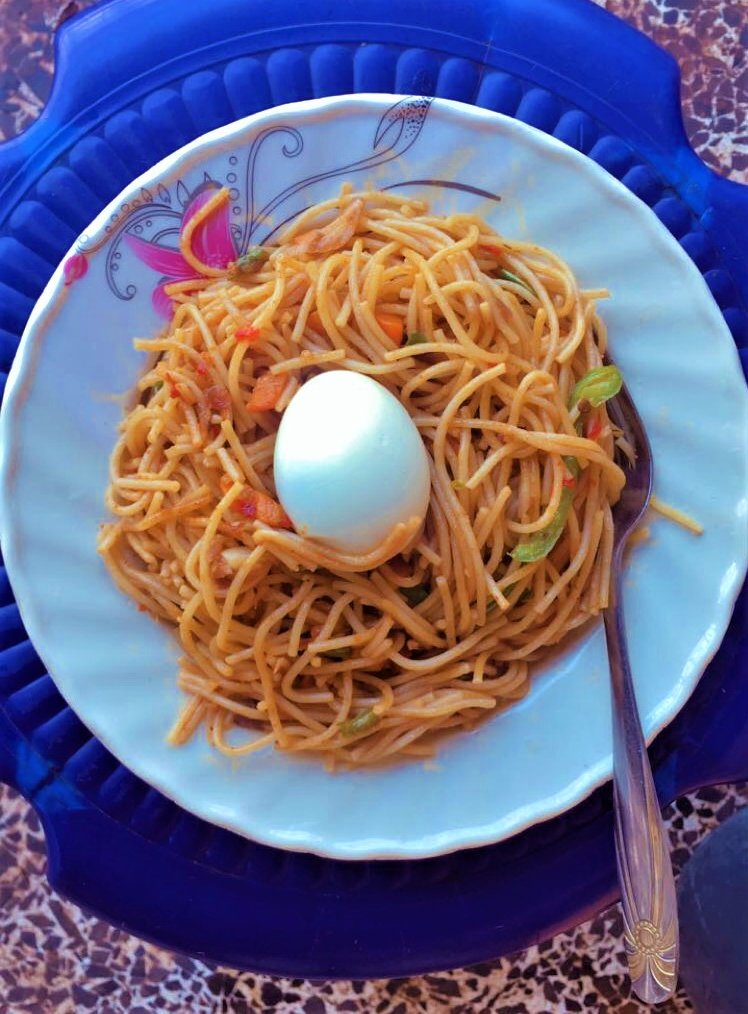 )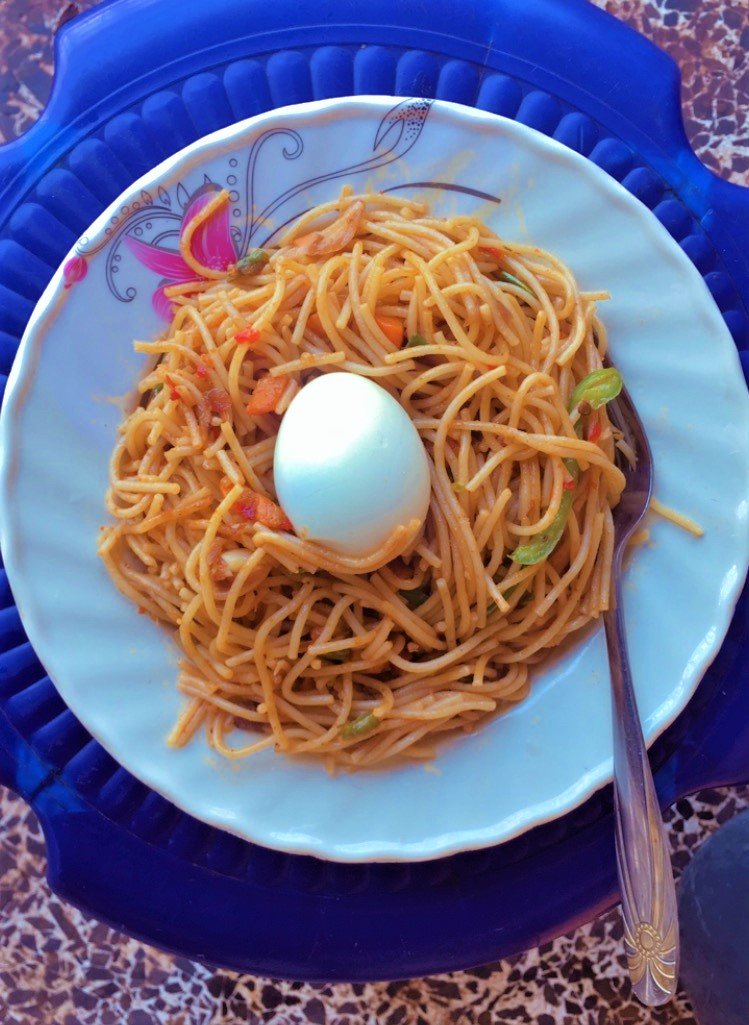 )
---
Thank you for reading 🤗🤗
---
---
---