Mass burial site containing 440 graves' found in Izyum after city liberated by Ukrainian forces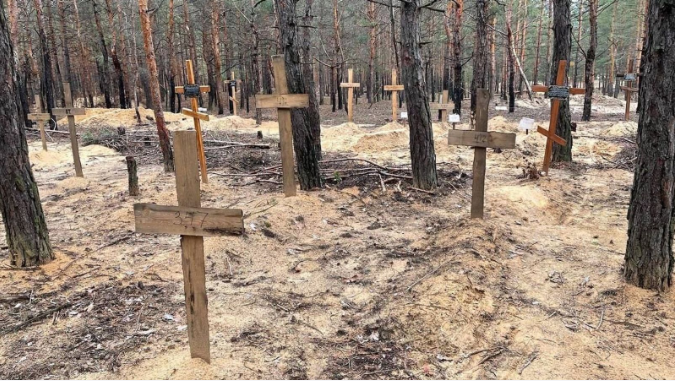 source:
"We want the world to know what is really happening and what the Russian occupation has led to,"
Volodymyr Zelenskyy said in a nightly video address to the nation.
The findings was discovered during a search of the area around the city of Izyum, which has been the site of heavy fighting between Ukrainian forces and Russian-backed rebels. The Defense Ministry said the graves contained the bodies of Ukrainian soldiers and civilians who had been killed by the rebels.
Izium came under fire from Russian artillery in April, and the city become a vital invading military base during the five months of occupation. It sits near the Kharkiv and Donetsk regions.
On Saturday, Ukrainian forces regained control of the city, delivering a strategic blow to Russia's military assault in the east.
The Ukrainian Defense Ministry released images on Friday of numerous crosses on mounds in a wooded area near Izium, as well as a deeper pit dug into the forest floor.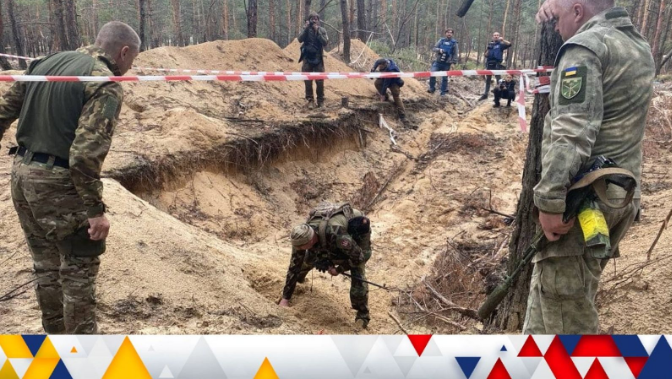 source:
Zelensky was appalled by the number of buildings destroyed and people killed during the Russian occupation when he visited Izium on Wednesday. He told journalists that he was "shocked" by what he saw.
Zelensky stated emphatically in his address on Thursday that Russia must be held accountable for the deaths in Russia, as well as in other metropolitan areas where numerous corpses had been discovered.
Speaking about the Izyum site, the chief investigator said:
"I can say that there is one of the biggest burials in one liberated city, which contains more than 440 graves. Some 440 bodies were buried in one place."
Asked if he could say how the victims had died, he responded:
"We know that some were killed [shot dead], some died because of artillery fire, so-called mine explosion traumas. Some died because of airstrikes. Also we have information that a lot of bodies have not been not identified yet. So the reasons of death will be established during the investigations."
sources:
https://news.sky.com/story/mass-burial-site-containing-440-graves-found-in-izyum-after-city-liberated-by-ukrainian-forces-12698332
https://edition.cnn.com/2022/09/16/europe/ukraine-izium-mass-burial-site-intl-hnk/index.html
---
---