PGM BRUN! [ENG-ESP-ITA]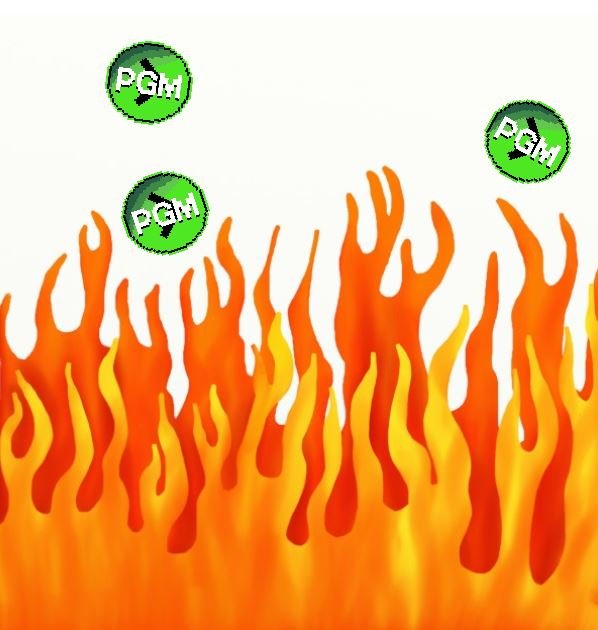 ENG
Hello to all friends of the PGM community , for some time now PGM daily increases the number of tokens in circulation on the platform , currently the total token supply is over 1 MLN of tokens , more precisely this figure : 1,005,390.59 PGM which are distributed among several accounts and these are the largest PGM holders :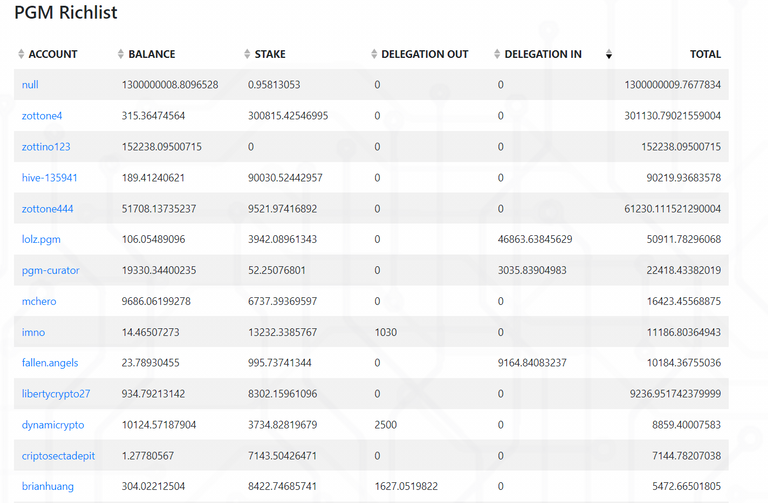 Excluding NULL to which no less than 1. 3 billion PGM's are right after my account @zottone4 , right after my brother's account @zottino123 , fortnite commnuity account HIVE-135941 me and @pgm-curator , these are the only accounts I control that have PGM's in stakes , in fact my goal was to keep more than 500 thousand tokens in my possession on different accounts to avoid possible thefts and lose many but many tokens all in one go.
In fact at present only my accounts have 64% of the total tokens currently available on the market, (about 626 thousand PGM) and the other 484 thousand tokens are scattered throughout the community.
Many of these are in stakes:
Here in fact the top holders are a lot , leading the ranking is @atma.love with 26 K PGMs delegated , right after we have @imno with 13K PGMs in stakes and only 1030 PGMs delegated , then other users still and of whom I am super proud and whom I really thank a lot! Just looking at this ranking alone there are over 84K tokens in stakes (minus my accounts of course) .
But there is one account that has tokens and will be burned soon:
@zottonetoken is the account that receives PGMs from the boost https://pgmshare.com/ which allows you to earn votes!
In fact this is the dapp of PGM and allows you to promote posts with HBD and receive votes by paying in PGMs, in addition to this it allows you to earn a lot of useful information in the PGMnews section!
But from now on all PGM tokens sent to the zottonetoken account will be burned and sent to NULL , every month in a manual way and we will make a report like this every month , so you can see how PGM is going or if there are new orders!
---
---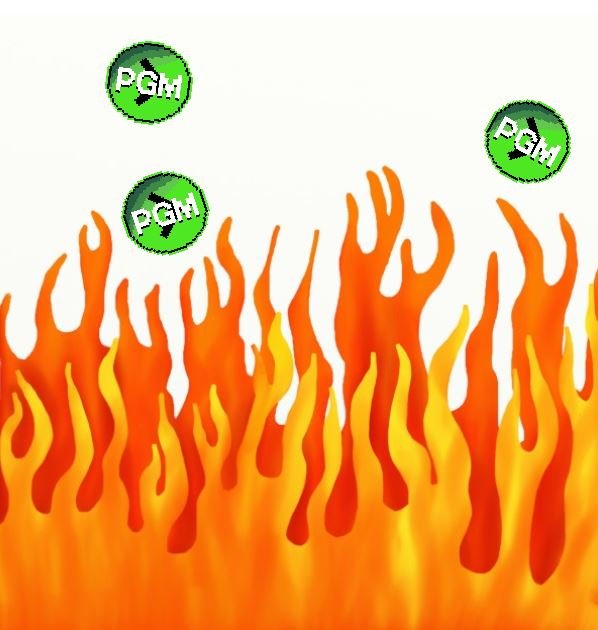 ESP
Hola a todos los amigos de la comunidad PGM , desde hace algún tiempo PGM aumenta diariamente el número de tokens en circulación en la plataforma , en la actualidad el suministro total de tokens es más de 1 MLN de tokens , más precisamente esta cifra : 1.005.390,59 PGM que se distribuyen entre varias cuentas y estos son los mayores titulares de PGM :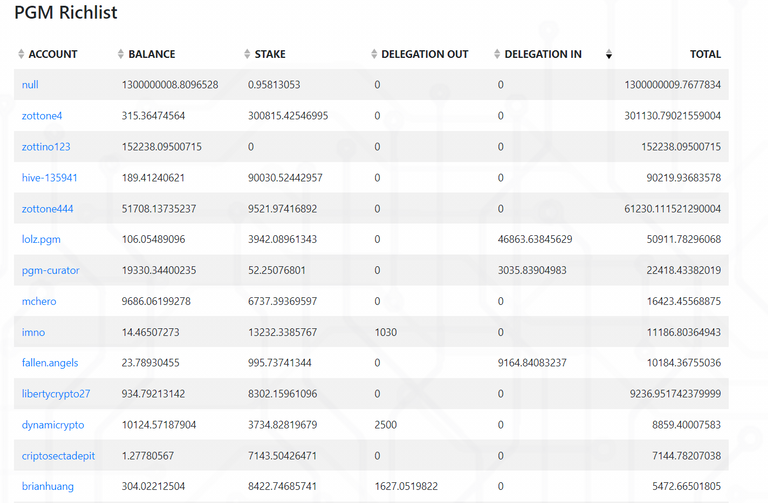 Excluyendo NULL al que no menos de 1. 3 mil millones de PGM's están justo después de mi cuenta @zottone4 , justo después de la cuenta de mi hermano @zottino123 , la cuenta de fortnite commnuity HIVE-135941 yo y @pgm-curator , estas son las únicas cuentas que controlo que tienen PGM's en juego , de hecho mi objetivo era mantener más de 500 mil tokens en mi poder en diferentes cuentas para evitar posibles robos y perder muchos pero muchos tokens de golpe.
De hecho en la actualidad sólo mis cuentas tienen el 64% del total de tokens disponibles actualmente en el mercado, (unos 626 mil PGM) y los otros 484 mil tokens están repartidos por toda la comunidad.
Muchos de ellos están en juego:
¡Aquí de hecho los top holders son un montón , liderando el ranking está @atma.love con 26 K PGMs delegados , justo después tenemos a @imno con 13K PGMs en juego y sólo 1030 PGMs delegados , luego otros usuarios aún y de los que estoy super orgulloso y a los que realmente agradezco mucho! Sólo mirando este ranking hay más de 84K fichas en juego (menos mis cuentas por supuesto) .
Pero hay una cuenta que tiene fichas y será quemada pronto:
¡@zottonetoken es la cuenta que recibe PGMs del boost https://pgmshare.com/ lo que le permite ganar votos!
¡De hecho esta es la dapp del PGM y te permite promocionar posts con HBD y recibir votos pagando en PGMs, además de esto te permite ganar mucha información útil en la sección de PGMnews!
¡Pero a partir de ahora todos los tokens PGM que se envíen a la cuenta de zottonetoken se quemarán y se enviarán a NULL , cada mes de forma manual y haremos un informe así cada mes , para que podáis ver cómo va el PGM o si hay nuevos pedidos!
---
---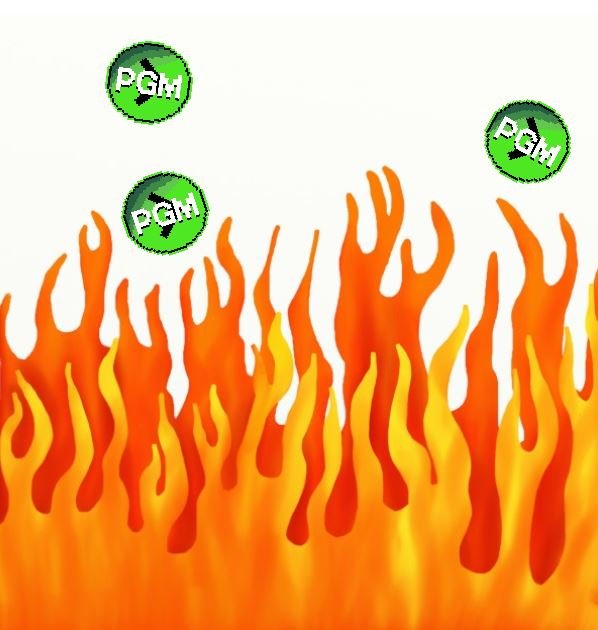 ITA
Ciao a tutti amici della community di PGM , ormai da tempo PGM aumenta giornalmente il numero di token in circolazione sulla piattaforma , attualmente la supply totale del token è di oltre 1 MLN di token , più precisamente questa cifra: 1,005,390.59 PGM che sono distribuiti tra diversi account e questi sono i maggiori possessori di PGM: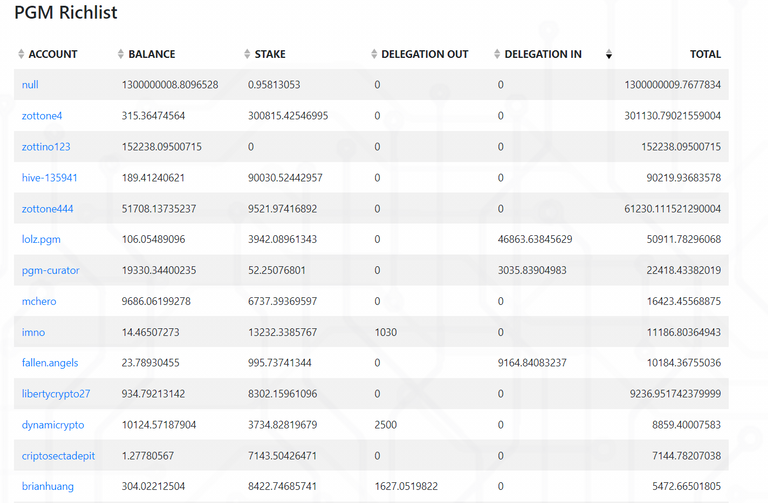 Escluso NULL al quale sono già stati mandati a bruciare ben 1.3 miliardi di PGM ci sono subito dopo un mio account @zottone4 , subito dopo l'account di mio fratello @zottino123 , l'account della commnuity di fortnite HIVE-135941 io e @pgm-curator , questi sono gli unici account che controllo che hanno PGM in stake , infatti il mio obbiettivo era quelli mantenere più di 500 mila token in mio possesso su diversi account per evitare eventuali furti e perdere molti ma molti token tutti in una sola botta.
Infatti allo stato attuale solo i miei account hanno il 64% dei token totali attualmente disponibili sul mercato , (circa 626 mila PGM) e gli altri 484 mila token sono sparsi su tutta la community.
Molti di questi sono in stake:
Qui infatti i top holder sono un sacco , a guidare la classifica c'è @atma.love con 26 K PGM delegati , subito dopo abbiamo @imno con 13K PGM in stake e solo 1030 PGM delegati , poi altri utenti ancora e dei quali sono super fiero e che ringrazio veramente tanto! Solo guardando questa classifica ci sono oltre 84 mila token in stake (tolti i miei account ovviamente) .
Ma c'è un account che ha dei token e che presto verranno bruciati:
@zottonetoken è l'account che riceve i PGM dal boost https://pgmshare.com/ che vi permette di guadagnare voti!
Infatti questa è la dapp di PGM e vi permette di promuovere i post con HBD e ricevere voti pagando in PGM , oltre a questo vi permette di guadagnare un sacco di informazioni utili nella sezione PGMnews!
Però da ora in poi tutti i token PGM che verranno inviati sull'account zottonetoken verranno bruciati e inviati a NULL , ogni mese in maniera manuale e faremo un report come questo ogni mese , cosi da vedere per bene come va PGM o se ci sono nuovi ordini!
---
---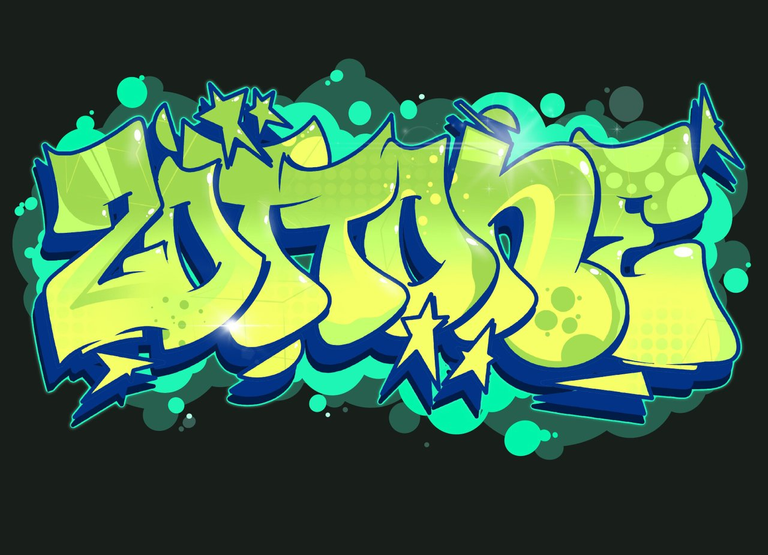 Follow me on
TWITTER ---> https://twitter.com/zottone444
TORUM ---> https://www.torum.com/u/zottone444
HYPPER ---> https://hyprr.com/profile/zottone444
NOISECASH ---> https://noise.cash/u/Zottone444
READCASH ---> https://read.cash/@Zottone444
BLURT ---> https://blurt.world/@zottone444
JOIN ON TELEGRAM ITALIAN GROUP ---> https://t.me/hiveitaly
FOLLOW HIVE ITALIA ON ---> Twitter -- Instagram -- Fecebook
photo by me / leodex /hive-engine
---
If you want to buy/sell Dcity cards with the PGM token from the NFTM.art shop click here
---
My private socials
Instagram---> ale_zotta_
Twitch ---> zottone
---
Links that may be useful to you for the PGM token
Buy it here
If you don't know how to buy the PGM token click here
If you want to know what projects we collaborate with, click here and here
If you want to become a sponsor of the project click here
joins the PGM discord server
FOLLOWE PGM ON TWITTER
Buy games by paying with hive-HDB-Pizza Token here @thebeardflex
To buy my microphone click here
To join my fortnite community click here
---
@chaosmagic23
@emaxisonline
@isiksenpalvoja
@amaillo
@itharagaian
@arpuch
@steem82868
@guurry123
@points-fr
@crazyphantombr
@hhayweaver
@koussbar
@ydaiznfts
@bokica80
@heruvim1978
@captainquack22
@beeminer
@servelle
@mizuosemla
@adie44
@mypathtofire
@c3r34lk1ll3r
@florenceboens
@agog
@solymi
@davidxxl
@dubble
@kryptodenno
@bencwarmer
@gestion.alive
@genming
@pirulito.zoado
@hafiz34
@mad-runner
@mario89
@princekham
@noctury
@ganjafarmer
@myothuzar
@kojiri
@bilidrg
@ternizator
@daniarc
@thaddeusprime
@dewabrata
@darmst5339
@forykw
@thgaming
@jim-crypto
@eijibr
@new.things
@dksart
@xheadhunterz
@dracozauberer
@rachaeldwatson
@thisisawesome
@cryptoalvirin
@pinkhub
@forsakensushi
@flaxz
@operahoser
@suhlaing
@maurojd
@edgerik
@libertycrypto27
@heartbeatonhive
@digitalspace
@salamera
@lozio71
@matons
@elikast
@danideuder
@bitcoinflood
@reiseamateur
@aweee
@jdike
@freed99
@davot
@miketr
@mein-senf-dazu
@nahueldare3627
@ana-maria
@chubb149
@timehacker
@lofone
@vaynard86
@koshwe
@benthomaswwd
@imno
@bananasfallers
@nyimwa
@szmobacsi
@acgalarza
@chapelle
@nyinyiwin
@badpupper
@pousinha
@elfino28
@from-mars
@alicia2022
@tokutaro22
@uthantzin
@shiftrox
@ivanslait
@yeckingo1
@shawnmichael-gt
@serhotest
@candnpg
@lotto-de
@blitzzzz
@ladymisa
@rzc24-nftbbg
@zonadigital21
@tinyputerboy
@luizeba
@trading-tokens
@r1s2g3
@krueger053
@jjprac
@hutorou
@lordshah
@tengolotodo
@michupa
@alex2alex
@underlock
@solairitas
@criptosectadepit
@siphon
@atma.love
@entrepidus
@lipe100dedos
@web-gnar
@splinter100dedos
@urkanon
@mervinthepogi
@krakonos
@cpol
@eustace-kidd
@hurtlocker
@thecuriousfool
@brianhuang
@ruralio
@amaari
@nietokilll
@beeber
@eddwood
@dontcare89
@stdd
@iamjabez
@mauriciolimax
@mehmetfix
@condeas
@lobaobh
@skgcrypto
@xykorlz
@torran
@cryptounicorn420
@mann0000
@astrocreator
@allonyx.ngs
@valerianis
@hoosie
@jimmy.adames
@andy-vibes
@utopia-hope
@uggya
@andy4475
@captainloken
@valdiva
@felixgarciap
@savvytester
@kaniz
@kraaaaa
@dailygiveaways
@metronet
@olympicdragon
@misterc
@curator50
@bananofarmer
@gr33nm4ster
@phoenixwren
@mvl2304
@caracol32
@pablodare
@manuvert
@thedoc07
@urri2020
@paul20
@hive-143869
@moeenali
@gwajnberg
@quekery
@pgmcuration
@dstampede
@johnripper
@noblebright
@javivisan
@okluvmee
@lxsxl
@dadspardan
@challenge-fr
@elkingplayer
@wazock
@cantfoldaces
@arkasz
@pregosauce
@fallen.angels
@hatke
@cervantes420
@nilarwin
@femcy-willcy
@assassyn
@chuiiiiiiii
@chaosbug
@dynamicrypto
@linlove
@celf.support
@atnazo
@draco2412
@rentaw03
@zakludick
@s3rg4
@indiebandguru
@mairapanelo
@jonimarqu
@sissim72
@luba555
@kvinna
@morenow
@lolxsbudoy
@tawadak24
---
---