PGM-THGaming pool on @pgm-curator is now live!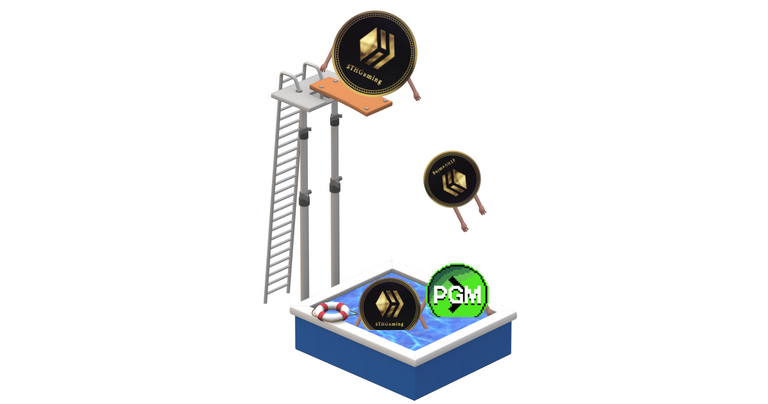 Hello to all friends of the PGM community , after the small failure of the HDT idea we immediately decided to bring some freshness and thus announce that finally the @pgm-curator pool will be updated by adding THGaming to the weekly distribution that was already happening in the past with PGM.
---
THAT WILL BE OBTAINED BY DELEGATING HP to @pgm-curator
Every day HIVEs are sent in liquid form to the delegators , that portion that is sent to you reflects how much HP we have earned because of your delegation and for that we are going to give you back 90% of HIVEs

PGM every week , in fact every week you will receive 750 PGMs which will be distributed according to the number of HP you have delegated

THG every week , starting today every week in fact you are going to receive 750 THG which will be distributed according to the number of HP you have delegated
---
HOW TO CALCULATE HOW MANY PGMs and THGs I GET PER WEEK
The calculation is very simple you must first take the total number of HP that are in delegation to @pgm-curator
At the current state we approximate 11K Hp , immediately after that take the value of tokens that we are going to issue each week , so 750 (PGM or THG makes the same)
Now we do the following calculation **750/11k Hp = 0.068 tokens for each HP delegated
Suppose I delegate 1000 HP , I am going to earn in one week = 68 PGM and 68 THG
---
This is why @pgm-curator is a revolutionary project on Hive , there is nothing like it on HIVE , no project is going to return you so many resources just with one delegation!
---
---
---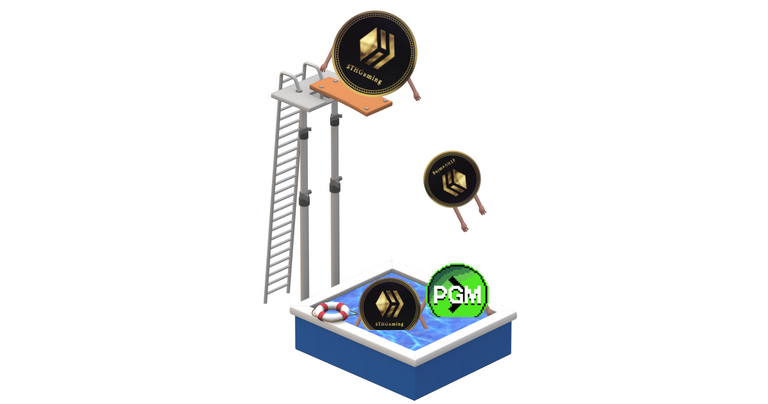 Ciao a tutti amici della community di PGM , dopo il piccolo fallimento dell'idea di HDT abbiamo deciso subito di portare un pò di freschezza e di annunciare quindi che finalmente la pool di @pgm-curator verrà aggiornata aggiungendo i THGaming alla distribuzione settimanale che già avveniva in passato con PGM.
---
COSA SI OTTINE DELEGANDO HP a @pgm-curator
Ogni giorno vengono inviati sotto forma liquida degli HIVE ai deleganti , quella parte che vi viene inviata rispecchia quanti HP abbiamo guadagnato grazie alla vostra delega e per questo vi andiamo a restituire il 90% di HIVE

PGM ogni settimana , infatti ogni settimana riceverete 750 PGM che verranno distribuiti in base al numero di HP che avete delegato

THG ogni settimana , da oggi ogni settimana infatti andrete a ricevere 750 THG che verranno distribuiti in base al numero di HP che avete delegato
---
COME CALCOARE QUANTI PGM e THG PRENDO A SETTIMANA
Il calcolo è molto semplice dovete per prima cosa prendere il numero totale di HP che sono in delega a @pgm-curator
Allo stato attuale approssimiamo a 11K Hp , subito dopo prendete il valore di token che andiamo ad emettere ogni settimana , quindi 750 (PGM o THG fa lo stesso)
Ora facciamo il seguente calcolo **750/11k Hp = 0,068 token per ogni HP delegato
Supponiamo che io delego 1000 HP , andrò a guadagnare in una settimana = 68 PGM e 68 THG
---
Ecco perchè @pgm-curator è un progetto rivoluzionario su Hive , non esiste nulla di simile su HIVE , nessun progetto ti va a restituire cosi tante risorse solo con una delega!
---
---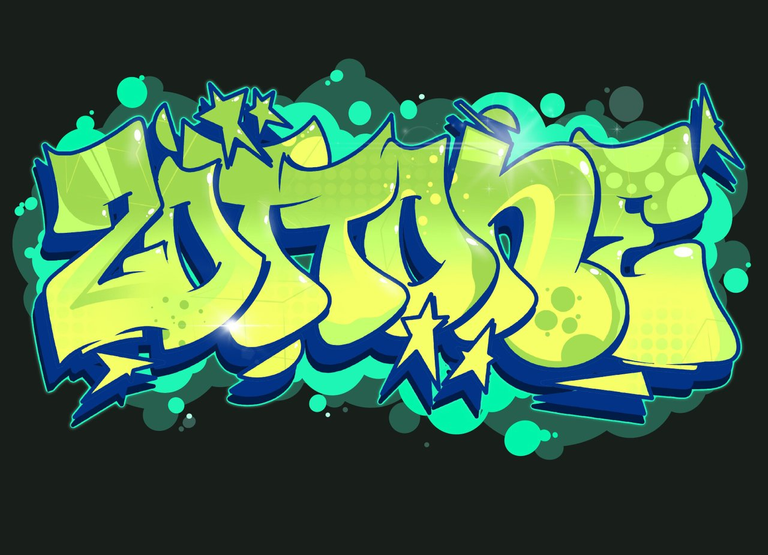 Follow me on
TWITTER ---> https://twitter.com/zottone444
TORUM ---> https://www.torum.com/u/zottone444
HYPPER ---> https://hyprr.com/profile/zottone444
NOISECASH ---> https://noise.cash/u/Zottone444
READCASH ---> https://read.cash/@Zottone444
BLURT ---> https://blurt.world/@zottone444
JOIN ON TELEGRAM ITALIAN GROUP ---> https://t.me/hiveitaly
FOLLOW HIVE ITALIA ON ---> Twitter -- Instagram -- Fecebook
photo by me / @thgaming
---
If you want to buy/sell Dcity cards with the PGM token from the NFTM.art shop click here
---
My private socials
Instagram---> ale_zotta_
Twitch ---> zottone
---
Links that may be useful to you for the PGM token
Buy it here
If you don't know how to buy the PGM token click here
If you want to know what projects we collaborate with, click here and here
If you want to become a sponsor of the project click here
joins the PGM discord server
FOLLOWE PGM ON TWITTER
Buy games by paying with hive-HDB-Pizza Token here @thebeardflex
To buy my microphone click here
To join my fortnite community click here
@stdd
@urri2020
@lozio71
@urkanon
@cpol
@crazyphantombr
@mad-runner
@beeminer
@ydaiznfts
@shiftrox
@ruralio
@chapelle
@mypathtofire
@femcy-willcy
@tobywalter
@rachaeldwatson
@edgerik
@adysscheryl
@myjob
@flaxz
@hafiz34
@dracozauberer
@servelle
@vaynard86
@hoosie
@hurtlocker
@candnpg
@operahoser
@misterc
@serhotest
@isnochys
@gestion.alive
@mizuosemla
@ismaelgranados
@chacald.dcym
@jetta.amaya
@tere.alv
@thinkrdotexe
@gabrielrr17
@bearmol
@elikast
@ibc
@backinblackdevil
@aljif7
@alenox
@libertycrypto27
@sinistry
@rocinanteprimo
@mad-runner
@irisworld
@rachaeldwatson
@elevator09
@davidthompson57
@coccodema
@dynamicrypto
@hurtlocker
@garlet
@mirafun
@bencwarmer
@lozio71
@starmasayume
@imfarhad
@drunksamurai
@flaxz
@taintedblood
@smolalit
@ganjafarmer
@circlebubble
@stewie.wieno
@beststart
@zottino123
@amico.sports
@bokica80
@kojiri
@mikezillo
@tampilyne
@japex1226
@nyinyiwin
@koshwe
@young-boss-karin
@scoutroc
@owlyfarm
@arpuch
@miketr
@chaosmagic23
@noctury
@pousinha
@dirego1
@mimismartypants
@bilpcoinbpc
@semarekha
@assassyn
@iamalivechalleng
@lotto-de
@rayius
@aliveandsocial
@c3r34lk1ll3r
@bananofarmer
@yeckingo1
@chuiiiiiiii
@nelthari
@javielys
@valdiva
@jam728
@high8125theta
@jakkal
@oscargarcia14
@chichi76
@furburger
@iamjabez
@uggya
@keisslermt
@smallboost
@johnripper
@mervinthepogi
@arkasz
@darmst5339
@newsposter
@dawnoner
@marshmellowman
@chubb149
@shawnmichael-gt
@aliveprojects
@siramadeus
@littlebee4
@kam5iz
@inam-999
@curtis90
@chaosmagic23
@emaxisonline
@isiksenpalvoja
@amaillo
@itharagaian
@arpuch
@steem82868
@guurry123
@points-fr
@crazyphantombr
@hhayweaver
@koussbar
@ydaiznfts
@bokica80
@heruvim1978
@captainquack22
@beeminer
@servelle
@mizuosemla
@adie44
@mypathtofire
@c3r34lk1ll3r
@florenceboens
@agog
@solymi
@davidxxl
@dubble
@kryptodenno
@bencwarmer
@gestion.alive
@genming
@pirulito.zoado
@hafiz34
@mad-runner
@mario89
@princekham
@noctury
@ganjafarmer
@myothuzar
@kojiri
@bilidrg
@ternizator
@daniarc
@thaddeusprime
@dewabrata
@darmst5339
@forykw
@thgaming
@jim-crypto
@eijibr
@new.things
@dksart
@xheadhunterz
@dracozauberer
@rachaeldwatson
@thisisawesome
@cryptoalvirin
@pinkhub
@forsakensushi
@flaxz
@operahoser
@suhlaing
@maurojd
@edgerik
@libertycrypto27
@heartbeatonhive
@digitalspace
@salamera
@lozio71
@matons
@elikast
@danideuder
@bitcoinflood
@reiseamateur
@aweee
@jdike
@freed99
@davot
@miketr
@mein-senf-dazu
@nahueldare3627
@ana-maria
@chubb149
@timehacker
@lofone
@vaynard86
@koshwe
@benthomaswwd
@imno
@bananasfallers
@nyimwa
@szmobacsi
@acgalarza
@chapelle
@nyinyiwin
@badpupper
@pousinha
@elfino28
@from-mars
@alicia2022
@tokutaro22
@uthantzin
@shiftrox
@ivanslait
@yeckingo1
@shawnmichael-gt
@serhotest
@candnpg
@lotto-de
@blitzzzz
@ladymisa
@rzc24-nftbbg
@zonadigital21
@tinyputerboy
@luizeba
@trading-tokens
@r1s2g3
@krueger053
@jjprac
@hutorou
@lordshah
@tengolotodo
@michupa
@alex2alex
@underlock
@solairitas
@criptosectadepit
@siphon
@atma.love
@entrepidus
@lipe100dedos
@web-gnar
@splinter100dedos
@urkanon
@mervinthepogi
@krakonos
@cpol
@eustace-kidd
@hurtlocker
@thecuriousfool @brianhuang
@ruralio @amaari
@nietokilll @beeber
@eddwood @dontcare89
@stdd @iamjabez
@mauriciolimax @mehmetfix
@condeas @lobaobh
@skgcrypto @xykorlz
@torran @cryptounicorn420
@mann0000 @astrocreator
@allonyx.ngs @valerianis
@hoosie @jimmy.adames
@andy-vibes @utopia-hope
@uggya @andy4475
@captainloken @valdiva
@felixgarciap @savvytester
@kaniz @kraaaaa
@dailygiveaways @metronet
@olympicdragon @misterc
@curator50 @bananofarmer
@gr33nm4ster @phoenixwren
@mvl2304 @caracol32
@pablodare @manuvert
@thedoc07 @urri2020
@paul20 @hive-143869
@moeenali @gwajnberg
@quekery @pgmcuration
@dstampede @johnripper
@noblebright @javivisan
@okluvmee @lxsxl
@dadspardan @challenge-fr
@elkingplayer @wazock
@cantfoldaces @arkasz
@pregosauce @fallen.angels
@hatke @cervantes420
@nilarwin @femcy-willcy
@assassyn @chuiiiiiiii
@chaosbug @dynamicrypto
@linlove @celf.support
@atnazo @draco2412
@rentaw03 @zakludick
@s3rg4 @indiebandguru
@mairapanelo @jonimarqu
@sissim72 @luba555
@kvinna @morenow
@lolxsbudoy @tawadak24
[mention for PGM users , if you no longer want to be mentioned tell me now I will take you off the lists! ]
---
---