Fabricando una máscara de GLITCHTRAP para mi hijo en Halloween./ Making a GLITCHTRAP mask for my son for Halloween.
HOLA MIS AMORES
Un saludo lleno de afecto, desenado que todas sus actividades sean de éxito.
Hoy vengo a compartirles el proceso de creación de una máscara del Personaje GLITCHTRAP del juego Five nights at Freddy´s´, un juego que me parece súper terrorífico y angustiante y que juega mi hijo de 14 años.
Resulta que mi hijo planeó con bastante antelación que quería disfrazarse de este personaje, así que tuve que investigar y luego de ver varias imágenes decidí ayudarlo.
HELLO MY LOVES
A greeting full of affection, wishing you success in all your activities.
Today I come to share with you the process of creating a mask of the GLITCHTRAP Character from the game Five nights at Freddy's', a game that I find super scary and distressing and that my 14 year old son plays.
It turns out that my son planned well in advance that he wanted to dress up as this character, so I had to do some research and after seeing several images I decided to help him out.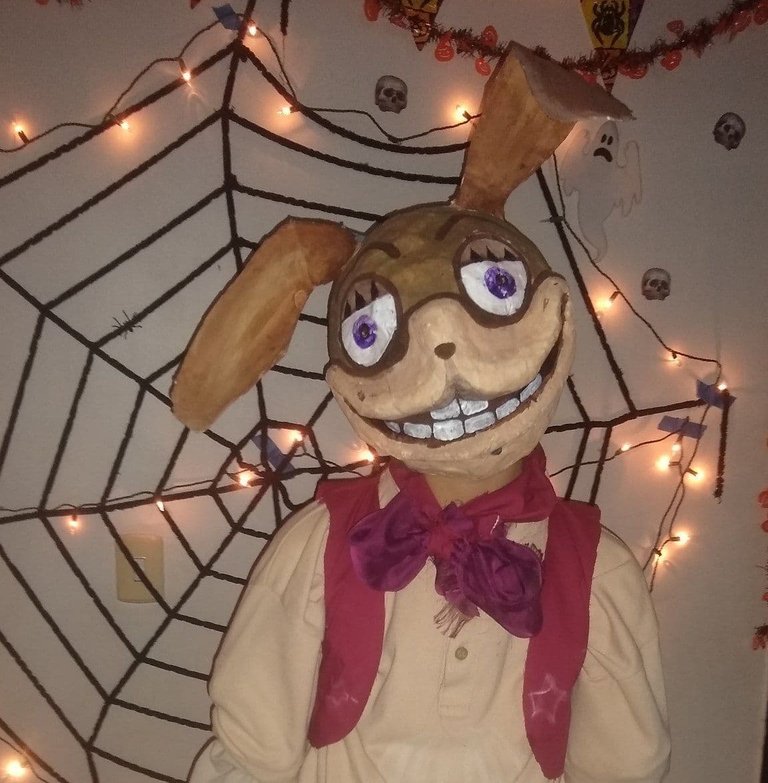 Lá técnica usada para elaborar esta máscara fue papel maché, donde mezclamos agua con pegamento blanco y papel. Es una técnica que se usa para realizar muchas cosas, sobre todo máscaras y títeres. Pude haberle hecho una máscara bisimensional, pero creo que así resulto más real.
The technique used to make this mask was paper mache, where we mixed water with white glue and paper. It is a technique used to make many things, especially masks and puppets. I could have made a two-dimensional mask, but I think it turned out more real this way.
COMENCEMOS A CONTAR EL PROCESO DE ELABORACIÓN:
LET'S START TELLING THE STORY OF THE ELABORATION PROCESS:
![materiales.jpg](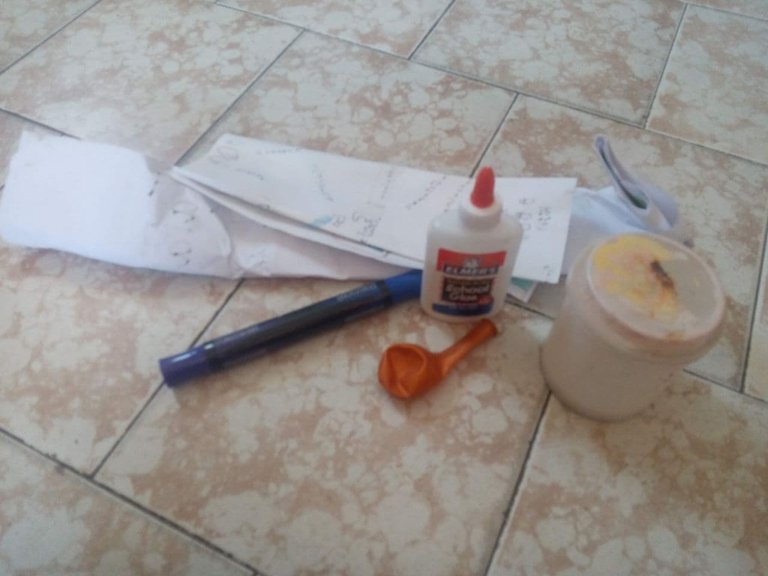 Los materiales usados fueron: un globo, pegamento blanco liquido, agua, un envase para mezclar, papel para reciclar, un marcador, papel higiénico, cartulinas, pinturas al frio y pinceles.
The materials used were: a balloon, liquid white glue, water, a mixing container, recycled paper, a marker, toilet paper, cardboard, cold paints and paintbrushes.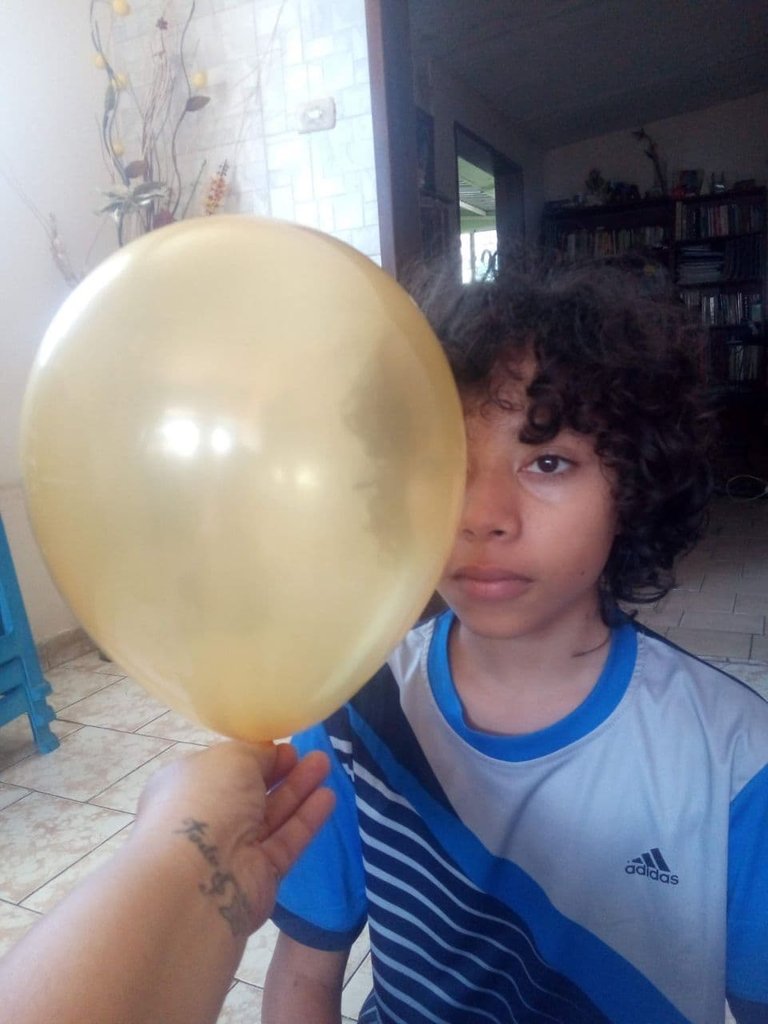 Lo primero que hice fue inflar el globo de un tamaño lo más parecido a la cabeza de mi hijo.
The first thing I did was to inflate the balloon to a size as close to my son's head as possible.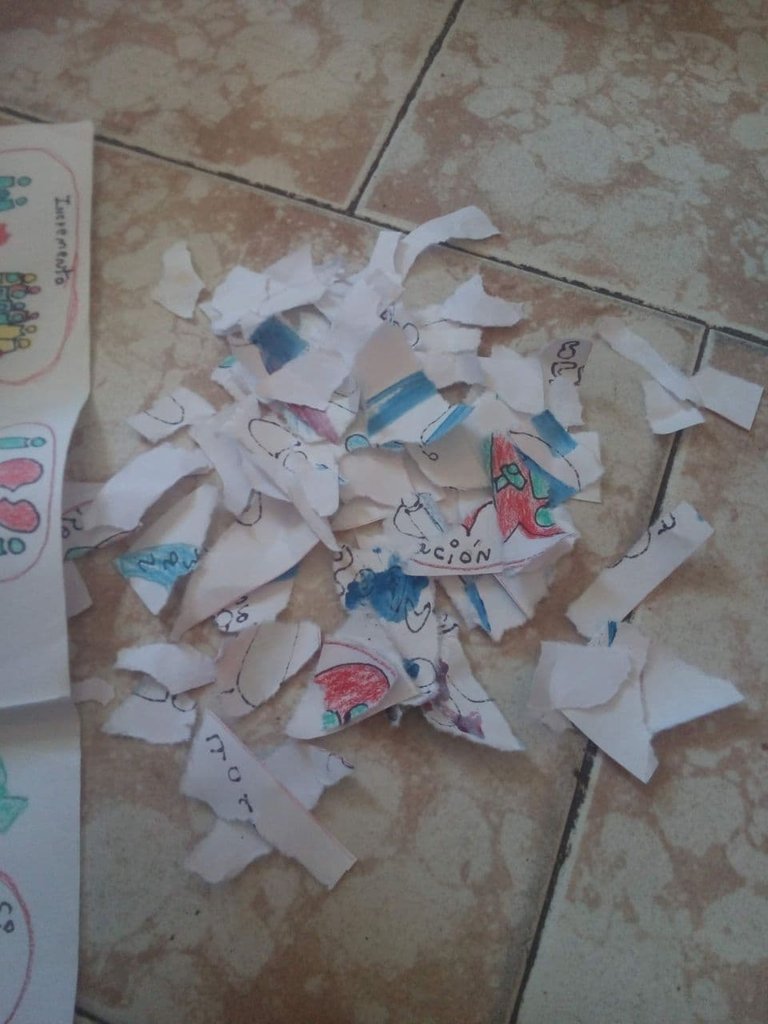 Luego el papel de reciclaje lo rasgamos en muchos pedacitos pequeños, tantos como fueron necesarios para varias capas.
We then tore the recycled paper into many small pieces, as many as were needed for several layers.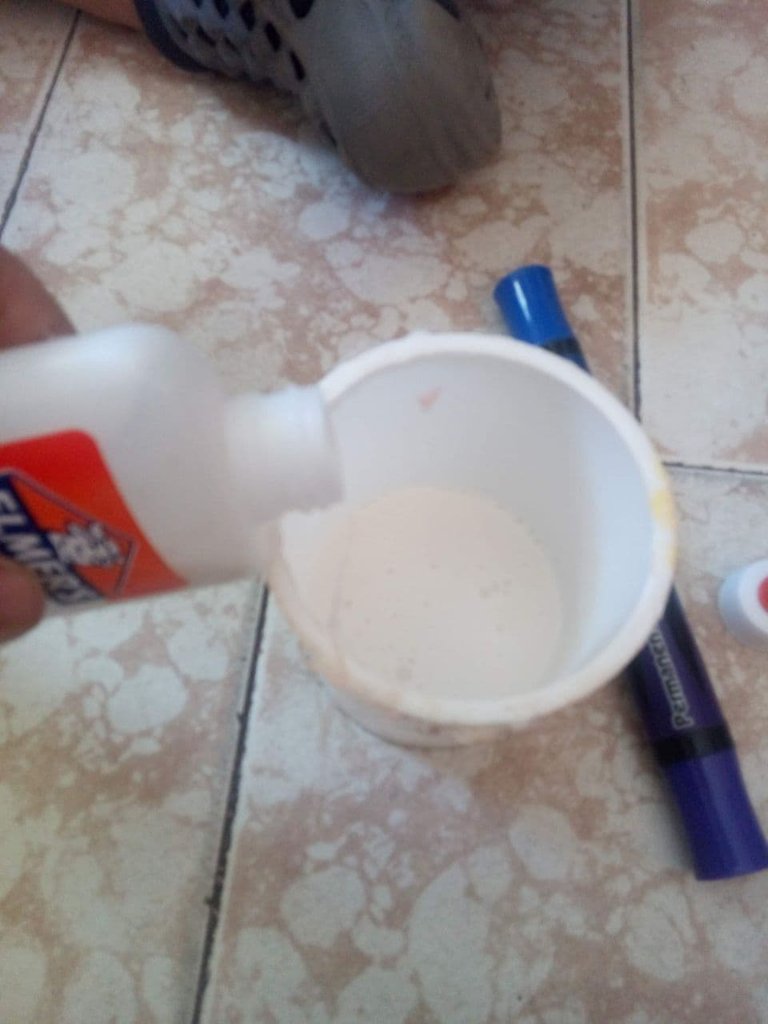 Lo segundo fue preparar una mezcla de pegamento y agua en partes iguales.
The second thing was to prepare a mixture of glue and water in equal parts.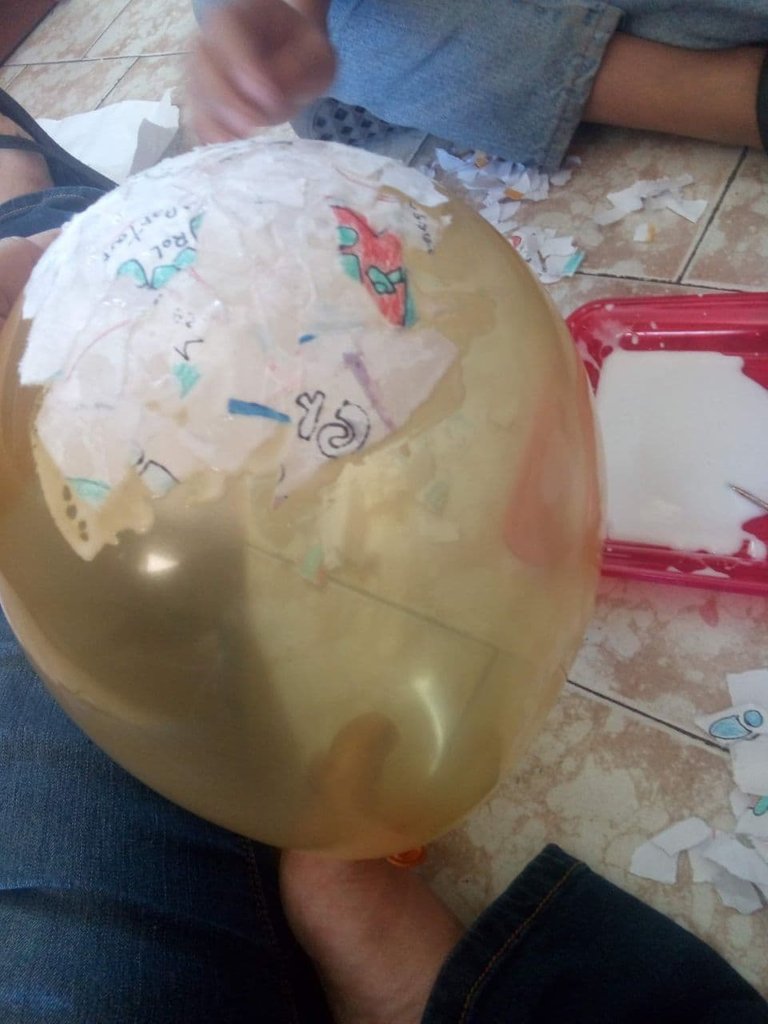 Luego comenzamos a cubrir el globo con el papel, primero pasado por la mezcla de agua y pegamento y después se coloca en el globo, así lo hicimos hasta hacerle varias capas, luego, cuando se secó bien, se explotó el globo y se recortó el espacio para meter la cabeza.
Then we began to cover the balloon with the paper, first passed through the mixture of water and glue and then placed on the balloon, so we did until we made several layers, then, when it dried well, the balloon was exploded and the space was cut to put the head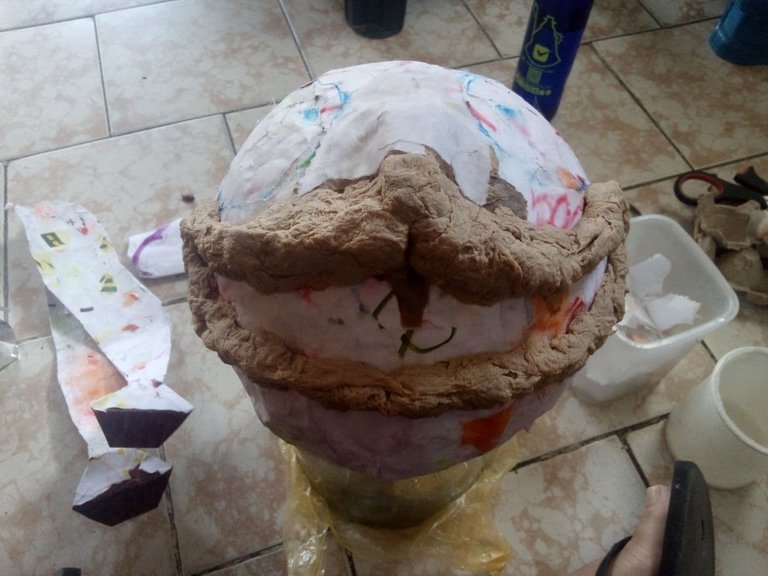 Para realizar la forma de la boca se usó papel higiénico mezclado con pega, se moldeó el papel y se pegó a la parte de máscara que ya estaba lista.
To make the shape of the mouth, toilet paper mixed with glue was used, the paper was molded and glued to the ready-made mask part.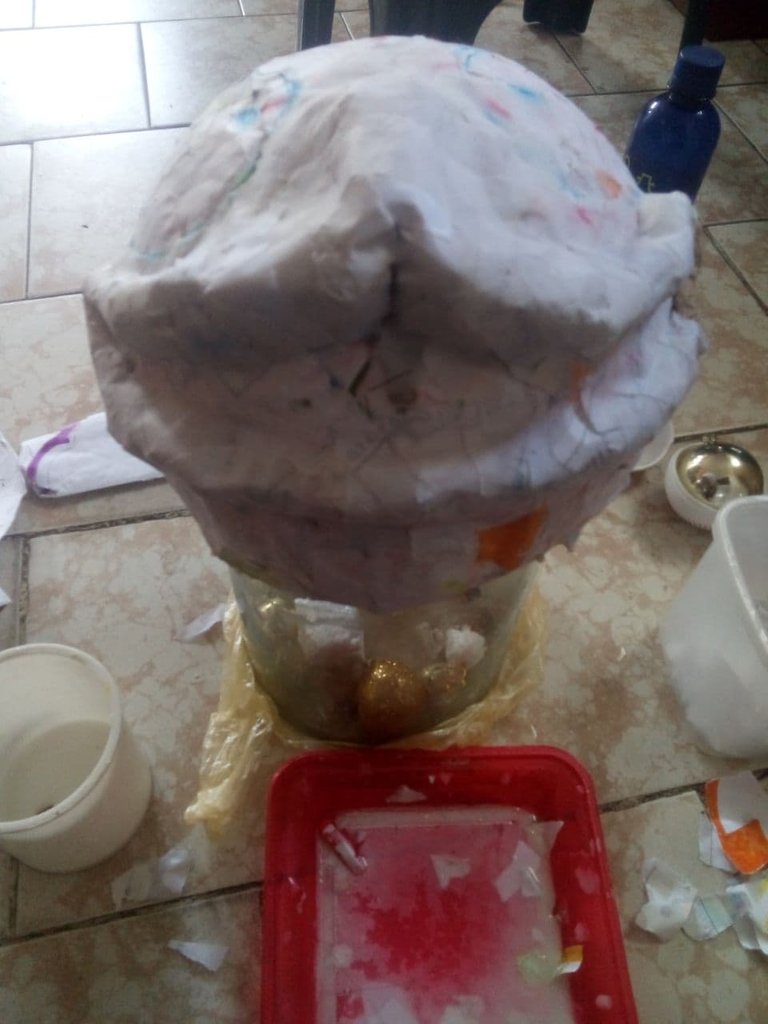 Luego con más papel reciclado se terminó de cubrir, al secarse se preparó una mezcla de talco con pegamento y se cubrió con varias capas de esto, para darle una textura más lisa.
Then more recycled paper was used to cover it, and when it dried, a mixture of talcum powder and glue was prepared and covered with several layers of this, to give it a smoother texture.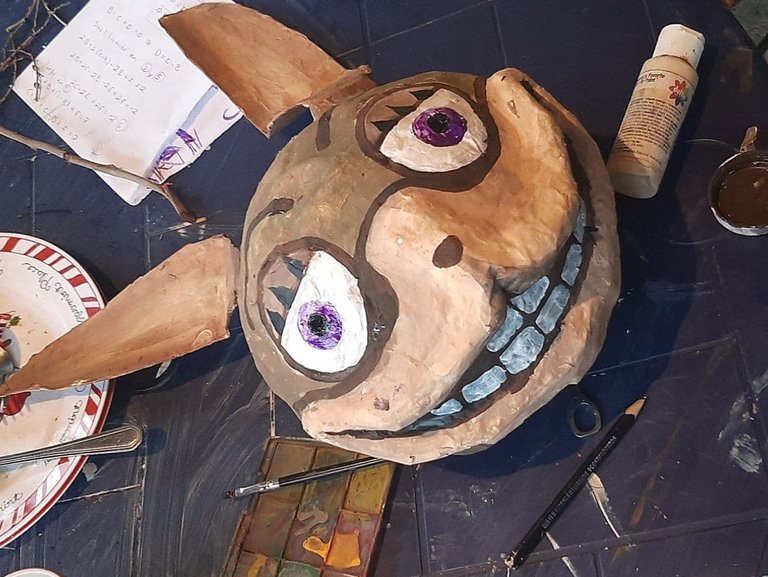 Con la cartulina se realizaron las orejas, luego de que la máscara estuvo bien seca se pintó con pinturas al frío para darle la apariencia del personaje. Se le abrieron los huequitos en los ojos para que se pusiese ver a través de ella.
The ears were made with the cardboard, and after the mask was well dried, it was painted with cold paints to give it the appearance of the character. The holes in the eyes were opened so that he could see through it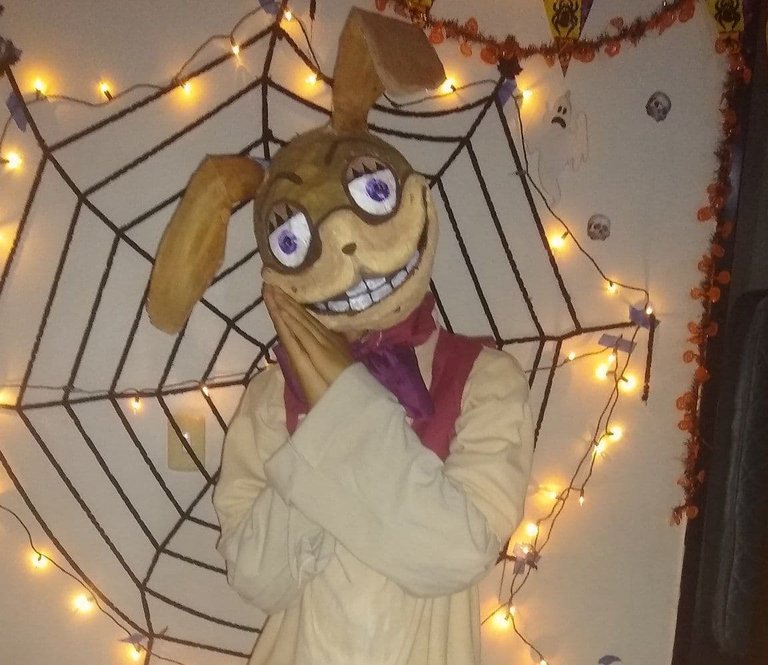 Y así de este modo quedó la máscara y el disfráz completo, mi hijo muy feliz salió a compartir con sus amiguitos su noche de Halloween.
And so the mask and costume were complete, and my son happily went out to share his Halloween night with his friends.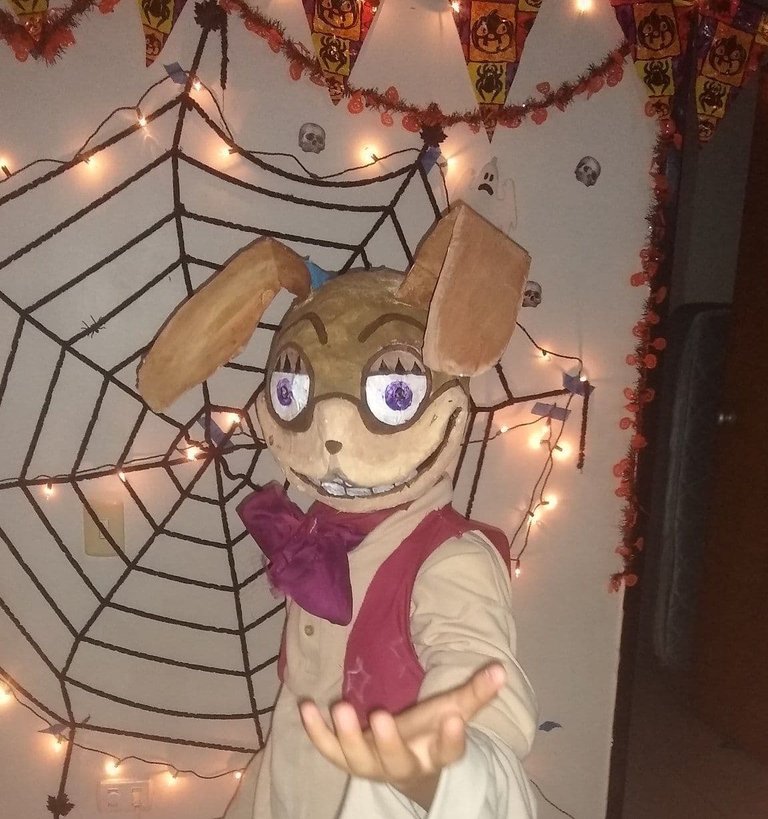 GLITCHTRAP VIENE POR TI
GLITCHTRAP COMES FOR YOU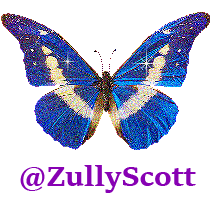 Todas las imágenes pertenecen a la autora.
All images belong to the author.
---
---