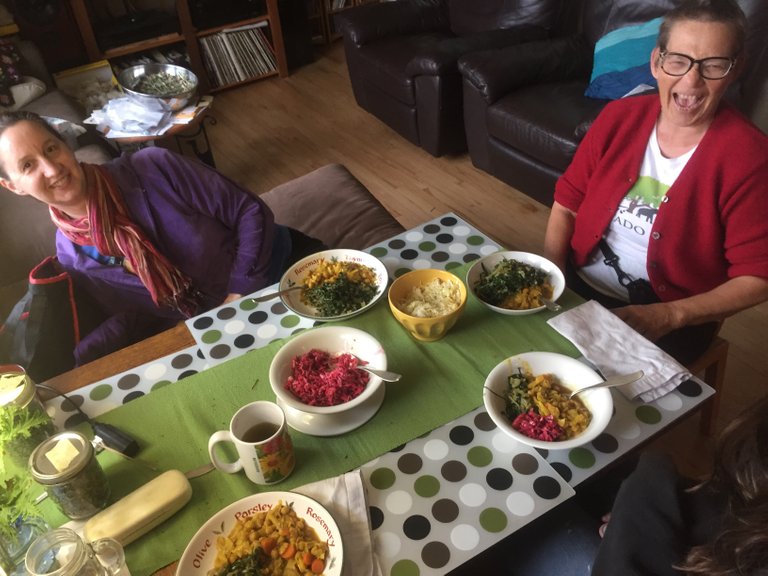 Okay. I was sitting down to eat. But the rest of the time I was on my feet from 6 am.
Started with letting the dogs out. Then put a chicken in the pressure cooker. Cooked a chili with red kidney beans I had cooked last night.
Got breakfast ready for the wool crew that was due to arrive at 9 am. It was raining in San Diego today and I should have cancelled since the wool is best done outside.
Well, as it turned out, everyone showed up. All good. All in all I had 10 visitors today.
After the chicken was done, I pulled it out, set some of the broth aside, and cooked a Chilacayote squash in some broth. That done, made bone broth from the chicken bones - 4 hours in the pressure cooker. Beats 48 hours on the stove.
We sampled the Kraut and it was already good. Pulled some and let the rest ferment.
Made chillers greens and chick pea curry for lunch, prepped apples for drying, steem- super tired and in bed.
Wish me luck at my tax appointment tomorrow

Join us for the daily 5 - Minute Freewrite. Check my profile for a new prompt every day.
I am adding the CC tag to all prompt posts and to most of my other posts as well. You can earn Comment Coins simply by leaving a good comment. No spam please!!!

All images are my own unless otherwise cited.
Graphics made on Canva.


Animation By @zord189

#SoCalSteemit is building and supporting the Steemit community of Southern California. If you are from SoCal and are into creating quality content here on Steemit, we'd love for you to follow us @SoCalSteemit and join our group on Discord!

Join @Actifit, become healthier by being active and earn as you walk. My referral link
Join us at the Freewrite House for fun and games!!! Weekly drawing for SBI memberships and so much more!!

And get your Freewrite House Swag here I

1513