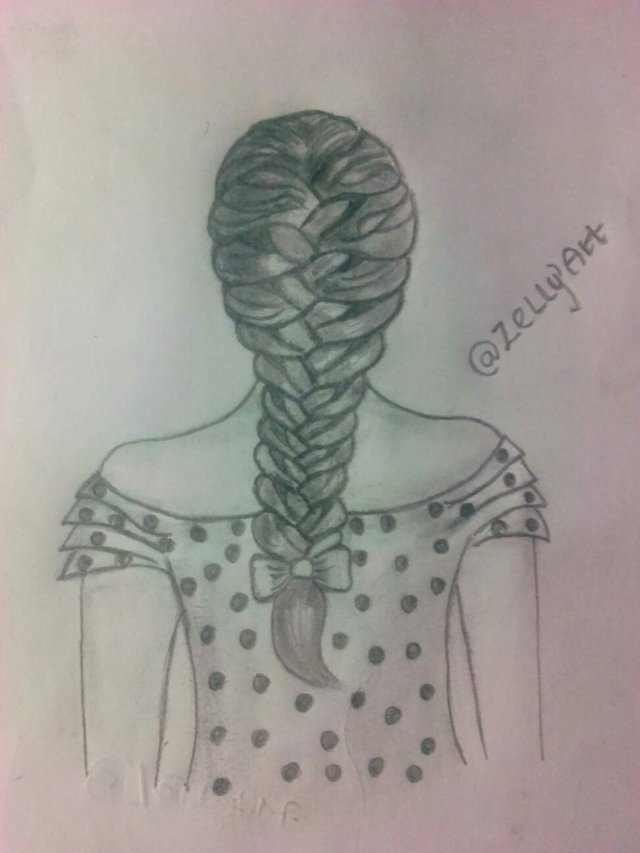 Hello Steemians and Artists!
Today I bring to you a portrait of a girl.
Today's sketch is definite
I sketch the girl's back view rather than the front view. I know I usually sketch a girl's face but today I wanted to make something different.
Now below are the steps to how I sketch the girl.
Steps and Procedures
Step one:
I started by sketching the girl's hair backwardly. Giving her a tiny bow at the tail of her hair.
Step two:
I drew her body and hand. Just the that two in this step.

Step three:
I sketched the dress. I decided to use a simple dress. Its an off-shoulder dress. This dress exposes her neck and a bit of her shoulder.
Step four:
Here I made some pattern on her hair. Leaving thick spots and drawing lines and stripes.
Step five:
This is almost the last stage of this sketch. Here I designed her dress with a tiny circles and I shaded her hair and made it thicker and darker.
Step Six:
This is the last step of today's art work. I shaded the tiny circles I created on her dress. I made it darker and I did some touching on her hair to smoothen and make it finer.
Materials Used
A4 Paper
HB Pencil
Blue Colour Artistic Pencil
Eraser
Sharpener
Cotton Bud
Razor
Duration
One hour thirty minutes (1hour30min)
Thank you for following up and stopping by to check out my art work today.!
Will bring more piece your way.!
Hope today's work was easy enough to follow.!
Passionate Pencil
Posted using Partiko Android