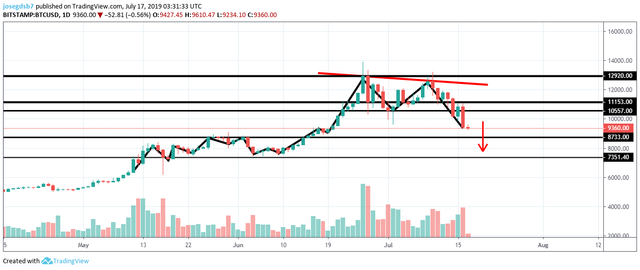 BTC's next target, 8733 or less (it may reach 7350)
As you can see in the chart, the BTC had a hard time trying to overcome the resistance at 12920, marked by that large volume on June 26, however, BTC didn't have a problem later to break the support line set at 11153 on June 27, and in July 9, the volume wasn't strong enough to bring the price back to 12920, and rather closed below at 12567.
This situation reflects how the bears are winning the battle, i.e. there is more sales volume than buying volume, which is reflected in lower and lower prices and an obviously downward trend.
What we all ask ourselves is; how many time the BTC can fluctuate between 8733 and 12920, we will discover it soon according to what I can deduce, and according to my forecast, we are close to touching the support at 8733 and is what will happen most likely, however, the price could bounce back after reaching 8733 to continue with an uptrend, but there is also a high probability that it will break below that support to reach a lower price close to 7350.
At the top of the figure, we see a red line in which is represented how the price movement pattern fails to reach that double roof, is the most accurate representation of how the bulls are losing.
BTC cercano a los 8733, podría llegar a 7350 o menos.
Como pueden ver en el chart, el BTC la ha tenido dificil intentando superar la resistencia de los 12920, marcada por ese gran volumen de compras el día 26 de Junio, sin embargo, no tuvo problema posteriormente, en romper la linea de soporte fijada en los 11153 el día 27 de Junio, y el 9 de Julio, el volumen no fue lo suficientemente fuerte como para llevar el precio otra vez a los 12920, y más bien cerro por debajo, en 12567.
Situación que refleja como está ganando la batalla la oferta versus la demanda, es decir, que hay mayor volumen de ventas que de compras, lo cual se refleja en precios cada vez más bajos y una tendencia obviamente bajista.
Lo que nos preguntamos todos es; hasta que punto puede el BTC fluctuar entre los 8733 y los 12920, lo descubriremos dentro de poco según lo que puedo deducir, y según mi pronóstico, estamos cercanos a tocar el apoyo en 8733 y es lo que sucederá con mayor probabilidad, sin embargo, el precio podría rebotar en los 8733 para retomar una tendencia alcista, pero también hay gran probabilidad de que rompa por debajo dicho apoyo para alcanzar los 7350.
En el tope de la figura, vemos una linea roja en la cual se representa como el patrón no logra alcanzar ese doble techo, es la representación más exacta de como los toros están perdiendo la batalla hasta ahora.

Soon I'll be talking about the @neoxian tribe and how it can benefit the spanish speaking community, so stay tuned.
---
Posted from my blog with SteemPress : http://www.joeduque.ml/2019/07/17/btcs-next-target-8733-or-less-it-may-reach-7350-btc-cercano-a-los-8733-podria-llegar-a-7350-o-menos/
---