Where is BITCOIN price going? BTC has break the 11153 support line and its approaching to another support at 10557
Is bitcoin experimenting an small price correction or are we at the beginning of a more prolongued bearish market?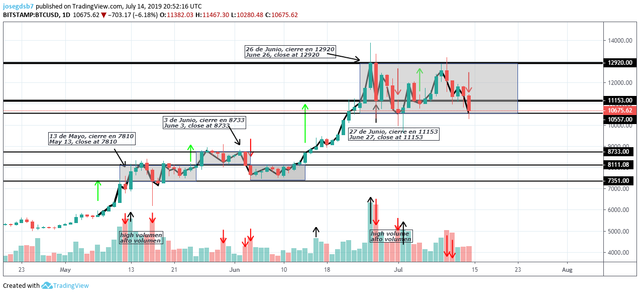 As you can see in the chart, BITCOIN has been in a lateral trend since 23 Jun 19', and since then, the demand has had a hard time beating offer, the bearish (red) volume is greater than the bullish as you can see from the volume indicator, red bars are usually larger than green ones from 27 June onwards, what this represents is that there is a greater interest in selling than buying, which translates into a price movement that tends to be bearish.
Generally, lateral trends reflect indecision in the market, but also a model of change, or a model of continuity. In this case, the lateral could signify a model of continuity of the bullish trend, but in order to do so, it is necessary to break the support at 13000 and that the price goes up to the historical price maximums.
Otherwise, we may simply be in a distribution phase, a model of change from an uptrend to a downtrend, the first sign of this would be a break in resistance at 8733.
For now it seems that we are in a movement of consolidation of a subsequent downward movement that will continue until it reaches resistance in 8733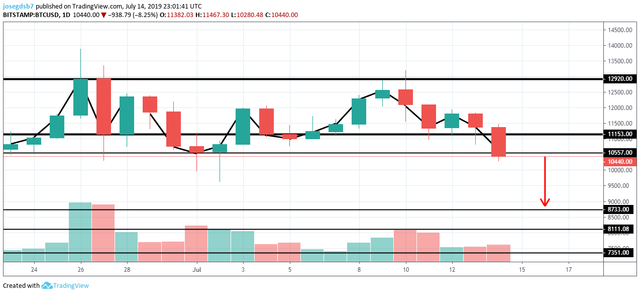 ---
I invite you to visit my old technical analysis, remember that this is not a financial advice, I am not responsible for the money you may lose, in a first post I made it clear that I just want to share my learning process in technical analysis, I am not a financial advisor or a professional trader.