It's about that time to open our pool, in fact, it's a little later than usual.
As usual, we are greeted with an absolute mess of algae.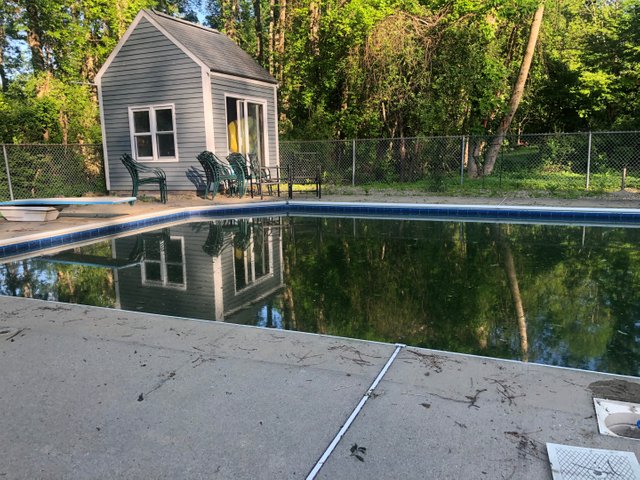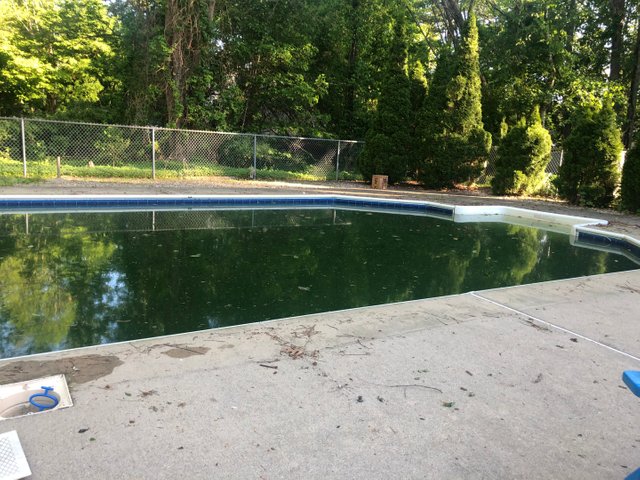 While this looks like a swamp, it usually only takes me 4-5 days to get it sparkling clean.
Although this year I ran into a problem. After preparing all the equipment, I found our pump motor wouldn't start. It would hum and then stop after a few minutes.
When we bought the house 4-5 years ago, we knew the motor was on its way out. It is fairly loud and fairly old. My gut feeling was the motor wasn't completely dead though. A humming motor generally means one of three things.
Starter capacitor is dead
Motor coils seized with corrosion
Impeller blade stuck
I first checked the basket and didn't see anything noticeable causing a blockage, but unfortunately, you can't really see the impeller blade. There is one easy way to narrow down the problem, the motor has a shaft that goes to the back of the unit and there is a heavy screw that is connected to this shaft. If you use a screwdriver to try to turn this shaft, it will tell you if the shaft is turning freely or not.
If it is turning freely, the problem is likely the capacitor not giving enough power to turn the motor. If it doesn't, it is either corrosion holding the motor shaft in place or something blocking impeller blade from turning. Fortunately for me, a little force and I was able to free the shaft and it started to turn. I powered on the motor and it worked like a champ.
I suspect we only have a few seasons left before we will have no choice but to buy a new pump motor, but it looks like we will get through the season. Hopefully.
After I got everything running, I ran into another problem. There was a leak in the pipes.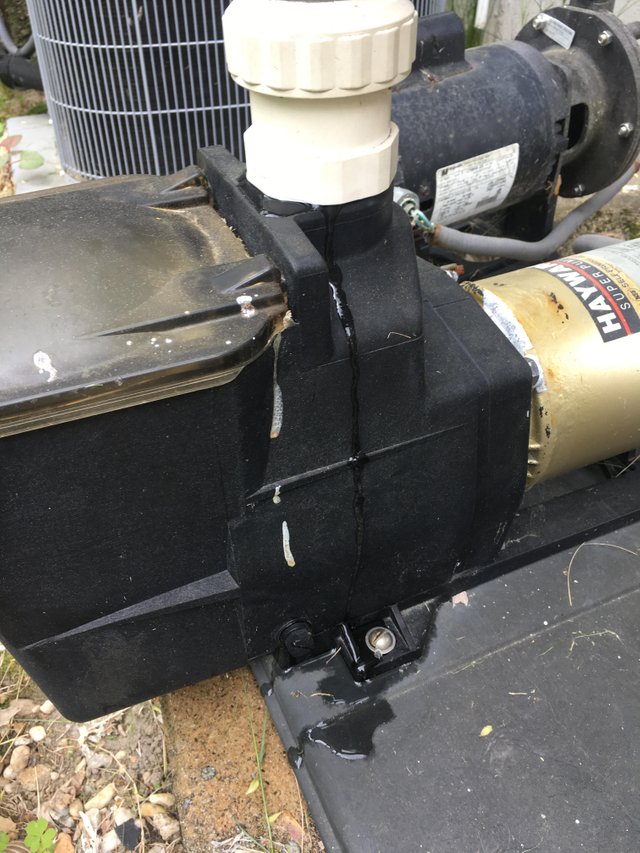 While it wasn't a large leak, I noticed in the basket there might have been small animal droppings. I was concerned there might be a mouse in the system. This is what I thought might have been the issue with the pump initially, a mouse blocking the impeller motor.
I took apart the multi-port valve that sets the operation mode between waste, recirculate, rinse, backwash, and filter. Everything looked fine, so I put it back together. Due to the age of the equipment, the handle started leaking like mad.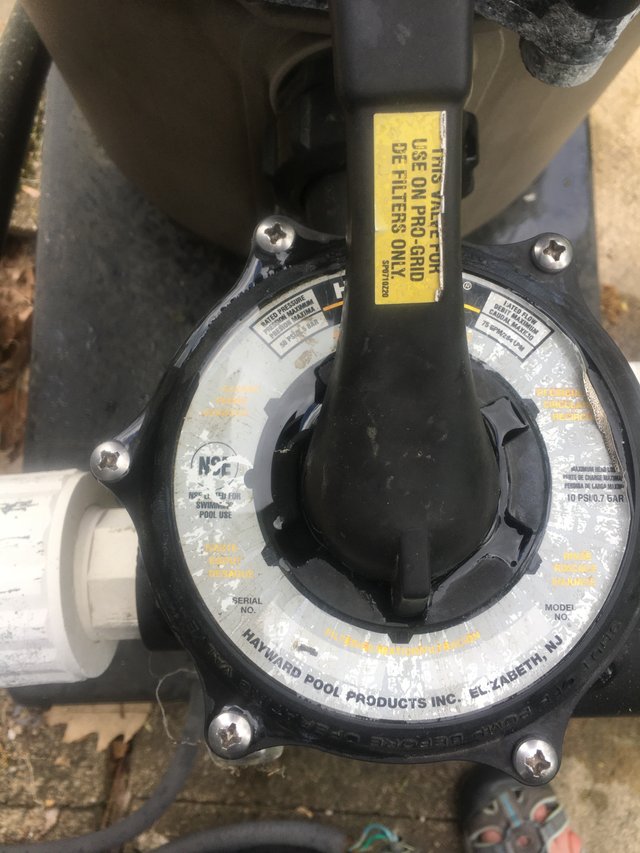 This is a very common brand, so I started calling around. Due to the part of the season where everyone is opening their pools, and Covid-19 complications, no one was even answering their phones.
I looked on Amazon, to see if I could purchase the entire top assembly, technically called Key cover, and handle assembly. They run around $60-100, but the one I needed wasn't in stock until June 5th. I didn't want to wait that long so I tried calling some more stores. One I have had a lot of good luck with but is further out answered and they said they could rebuild it if I brought it down. I hurried down and dropped it off, waited about an hour in the car, and brought it back home. It seems to have fixed the problem, and the pool is filtering.
I still have that other leak to deal with, but it isn't a crisis right now. I wanted to get some chlorine in the pool as soon as possible. If you have read my previous posts on my pool, you would know I don't use the traditional pool store method of caring for my pool. The primary difference is I use liquid chlorine and not the pucks and I use a professional test kit to test daily and make educated changes to the pool chemistry.
I use far fewer chemicals in my pool than the pool store method, it is far cheaper, and much more effective. Everyone who has seen the pool has commented on how amazingly clear it is. I have problems with algae when I open the pool, but after a week it is crystal clear until I close it.
---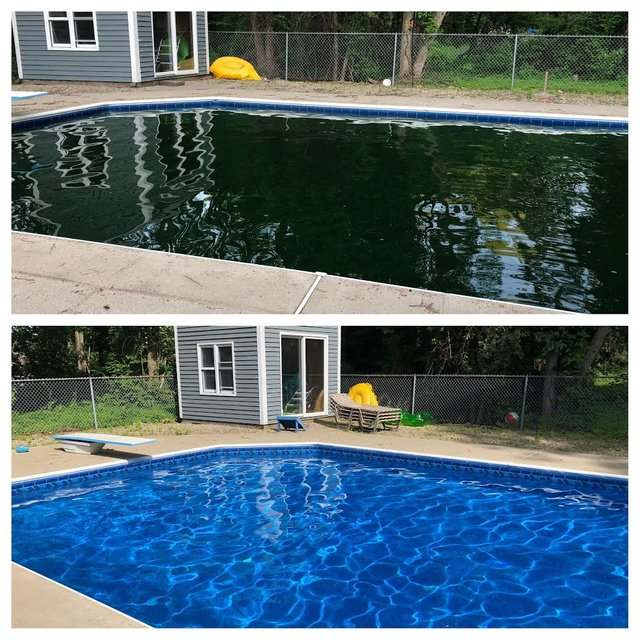 This is a difference of about five days a couple of years ago. A few days later it was even clearer. There is no smell of chlorine, you can swim with your eyes open all day and have no redness.
---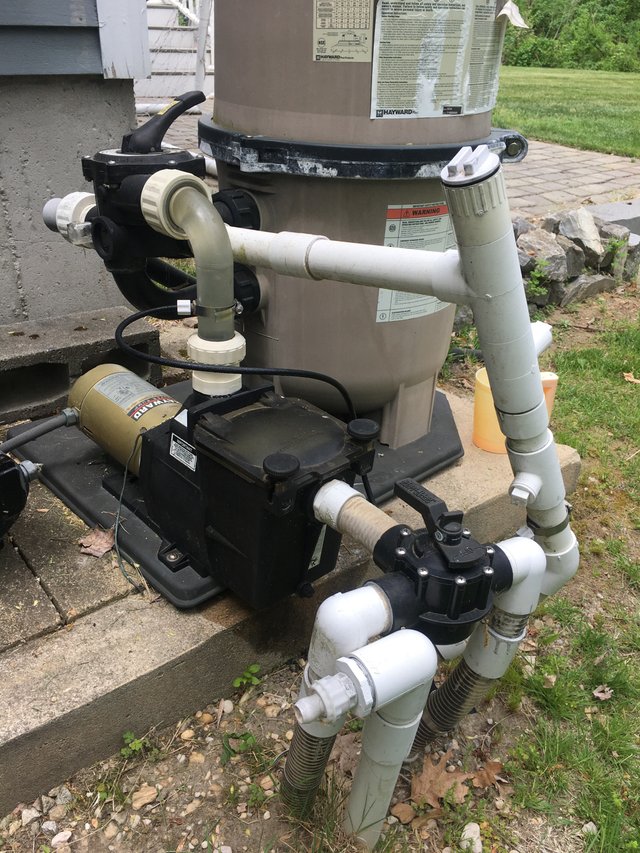 I am not entirely happy with the pool equipment and hope it all fails at once, so I can just gut it all and reorganize how it is set up. All the equipment is dated and the setup is a mess. There are also some pipes from an old cleaning system I don't use because we have a robot.
I may just gut it all one year and start fresh.
Once the pool is open, I plan to spend most of my time in it. Especially since we are still under quarantine and there is not a lot else we can do.
---
Securely chat with me on Keybase