Hey everyone and specifically @creativetruth!! Remember my post 3 months odd back about me wanting to cultivate and grow a Cherry Bonsai? Well the time has arrived...
When we last spoke on this topic you advised me to grow something a little more Indigenous to the Country, great advice by the way (and so I did with my Boabab's featured below) but tried a little experiment with my newly acquired Cherry Tree seeds....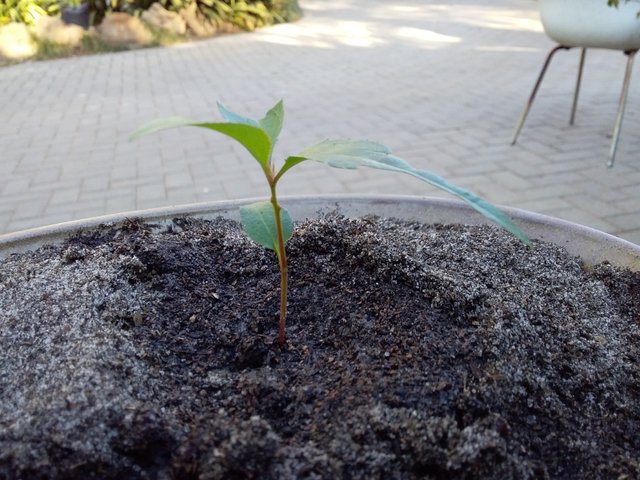 I planted around ten of them not expecting 'miracles' and for months, nothing happened, I watered and nurtured as much as I could daily, the days were getting shorter nights longer and weather colder...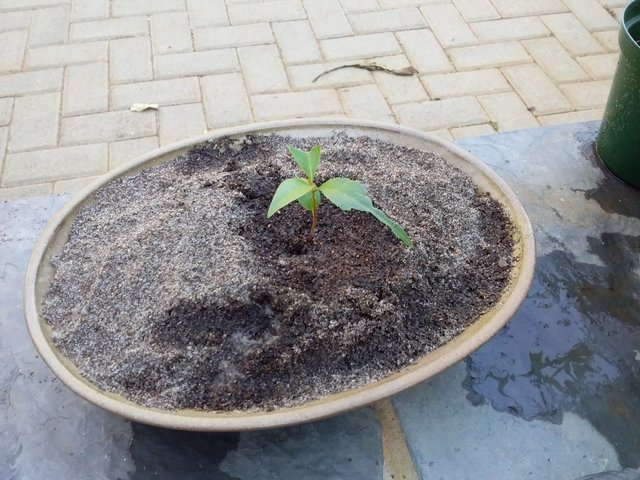 The Dilema: I am not 100% sure if this indeed one of my planted Cherry Tree seeds or not? We have tons of weeds in our compost this may just be a random weed that I have been nurturing for the last month how can I be sure?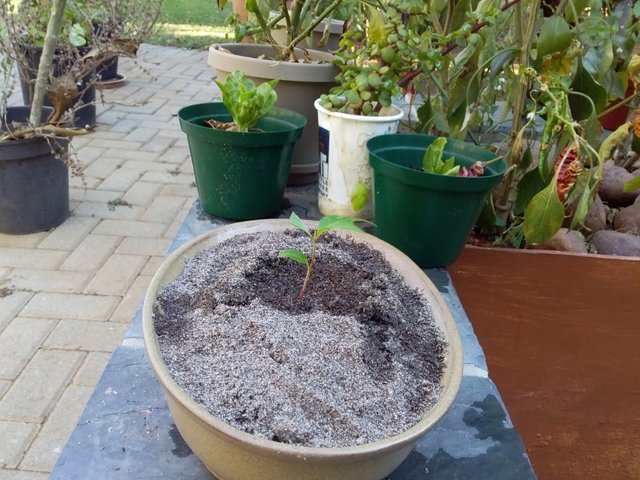 I did a Wikipedia search to try and get some clarity on the matter, these leaves are serrated and long and spindly and as far as I can remember the Cherry Tree on which I acquired these seeds were just that, however been so small one cannot really be too sure?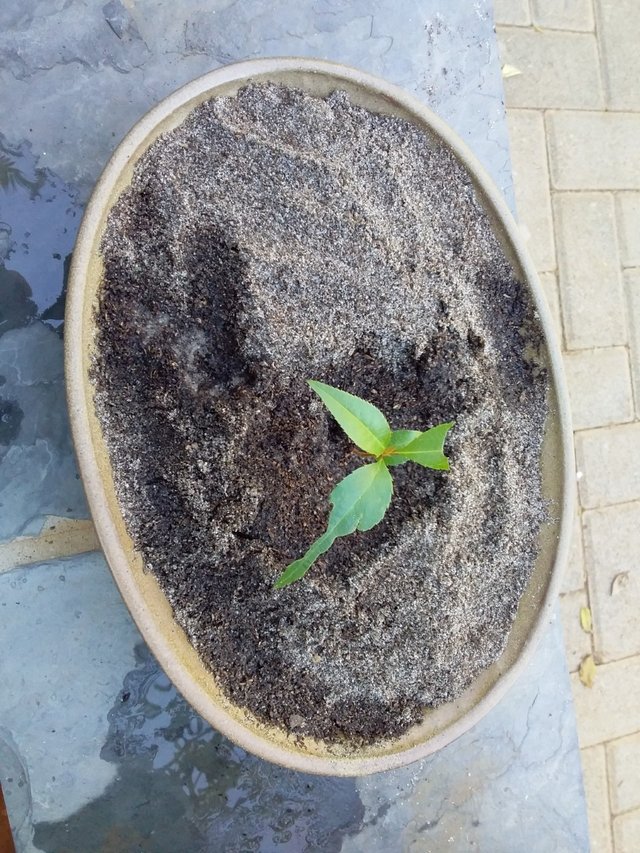 The 'said' wikipedia page: North America
See also: Cherry production in Michigan
In the United States, most sweet cherries are grown in Washington, California, Oregon, Wisconsin, and Michigan.[40] Important sweet cherry cultivars include Bing, Ulster, Rainier, Brooks, Tulare, King, and Sweetheart.[41] Both Oregon and Michigan provide light-colored 'Royal Ann' ('Napoleon'; alternately 'Queen Anne') cherries for the maraschino cherry process. Most sour (also called tart) cherries are grown in Michigan, followed by Utah, New York, and Washington.[40] Sour cherries include 'Nanking' and 'Evans'. Traverse City, Michigan is called the "Cherry Capital of the World",[42] hosting a National Cherry Festival and making the world's largest cherry pie. The specific region of northern Michigan known for tart cherry production is referred to as the "Traverse Bay" region.
Most cherry varieties have a chilling requirement of 800 or more hours, meaning that in order to break dormancy, blossom, and set fruit, the winter season needs to have at least 800 hours where the temperature is below 45 °F (7 °C). "Low chill" varieties requiring 300 hours or less are Minnie Royal and Royal Lee, requiring cross-pollinization, whereas the cultivar, Royal Crimson, is self-fertile.[43] These varieties extend the range of cultivation of cherries to the mild winter areas of southern US. This is a boon to California producers of sweet cherries, as California is the second largest producer of sweet cherries in the US.[44]
Native and non-native sweet cherries grow well in Canada's provinces of Ontario and British Columbia where an annual cherry festival has been celebrated for seven consecutive decades in the Okanagan Valley town of Osoyoos.[45] In addition to the Okanagan, other British Columbia cherry growing regions are the Similkameen Valley and Kootenay Valley, all three regions together producing 5.5 million kg annually or 60% of total Canadian output.[46] Sweet cherry varieties in British Columbia include 'Rainier', 'Van', 'Chelan', 'Lapins', 'Sweetheart', 'Skeena', 'Staccato', 'Christalina' and 'Bing'. https://en.wikipedia.org/wiki/Cherry
I then googled a few pictures of the leaves and got this https://www.google.com/search?q=cherry+tree+leaves&sxsrf=ALeKk004hWwIKNRxrfmQf-VjhRSIBtqNdw:1590735368016&tbm=isch&source=iu&ictx=1&fir=9jQjuL1wzuKnHM%253A%252CD2Nkmmf7EYIcgM%252C_&vet=1&usg=AI4_-kTXMLdsYZaKP77CGSigJR24_BsDTQ&sa=X&ved=2ahUKEwj256qEv9jpAhW9VRUIHb6bCdsQ9QEwAXoECAsQMg#imgrc=9jQjuL1wzuKnHM:
On futher inspection this is almost certainly not the traditional red Cherry Tree as the leaves look much more rounded on those, however the black Cherry Tree??? We may be onto something?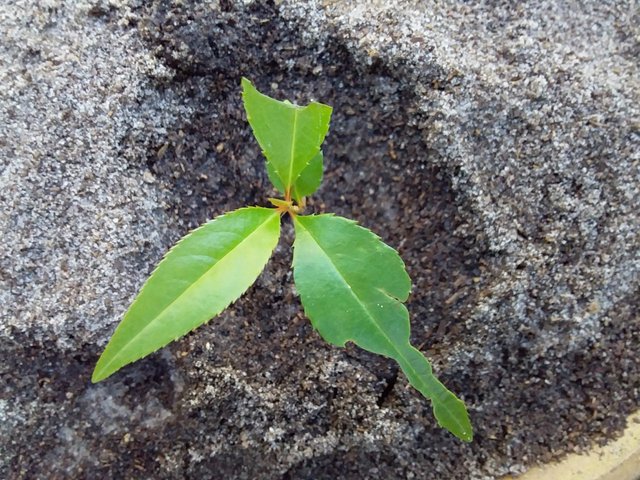 I put my newly cultivated Boabab Bonsai as well as Carolina Reaper plants indoors at night as to escape the frigid cold in South African Winter nights, as for the Cherry Tree it remains outdoors at night as it prefers the cold!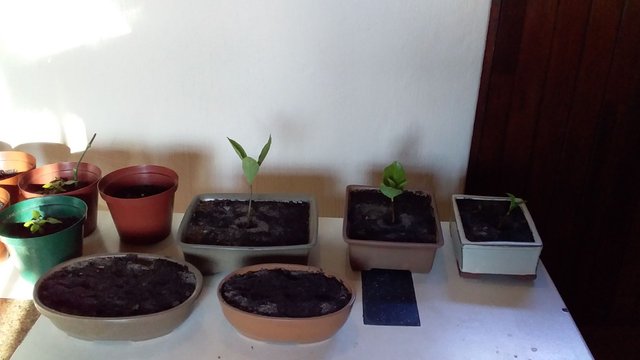 @creativetruth help me out here bud what do I have?
Nature the incredible!
Love and light, be blessed and have a magic weekend.
Cheer$;)