Hey Jesstartups
The world of startups has been glamorised under the guise of millennials and their infinite genius and wanting to be lazy coming up with all sorts of weird and wonderful ways to do things better. The spirit and essence of it, I am totally on board with, why shouldn't we make our lives better? But not at the expense of making other peoples lives fundamentally worse.
Startups often get amazing publicity even before they even achieved anything, all they need is a cool name, logo and funding no matter how rubbish the product-market fit is if you have enough cash flow from backers you'll eventually overrun the competition on your way to gobbling up the total addressable market cap.
We've seen this strategy play out time and time again, and eventually, they get a point where they have enough users that the rest don't matter, they can lower their standards and prise gauge consumers to death. These startups don't just cannibalise the competition, the game is to cannibalise the consumer too.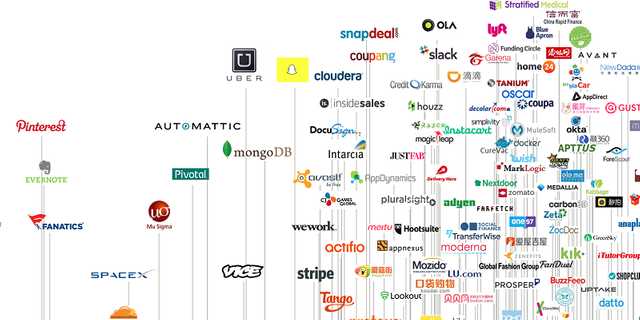 Image Source: - businessinsider.com
No free market when capital is free
I am a strong proponent of the free market and competition providing the best way forward for both businesses and consumers. However, with the digital economy and the internet any company with close ties to free money is able to dominate their respective market, yes some do fail but the ones that succeed do so in ways that are detrimental to society.
You only have to look as far as Facebook to see what infinite access to money can do in tying up competition and making sure you remain dominant.
It is by no means a fair hunting ground, the talented startup owner can only pick away at the big guys for so long before they are either priced out or acquired, which to be fair to any business owner, taking the cash to be acquired is the rational step.
The farce of the unicorn
The unicorn is based on the idea that one company can do it faster and cheaper if given all the resources and customers but we all know that power needs to be balanced or it is corrupted, that is the nature of the free market.
The unicorn has brought us anecdotal improvements that I can agree with but the cost of jobs, the cost of production, the cost of inefficiencies it creates over time is by no means worth it.
The only reason it continues is because its wildly beneficial for maintaining the status quo of the 1%.
These money losing monstrosities are kept alive until they can be dumped on the public to take the loss or become public ulitities people are almost forced to use in a way.
Have your say
What do you good people of HIVE think? How do you justify all this money wasting?
So have at it my Jessies! If you don't have something to comment, comment "I am a Jessie."
Let's connect
If you liked this post sprinkle it with an upvote or esteem and if you don't already, consider following me @chekohler and subscribe to my fanbase
| Browse & Earn Crypto | Donate LikeCoin For Free | Earn Interest On Crypto |
| --- | --- | --- |
| | | |
---