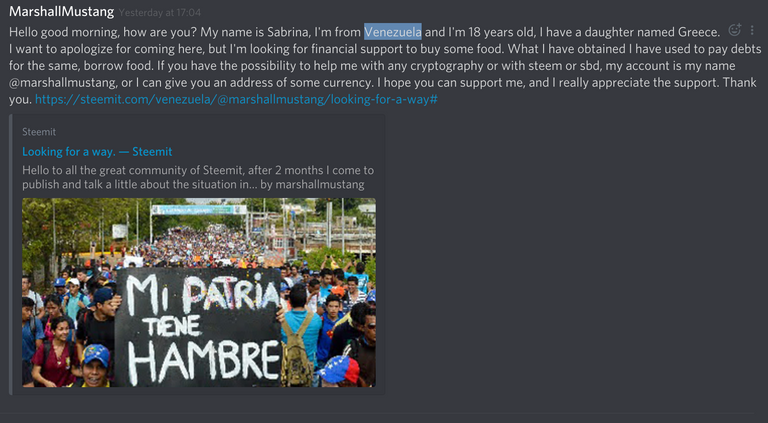 While my normal focus on Steem are the amazing new technological developments that are being made real, on Friday afternoon I saw another extraordinary side to Steem.
I was contacted on Discord by Sabrina, and 18 year old Venezuelan who was struggling to buy food for her and her daughter.
While I am normally wary of unsolicited Discord contacts, I checked out her Steem blog (@marshallmustang) and could see original content and artwork about the situation in Venezuela going back for many months and no warnings from Cheetah or other scam watchers.
So I decided to upvote and resteem her latest post and send her a bit of Steem to help her out.
I was able to do this on my phone with a few clicks while I was busy cooking a BBQ for a dozen people for dinner.
I was reflecting on how lucky I was to live in an advanced first world country like Israel with a strong currency (actually the strongest in the world at the moment).
I was also reflecting on how I was able to give direct and instant charity to someone in need on the other side of the world, and also do some basic due diligence on them via their Steem blog.
No bloated charity NGOs taking a huge cut from donations or distributing money to terrorists - as I personally exposed World Vision Australia for doing.
No massive delay between me giving the money and the needy person receiving.
Moreover, I was able to suggest an additional income making opportunity on Steem to @marshallmustang: playing Steem Monsters with a deck I would delegate and her earning cards and DEC!
Teaching a girl to fish .... the best form of charity.
I'm even easily able to share some of this post's earnings with her.
The Steem price may be in the toilet right now, but what Steem is delivering is heavenly: from businesses, to gamers, bloggers and allowing people in 3rd world countries to earn a living from their brain online - Steem is the future!
Once you've experienced it you can't go back to the old ways of doing things.
A few days ago I got a significant investment via PayPal to @jpbliberty and lost 7%!! getting it into Aussie dollars - Outrageous!
Then they blocked my account until I gave them more personal information - Disgusting!
I felt like I'd gone back the Stone Age!!
On Steem I feel like I'm beta testing the future!