I finished drawing for the new contest. I kind of miss the Inktober style so decided to make it almost fully black and white. The snail is a little rebel and wanted to have some colour. Who am I to deny some colour to the poor creature? :)
This weeks image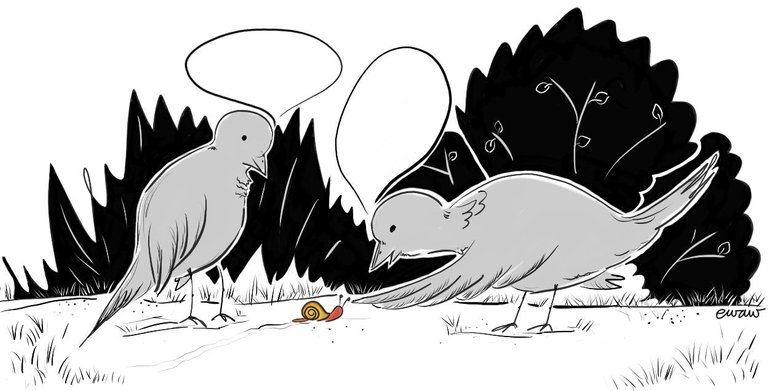 What you have to do
Think of something short and funny/sad/creepy/sarcastic, mean.. anything really to fill up those balloons.
Any word game will get extra points. And if you manage to make me laugh until I spit my coffee (dark humor is more than welcome!) - YOU ARE THE WINNER!
You can download the image and type the text yourself if you want and post it as a comment in this post, or just write it down in a comment section. Whatever you prefer.
The contest ends when the post reaches payout, so you have exactly 7 days to think of something really cool and I will try to announce the winners within 3 days.
Prizes:
Since this is more of a creative contest and my Steem upvote is pretty useless, I will give 20 CCC tokens (Creative Coin).
10 CCC to the winner
5 CCC each to 2nd and 3rd place.
In case there is only one participant, like this time, he/she will get the whole pool!
»«
Time for the winner of the #2 edition:
Last week there was a bunny and a birdie. Here is the full post
The decision was very hard! The whooping amount of contestants was overwhelming :) Truly!
So.. out of all 1 entries I picked the best one (the annoying bird is pretty hilarious. Well done!):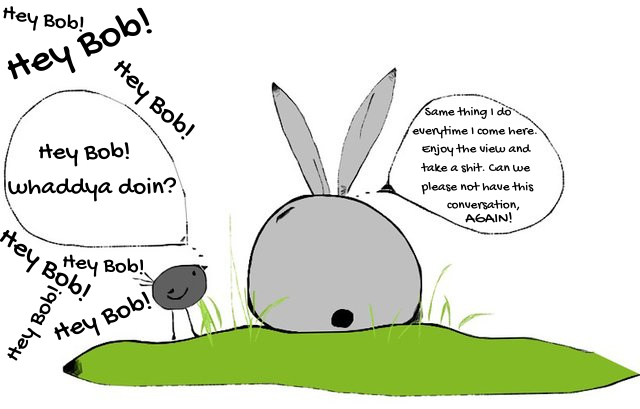 Congratulations @scrooger !
20 CCC went your way :)

---
That's all! Hope you all enjoy it and most of all have fun :)
»«
All graphics and text are my own.
»»-------------¤-------------««

REGISTRATION | UPVOTE VALUES | NEW MEMBERS BONUS
To support the project
vote for @qurator as a Steemit witness on
steemit.com, or SteemConnect
Thank you.