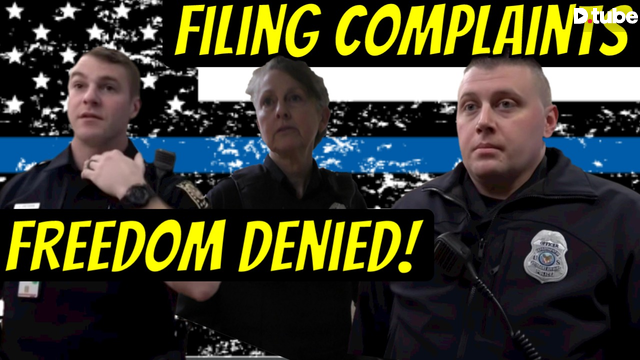 ---
If you are unable to view videos in DTube you can view this video on YouTube or BitChute by clicking the appropriate link below.
VA ARREST Follow up - Filing Complaint Against Officers Through OIG Hotline
In the end of January 2019, Rockman Al and I were arrested at the VA Hospital in Spokane, WA. After being intimidated and threatened with being thrown in a cage if we didn't delete our footage they let us go. We have tried to follow up with complainst a few times with no success. I was finally pointed in the right direction by detuty Timmons of the VA police in Spokane. He helped me identify the last of offenders. We got the correct phone number to call finally and this is Rockman Al and I filing our administrative complaints. This is just the first step of us attempting to hold these tyrants accountable. Stay tuned for more updates. Please Upvote, ReSteem and Follow!
Links to sources:
Rockman Al channel - https://www.youtube.com/channel/UCPNlcHxybH2410wau_mgILg
Rockman Al video of our arrest -

Rockman Al in revisit #2 for complaint -

My viideo of our arrest -

My follow up for complaint attempt #1 -

My follow up for complaint attempt #2 -

My follow up for complaint attempt #3 -

Footage shown;
WW1 footage -

WW2 D Day footage -

WW2 South Pacific footage -

Vietnam footage -

Soldier killed in Iraq footage -

Soldier injured in afgahnistan footage -

US helicopters killing journalist in Iraq -
You can support QA for free by downloading and using the Brave browser for free. If you value privacy while browsing the internet then you need Brave!
Find QA everywhere online!
Email - questionableauthority@protonmail.com
Any materials used are done so under the provisions of the Fair Use Act.
FAIR USE ACT
Fair Use
Copyright Disclaimer Under Section 107 of the Copyright Act 1976, allowance is made for "fair use" for purposes such as criticism, comment, news reporting, teaching, scholarship, and research. Fair use is a use permitted by copyright statute that might otherwise be infringing. Non-profit, educational or personal use tips the balance in favor of fair use.
---
▶️ DTube