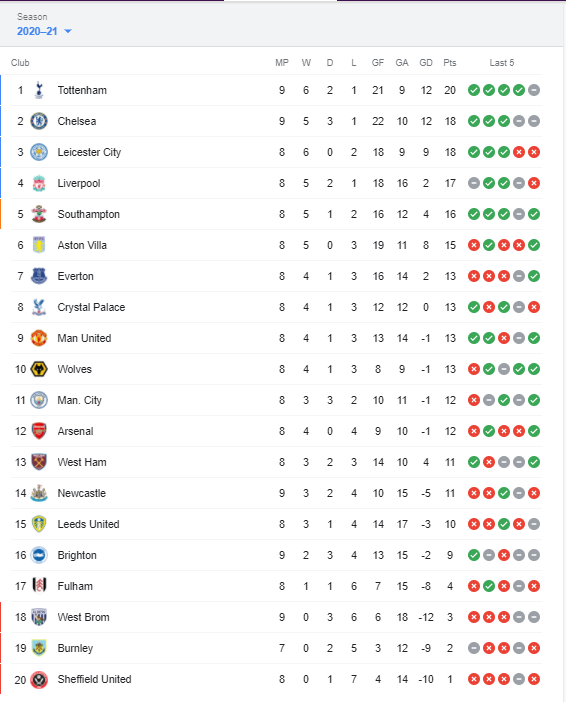 source
Even though this standing is short lived for this Saturday
it is amazing to see Chelsea hanging around top four.
Surprisingly there will be four more games this Sunday and you can see
everything shuffle back. 17 points separate all teams from first to last. It is really tight up front and tight for the bottom four. The middle always has its tricks.
Couple wins change the landscape altogether.
#Tottenham got me excited to be on top. Last year they were begging
for the opportunity but lack depth due to injuries. Son is playing really good
and they might hold to the top.
#leeds got me worried a little. They lost two in a row and they need a win quick
to move to top 10.
I should not worry much for #liverpool. Champions last year and this year
they will be tested. Teams will play them harder and Mané and teammates
will figure it out quick.
#Man. City suffered a lost today against Spurs due to a lack of determination.
I should not say there is a rivalry, but the top is on everyone's mind.
City is falling down slowly. Thanks to many weakest links, they will rebound.
#United was out of contention for the whole start of the season. A win and there
is what they need. Hopefully they wish to score more points and have more goals differential against a bottom team.
United is just the name lately. Couple more wins, the world will think otherwise.
Everton was on fire at the beginning. We are still at the beginning and they lost
three. this is not a good streak. Hopefully they can hold this train wreck in place.The next five meetings, they should easily win 3/5. That should help them stay relevant.
I am looking at the bottom three and it is really hard Sheffield, Burnley and West Brom suffer. Just one win will make a huge difference and Fulham is not safe either. Somehow I do not like relegation but it does push all teams to play harder.
I wish they have that in the league here so no teams will tank intentionally.
If you follow the EPL closely, there is a number of wins you need to get and you should be safe for the season.
Is your team playing their best right now ?