This is my entry for #marketfriday hosted by the sweet and generous @dswigle. This whole week the temperature has been around 40 degree Celsius in Bangkok, making it very difficult to go about town. So, I am going to show you where I would go for my fast food. My favourite dish is padthai which is a very well known dish in most Thai restaurants overseas. But these restaurants could not always get the basic ingredients so they have to modify the recipe a little. The important ingredient is the sauce which is made from sour tamarin, coconut sugar and special prawn paste. Most Thai restaurants would adjust the taste of padthai to suit the local customers' demand. So, it is not surprising that you would find that padthai would never taste exactly the same in all food stalls or restaurants.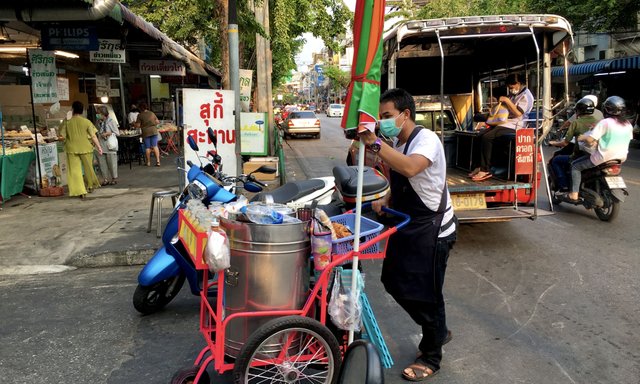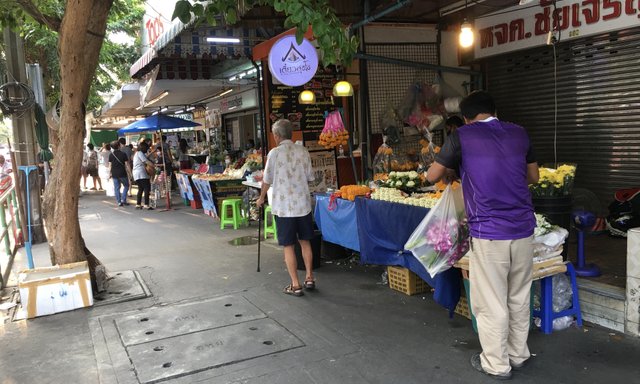 I would take the local red minibus to the local market where vendors would started to arrive at their designated locations around late afternoon. I tried to arrive a bit early so as to avoid long waiting queue. The street food stalls were huddled together in a very long narrow alley. At first,I was quite amazed to find street food right in front of old shop-houses. The local residents did not mind the sound, smell and smoke of cooking food at high heat throughout the evening. The atmosphere in this narrow alley was always busy, lively and friendly. These local people were very polite and so eager to please customers.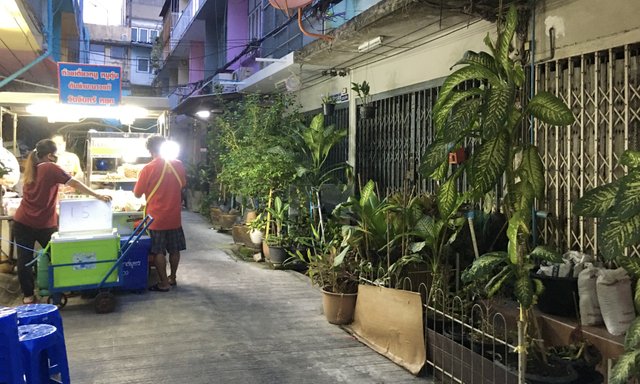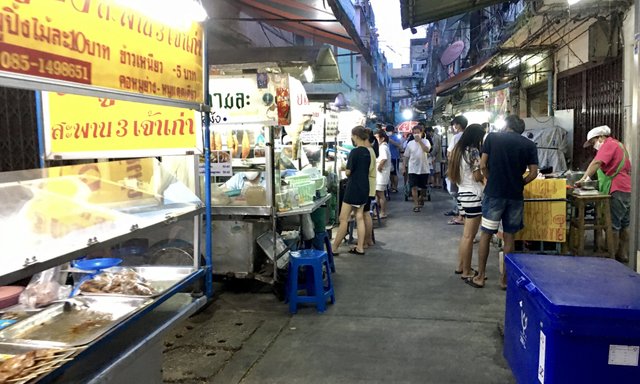 I quite liked the local people's effort in having some green plants around the houses. This reflected that most people would love to have trees and green garden if they had some space for gardening.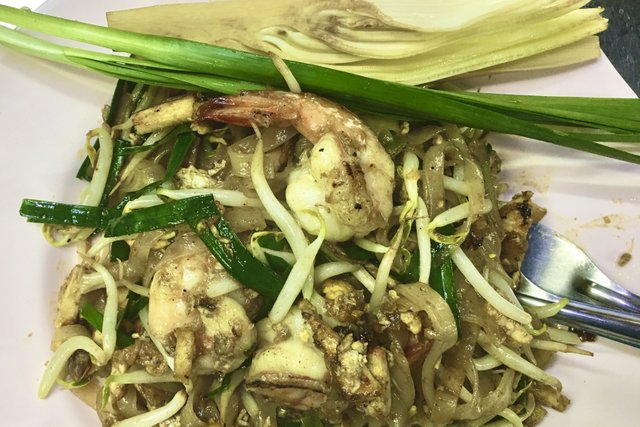 This was how my padthai looked like! It was a stirred frying of rice flour noodles with diced of tofu, small dried shrimps, bean sprouts, a few big prawns, peanuts and egg. If you are allergic to prawns, you could order either chicken or pork instead; the vendor also provide for vegetarian. For those who are allergic to peanuts, you could tell the vendor to skip the peanuts too. I usually asked the vendor to skip sugar, MSG, small shrimps, and dried chili. I would ask for extra diced tofu!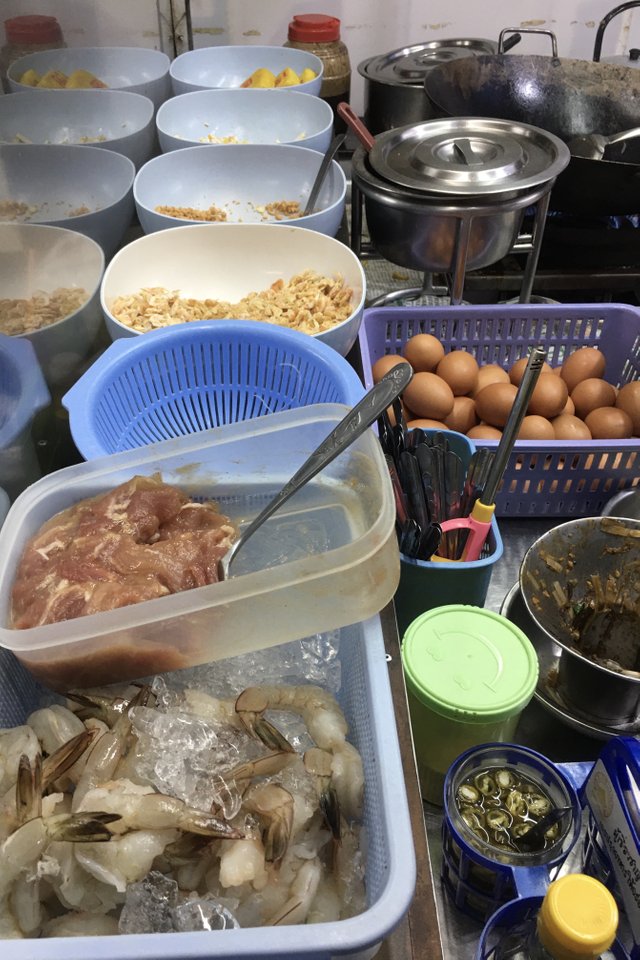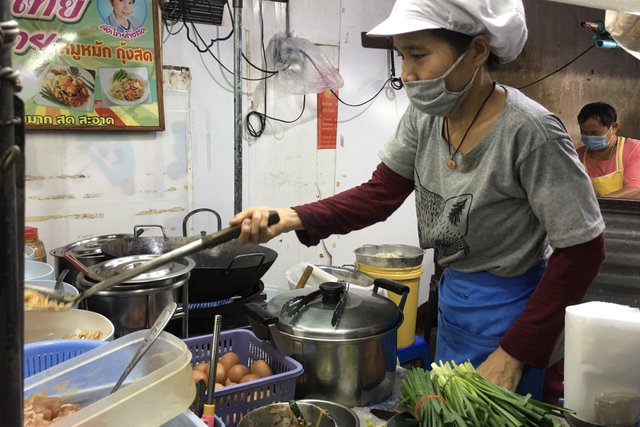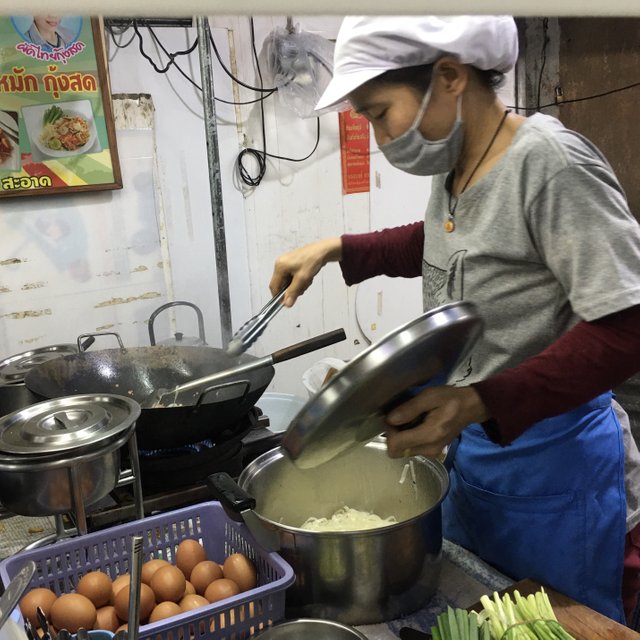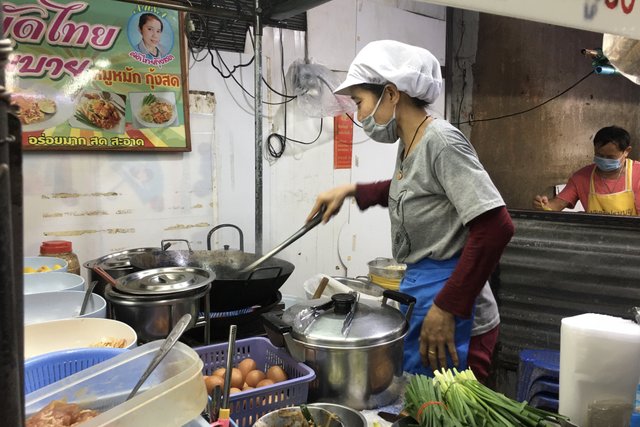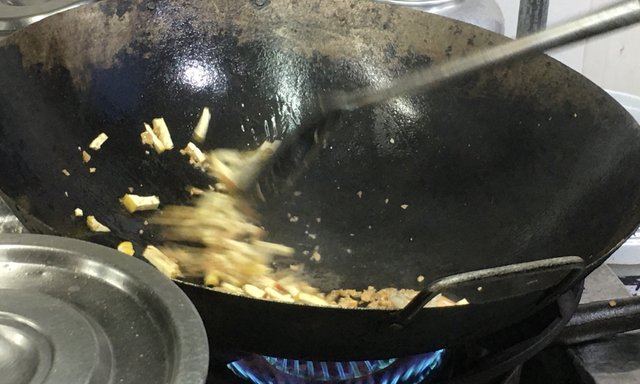 สัปดาห์นี้อากาศร้อนระอุ ทำให้เราไม่อยากออกไปเดินท่ามกลางไอแดดเลย เราจึงไมได้ไปซื้ออาหารจานโปรดคือผัดไทยมานานหลายวันแล้ว ร้านนี้เป็นร้านโปรดที่ทำผัดไทยได้อร่อยถูกอนามัย และยอมทำตามความต้องการของเรา คือไม่ใส่นํ้าตาล ไม่ผงชูรส ไม่พริกป่น และไม่กุ้งแห้ง คนขายฟังเราสั่งอาหาร แล้วก็หยุดตั้งสติก่อนพยักหน้าว่า โอเค เราก็มีเวลาเดินเล่นในซอยแคบๆ ที่มีบ้านแถวแบบสมัยก่อนเป็นแถวยาว คนที่นั่นมาาทางจะชอบต้นไม้มาก บางบ้านมีกระถางต้นไม้ตั้งรอบบ้าน ทำให้บรรยากาศในซอยมีชีวิตชีวามากขึ้น ดูคนที่นี่ใจเย็นและใจดีมาก เขาไม่บ่นกันเลยว่าร้านอาหารเหล่านี้ ทำเสียงดัง มีกลิ่นและควันโขมงไปหมด คนเขาถ้อยทีถ้อยอาศัยมาก นับว่าเป็นชุมชนที่มีความสามัคคีและโอบอ้อมอารีมาก เราขอบดูวิธีการทำผัดไทยมาก แต่ก็จำไม่ได้ทั้งหมด ทำให้ไม่กล้าลองทำกินเองบ้าง เราไม่ค่อยสันทัดการผัดอาหารแบบคนจีนที่ชอบใช้กระทะใบใหญ่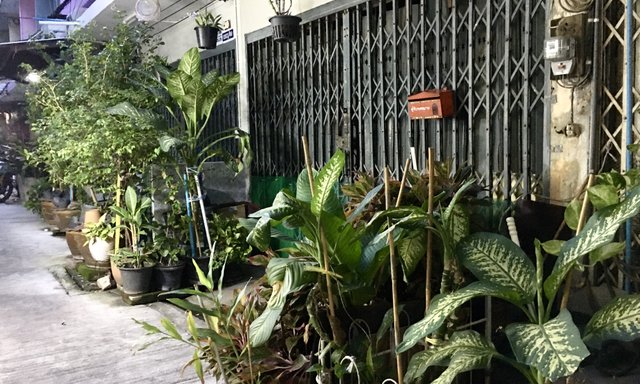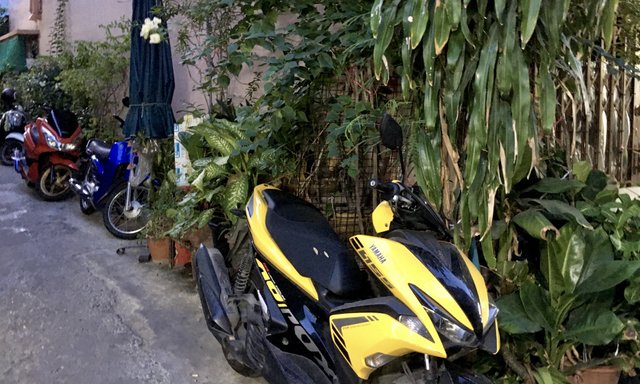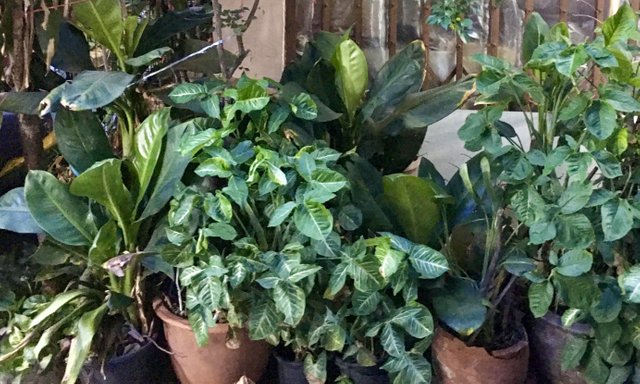 เราเดินไปหาซื้อขนมหวานไทยโบราณ อย่างเช่น ขนมต้มและถั่วแปบแต่คนขายหยุดพักผ่อน เราก็เดินกลับมาที่ร้านผัดไทย ก็พอดีได้ดูเขาทำตอนร้อนๆเลย เรานับถือความอดทนของคนขายมาก ทั้งร้อนทั้งต้องใช้พลังแขนอย่างมาก เราคิดว่าเราคงทำผัดไทยกระทะใหญ่ไม่ได้แน่ๆ คนทำต้องเร็วมากไม่งั้นอาหารไหม้หมด เราถนัดอาหารแบบฝรั่งมากกว่า ใช้การต้มการนึ่ง และผัดด้วยความร้อนกลางๆ คนขายใจดีมาก เราขอเต้าหู้เพิ่มเขาก็ใส่มาให้หลายช้อนทีเดียว เราจะให้ตังเพื่มเขาก็ไม่ยอมรับ เราคิดว่าคนขายแทบไม่ได้กำไรเลย หรือไม่ได้ค่าแรงเลย เขาก็บอกว่าขายแบบเอากำไรน้อย พออยู่ได้และให้ลูกค้าทั่วไปสามารถกล้ามาใช้เงิน เขากลัวว่าเศรษฐกิจแย่แบบนี้ ถ้าขายแพง คนซื้อจะหายไปหมด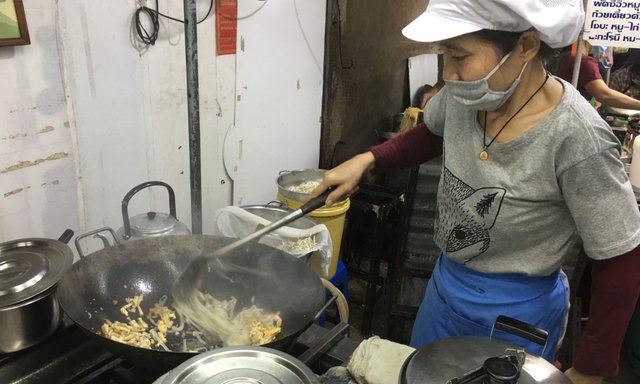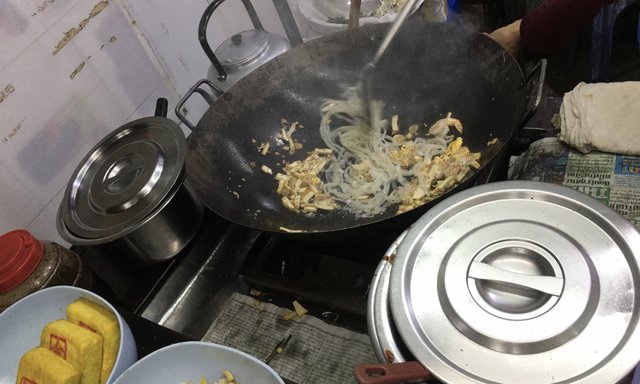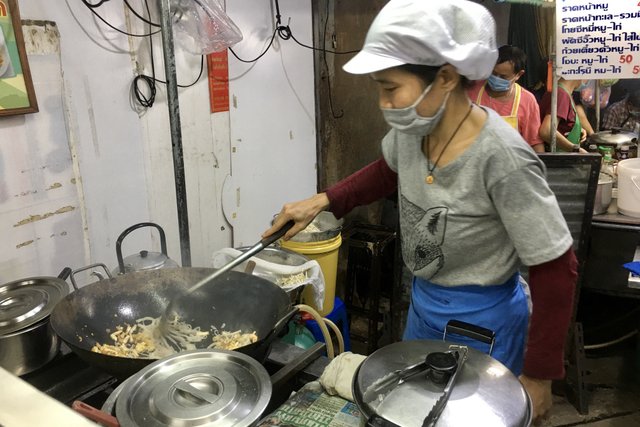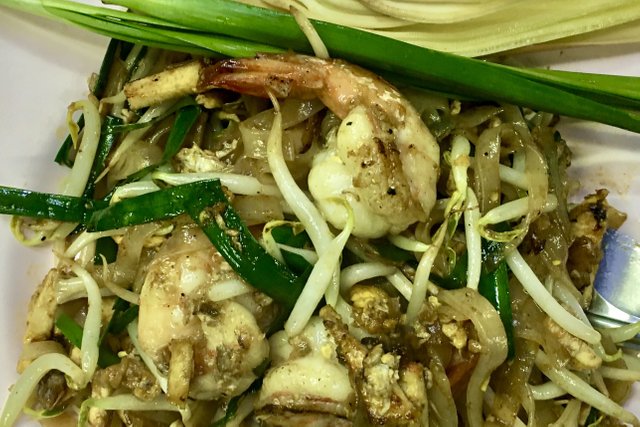 เราคิดว่าเราโชคดีมาก ที่บังเอิญไปเจอแหล่งอาหาร และขนมที่อร่อย สะอาดและราคาย่อมเยาว์ เราเคยกินผัดไทยที่โรงแรมห้าดาว ก็ยังอร่อยน่ากินสู่ผัดไทยในซอยไม่ได้เลย
I think I was very lucky to have stumbled on this narrow alley of delicious street food where people are very kind and lively. If I weren't a vegetarian, I would review other fantastic food in this wonderful food den!
Wishing you all a very nice weekend.
Cheers.