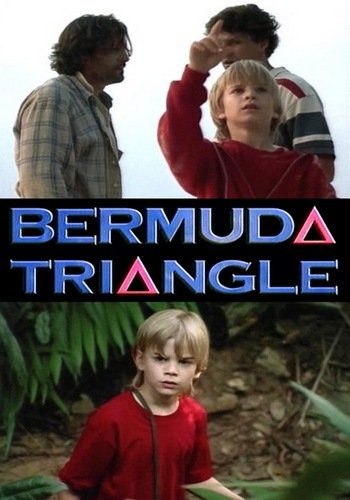 We live in the era of cell phones and GPS and it is hard to imagine times when large sections of world maps used to be blank and when cartographers used to compensate lack of data with imagination, usually in the form of sea monsters. But even today, with each tiny piece of globe charted, there are some areas that still inspire sense of dread, mystery or adventure. The best known of them all is the setting of The Bermuda Triangle*, 1996 television film directed by Ian Toynton.
The plot follows the misadventures of Dr. John Everman (played by Sam Behrens) and Dr. Grace Everman (played by Susanna Thompson), two married physicians who have decided to bring their two children - Lisa (played by Annie Jakub) and Sam (played by David Gallagher) - to the vacation of lifetime in the form of Bermudas boat cruise. When their boat gets struck by freak storm they all end up shipwrecked on mysterious, uncharted island. Soon they discover that the island is populated by people who had experienced similar fate and are apparently unable to return to civilisation. Reason for that might be the fact that the stars in the night sky don't match planet Earth's and Evermans must reconcile with the fact that they are stuck in the alien world. Before figuring out some desperate way to return home, they have more immediate task at hand - Sam is diabetic, dependant on rapidly decreasing supplies of insuline.
Presence of familiar faces like Jerry Hardin (Deep Throat from The X-Files) and Naomi Watts is not the only pleasant surprise in this obscure television film. Faced with budget limitations, screenwriters Stephen McPherson and Elizabeth Bradley have decided to use Bermuda Triangle legend as an excellent background for Robinsonian family adventure. Director Ian Toynton, who had gathered quite an experience working on British television, handles this material quite smoothly and makes a good use of attractive tropical locations and underwater cinematography. The major drawback of the film is its open ending. The Bermuda Triangle* looks like it was something of a pilot for much more ambitious TV-series thatunfortunately ended in a vortex of its own.
RATING: 5/10 (++)
(Note: The text in its original form was posted in Usenet newsgroup rec.arts.movies.reviews on April 17th 2003)
==
Blog in Croatian https://draxblog.com
Blog in English https://draxreview.wordpress.com/
Cent profile https://beta.cent.co/@drax
Minds profile https://www.minds.com/drax_rp_nc
Uptrennd profile https://www.uptrennd.com/user/MTYzNA
Brave browser: https://brave.com/dra011
BTC donations: 1EWxiMiP6iiG9rger3NuUSd6HByaxQWafG
ETH donations: 0xB305F144323b99e6f8b1d66f5D7DE78B498C32A7