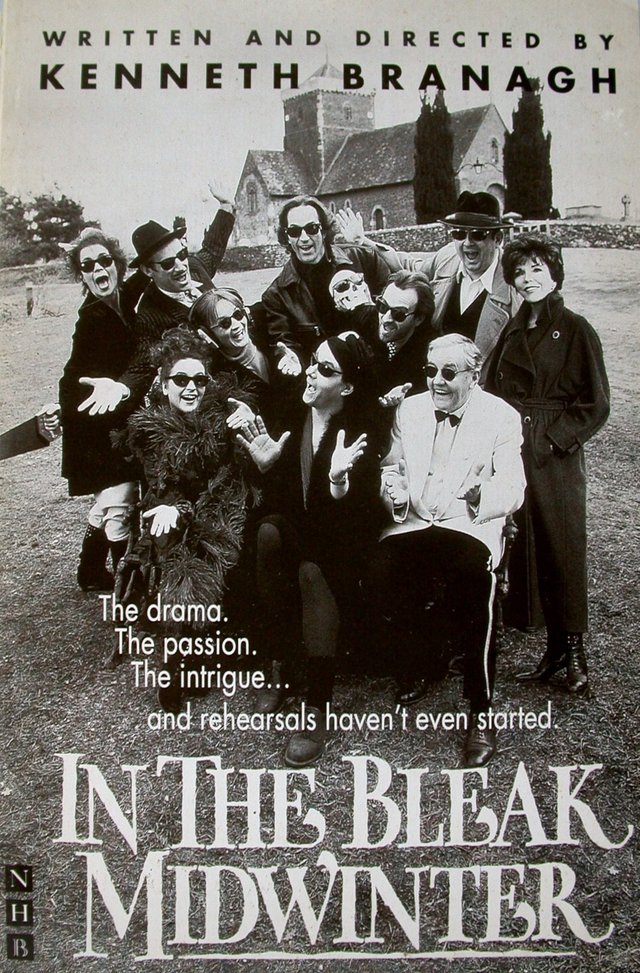 With all those ultra-modern "hip" or revisionist film adaptation of Shakespeare's plays it is easy to forget that Bard became part of world's cultural heritage thanks to stage artists. The film which would remind the audience of this fact is In the Bleak Midwinter, 1995 British comedy written and directed by Kenneth Branagh.
The protagonist of the film is Joe Harper (played by Michael Maloney), unemployed actor/director who desperately needs a project in order to restore self-confidence and put his career back on track. Rescue might come in the form of abandoned church in his home town and Joe comes to the idea of staging Christmas production of "Hamlet" in order to gather funds and prevent its demolition. Joe's agent Margaretta D'Arcy (played by Joan Collins) doesn't think that is the good idea and it soon turns out that she might be right. Joe is forced to cast inexperienced or washed-up actors and has mere three weeks to prepare production. It seems that the production lacking funds and relying on actors being forced to play multiple roles doesn't go anywhere. But as Christmas holidays approach, something starts to happen.
Shot in black and white, In the Bleak Midwinter is hard to associate with the name of Kenneth Branagh, British actor/director best known for spectacular and faithful adaptations of Shakespeare's work. On the other hand, Branagh (this time not appearing on the screen) probably wanted to pay homage to his colleagues in this film that many might call semi-autobiographic. One of the reasons why British actors tend to be more reliable than their American counterparts is in the fact that they usually earn for their living in small-time theatre productions and thus constantly sharpen their skills. Through the comical story of one of such productions, Branagh reminds the audience with all difficulties and personal sacrifices that come with acting profession. Some finer jokes are incomprehensible to anyone not familiar to the world of stage, but most of times In the Bleak Midwinter is quite funny. The acting is very good, as it could have been expected from this kind of film (although Michael Maloney tends to to be too hysterical at times). The general impression of the film is positive, although In the Bleak Midwinter works best when viewed during winter holidays.
RATING: 6/10 (++)
(Note: The text in its original form was posted in Usenet newsgroup rec.arts.movies.reviews on April 9th 2003)