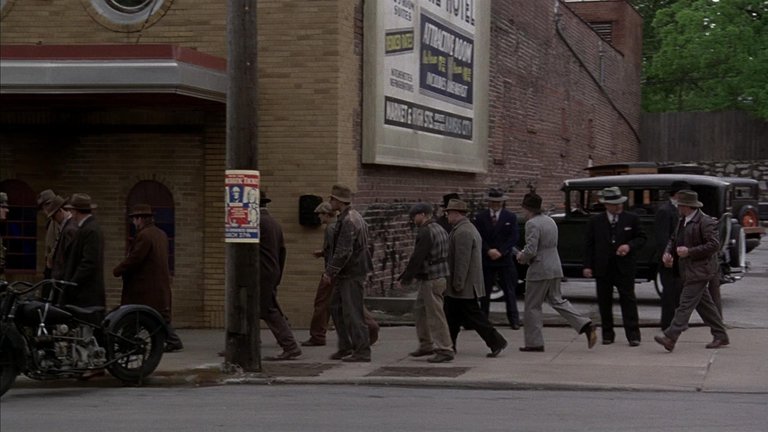 One of the most attractive things about films is in their ability to recreate past and thus allow audience to properly experience worlds otherwise beyond its grasp. That magic journey is key ingredient of many successful films but it should hardly be film maker's aim by itself. One of films that can illustrate that point is Kansas City, 1996 period drama directed by Robert Altman.
The plot of Kansas City is partially auto-biographical, because it deals with time and place quite familiar to the film's director - Kansas City at the eve of 1934 Congress elections (when Altman, city's native, used to be 9). The plot begins with Blondie O'Hara (played by Jennifer Jason Leigh), young Western Union clerk who kidnaps Carolyn Stilson (played by Miranda Richardson), drugged- out wife of Henry Stilton (played by Michael Murphy), one of President Roosevelt's advisors. Blondie doesn't want money kidnapping is just a desperate attempt to save the life of her husband Johnny (played by Dermot Mulroney), petty thief who made fatal mistake while robbing black gambler who happened to be important customer of Seldom Seen (played by Harry Belafonte), powerful black crime lord. Seen got offended and had Johhny kidnapped and brought to his club to decide his fate. When Blondie's pleas for mercy failed, she turned to Stilson's wife as a way to pressure Seldom through powerful politician and his allies from mob connected Democratic Party.
This complicated plot is just one of few in Kansas City. Altman did limit the number of seemingly unconnected plots in this film (at least compared to his previous efforts like Short Cuts or Ready to Wear), but he still had opportunity to explore various interesting subjects in this film - inter-racial relations, class struggle, political corruption, effects of Great Depression and emergence of new popular culture with special emphasis on jazz scene. Jazz music used to thrive in Kansas City in 1930s and Altman is obviously fond of it. Unfortunately he expresses his appreciation by using it as a non-stop soundtrack, and it gets annoying after a while. Some scenes and some elements of the plot seem to be nothing more than an excuse for jazz music to play in otherwise awkward context. One of such examples is Seldom Seen's decision not only to let Johnny live for a while, but also to torture him (and the audience) with boring and often pretentious monologues and socio-political philosophy. After a while the audience would cease to care what would happen to Johnny and Blondie, which is a real shame because of good acting performances. Jennifer Jason Leigh again delivers powerful performance as Jean Harlow impersonator, while Miranda Richardson is equally impressive as drugged-out wife of clueless politician. Period recreation is impressive, but even that gets tiresome after a while and for most audiences end credits are going to be the most popular segment of the film. This is big disappointment for a film which had potential of becoming another Amarcord.
RATING: 4/10 (+)
(Note: The text in its original form was posted in Usenet newsgroup rec.arts.films.reviews on September 26th 2003)