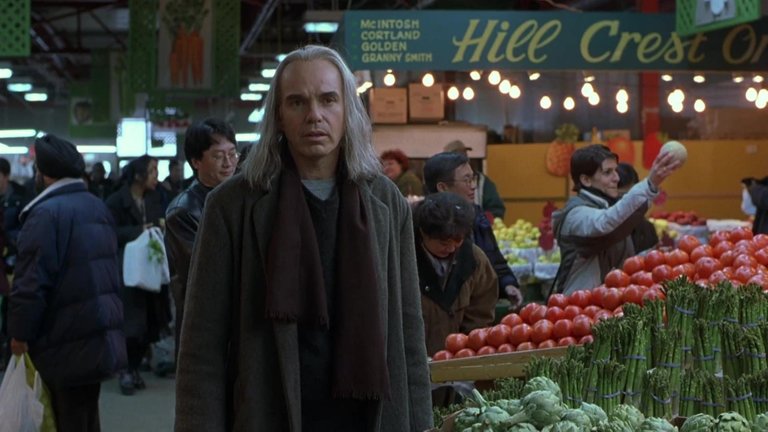 There are some films that, for some almost unfathomable reason, seem to justify their existence despite lacking any sort of originality or special quality. Levity, 2003 drama written and directed by Ed Solomon, is one of those films.
Protagonist of the film is Manuel Jordan (played by Billy Bob Thornton), man who was imprisoned for life after killing 17-year old convenience store clerk during robbery. Two decades later and against his expectations, he receives parole. During all those years Manuel has thought hard about his crime and once he gets out he is determined to redeem himself. He returns to his home town and finds temporary job as a caretaker in inner city youth centre, run by colourful street preacher Miles Evans (played by Morgan Freeman). He also befriends the sister of his victim and notices that her young son, who hangs out with the wrong crowd, might very well make the same mistakes Manuel had once made.
According to Ed Solomon, the script for Levity was in development for almost two decades, but it is hard to see that in the film. The story is simplistic, the plot and its resolution are predictable while characters are one-dimensional. Solomon adds to it with heavy-handed symbolism and scenes during which protagonist is accompanied with the ghost of murdered youth. Thankfully, the acting in the film is very good. Billy Bob Thornton's minimalistic approach might not be the most spectacular moment of his career, but it is quite suitable for the role of Manuel. Other notable names also contribute to film's watchability, regardless whether their characters are one-dimensional (like the one played by Holly Hunter) or completely unnecessary to the plot (like the troubled girl played by always dependable Kirsten Dunst). Another of film's assets is Roger Deakins' cinematography which captures cold and bleak atmosphere of city during winter. This little touch of style is enough to compensate for the lack of substance in Levity. This film might not be the most profound or memorable viewing experience, but it is far from being a waste of time either.
RATING: 5/10 (++)
(Note: The text in its original form was posted in Usenet newsgroup rec.arts.films.reviews on March 19th 2005)
Blog in Croatian https://draxblog.com
Blog in English https://draxreview.wordpress.com/
Leofinance blog https://leofinance.io/@drax.leo
Cent profile https://beta.cent.co/@drax
Minds profile https://www.minds.com/drax_rp_nc
Uptrennd profile https://www.uptrennd.com/user/MTYzNA
Hiveonboard: https://hiveonboard.com?ref=drax
Rising Star game: https://www.risingstargame.com?referrer=drax
1Inch: https://1inch.exchange/#/r/0x83823d8CCB74F828148258BB4457642124b1328e
BTC donations: 1EWxiMiP6iiG9rger3NuUSd6HByaxQWafG
ETH donations: 0xB305F144323b99e6f8b1d66f5D7DE78B498C32A7