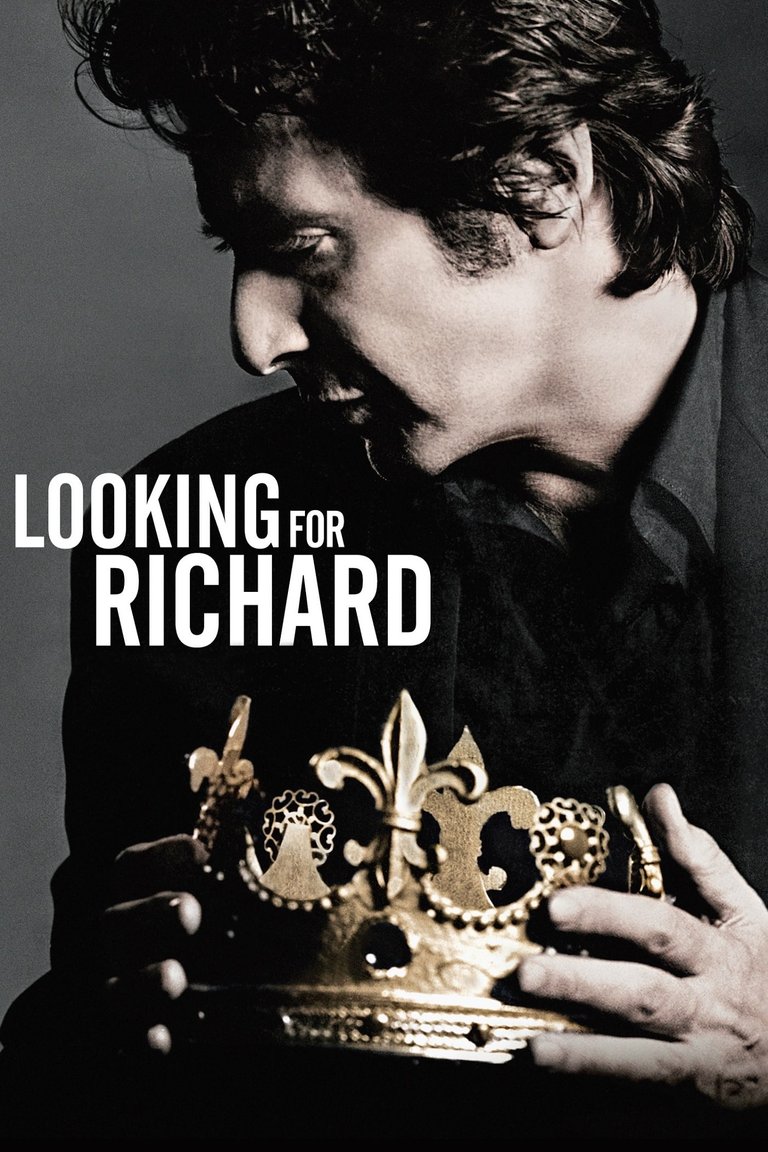 Arguably the greatest thing about William Shakespeare's opus is not its ability to inspire actors, writers and film makers for more than four centuries. It lies in its ability to be interpreted and re-interpreted in so many different ways, producing diverse cultural universe in itself. In 1996 Shakespeare's historical drama Richard III served as an inspiration for two very interesting films that offered different takes on its subject matter. Shortly after Ian McKellen's use of alternative history (fascist 1930s Britain) setting for his version, famous actor Al Pacino tried his, semi-documentary approach in Looking for Richard.
Looking for Richard, the very first film directed by Pacino, is combination of "regular" film adaptation of Shakespeare's play and the documentary footage that is added in order to make Shakespeare's ancient text closer to modern audience. So, the film starts with Pacino preparing for his play/film, researching the material, interviewing all kinds of people (university scholars, actors, passer-bys on the street), scouting locations, discussing casting decisions and finally rehearsing the roles with the cast that includes such recognisable names like Harris Yulin, Kevin Spacey, Aidan Quinn, Winona Ryder and Alec Baldwin. Pacino also uses a lot of narration in order to guide the uninitiated audience through the maze of 15th Century English politics.
Depending on what individual viewer thinks or feels about Al Pacino (whose great talent could degenerate into annoying over-acting at too many occasions), Looking for Richard could be viewed as vanity project or as labour of love. Scenes in which Pacino expresses his more than obvious admiration for the play and its author (through pilgrimages to Shakespeare's birthplace and Globe Theatre) point to the latter. The fact that Pacino took the title role for himself and that most of the scenes feature him point to the former. Yet, Looking for Richard is for the most part entertaining and interesting piece; documentary footage provides a lot of information for those not familiar with the drama, and the abridged version of the play, presented through effective recreation of the most pivotal scenes, is engaging. The rest of cast also shows great enthusiasm for the project and music by Howard Shore bring pathos and, subsequently, almost surreal combination of historic drama and every day banality of play. But Looking for Richard, despite some questionable editing choices (for some reason Pacino discarded chronology in documentary scenes) and despite some of interviewees not offering any meaningful insight, succeeds in its ultimate intention – at the end, old Shakespeare's play is much closer to the audience than it was before.
RATING: 7/10 (+++)
(Note: The text in its original form was posted in Usenet newsgroup rec.arts.films.reviews on September 26th 2003)