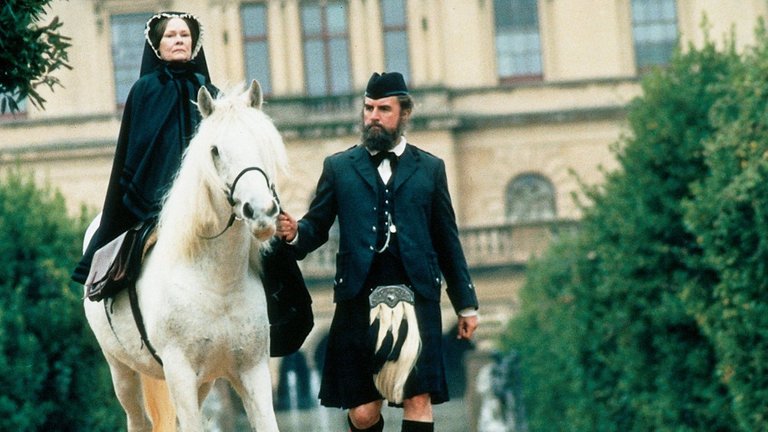 Today it is impossible to review films without frequently using the word "Victorian". This is just one of many examples of British Queen Victoria being among historical figures with the greatest influence on today's popular culture. Ironically, Victoria, who reigned over British Empire from 1837 to 1901, was more a symbol than statesman or national leader. Even her private life was unusually ordinary and uneventful compared with her more colourful predecessors and successors. Film makers had to look very hard in her biography before they could find material worthy of a feature film. One such incident was used for Mrs. Brown, 1997 drama directed by John Madden.
The plot of the film starts in 1864, in a time that used to be the darkest period of Victoria's life. Queen (played by Judi Dench) can't deal with the loss of her beloved husband Prince Albert who died three years ago. She wears black, barely leaves Windsor Castle and has little interest in politics or national matters. Sir Henry Ponsonby (played by Geoffrey Palmer), her loyal secretary, is worried for monarch's mental health so he tries to lift Victoria's spirits by summoning John Brown (played by Billy Connolly), rugged Scotsman who used to be Albert's favourite servant at the royal retreat in Balmoral. Brown quickly realises that Queen's problems require drastic solution, so he deliberately breeches court protocol, addresses Her Majesty as "woman" and insists that she goes out of her castle. At first shocked by Scotsman's insolence, Victoria begins to appreciate his company. Brown gradually builds her trust and talks her into moving the entire court into Scotland. Her long absence from England leads to all kinds of rumours about real nature of relationship between Queen and her favourite servant. When voices within Parliament start to demand abolition of the monarchy, prime minister Benjamin Disraeli (played by Anthony Sher) knows that he has to intervene. He travels to Scotland in order to talk Queen into returning to England and taking her constitutional duties.
This BBC-produced film is one of those period dramas that British film makers can do in their sleep. Despite rather limited budget, Victorian period is reconstructed with great care for the details. John Madden directs film with great skill, managing to captivate the audience despite seemingly unattractive story about old, unattractive woman in the mourning. For Judi Dench, who plays the monarch, this film wasn't particularly difficult task - in James Bond films she showed how easily she can play women of authority. She was nevertheless outshined by Billy Connolly, Scottish comedian who shows that he can deal even with the most difficult of all dramatic roles. His role of John Brown is very interesting and in it Connolly, who looks very much like Sean Connery in his early days, shows great skill because his character goes through complicated transformations from common sense outsider into paranoid member of the court establishment. Another great performance comes from Anthony Sher, who gives fascinating portrayal of a character who was among the first truly modern politicians in British history.
Despite being well-acted, well-directed and very interesting, Mrs. Brown is burdened with serious flaw, which is, ironically, one of its strengths. Madden and his scriptwriter Jeremy Brock wisely chose not to speculate about true nature of the relationship between the rugged Scotsman and woman nicknamed "Mrs. Brown". Viewers are left only with hints based on the actual historic records and the question whether two protagonists were romantically involved or not remains unresolved. This prevents film from sinking into sappy melodrama, but it also leaves little space for real drama. The ending of the film lacks catharsis and represents a disappointment. But Mrs. Brown as a whole deserves recommendation as another good example of British television's craftsmanship.
RATING: 6/10 (++)
(Note: The text in its original form was posted in Usenet newsgroup rec.arts.films.reviews on May 11th 2004)
Blog in Croatian https://draxblog.com
Blog in English https://draxreview.wordpress.com/
Cent profile https://beta.cent.co/@drax
Minds profile https://www.minds.com/drax_rp_nc
Uptrennd profile https://www.uptrennd.com/user/MTYzNA
Rising Star game: https://www.risingstargame.com?referrer=drax
BTC donations: 1EWxiMiP6iiG9rger3NuUSd6HByaxQWafG
ETH donations: 0xB305F144323b99e6f8b1d66f5D7DE78B498C32A7