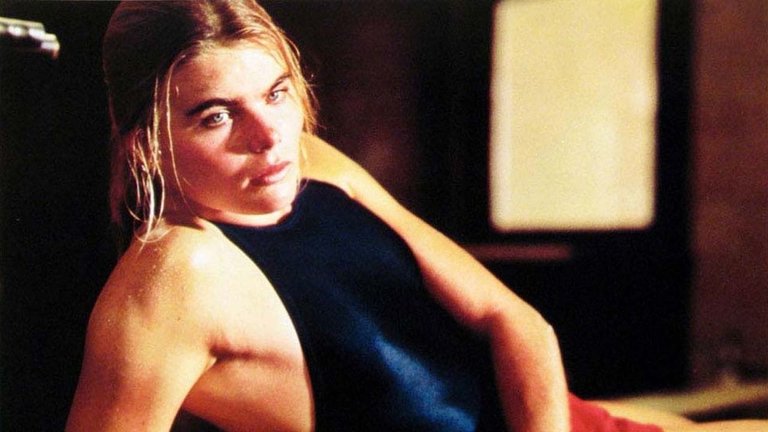 Films that contain explicit lesbian scenes are usually those that lack even the semblance of seriousness and realism in depiction of lesbians relationships. Films that contain lesbian relationship as an importantpart of the plot are usually not those that have something other than gay issues as a their major theme. Filmsthat fill of the criteria above and were made in early 1980s represent microscopic rarity. Personal Best, 1982 sport drama written and directed by Robert
Towne, is one such film.
Protagonist of the film is Chris Cahill (played by Mariel Hemingway), young track and field runner that tries to qualify to American team for 1976 Montreal Olympics. She fails, but in doing so gets noticed by more experienced and talented pent-athlete Tory Skinner (played by Patrice Donnelly). Two women quickly become friends and lovers and Tory becomes Chris' mentor. All that changes when Terry Tingloff (played by Scott Glenn) becomes Chris' coach and notices great talent in young woman. Both Tory and Chris are going to compete against each other in order to secure places in US team for 1980 Moscow Olympics. Their rivalry slowly ruins their relationship and after the injury and break-up Chris finds comfort in young water-polo player Denny Sittes (played by Kenny Moore).
Robert Towne, one of Hollywood's most celebrated screenwriters, created very convincing depiction of sacrifices - both physical and mental - that athletes must make in order to get their brief moment of glory. In doing so, he also showed how those sacrifices co-exist with non exactly Spartan lifestyle that includes alcohol, drugs and casual sex. The athletes in this film are vulnerable, jealous, paranoid – just like any other normal human being in competitive environment would be. Personal Best refuses to succumb to Hollywood sport film cliches - there aren't any clear villains in this film (tyrannical coach Tingloff is closest to this category) and even the great sport event ends on ironic rather than triumphant note, since the athletes won't be competing on 1980 Moscow Olympics due to US boycott. Towne portrays the athletes' world with maximum of realism that includes few scenes of female full frontal nudity. Some might argue that those scenes were gratuitous, included only to bring male viewers to theatres, but it is somewhat difficult to imagine realistic film taking place in locker rooms without those scene. Towne decided to fend off any ultra-feminist criticism by including scene that features male full frontal nudity. More problematic are the endless scenes that show young female athletes displaying their abilities in slow motion; they look more exploitative in nature and only prolong the film to more than two hours.
The acting in the film is, on the other hand, superb. Young Mariel Hemingway excels in difficult and risky role that demands not only nudity and explicit sex scenes but also ability to realistically portray transformation of fragile girl into mature woman. This film is also a good opportunity to see how Mariel Hemingway looked like before enhancing her breasts with silicone for the purpose of her role in Bob Fosse's Star 80. Her partner Patrice Donnelly also displays great skill in portraying more mature athlete, which is hardly surprising, since she used to be athlete in real life. It is real shame that Donnelly didn't appeared more in movies after this film. Scott Glenn is also good in a convincing role of a man torn between his basic lust and desire to maintain authority at all cost. In any case, Personal Best, with its intelligent portrayal of usually misused subjects is a film that should be recommended for viewing. And male audience would probably appreciate a film that includes lesbian scenes and doesn't make them feel guilty if they enjoy it.
RATING: 7/10 (+++)
(Note: The text in its original form was posted in Usenet newsgroup rec.arts.movies.reviews on April 17th 2003)