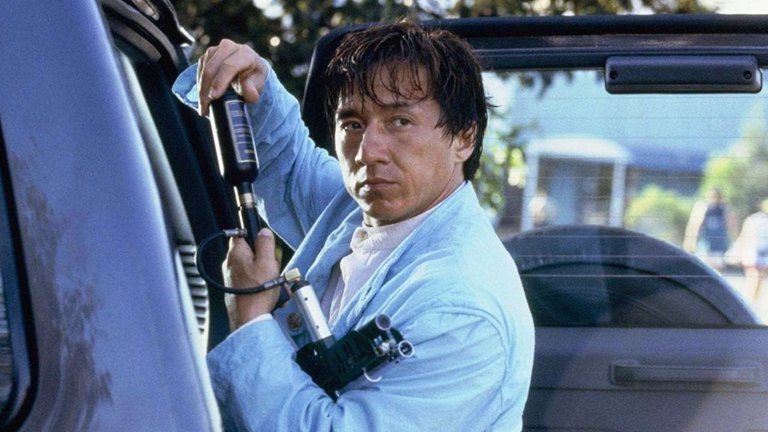 Jackie Chan's films are often both easy and hard to review. They are easy because they tend to resemble each other and they are hard to because reviewer always must find something original in the next review. One of the examples of Jackie Chan's well established formula could be found in First Strike, 1996 action comedy directed by Stanley Tong, the fourth film in Police Story series.
Like many of Jackie Chan's films, this one has rather weak plot that starts with Jackie Chan Ka Kui (in previous sequel the same character, played by Chan, was named "Kevin Chan"), dedicated Hong Kong policeman who helps CIA tracking down people suspected of nuclear arms smuggling. Jackie's trail leads him to Ukraine where he finds Hong Kong criminal Jackson Tsui (played by Jackson Liu) being involved in conspiracy. After the showdown with Tsui, Jackie is hired by Russian secret service and later boards nuclear submarine bound for Australia. In Brisbane Jackie would have to face Russian gangsters, sharks and the Tsui's beautiful sister Annie (played by Annie Wu).
All those who have couple of previous Jackie Chan's films probably know what not to expect in First Strike - coherent plot, strong characterisation, clever dialogue and common sense. But, like in most of Jackie Chan's films, those flaws are more than compensated with very effective combination of spectacular action and light-hearted humour. First Strike adds unusual locations (one of examples is Australian mountains passing for Ukraine) and many James Bond references to the mix. However, those very references also points to another big flaw of First Strike - lack of beautiful women who could match presence of Maggie Cheung and Michelle Yeoh from previous Police Story films. Yet, Jackie Chan - who worked very hard on this film and has obligatory end credits out takes to prove it - delivers his usual goods and viewers would have little reason to regret spending hour and half watching First Strike.
RATING: 5/10 (++)
(Note: The text in its original form was posted in Usenet newsgroup rec.arts.films.reviews on September 25th 2003)