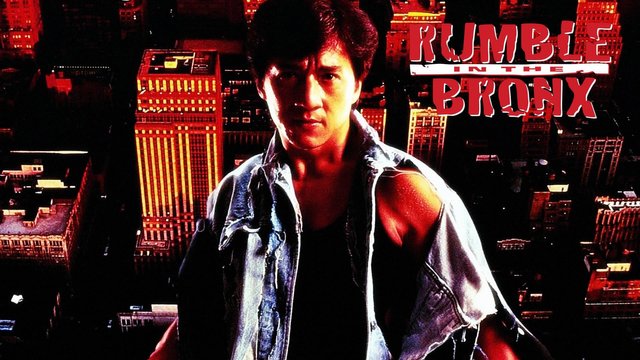 It took almost two decades for Jackie Chan to establish his foothold in Hollywood. When it finally happened, it was more result of a process than a single hit. First part of that process was Rumble in the Bronx, 1995 Hong Kong-Canadian coproduction directed by Stanley Tong.
In this film Jackie Chan plays Ah Keung, young Hong Kong man who comes to Bronx in order to attend wedding of his uncle Bill (played by Bill Tung). Before going to honeymoon, Uncle Bill sells his store to young and beautiful Elaine (played by Anita Mui) and tasks Keung to help her adapt the place. Soon Elaine's store becomes target of local biker gang led by Tony (played by Marc Arkerstream). Keung is forced to use his kung fu skills in order to protect the store and confront the thugs. While conflict escalates, some of the biker gang members become entangled in criminal conspiracy involving even nastier gang of diamond thieves led by White Tiger (played by Kris Lord). All that would have disastrous consequences for Elaine's store, together with the most of the motor vehicles and real estate in the Bronx.
Whoever demands three-dimensional characters, thoughtful exploration of some important issues or even some semblance of plot from a film should never watch Rumble in the Bronx. Jackie Chan never had ambitions of becoming serious actor nor his fans expected him to be one. For him the films are just the opportunity to do what he likes best - staging elaborate, breath-taking stunts and combine them with his very own sense of humour. His old associate Stanley Tong only had task of patching those scenes in more or less coherent whole. Writers Edward Tang and Fibe Ma provided Rumble in the Bronx with the script full of naivety and total lack of any connection with the real world. For example, in their vision Bronx is place that features spectacular mountain views and golf courses. All this gives charming surreal quality to the film that would suck in even those who care little about Jackie Chan and his world. In the end, Rumble in the Bronx in its 92 minutes features more entertainment that you could expect in three or four average Hollywood blockbuster, and that is the most important thing about this film.
RATING: 7/10 (+++)
(Note: The text in its original form was posted in Usenet newsgroup rec.arts.movies.reviews on April 16th 2003)